Halloween smoothie ideas make fun kids Halloween drinks! This Halloween pumpkin smoothie (pumpkin face drinks or Jack-o-Lantern smoothies) is perfect if you're looking for Halloween themed smoothies or party drinks! Super refreshing fall drinks and fun, healthy drink for kids!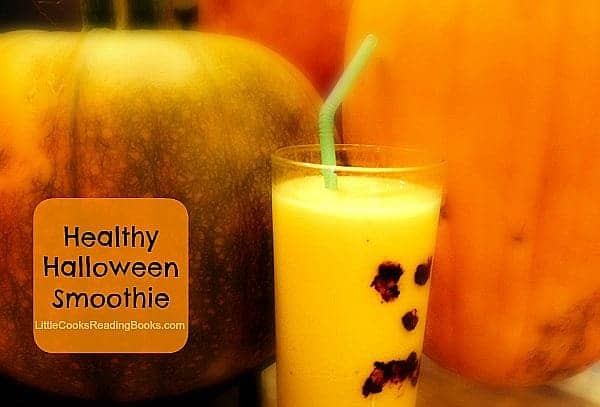 Halloween Smoothie Ideas For Kids
Easy Healthy Smoothie Recipes for Halloween
Add this to your healthy Halloween smoothie recipes for fun kid halloween drinks! Such a quick and easy healthy drink! (You can even leave out the yogurt if you want smoothies without dairy.)
Ingredients For Smoothies With Pumpkin Faces:
Mandarin oranges
Juice
Peach yogurt
Bananas
Ice
Chocolate chips
(see full homemade smoothies recipe below)
Affiliate links are used on this site. As an Amazon Associate I earn from qualifying purchases. Read more in our DISCLOSURE.
My daughter loves smoothies and she's all about easy fruit smoothie recipes.
(There could be worse things, right?)
She would actually drink them every morning when she was younger if I made them for her.
But, now that's she's older, she makes them for herself a lot with this single serving smoothie blender attachment.
However, I understand that some kids aren't like that and it's hard to get picky eaters to get all their fruits and veggies in throughout the day.
When that happens, I incorporate some (often simple) novelty thing that makes the food or drink more fun.
In the case of this kids' Halloween drinks, I added a face to this smoothie recipe to make it look like a pumpkin!
(But, don't worry. The smoothie doesn't taste like pumpkin. It's not even made from pumpkin! They're actually orange Halloween smoothies!)
You can make this smoothie recipe for breakfast or even add it to the menu for fun kid friendly Halloween drinks.
ALSO TRY THIS EASY HOMEMADE HALLOWEEN DRINK: Halloween Monster Milk Drink for Kids
How to Make the Halloween Drinks Pumpkin Face
For these pumpkin inspired fall drinks, you'll need to make the face of the pumpkin before you make the Halloween smoothies.
You make the face with. . . (wait for it) melted chocolate.
(We used melted chocolate chips.)
Simply melt the chocolate and then dip a knife (or even something like a chopstick) into the melted chocolate.
Use this to "draw" on the INSIDE of the glasses you will use for the smoothies. It does not have to be perfect (just like when you carve a pumpkin face it probably isn't perfect).
I just made triangles or dots for eyes and noses and then made different patterns of mouths.
You might want to practice on a glass a few times before you add the smoothie.
Then, let the chocolate dry completely before adding the smoothie or the face will come off! You can make faces that are fun (not so scary) for non spooky Halloween kid drinks!
TIP: We used tall, clear glasses for our smoothies but if I were going to use this recipe for a Halloween party I would use these small party cups. If you don't want to make chocolate faces, you can just buy cute jackolantern face cups. (They're cute for children's Halloween drinks for parties!)
---
GRAB OUR FREE LIFE CYCLE OF A PUMPKIN ACTIVITY PACK!
Kid Printables Coloring Pages & MORE!
---
Halloween Kid Friendly Drinks
How To Make Halloween Smoothie Pumpkins
Yield: 2
Healthy Halloween Smoothie Recipe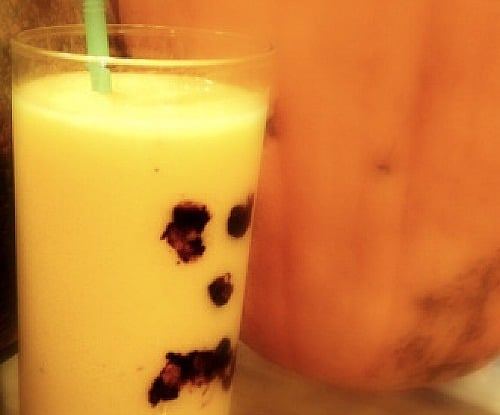 This is one of our favorite Halloween smoothie ideas. This smoothie recipe can be easily doubled or tripled for more party drinks!
Ingredients
12 ounce Can Mandarin oranges (with juice)
2 Containers Peach yogurt (or yogurt of choice)
2 Bananas
1/2 Cup Ice
1/4 Cup Chocolate chips
Instructions
Melt chocolate chips in microwave until just melted, around 20 seconds, stir until completely melted.
Dip tip of knife or chopstick into melted chocolate chips and "draw" a pumpkin face on the inside each glass with the chocolate. (They don't need to be perfect!). Set aside to dry while you make the smoothies.
Pour Mandarin oranges, including juice or syrup, into blender.
Add peach yogurt and bananas.
Blend until smooth.
Add ice and blend again until smooth.
Tip glass and pour smoothie into each glass (away from the melted chocolate face).
Top with green straw for the pumpkin stem. (If you are using short glasses, cut the straws in half so you don't have a really long "stem.")
Nutrition Information:
Yield:
2
Serving Size:
8 ounces
Amount Per Serving:
Calories:

476
Total Fat:

10g
Saturated Fat:

5g
Trans Fat:

0g
Unsaturated Fat:

3g
Cholesterol:

9mg
Sodium:

104mg
Carbohydrates:

97g
Fiber:

7g
Sugar:

77g
Protein:

11g
Nutrition information is estimated. Changes to the recipe and use of different brands may cause changes to the nutritional information to vary slightly from the ones provided here.
Halloween Drinks: Pumpkin Smoothie Paired with The Roll-Away Pumpkin
We decided to pair up our easy kid Halloween drinks with The Roll-Away Pumpkin by Junia Wonders and illustrated by award-winning Italian illustrator, Daniela Volpari.
(It also has fantastic illustrations and you know what a sucker I am for great children's book illustrations!)
In this sweet children's book, Marla's little pumpkin is rolling away.
"Help! My giant pumpkin is rolling away! Onward it goes, rolling and turning, with no sign of stopping! Diddle-dee-doo! Oh, what shall I do?" Marla yells.
Marla chases her rolling pumpkin all over town, getting help from people in town along the way.
Will Marla catch her rolling pumpkin, or will something else happen?
We won't ruin it for you.
You'll have to read it to find out!
Listed Book Age Range: 3-8 years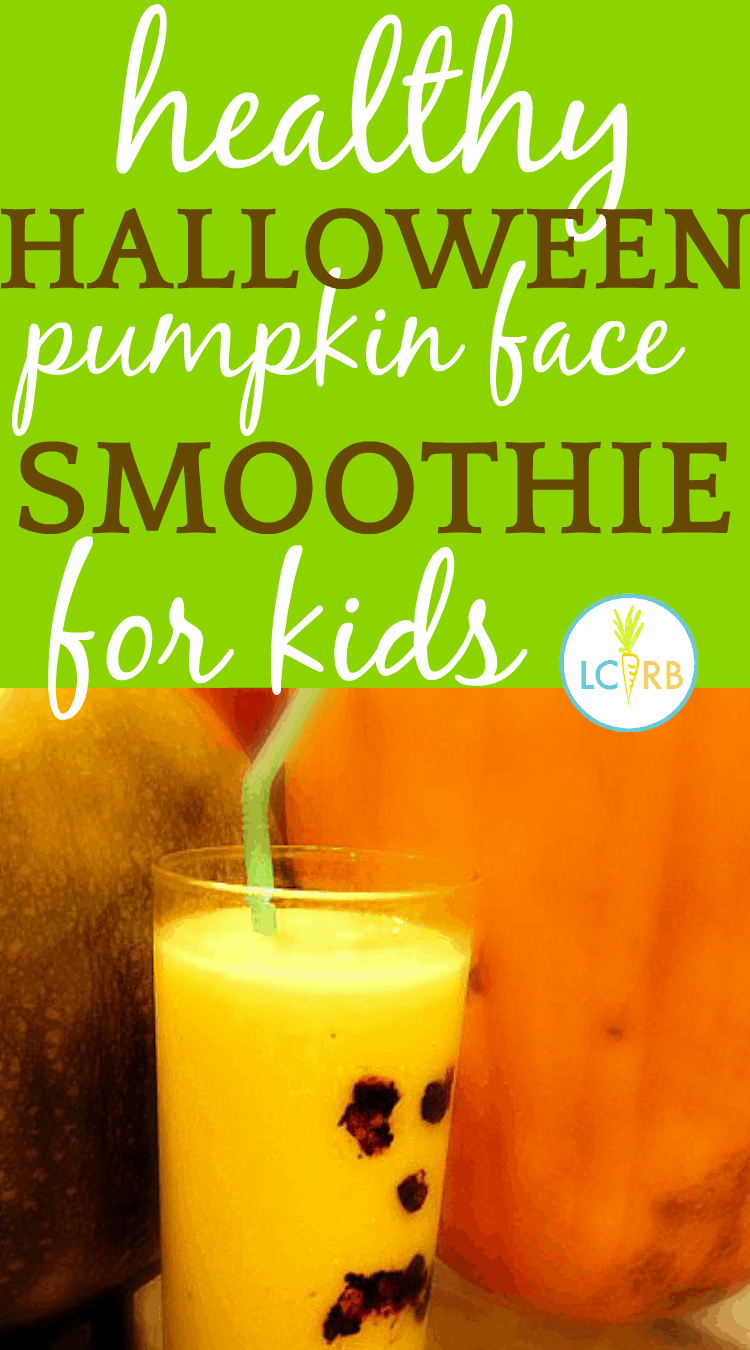 Let us know your favorite Halloween smoothie ideas!
LOOKING FOR FUN COOKING PRINTABLES FOR KIDS?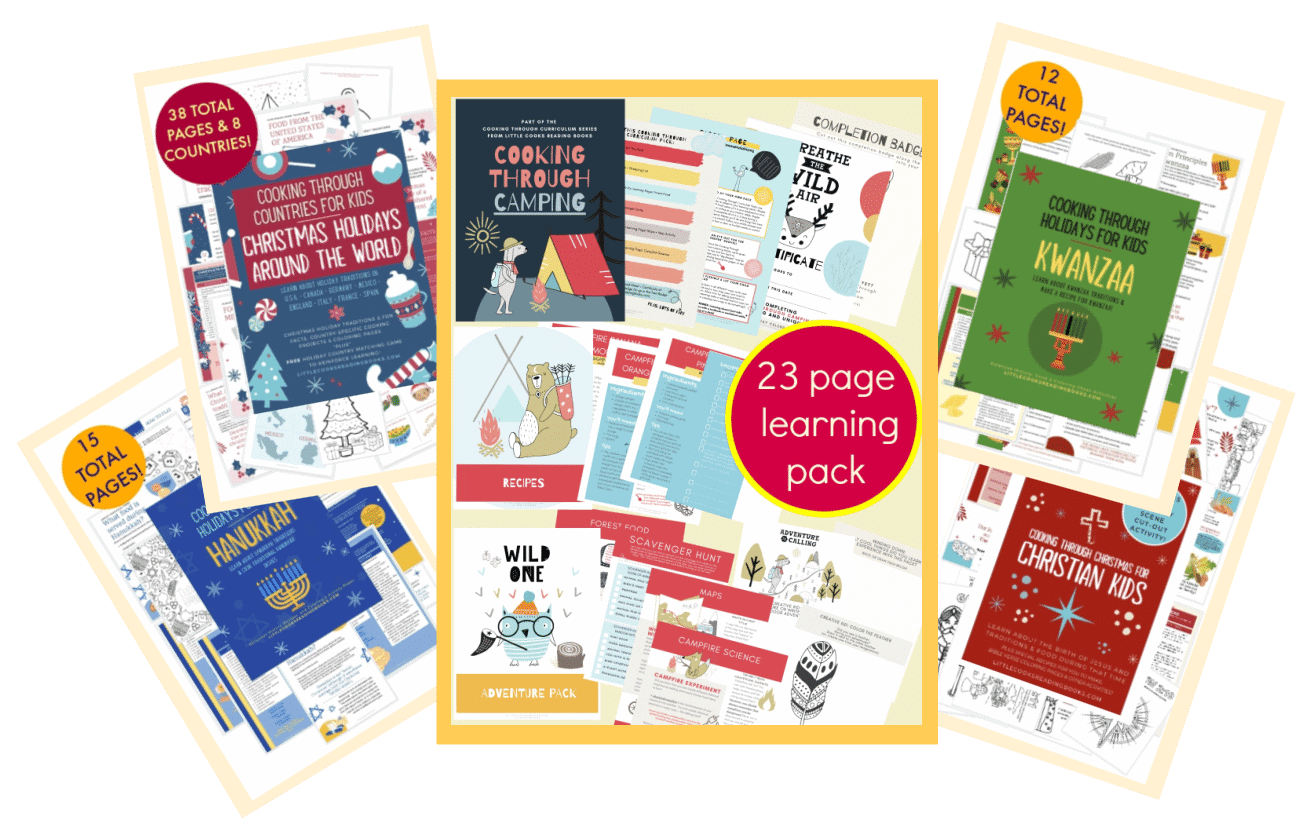 As an Amazon Associate I earn from qualifying purchases. Please refer to our
DISCLOSURE
.