Like most of us, you probably grew up learning how to make chocolate milk with chocolate syrup. However, making homemade chocolate milk from scratch is just as easy. And, this is THE BEST chocolate milk! We turned ours into Monster Milk with monster marshmallows for a little extra drink treat perfect for Halloween or monster theme parties.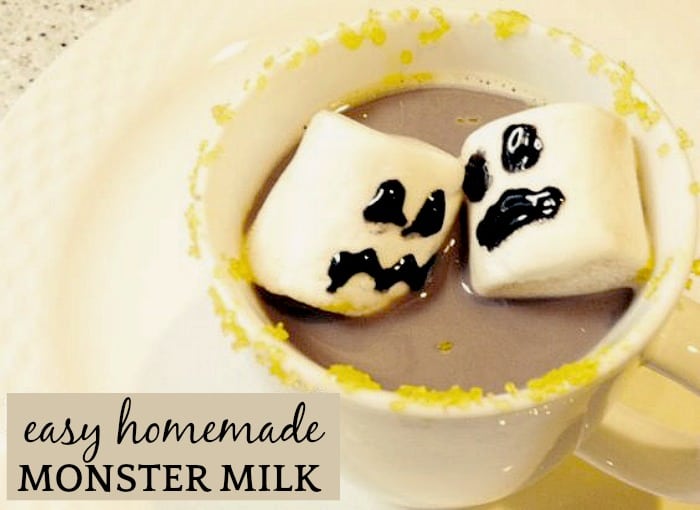 How To Make Homemade Chocolate Milk
You can make homemade chocolate milk with a variety of things:
Affiliate links are used on this site. As an Amazon Associate I earn from qualifying purchases. Read more in our DISCLOSURE.
Chocolate powder (like Nesquick)
Chocolate bars
Chocolate chips
Nutella
& MORE!
---
CHECK OUT THIS FRIENDLY MONSTERS ACTIVITY PACK FROM OUR SISTER SITE – A PERFECT KIDS' PRINTABLE TO PAIR WITH THIS RECIPE!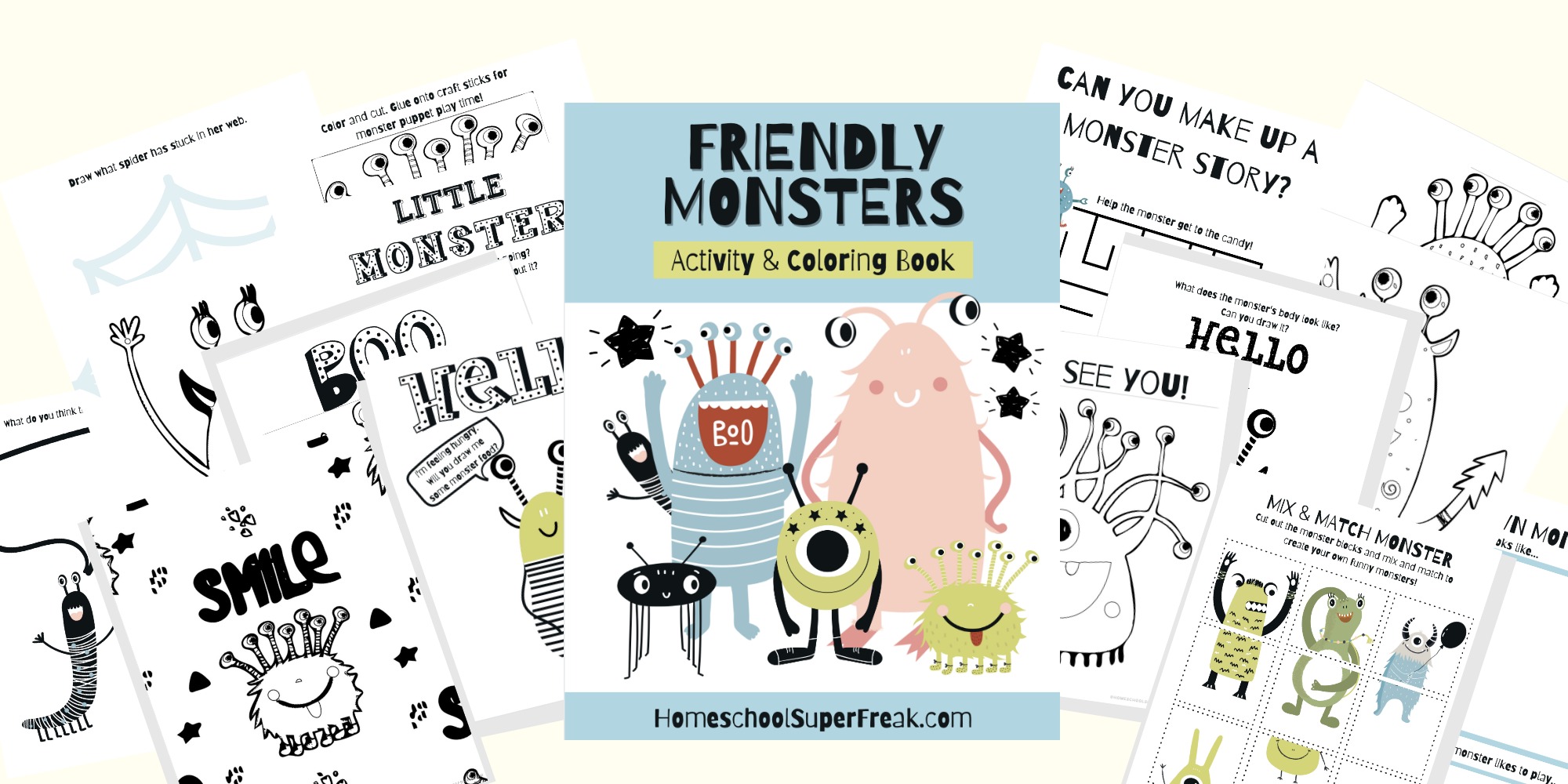 Kid Printables Coloring Pages & MORE!
---
Can you make chocolate with cocoa powder?
YES, you can make homemade chocolate milk with cocoa powder.
In fact, that's the what's in our Monster Milk recipe that we'll share in just a bit!
If you heat it up, you also have a hot chocolate milk recipe!
(Some people also add a pinch of salt for salted chocolate milk.)
Does cocoa powder mix with milk?
A problem with mixing cocoa powder into cold milk is that it can turn lumpy.
This just means that you haven't continued stirring it enough!
The trick is to add the cocoa powder, sugar, and a little milk first, then stir.
You will get a thick, sludge mixture. Just continue stirring quickly until the lumps are gone.
(This is how you make your own homemade chocolate milk syrup!)
Then, pour in the rest of the milk and stir until smooth.
If the milk sits for a bit, the cocoa powder may be clumpy at the bottom of the cup. Just stir again until it dissolves.
DISCLOSURE: Affiliate links are used on this site and may be used in this post.
Making Monster Milk
If you want to make your homemade chocolate milk into Monster Milk (like we did), you'll also need:
Chocolate Monster Milk paired with
Leonardo, the Terrible Monster Children's Book
Our Monster Milk recipe is paired up with Leonardo, the Terrible Monster by the fabulous Mo Willems.
Leonardo, is really a terrible monster.
I mean, really terrible.
Can you imagine how awful it would be for a no one to think you are scary as a monster?
Well, that's what happened to poor Leonardo.
From the book:
Leonardo is truly a terrible monster-terrible at being a monster that is.

No matter how hard he tries, he can't seem to frighten anyone.

Determined to succeed, Leonardo sets himself to training and research.

Finally, he finds a nervous little boy, and scares the tuna salad out of him!

But scaring people isn't quite as satisfying as he thought it would be.

Leonardo realizes that he might be a terrible, awful monster-but he could be a really good friend.
Listed Age Range: 3-6 years
You may know Mo (heh) from some of his other popular books like:
Don't Let the Pigeon Drive the Bus!
Knuffle Bunny: A Cautionary Tale
Can I Play Too? (An Elephant and Piggie Book)
Homemade Chocolate Milk Recipe (aka: Monster Milk)
Yield: 1 serving
Homemade Chocolate Milk (aka: Monster Milk)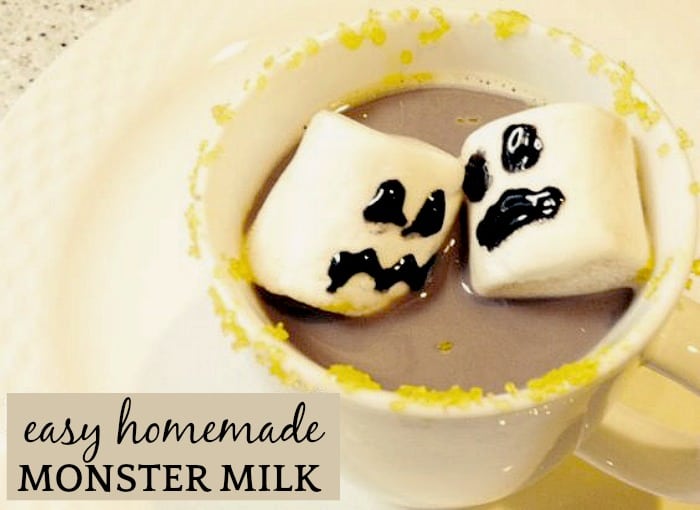 Homemade chocolate milk is so easy that you'll never need that chocolate syrup again! We added some extra fun to ours and made it Monster Milk, but you can (obviously) leave that part out if you don't want to have extra fun. You can also heat this up and it makes for a really creamy (and yummy) hot cocoa, too!
Ingredients
1 Tablespoon Cocoa powder
1 Tablespoon Sugar
8 ounces Whole Milk
Large marshmallows, (optional, if making Monster Milk)
Colored decorating sugar (we used yellow), (optional, if making Monster Milk)
Black decorating gel, (optional, if making Monster Milk)
Instructions
In a mug or glass, add cocoa powder and sugar. Stir to mix.
Pour just enough milk into glass to cover mixture. Vigorously stir mixture with a spoon until all clumps have disappeared and you have a thick mixture.
Add remaining milk and stir until completely mixed, with no clumps remaining.
Serve immediately.
TO MAKE MONSTER MILK
Before adding ingredients to glass, dip rim of glass into water.
Place colored sugar in a saucer. Roll rim of wet glass in sugar until rim is covered. Set aside to dry.
Using the decorating gel, draw faces on the marshmallows. Set aside to dry. (The gel will still have a sticky texture, even after it sits.)
In another glass, follow the instructions above for making the homemade chocolate milk. Carefully pour into the prepared glass. Add "monster" marshmallows, face up. ENJOY!
Notes
This recipe can easily be doubled or tripled for more servings.
Nutrition Information:
Yield:
1
Serving Size:
1 serving
Amount Per Serving:
Calories:

257
Total Fat:

8g
Saturated Fat:

5g
Trans Fat:

0g
Unsaturated Fat:

2g
Cholesterol:

24mg
Sodium:

111mg
Carbohydrates:

37g
Fiber:

1g
Sugar:

33g
Protein:

9g
Nutrition information is estimated. Changes to the recipe and use of different brands may cause changes to the nutritional information to vary slightly from the ones provided here.
If you're warming this up to make into hot cocoa, you'll definitely want to add our homemade whipped cream to it!
(Just leave out the secret ingredient when using it for hot chocolate.)

DID YOU MAKE HOMEMADE CHOCOLATE MILK AS A KID?
LOOKING FOR FUN COOKING PRINTABLES FOR KIDS?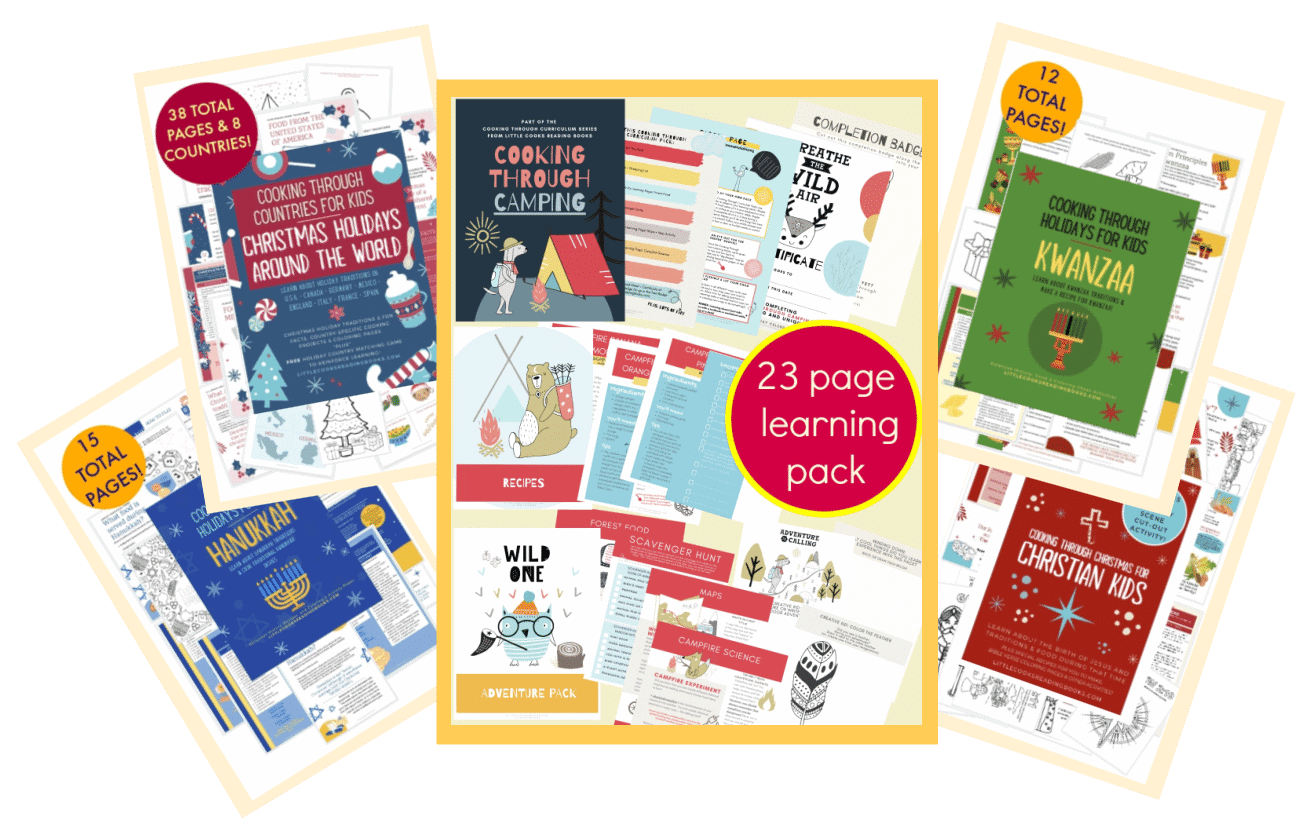 As an Amazon Associate I earn from qualifying purchases. Please refer to our
DISCLOSURE
.