This banana peanut salad recipe (aka: banana croquettes or dressed bananas) was such a surprise to me that I came right home from the Kentucky restaurant where we hade it and made this old-fashioned dessert from the South! It's a great party dessert, fun for holiday desserts, or alternative to fruit salads for an easy cookout dish that not everyone else makes!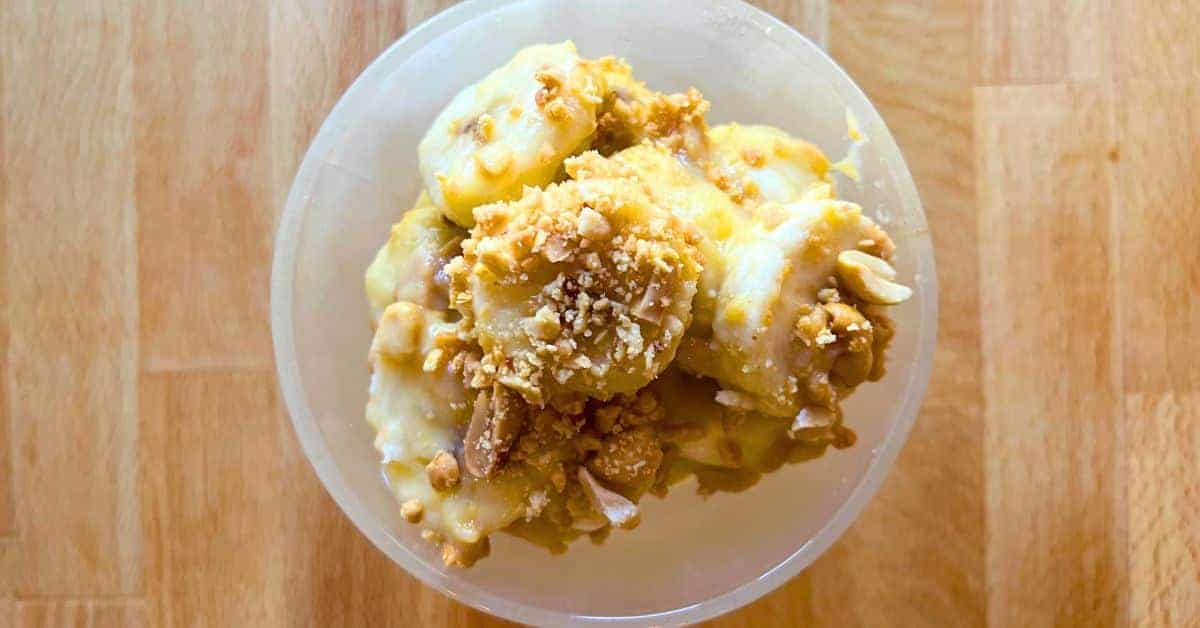 Easy Banana Peanut Salad Recipe (Southern Fruit Salad)
Once while traveling for my daughter's archery competition we went to a BBQ restaurant where I had this creamy banana covered in nuts dessert. I couldn't for the life of me place all the flavors, so I asked the Southern waitress who gave me all the recipe details for peanut banana salad. She said it's a vintage recipe from the south and some people also call it bananas croquette. (You can see the surprising secret recipe ingredient below!)
Affiliate links are used on this site. As an Amazon Associate I earn from qualifying purchases. Read more in our DISCLOSURE.
Where did banana croquettes originate?
It appears that peanut banana salads, or banana croquette salad, originated from Kentucky. From talking to a Southern waitress and doing some research, this seems to be a regular staple at summer cookouts or holiday gatherings in the south and is served with some variations – from peanut butter, to Miracle Whip or mayonnaise, to with cherries on lettuce.
I have to admit, as someone who has Southern parents (from Virginia just across the border from Kentucky), I've never heard of this dessert salad (and neither had my mom / ma!).
If you have a different banana croquettes origin story or how your mamaw made this south recipe, let me know!
Want more salads with bananas after the banana nut salad? Try our walking fruit salad recipe!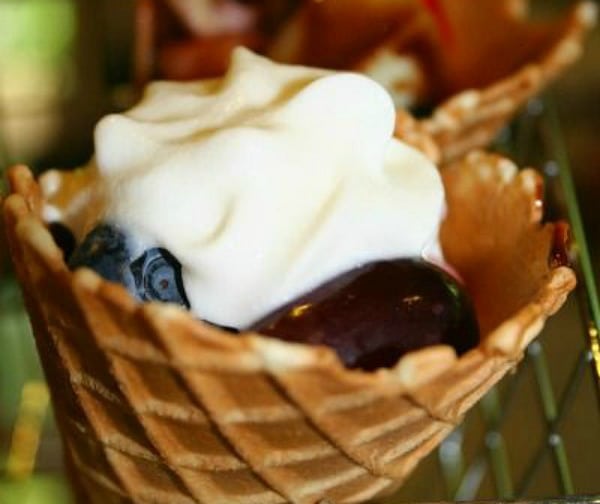 IMPORTANT RECIPE TIP: Do not make this as a ripe banana salad! You'll want to use bananas that are firm / have a little green on them. If you use overripe bananas, the bananas are mushy in the dish. Be sure to pick firmer fruit for your salad banana!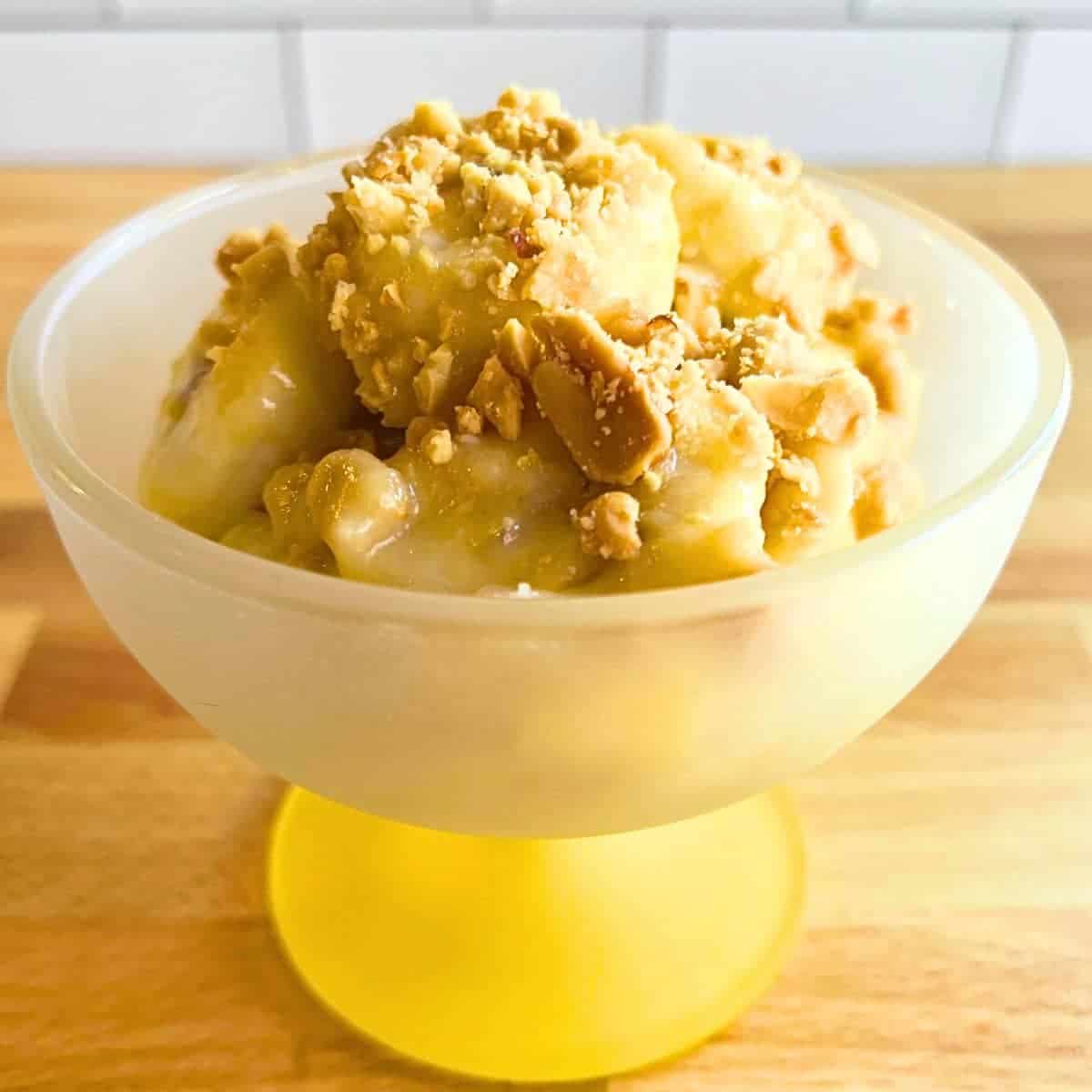 How To Make Old Fashioned Banana Salad
This is the banana salad Kentucky recipe a waitress gave me! She also told me that it is often made as a banana salad with lettuce. It wasn't served that way at the restaurant. It was served as a dessert recipe for a crowd made in a huge bowl.
(Plus, sweet bananas on lettuce for a banana lettuce salad sounds weird to me…)
She also told me that she sometimes makes it as apple banana peanut salad by chopping up apples and adding them in. (I'm going to try that next time because it sounds awesome!)
And, I'm definitely going to try it as banana salad with peanut butter, too! Also, next time I'm going to try it with my homemade whipped cream for a little extra texture.
One last thing before we get to the banana recipe — the bananas in dessert dish I had were halved and then rolled in peanuts (which it seems like is the traditional Southern salad way). Then, you serve the peanut bananas on top of lettuce leaves, if you want.
I just sliced the banana pieces for our banana dessert without lettuce.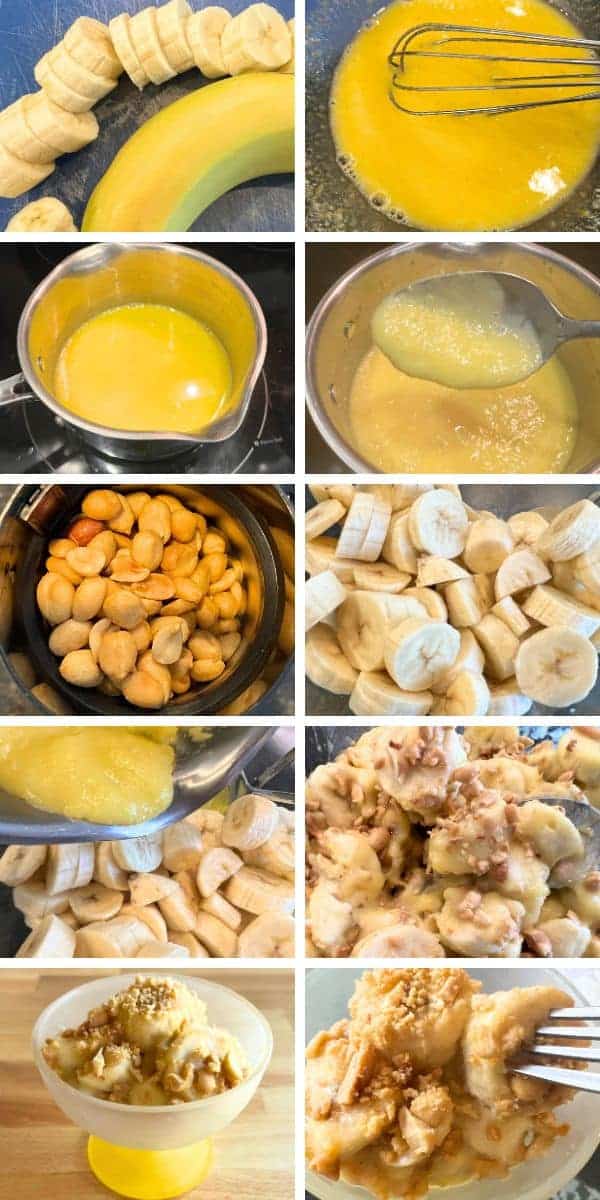 This is an easy dessert for a crowd! You can easily double or triple the recipe as a dish for a special occasion. Plus, a salad with banana isn't something that everyone else is bringing as a church dish or potluck dinner dish!
THE SECRET INGREDIENT? Vinegar! I couldn't place that vinegar twang at the restaurant recipe! Once she said this was a banana salad with peanuts and vinegar I had that ah-ha! moment. (Yep! Banana vinegar recipes! Who knew vinegar, bananas and peanuts would be so good together?!)
Yield: 6
Banana Peanut Salad Recipe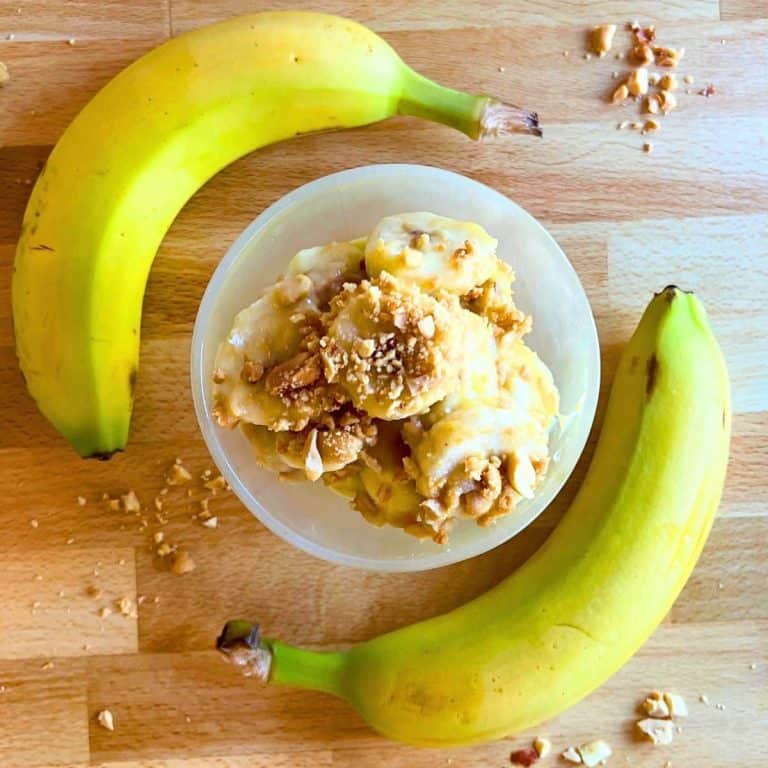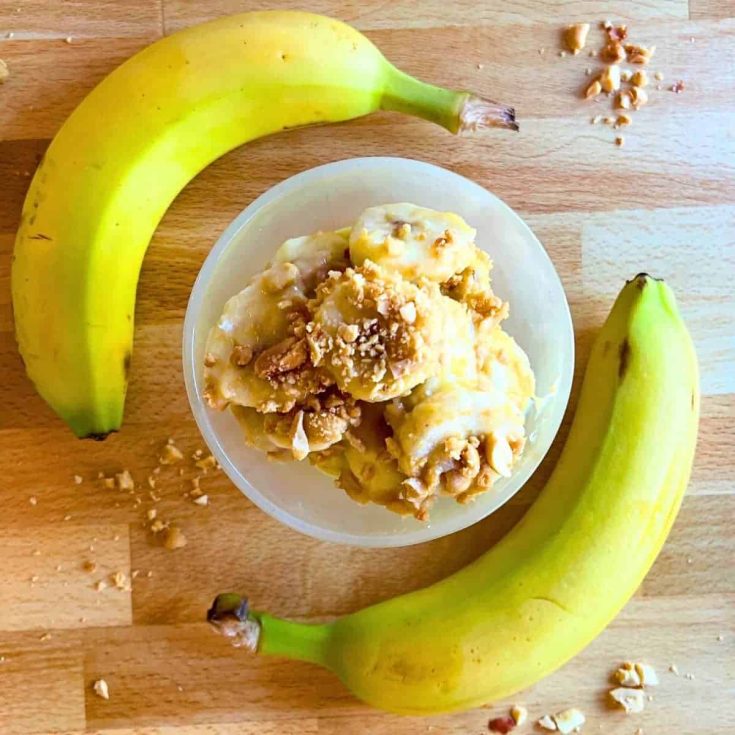 This easy banana salad recipe is yummy and a fun recipe to make with kids! Definitely add it to your family gathering recipes! We made this more like a banana pudding salad, but see the RECIPE NOTES (below) for traditional recipe tips.
Ingredients
4 firm bananas (not brown or too ripe), cut into bite-sized pieces
2 eggs
3 Tablespoons white vinegar
1/4 cup white sugar
1/4 cup evaporated milk
1 teaspoon cornstarch
2 cups peanuts, crushed
Instructions
In a medium pot, whisk together eggs, vinegar, sugar, evaporated milk, and cornstarch.
Cook on low on top of stove until thickened (around 30-45 minutes). Whisk periodically to ensure it doesn't burn. Remove from heat and allow to cool.
Place banana pieces in medium mixing bowl. Spoon cooled dressing onto bananas and gently stir. (The bananas should be just lightly coated, so you may not use all the dressing.)
Add 1 1/2 cups of peanuts and stir again.
Spoon banana dessert into individual serving dishes. Sprinkle with remaining peanuts for topping.
(SEE NOTES BELOW)
Notes
*The original traditional recipe is made with halved bananas. The bananas are then dipped in the dressing mixture, rolled in crushed peanuts, and then placed on lettuce leaves. Some people also serve them with Maraschino cherries.
NOTE: The recipe from the waitress called for 1/2 cup of sugar, but I thought it was too sweet for our tastes. If you like sweet desserts, up the sugar a bit.
Nutrition Information:
Yield:
6
Serving Size:
1
Amount Per Serving:
Calories:

366
Total Fat:

27g
Saturated Fat:

5g
Trans Fat:

0g
Unsaturated Fat:

19g
Cholesterol:

65mg
Sodium:

235mg
Carbohydrates:

22g
Fiber:

4g
Sugar:

13g
Protein:

15g
Nutrition information is estimated. Changes to the recipe and use of different brands may cause changes to the nutritional information to vary slightly from the ones provided here.
Variations On Lettuce Banana Salad
According to Blue Ridge Country, this banana salad recipe is sometimes made with peanut butter, rolled in crushed cornflakes (if you can't have peanuts in a salad), or served with maraschino cherries.
A note about banana mayo peanut salad / banana croquette recipe: Apparently, some people swear by Miracle Whip instead of mayonnaise for the dressing for a banana salad recipe. (This seems to be a huge sticking point for Southern cooks — whether to make it as banana peanut salad mayonnaise or Miracle Whip!)
We clearly didn't make this as a peanut butter banana mayonnaise salad recipe. If you have a great recipe that uses mayo, let me know and I'll try it that way, too!
(I know, a banana salad with mayonnaise sounds unusual, but I'm up for this version of banana salad recipes, too!)
Need more banana side dishes or banana dessert recipe ideas?
TRY MORE POPULAR BANANA RECIPES NEXT! LEARN HOW TO MAKE NO COOK BANANA PUDDING (WITH A SECRET INGREDIENT!)
Let me know how your banana peanut salad recipe turns out!
LOOKING FOR FUN COOKING PRINTABLES FOR KIDS?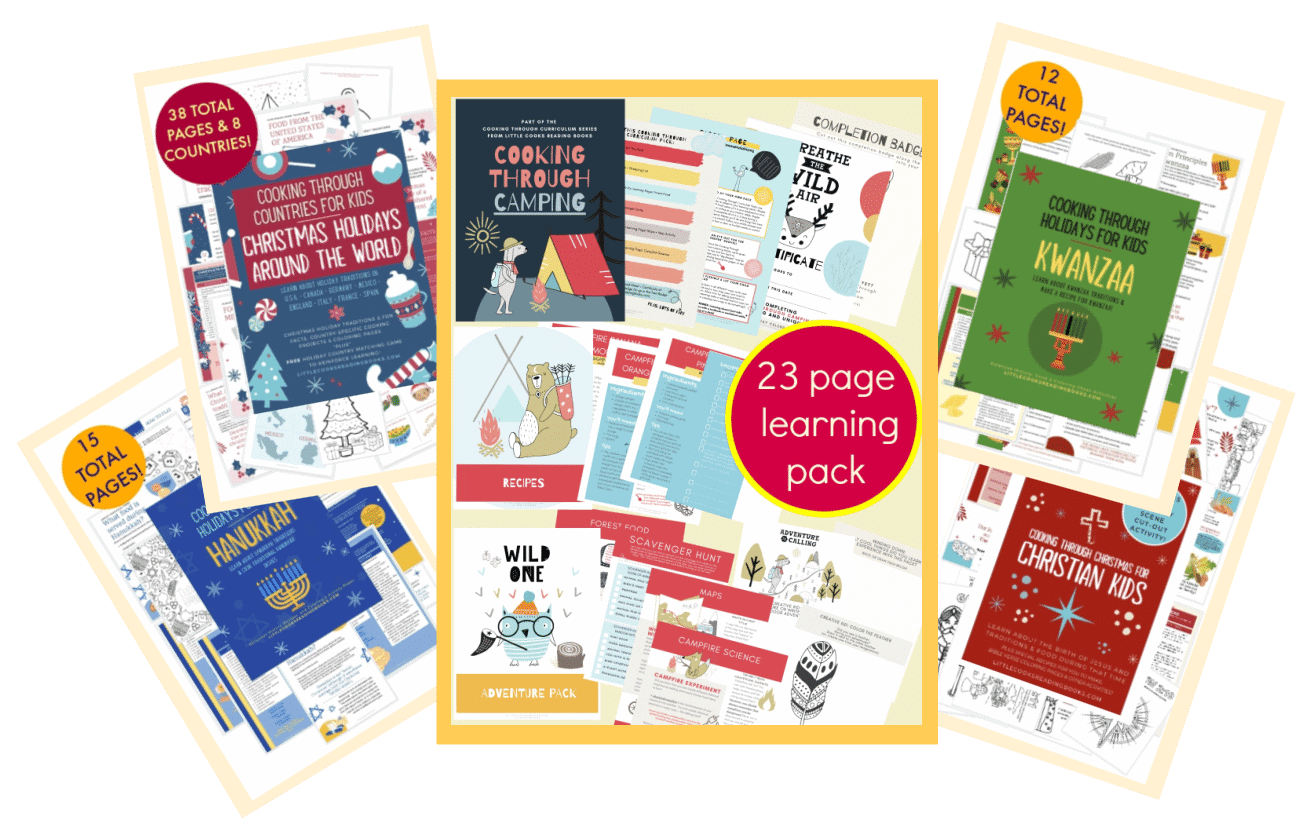 As an Amazon Associate I earn from qualifying purchases. Please refer to our
DISCLOSURE
.