Learn how to make banana pudding homemade the easy way (plus a secret recipe ingredient you'll never guess – not sweetened condensed milk!) and is a great recipe for what to do with almost black bananas! This quick banana pudding recipe will be your go-to fast dessert for any gathering or summer cookout recipes. (And just as good as Paula Deen's recipe for banana pudding, Elvis Presley's banana pudding or your favorite Southern dessert recipe!)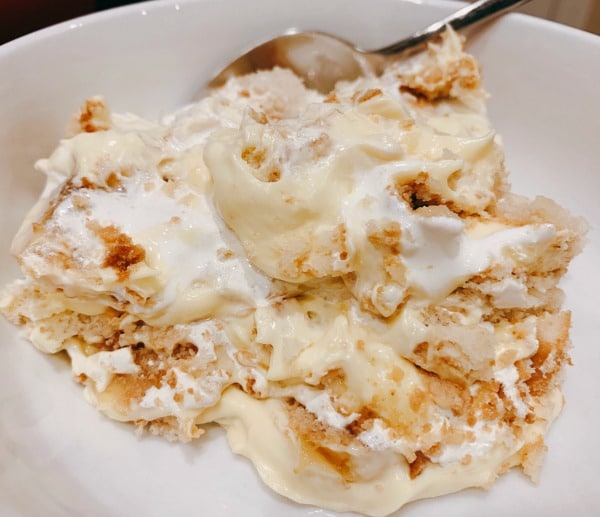 How To Make Banana Pudding Homemade Easy Recipe!
If you're looking for a banana pudding recipe from scratch (like the best southern banana pudding recipe from scratch / classic southern dessert), I beg you to give this one a try first.
(Plus, I don't know about you, but old fashioned homemade banana pudding is the ultimate comfort food for me and one of my all-time favorite banana desserts / homemade pudding!)
How is pudding made from scratch?
To make this easy banana pudding recipe use these banana pudding ingredients:
Affiliate links are used on this site. As an Amazon Associate I earn from qualifying purchases. Read more in our DISCLOSURE.
Ripe bananas (or almost black bananas) / fresh banana slices
Instant Vanilla pudding mix (using the instant pudding mix saves so much time but does not affect the flavor and makes a creamy vanilla pudding when using our recipe!)
Whole milk (some people use condensed milk)
Secret ingredient (see below!)
Whipped topping
Vanilla Wafer Cookies (for the perfect Nilla Wafer banana pudding recipe!)
*Vanilla Extract (optional)
These are simple ingredients for a perfect dessert!
KEEP SCROLLING to get the full no bake banana pudding recipe! (If you want to know how to make good banana pudding, don't miss our surprise secret ingredient for a delicious banana cream pudding!)
I'm a sucker for an old-fashioned banana pudding recipe like my Southern folks family makes at our gatherings, but after my mom told me about this no bake banana pudding (or uncooked banana pudding) and how she makes it with a secret ingredient, I may never make it from scratch again! This is truly how to make banana pudding easy and fast!
Plus, banana pudding is a fun recipe to make with the kids! (And, most kids love it! For my kid, it's one of her favorite desserts!)
Before we get to the easy banana pudding recipe, here are some common questions that people have about making banana pudding.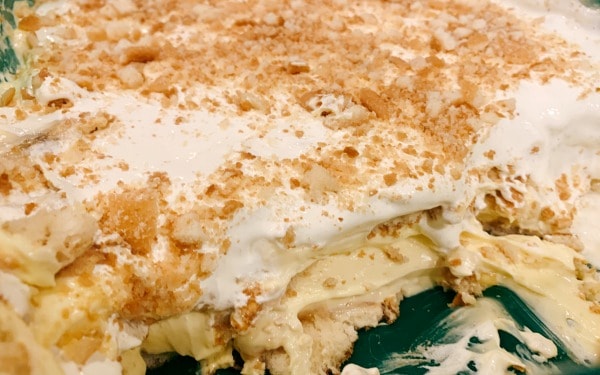 How long does it take to make banana pudding?
Making homemade banana pudding is a quick and easy recipe! Follow our step-by-step banana pudding recipe and this will be ready in just 15 minutes, meaning you can whip it up right before your cookout or party, if needed!
How To Layer Banana Pudding
Layering banana pudding is super easy and there is actually no right or wrong way. They way you layer banana pudding is a personal preference, but this is how I assemble banana pudding…
How to make layered banana pudding:
Layer a single layer of vanilla wafers (Nilla wafers) on bottom of serving dish, touching and overlapping. (Always start with the cookies as the bottom layer.)
Carefully spread a layer of the banana pudding mixture on top of the wafers that are on the bottom of the dish.
Add a layer of sliced bananas on top of the pudding, touching and overlapping.
Keep layering until all ingredients are used, ending with a pudding layer.
Spread thawed Cool Whip or whipped topping on top of banana pudding.
Top with crushed vanilla cookie wafers. (Some people also like to place additional banana slices on top of their banana pudding layering. I like to reserve some slices of fresh bananas as a garnish for the top.)
TIP: You can use a trifle bowl for this recipe, but we've also served it in a long plastic container with a lid (so it refrigerates easily and/or travels easily without worrying about breaking a trifle dish), a casserole dish, and even just in a large bowl with a plastic wrap covering it! Don't get too caught up on what dish to serve it in! It easily adapts to whatever you have at home and you can layer the pudding in any shape or size dish.
Also, some people use shortbread cookies or Pepperidge Farm Chessmen Cookies instead of vanilla wafer cookies, which also makes for a delicious dessert the whole family will love! Don't be afraid to try other fun variations!
Do you put eggs in banana pudding?
Many people put eggs in banana pudding or use them for a meringue topping for banana pudding. However, our fresh banana pudding recipe doesn't use eggs or egg yolks, so we make it as an egg-free dessert.
TRY MORE BANANA RECIPES: Old Fashioned Banana Peanut Salad Recipe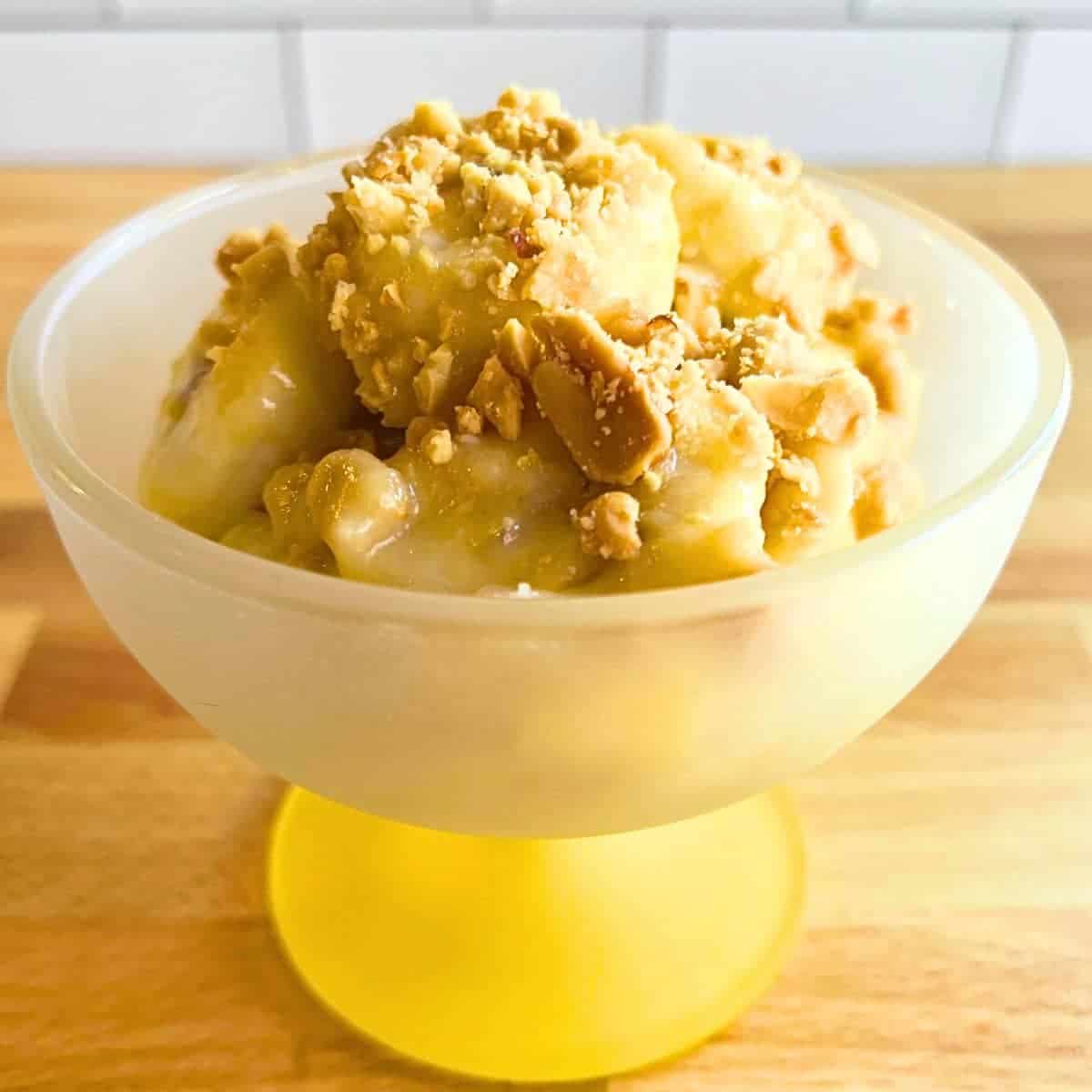 Does banana pudding have to be refrigerated?
Yes, after making banana pudding you should refrigerate it. Place the pudding in an airtight container and immediately into the refrigerator for a few days. It will still be good the next day!
How long does banana pudding last in the fridge?
Pudding will last in the refrigerator for 3-4 days in an airtight container. After that, the wafers will become soggy and it will start to get melty and watery and should be discarded.
How long is banana pudding good for?
Unfortunately, a banana pudding recipe is one of those desserts that must be consumed fairly quickly. If you leave it out in the sun (like at a family picnic), you should probably discard any remaining pudding. However, if you're storing it in the refrigerator right after making it, the banana pudding will last up to 5 days but will also become watery and the bananas will turn and become mushy.
YOU'LL ALSO LOVE: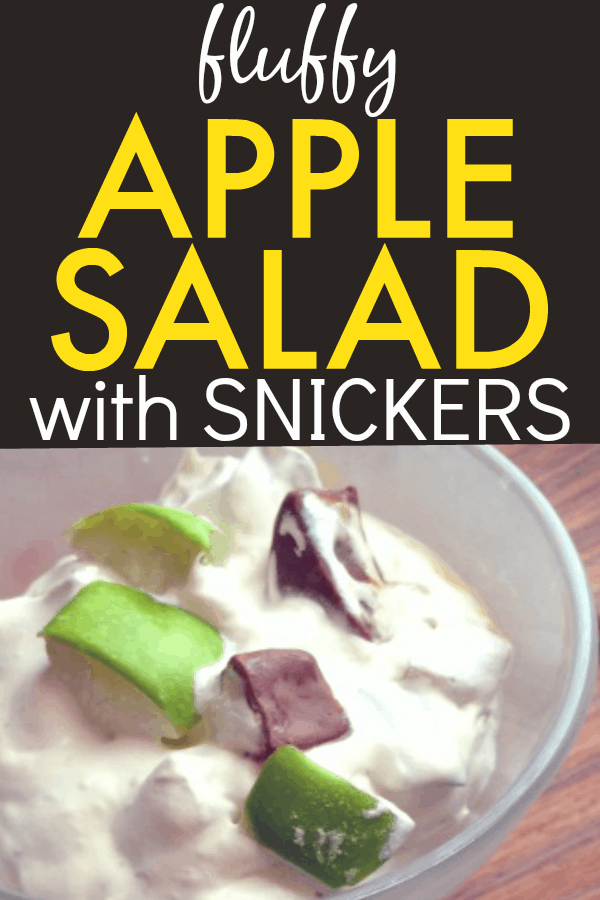 How ripe should bananas be for banana pudding?
There's actually a lot of discussion about how ripe bananas should be for banana pudding. Some people say overripe, while others say the bananas should just start to ripen. You should use ripe bananas for banana pudding, but not overripe. (If you like the flavor, it's ok when bananas start to turn black, but not completely ripe black).
How do you keep bananas from turning brown in banana pudding?
After a few days, the bananas in banana pudding are naturally going to start to turn brown and you'll see som brown spots. To slow the browning, you can use bananas that aren't as ripe or you can lightly toss the banana slices in lemon juice. However, it's a natural process that bananas will turn black in banana pudding. That's one of the reasons banana pudding is best within the first couple of days.
OK!
Let's get to this quick and easy banana pudding (aka: 'nilla wafer banana pudding). This is how to make banana pudding without condensed milk (and you won't even miss it!). This tastes just like the homemade vanilla pudding and bananas classic dessert my grandma used to make!
If you're looking for best homemade banana pudding, this is it!
BEST BANANA PUDDING RECIPE EVER (QUICK AND EASY!)
Here's how to make banana pudding step by step. (I think you'll be surprised at this fast and easy banana pudding recipe!)
This is a recipe for how to make banana pudding with instant pudding (aka: how to make banana pudding with jello mix), but don't let that deter you. With our secret ingredient, it tastes exactly like creamy homemade Southern banana pudding with black bananas (for that yummy banana flavor you know from the classic recipe).
If you want to know how to make banana pudding cups using this recipe (or in a small bowl), just spoon the pudding mixture into individual cups and then top with vanilla cookies and whipped cream individually.
NOTES:
This is a homemade banana pudding without eggs. We don't make our banana pudding with eggs / egg yolks / egg whites. And, with our secret recipe ingredient, you don't need heavy cream either!
Homemade banana pudding with whipped cream: Also, this is how to make banana pudding with Cool Whip, but we have a super easy homemade whipped cream that is perfect for this recipe for banana pudding, too!
Also, be sure to use the vanilla pudding and not the Jell-O Banana Cream instant pudding.
Yield: 10 servings
Easy Banana Pudding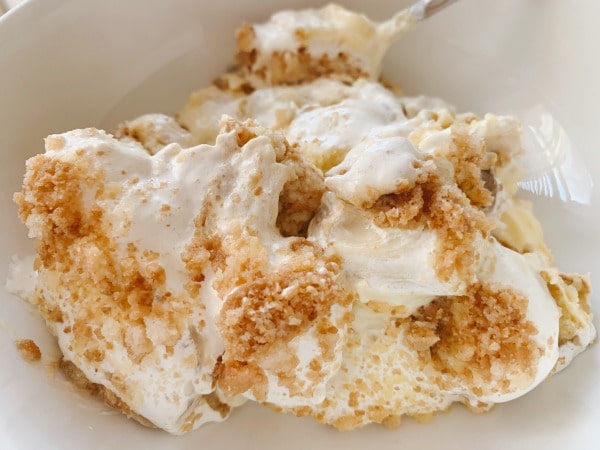 The secret ingredient in this vanilla wafer banana pudding is the sour cream! It gives this easy dessert an extra rich, creamy taste!
Ingredients
1 (5-ounce) package of instant vanilla pudding mix
2 cups whole milk
1 cup sour cream
2 (8-ounce) frozen whipped topping, thawed,
1 (16-ounce) package Vanilla Wafers, reserve 8-10 cookies (for topping)
4-6 ripe bananas, peeled and sliced in 1/2-inch slices
Instructions
In large mixing bowl, mix together pudding mix, milk, and sour cream. Mix well.
Fold in one (thawed) whipped cream topping and mix well. Set aside.
In the bottom of a trifle bowl or other serving dish, place a layer of wafer cookies (side-by-side).
Next, spread a layer of pudding mixture on top of the wafers.
On top of the pudding, add a layer of bananas.
Repeat until all ingredients are used, ending with the pudding mixture.
Spread the second thawed whipped topping on top of the pudding. (You may not use all of it.)
Place the reserved 8-10 wafer cookies in a sealable bag. Using a rolling pin or mallet, crush the cookies into small, fine pieces. Sprinkle the crushed cookies on top of the whipped topping.
Cover and refrigerate until ready to serve.
Nutrition Information:
Yield:
10
Serving Size:
1
Amount Per Serving:
Calories:

340
Total Fat:

14g
Saturated Fat:

6g
Trans Fat:

0g
Unsaturated Fat:

7g
Cholesterol:

18mg
Sodium:

277mg
Carbohydrates:

51g
Fiber:

2g
Sugar:

32g
Protein:

5g
Nutrition information is estimated. Changes to the recipe and use of different brands may cause changes to the nutritional information to vary slightly from the ones provided here.
RECIPE AND READ BOOKS FOR KIDS
Great children's books to pair up with the homemade classic banana pudding recipe:
TRY THIS RECIPE NEXT:
We hope you enjoyed learning how to make banana pudding homemade! Let us know!
LOOKING FOR FUN COOKING PRINTABLES FOR KIDS?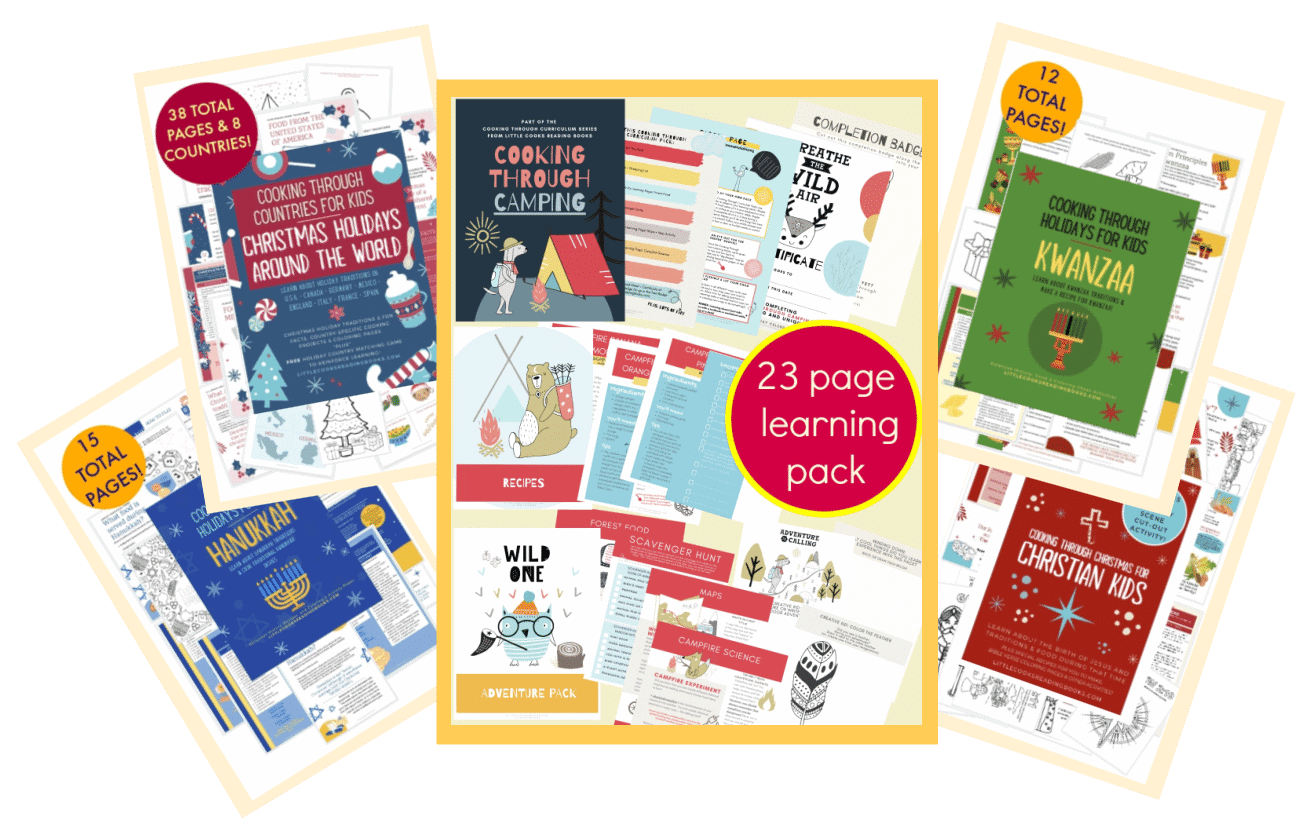 As an Amazon Associate I earn from qualifying purchases. Please refer to our
DISCLOSURE
.