Need a deviled egg southern recipe or wondering how to make devil eggs? This is the best recipe for making deviled eggs — an old-fashioned vintage recipe passed down from my southern grandma's recipes and great for snacks for kids, summer barbecue side dishes, or holiday foods!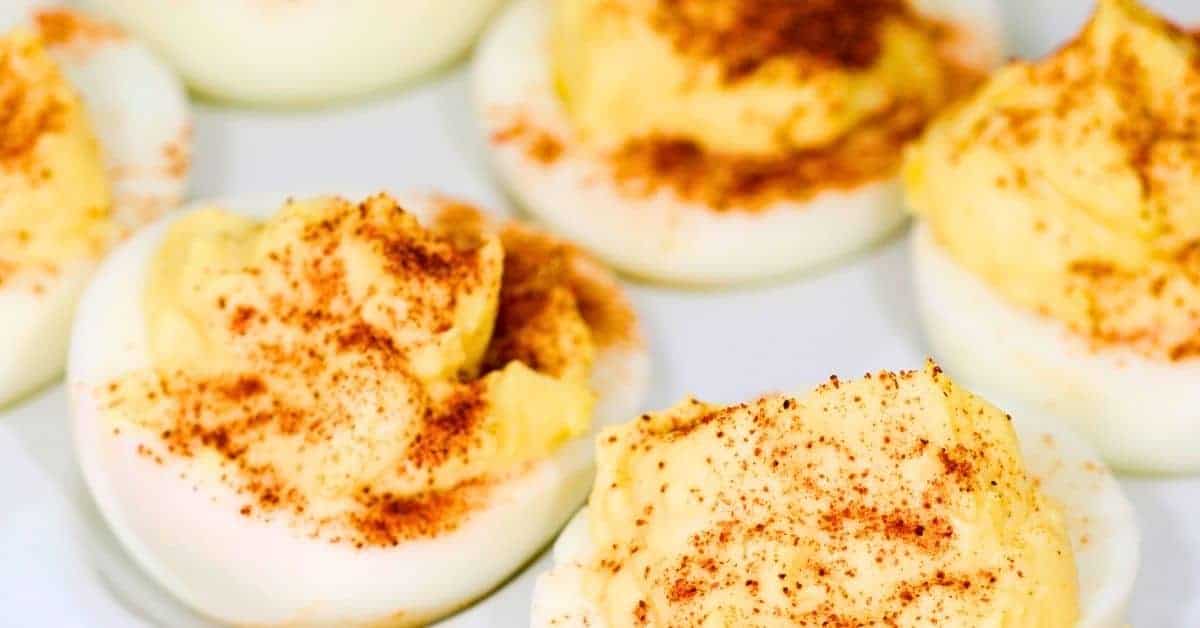 The Best Deviled Egg Southern Recipe Ever
These are best deviled eggs for easter, summer barbecue devil eggs, Christmas deviled eggs recipes, dinner ideas with deviled eggs, or for anytime you need the best egg recipe for parties!
To Make Vintage Deviled Eggs
Quick homemade recipe overview and ingredients for southern deviled eggs:
Hard-boiled eggs
Mustard
Pickle relish (sweet relish or sweet pickles)
Mayonnaise
Salt
Pepper
Paprika (optional)
Mini sweet Gherkin pickles (optional)
Pimentos (optional)
There are all different types of deviled eggs, but this is the easy deviled eggs recipe southern style one that my family has always made! Let your kids help with this recipe! It's an easy recipe for kids to make and many kids love these egg snacks! Get the full recipe for southern deviled eggs printable recipe card below!
Affiliate links are used on this site. As an Amazon Associate I earn from qualifying purchases. Read more in our DISCLOSURE.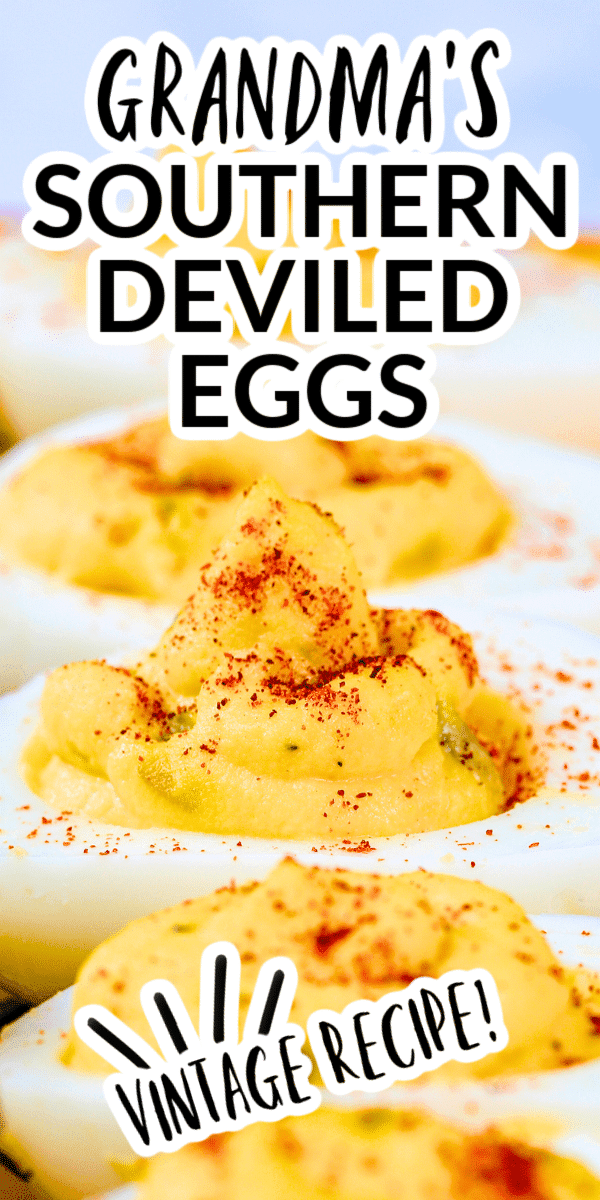 How To Store Deviled Eggs
If you are making deviled eggs ahead of time, it is important to store them in the refrigerator in an airtight container. This will help to ensure that they are safe to eat and that this traditional southern deviled egg recipe retains their flavor and texture.
RECIPE TIP: Don't store them in a plastic bag. They will smell up your refrigerator!
Here are some tips for storing deviled eggs:
Use an airtight container or egg carrier. This will help to prevent the eggs from absorbing any odors or flavors from other foods in the refrigerator.
Refrigerate the eggs for up to 4 days. This is the maximum amount of time that deviled eggs will stay fresh in the refrigerator.
Serve the deviled eggs cold. This will help to prevent them from becoming mushy or overcooked.
How long do deviled eggs last in the fridge?
Deviled eggs can last for up to 4 days in the fridge. However, it is best to eat them within 2 days for optimal freshness. They may start to get mushy after that.
How To Transport Deviled Eggs
If you're traveling to a cookout or pitch-in with your deviled eggs, put them in a muffin tin! This is an easy fix if you are transporting a large number of deviled eggs for a gathering or even just a dozen. Simply place one egg in each muffin cup and cover with plastic wrap. Then, you can place them on a serving place once you get to your party!
Our favorite way is to use a deviled egg carrier like this one. (Make sure you get one with a carrying handle!) This is a specialized container that is designed to hold deviled eggs in individual compartments. It also typically has a lock in place lid that keeps the eggs safe.
HOW TO MAKE EASY PEEL BOILED EGGS FOR DEVILING EGGS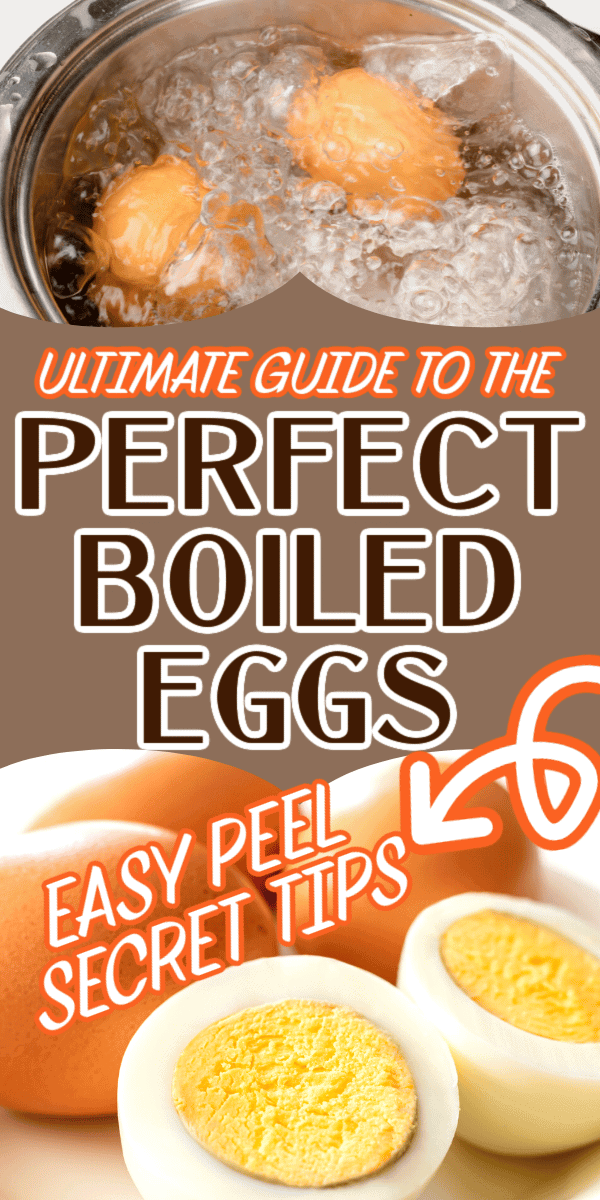 What To Eat With Deviled Eggs
Deviled eggs are a delicious and versatile dish that can be enjoyed on their own or served with a variety of other foods. Here are some ideas for what to eat with deviled eggs. (But, if you're like my daughter, you'll eat them straight out of the refrigerator with just a sprinkle of salt!)
What to serve with deviled eggs:
Sandwiches. Deviled eggs can be a great addition to any sandwich. Try them on a BLT, grilled cheese, or ham and cheese sandwich.
Salads. Deviled eggs can be a great addition to any salad. Try them on a Caesar salad, Greek salad, or Cobb salad.
Appetizers. Deviled eggs can be a great appetizer for any party. Serve them on a platter with crackers, celery, and carrots. They also go great on a platter with pickles.
Side dishes. Deviled eggs can be a great side dish for any meal. And, if you go to any gathering in the South, you'll find deviled eggs side dishes no matter what you're having for dinner or supper!
Alone! Deviled eggs make a great snack for kids or just a light lunch to eat alone!
Why is vinegar added to deviled eggs?
Vinegar is added to deviled eggs to add acidity and to cut through the richness of the yolk and the mustard. It also provides a tangy flavor that many people enjoy.
Can you make deviled eggs without vinegar?
Yes, you can make devil eggs without vinegar. Vinegar is not essential for deviled eggs, but it is a common ingredient. We don't make our southern eggs with vinegar, but some do.
Should you make deviled eggs the night before or the day of?
We prefer to make our deviled eggs the night before because I believe they are more flavorful after the ingredients have time to sit. If you do make deviled eggs the night before, be sure to store them in the refrigerator and only remove them to serve them cold when you're ready.
Sometime, we make the filling ahead of time and store it in the refrigerator. Then, right before our cookout or holiday party and we're ready to serve the eggs, I just pipe the filling into the whites and garnish to serve.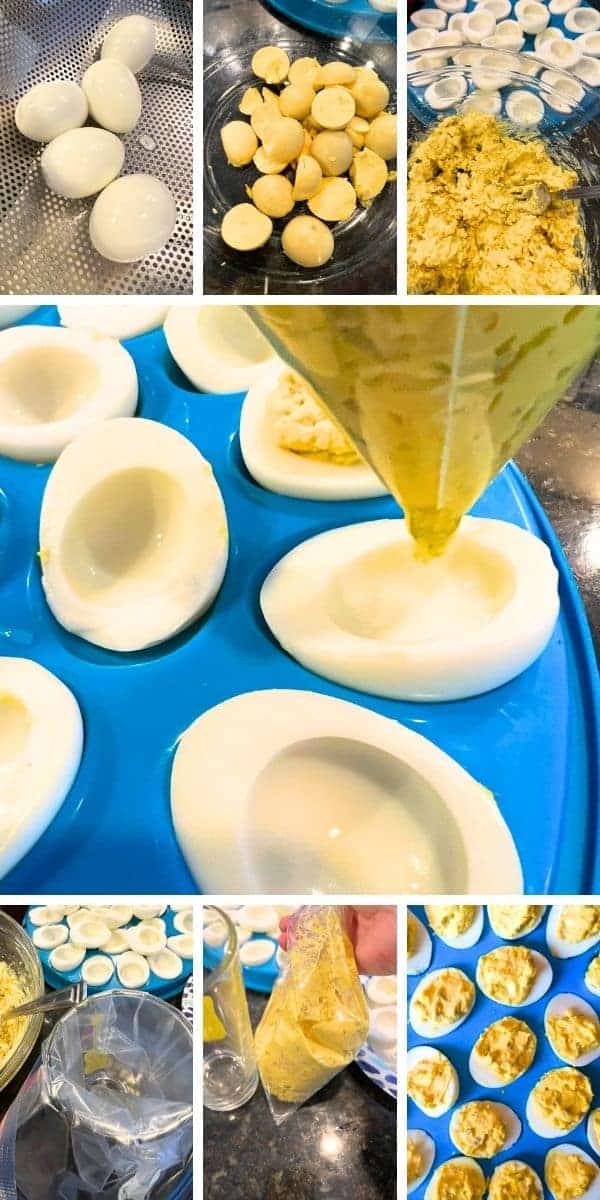 What's the trick for deviled eggs?
The trick for deviled eggs is how to get the yolk filling into the egg whites without making a mess! When my grandma made this deviled egg recipe, she just spooned the yolk mixture into the whites. However, here's how to easily create a homemade piping bag for deviled eggs!
Here's how to easily fill deviled eggs:
Snip one corner edge of a resealable plastic bag (like a gallon Ziploc bag).
Open the bag and place it inside of a tall drinking glass.
Spoon the prepared deviled egg yolk mixture into the bag inside the glass.
Remove the bag and squeeze the yolk mixture toward the bottom corner that you snipped off. (Careful that you don't squeeze it out yet!)
Use the bag as a piping bag to fill each of the egg whites with deviled egg filling.
Here's a fun fact about deviled eggs…
Angel Eggs vs Deviled Eggs
What are deviled eggs called in the South?
Did you know that in the south deviled eggs are sometimes called something different? Deviled eggs are sometimes called stuffed eggs, dressed eggs, or even angel eggs in some parts of the South because the term "deviled" is considered evil and some southern Christian families don't want to call them that.
What is the difference between angel eggs and deviled eggs?
Angel eggs and deviled eggs are the same dish, but with different names. The term "angel eggs" is used by some people because they believe it is a more wholesome name than "deviled eggs." The term "deviled" is seen as a taboo word in some religious denominations, so some people prefer to use a different name.
The recipe for angel eggs is the same as the recipe for deviled eggs. The only difference is the name.
It's not unusual to go to a church pitch-in dinner or potluck in the south and hear people referring to them as angel eggs!
(For real!)
MORE GREAT EGG RECIPES: HOW TO MAKE CLASSIC EGG SALAD (MORE GRANDMA'S FAVORITES!)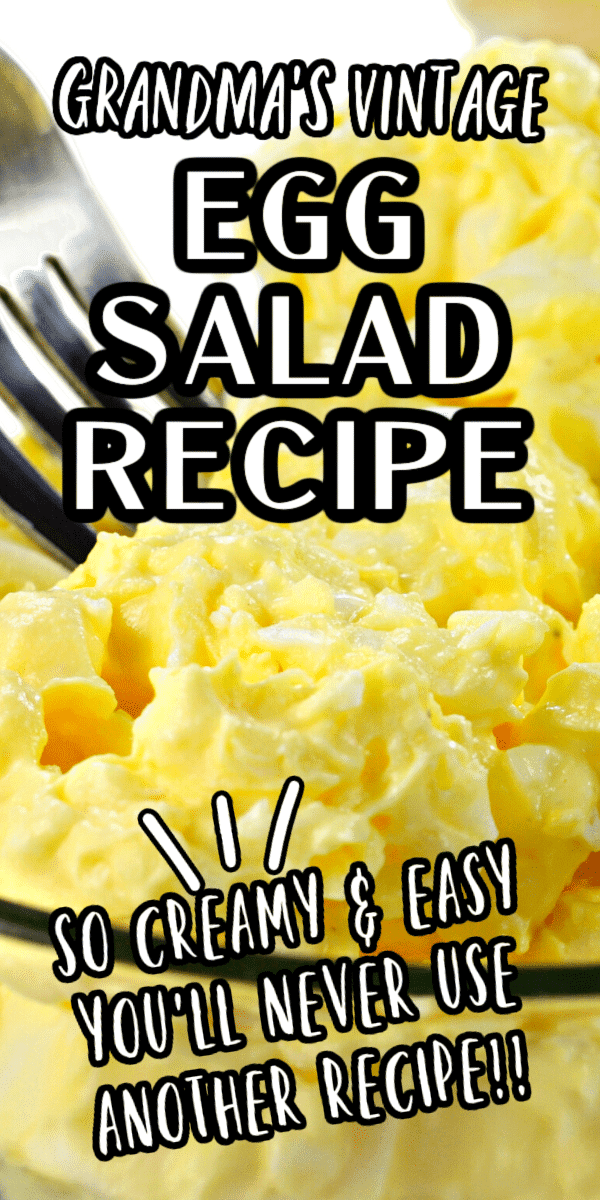 Ways to Garnish Deviled Eggs
There are so many things you can use for deviled egg toppings! I've found what people put on top usually depends on where they were raised and how their family makes them.
What can I put on top of deviled eggs besides paprika?
Crumbled bacon
Pimentos or pimento cheese
Diced ham or country ham
Chopped scallions or green onions
Pickled jalapenos
Relish
Diced sweet gherkin pickles or pickle juice
Hot sauce
Cayenne pepper
Cracklings
Old Bay Seasoning
Olives (green olives or black olives)
Chopped fresh herbs, such as parsley, dill, or chives
Southern deviled eggs are often known for their rich and savory flavor, and the toppings can help to enhance that flavor even more, but those southern women will fight you over a deviled egg recipe and what to put on top of eggs, I tell you! So, southern deviled eggs recipe ingredients vary greatly! Some even make southern deviled eggs recipe with sugar for sweet southern deviled eggs!
Let's get to how to make southern deviled eggs!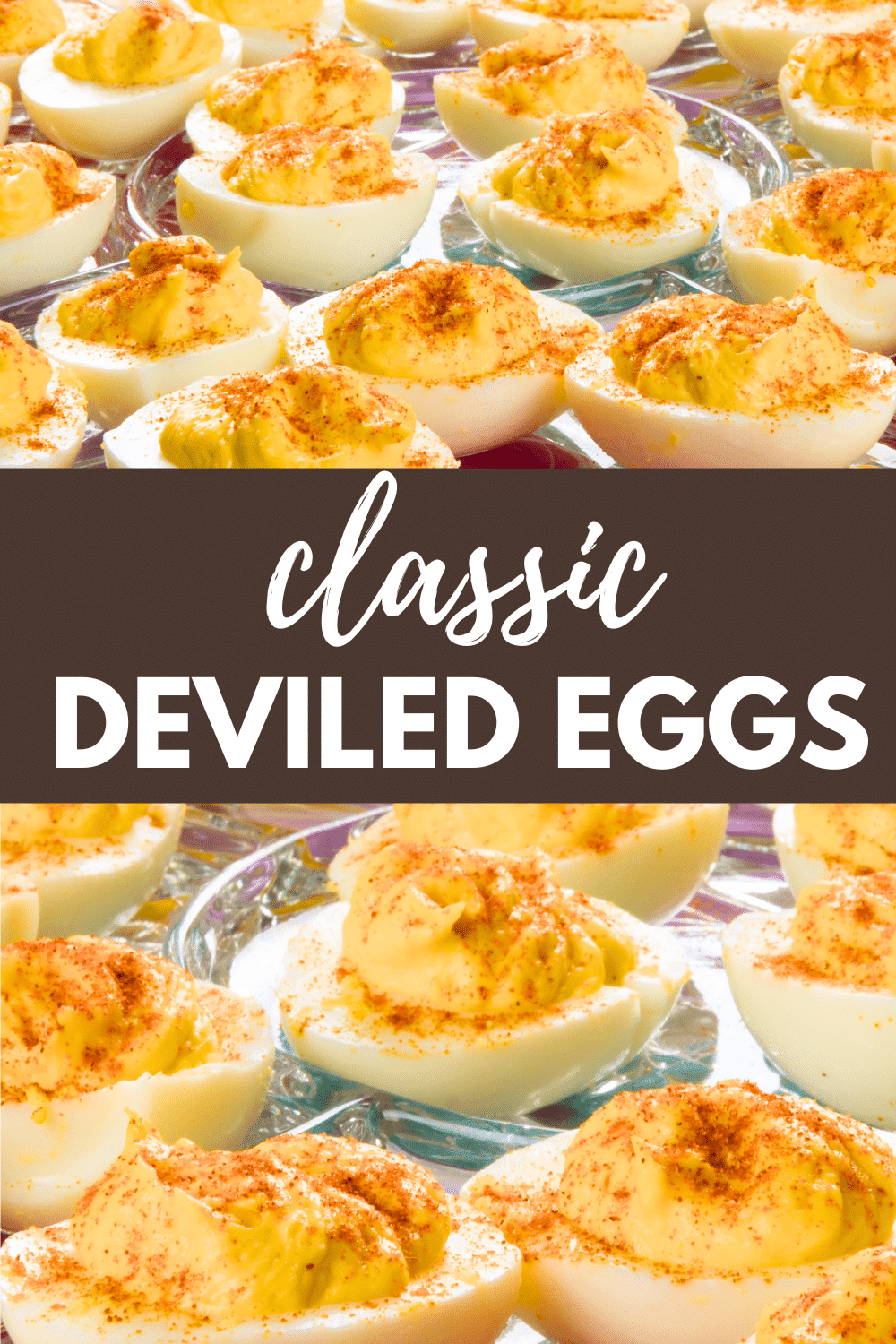 How To Make A Deviled Egg Southern Recipe
This is our go-to recipe for devil eggs (including the one we always make as our thanksgiving deviled eggs recipe)!
This is an easy recipe to double or triple, so you can easily boil more eggs than listed in the recipe.
We have some tips for deviled eggs leftover below the recipe card, so don't miss it! (KEEP SCROLLING!)
Here's how to make southern deviled eggs recipe with relish (one of my favorite recipes deviled eggs — great deviled eggs for Thanksgiving or Easter recipes, too!).
Yield: 12
Deviled Egg Southern Recipe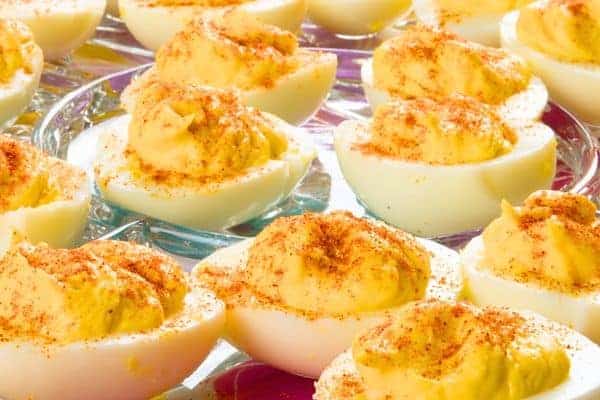 This is my favorite vintage deviled eggs recipe, just the way my grandma made southern devil eggs (aka: angel eggs!).
RECIPE TIP: If you need to know how to boil EASY PEEL eggs every time, see this recipe!
Here's how to make southern style deviled eggs that I remember from my childhood...
Ingredients
6 large hard-boiled and peeled eggs
1 teaspoon yellow mustard
1/4 cup mayonnaise
1 1/2 tablespoons sweet pickle relish
Salt and pepper, to taste
Paprika, for garnish* (optional)
Instructions
Cut the boiled eggs in half (lengthwise) and carefully scoop out the egg yolks into a small mixing bowl. Set egg whites aside on a serving plate or in egg carrier.
Mash egg yolks completely with fork.
Stir in mayonnaise, mustard, and sweet pickle relish into the egg yolks. Combine completely.
Add salt and pepper, to taste.
Pipe or spoon into egg whites. (SEE TIP IN POST FOR EASY EGG YOLK PIPING!)
Sprinkle with paprika right before serving.
Chill until ready to serve. Store in refrigerator in an airtight container for up to 4 days.
Notes
*See the post for more topping ideas for deviled eggs. We just use paprika, but there are many other ways to top devil eggs!
Nutrition Information:
Yield:
12
Serving Size:
1
Amount Per Serving:
Calories:

79
Total Fat:

7g
Saturated Fat:

1g
Trans Fat:

0g
Unsaturated Fat:

4g
Cholesterol:

111mg
Sodium:

111mg
Carbohydrates:

1g
Fiber:

0g
Sugar:

1g
Protein:

4g
Nutrition information is estimated. Changes to the recipe and use of different brands may cause changes to the nutritional information to vary slightly from the ones provided here.
What To Do With Leftover Deviled Eggs
IMPORTANT RECIPE TIP: If after making the southern recipe for deviled eggs, the eggs sit out for a prolonged period (like at a BBQ), I wouldn't use them for leftover dishes.
How do you eat leftover deviled eggs?
Chop them up and add them to potato salad for a tasty twist.
Use them to make egg salad sandwiches.
Make a deviled egg salad by chopping the eggs and mixing them with mayonnaise, mustard, and pickles.
Add them to a Cobb salad for extra protein.
Use them as a topping for a green salad.
Make a deviled egg dip by blending the eggs with sour cream, cream cheese, and spices and serving it with crackers.
Use them as a filling for a breakfast burrito.
Chop them up and mix them with cooked pasta and vegetables for a cold pasta salad.
Serve them as an appetizer with crackers or sliced vegetables.
Top them with crumbled bacon or diced ham for a heartier snack.
Use them as a filling for a breakfast sandwich.
Chop them up and mix them with avocado for a deviled egg guacamole.
Make a deviled egg pizza by using the eggs as a topping on a homemade pizza.
Use them as a topping for a bowl of ramen.
Serve them as a side dish with roasted vegetables or grilled meat.
More Eggs Recipes To Try Next:
Colored Deviled Eggs Ideas For Easter (How To Dye Deviled Eggs)
Let us know if you make your deviled egg southern recipe differently!
LOOKING FOR FUN COOKING PRINTABLES FOR KIDS?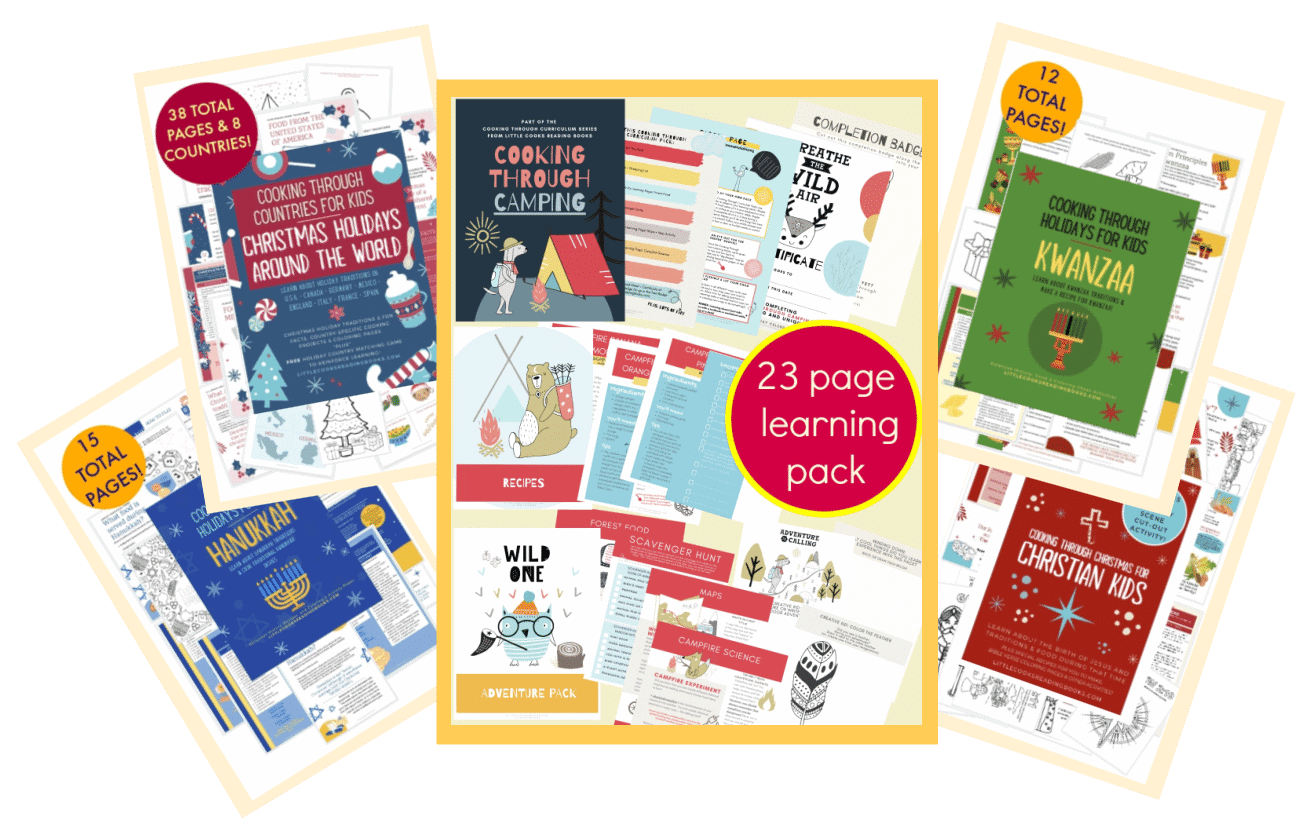 As an Amazon Associate I earn from qualifying purchases. Please refer to our
DISCLOSURE
.