This pollinator craft is fun for learning for all ages. (You can even use it for a pollination simulation game to see who spreads the most pollen.) Whether you're studying bees, butterflies, moths, beetles, bats, ants, flies, birds, things that help our flowers and plants grow, or want honeybee crafts or kids' gardening activities, this is a great project!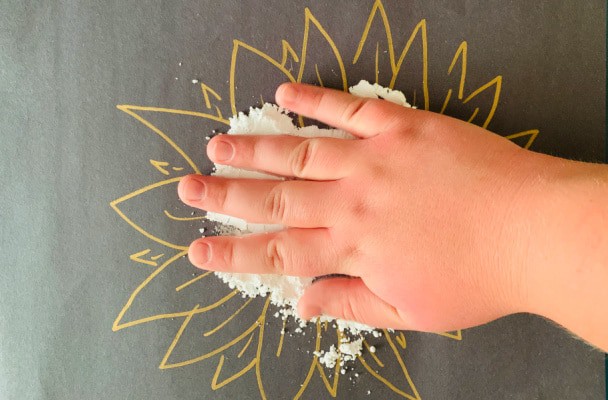 POLLINATOR CRAFT FOR POLLINATION WEEK STUDIES
If you're wondering how to teach pollination to preschoolers or you're studying pollinators with older kids, this craft works and helps kids understand why is pollination important.
Or, if you're searching out pollinator games and activities for Pollinator Week, or unit studies and lesson plans on bees and pollination, add this one to your list!
What is pollen kid friendly definition?
Pollen is a fine powder found on flowers, trees, and plants. Pollinators like insects (including bees and butterflies), as well as birds, animals, and even the wind transfer this pollen powder to flowers and plants to help them grow and keep producing.
Affiliate links are used on this site. As an Amazon Associate I earn from qualifying purchases. Read more in our DISCLOSURE.
Why is pollination so important for kids?
The pollination cycle is one of the most important things for kids to understand because it plays such a large roll in our food production. Without pollination, some fruit and vegetable plants would continue to grow, but many would stop producing flowers or fruits.
That's why it's so important to discuss and study pollinating with your kids. (And, what better way to do that than with fun pollination crafts and activities?)
Looking for Pollination for Kids+Worksheets?
CLICK HERE to check out our BEE POLLINATOR PACK!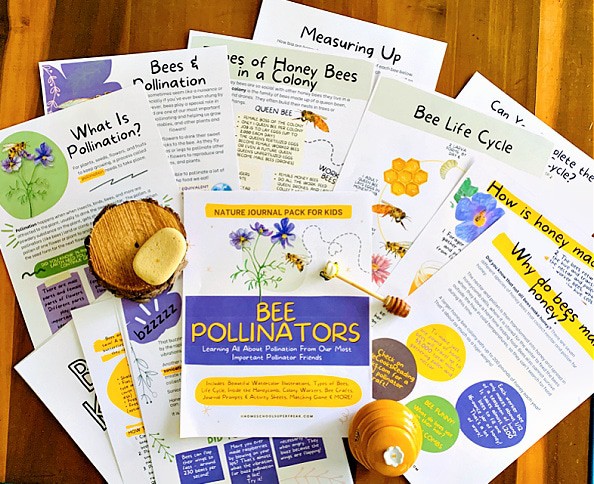 You'll get:
• 18 pages of pollination learning and activities
• Beautiful watercolor illustrations AND real images
• Pollination meaning & facts
• Why pollination is important
• Pollination process
• Types of Bees + Colony Workers
• Life Cycle
• Inside the Honeycomb
• Bee Crafts
• Journal Prompts & Activity Sheets
• Matching Game
• & MORE!
Want to use this printable pack with a classroom or group? CLICK HERE INSTEAD.
Pollinator Craft Ideas
This can also work as a pollination activity with glitter or a pollination activity with Cheetos (or Doritos!), but our pollinator crafts idea is much easier to clean up!
For this pollination simulation game experiment, you can use items you probably already have around the house.
The powdered sugar and black paper really allow for your kids to see how pollen moves from flower to flower. We also used a Gold Sharpie for the flower drawings because it showed up best on the black paper.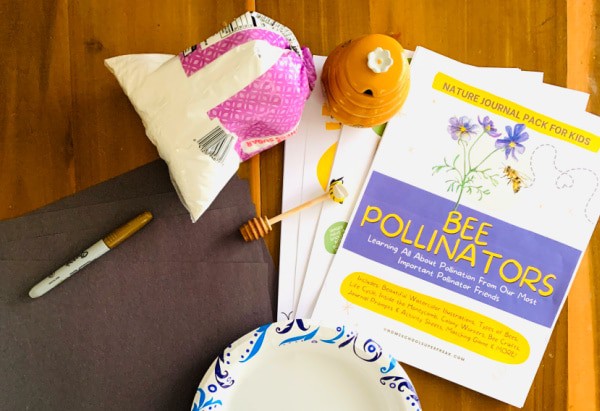 Yield: 1
Pollinator Craft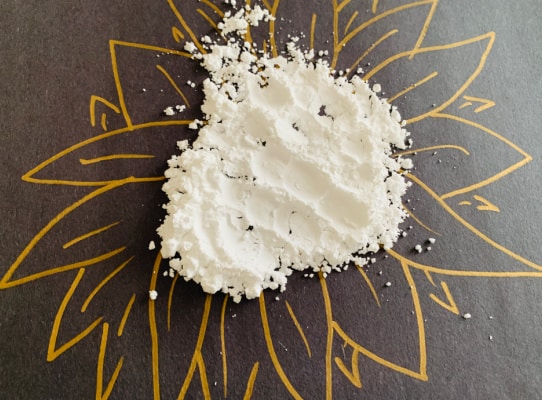 Pollinator crafts like this one helps kids visualize the process of pollination and what happens with pollen as pollinators move from flower to flower.
These directions are for one activity set (best for one kid). Just multiply the materials by the number of kids you are using it with so each kid can do their own experiment.
Materials
1/4 Cup Powdered (Confectioner's) Sugar
4 Pieces Black Construction Paper
Gold Sharpie (or other color that shows up on black paper)
Paper Plate
Instructions
Using the Sharpie, draw one large flower on each sheet of black construction paper. Line the flower sheets up in a row.
Carefully sprinkle 1/4 cup powdered sugar in the middle of the first flower. This represents the flower's pollen.
Flatten your hand and pretend it is a pollinator (like a bee or butterfly) and "land" your hand in the middle of the first flower filled with powered sugar.
Without dusting off your hand, place your hand in the middle of the second flower, then the third, and fourth.
Observe how a pollinator leaves bits of pollen (the powdered sugar) in each flower. Remind kids that while they are leaving pollen, they are also picking up pollen from the new flower and taking it to the next one, also. This pollination is how flowers, fruits, plants, and trees grow!
Notes
CRAFT PROJECT VARIATION: You can also color your powdered sugar using a different PETAL DUST for each flower. Sprinkle a different color in the center of each flower. Then, when you move from flower to flower, you can see the different colors of "pollen" that move with you to each flower.
Children's Books on Pollination
Add these fun kids pollination books to your activity, too!
HAVE FUN WITH YOUR POLLINATOR CRAFT!
LOOKING FOR FUN COOKING PRINTABLES FOR KIDS?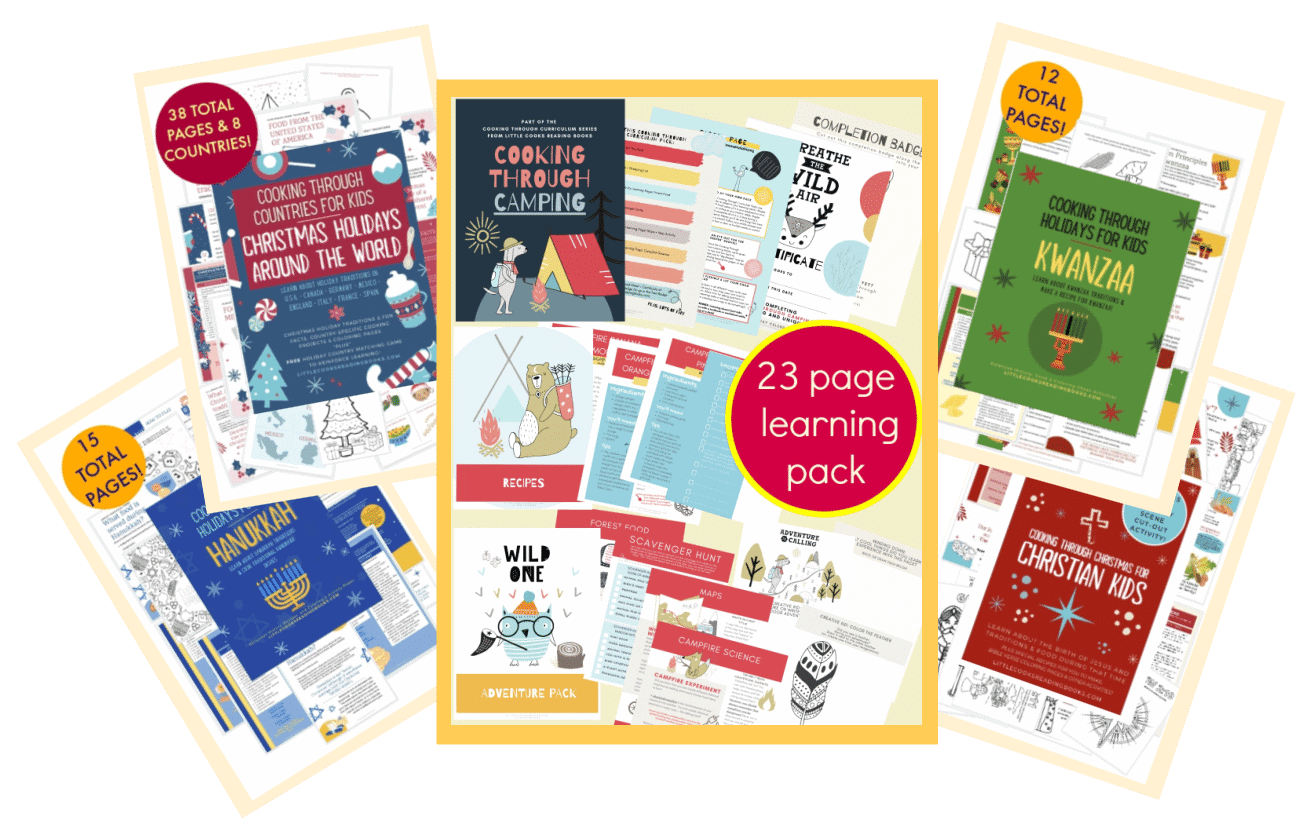 As an Amazon Associate I earn from qualifying purchases. Please refer to our
DISCLOSURE
.