Have leftover Easter egg dye after the holiday? Don't throw out that liquid dye from your hard-boiled eggs coloring because there are tons of other things to dye besides eggs! Here are fun crafts, experiments, and creative ideas for leftover dyes and things to do with food coloring activities kids will love!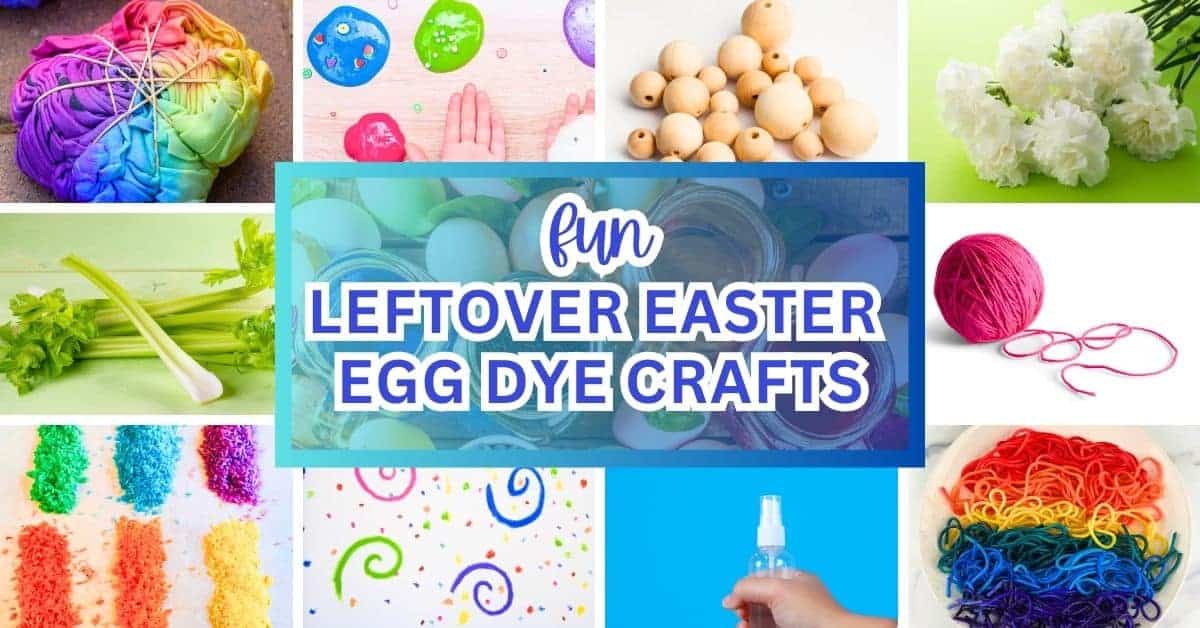 What Can You Do With Leftover Easter Egg Dye After Easter?
Wondering what are other uses for leftover Easter egg dye, other than just coloring eggs? Whether you're using natural dyes, store-bought dye tablets from egg dye kits, or making your own dye with food coloring, there are so many fun ideas for leftover egg coloring!
What can I do with leftover Easter egg dye?
Use leftover dye for science experiments
Tie dye with leftover dye
Make an Easter egg volcano
Use dye for sensory bin items
Paint with leftover egg colors
Dye yarn or cloth with egg food colors
Make colorful sensory rice
Use leftover Easter coloring to make pasta jewelry
Create sensory bottles with the leftover egg dye
Color Play-Do or color slime with Easter egg dyes
Spray paint dye colors onto coffee filters for a fun outdoor activity
Keep scrolling for a huge list of the best Easter egg eye crafts ideas with leftover egg colorings!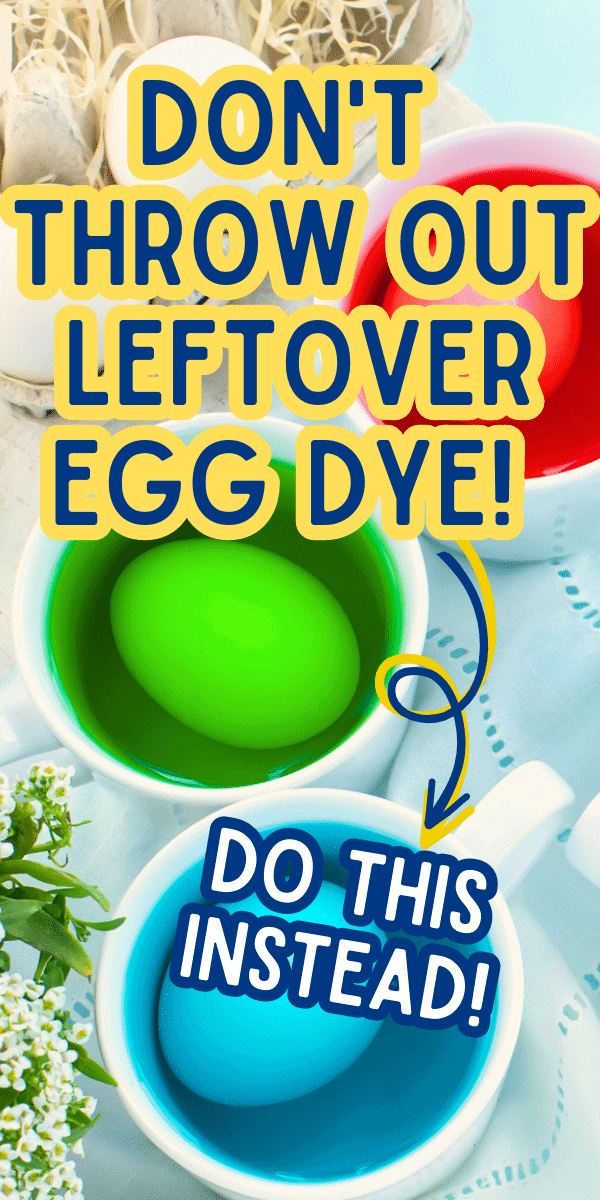 Can you tie dye with leftover Easter egg dye?
Yes! Depending how much you have left, you can use leftover egg coloring dye to tie dye t-shirts or other small items (like pieces of cloth for art or bookmarks).
ALSO CHECK OUT MORE EASTER FUN:
WHAT TO DO WITH LEFTOVER PLASTIC EGGS
How To Dispose Of Easter Egg Dye
If you don't want to use leftover egg dye for crafts or kids activities, you can just get rid of it. When disposing of Easter egg dye, it is important to consider the impact on the environment.
Here are some tips on how to dispose of Easter egg dye safely and responsibly:
Check the label: The manufacturer's instructions on the dye packaging will usually provide guidance on how to dispose of the dye.
Dilute with water: If the dye is water-soluble, dilute it with water before disposing of it down the drain.
Consider recycling: If the dye packaging is recyclable, rinse it out and put it in your recycling bin. Remember to always follow the manufacturer's instructions.
Compost: If the Easter egg dye is made from natural ingredients, such as beetroot or spinach or onion skins, it can be added to your compost pile!
But, it's more fun to continue to use dye until it's all gone!
KIDS ACTIVITY TIP: Save those egg dying cups! We use them for paint projects all the time!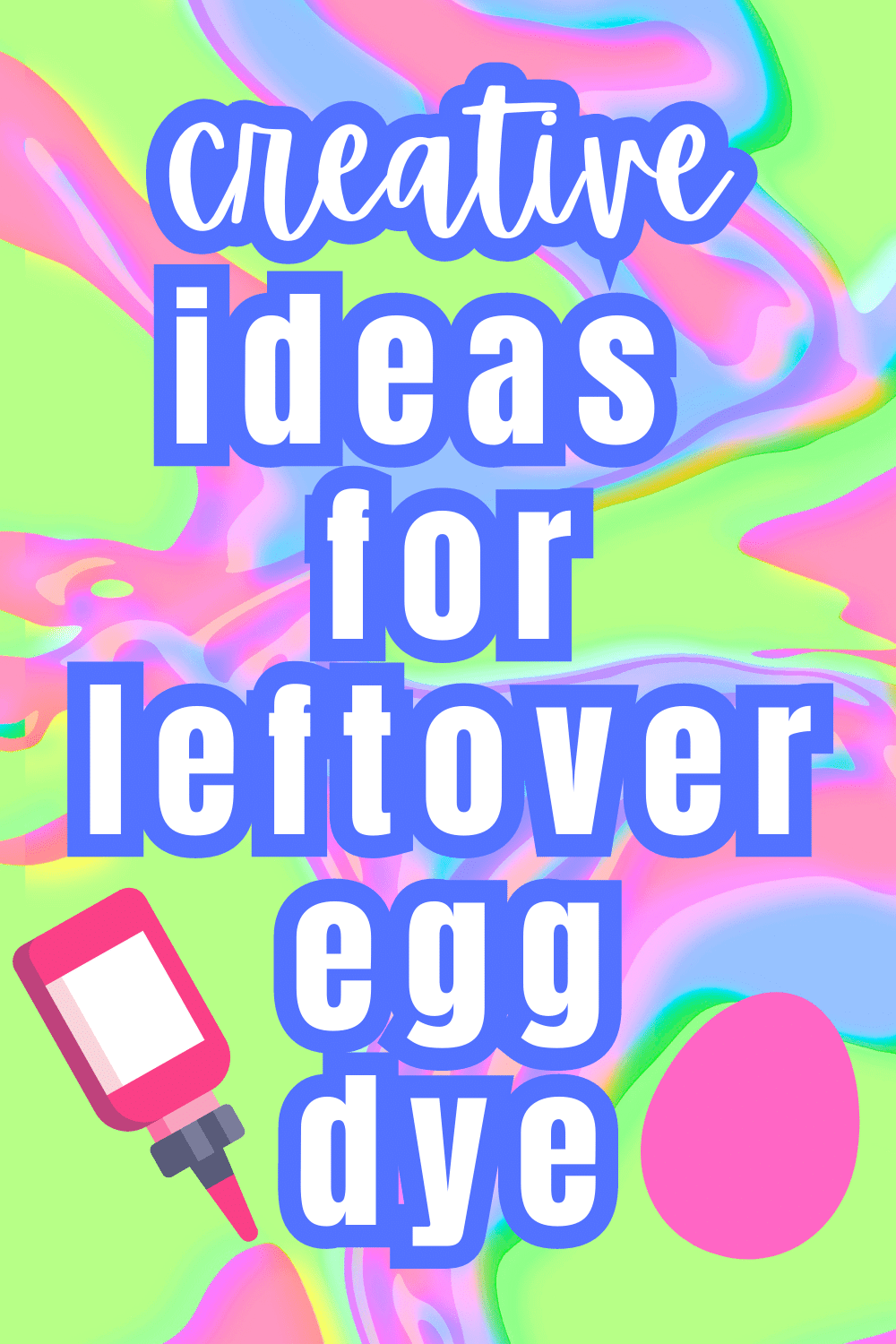 Here's what to do with leftover Easter egg dye…
26 Leftover Easter Egg Dye Crafts and Super Fun Kids Activities
You thought the colored eggs were the fun part, right? After coloring eggs, your Easter egg hunt, and all the Easter bunny festivities, don't throw out that leftover easter eggs dye. Try one of these fun kids crafts (for kids of all ages – from little kids to teens!) or activity ideas for the whole family instead!
Let's get to what else can you dye with Easter egg dye…
What to do with Leftover Egg Dye?
1. Make Dyed Marbled Paper
Use leftover Easter egg dye to create marbled paper, which can be used for scrapbooking or card-making.
Simply mix the dye with shaving cream, swirl it around with a toothpick, and press a piece of paper onto the surface to transfer the design.
Remove paper and let it dry.
This is a great way to use coloring before you throw it out!
2. Dye Flowers (Dye STEM Project)
Did you know you can dye white flowers, such as carnations or daisies, with leftover Easter egg dye?
Just place the flowers in a vase with water and a few drops of dye, and let them sit overnight.
Have kids use a science journal sheet to track their findings at different times.
My daughter had so much fun with this activity when we did it as an Easter egg dye science experiment! She loved documenting the different colors each day and how long it took to color the flower petals. She enjoyed every bit of that whole process!
You can even do it with celery stalks with the leaves still on top!
3. Make Dye Spray Paint
Hang paper or coffee filters from a clothesline outdoors. Fill mini spray bottles like this with leftover Easter dye. Have kids spray the paper, paper towel, or filters to create art.
PRO TIP: Be sure to wear old clothes that you don't care if they get stained. (Or old long t-shirts!) You don't want part of your project to be researching how to get Easter egg dye out of cloth or how to get egg dye out of clothing!
4. Dye Rice
Dyeing rice with Easter egg dye is a fun sensory activity for kids.
Simply add a few drops of dye to uncooked rice, and stir until it is evenly distributed. Spread on a lined baking sheet to dry.
The colored rice can be used for sensory bins or art projects.
GET FREE PRINTABLE DYED RICE DIRECTIONS HERE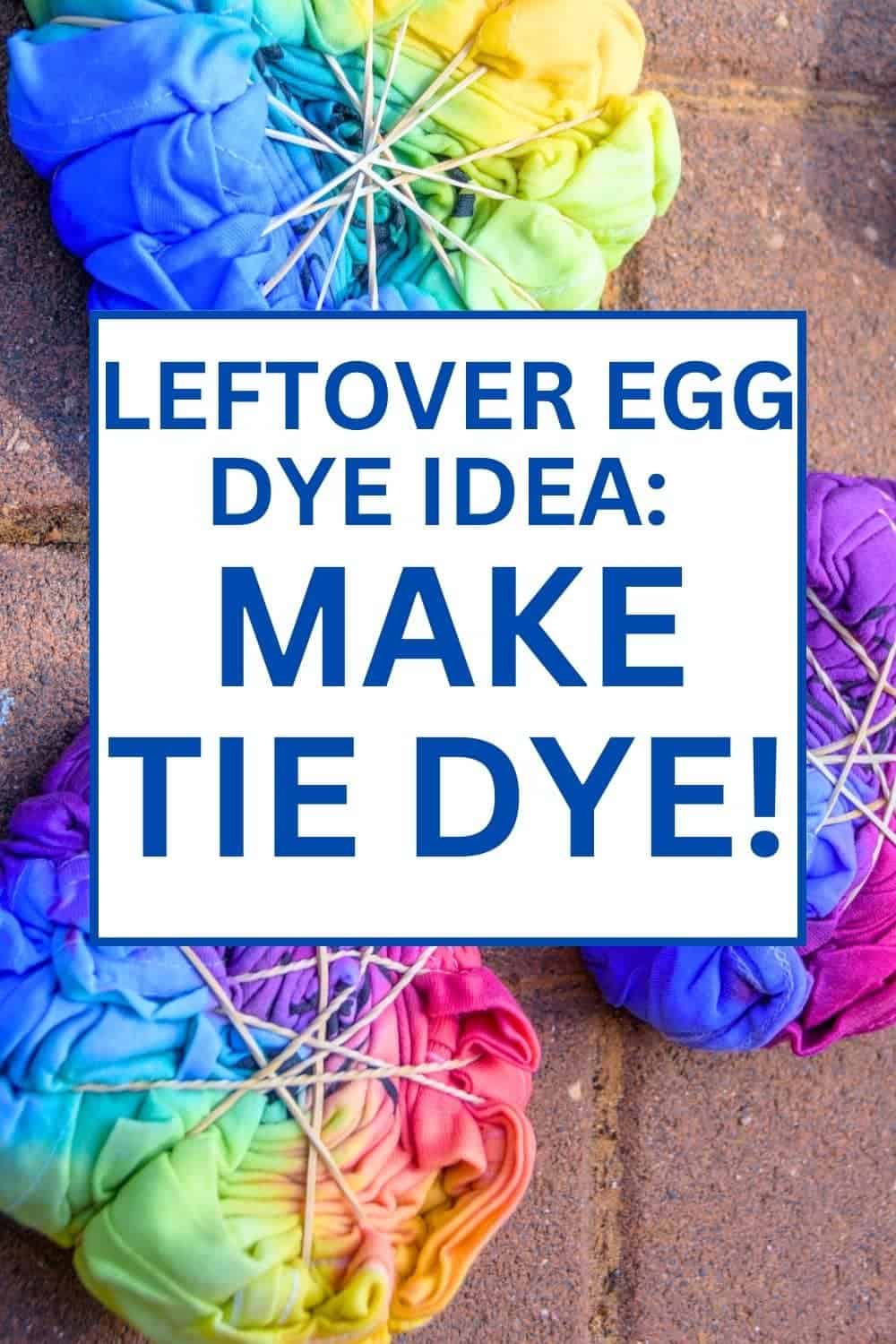 5. Tie-Dye T-Shirts
Use leftover Easter egg dye to create tie-dye t-shirts (even tie dye Easter shirts!).
Wet the shirt, twist it into a spiral, and place rubber bands at different points around the shirt.
Then, apply the dye in sections using mini bottles like this.
Place the shirt in a Ziploc bag (plastic bag) and let the dyed shirt sit for a few hours before rinsing it out and letting it dry.
CRAFT TIP: You can try this with natural egg dye (natural ingredients making natural easter egg dies like onion skins, beets, etc that are alternative Easter egg dyes), but the colors won't be as vibrant on the cloth as the food dye.
(Many of these crafts are great for what can you do with leftover tie dye, too!)
If you don't have enough to do shirts, try to tie-dye paper towels, coffee filters, or small pieces of material for bookmarks!
6. Dye Eggs
If you have extra dye left over, you can dye more eggs!
(My daughter always wants to color more hard boiled egg art!)
This is a great activity for kids who want to decorate more eggs or experiment with different colors.
Also, if you used food coloring for eggs (or food-safe dye), you could try dyeing boiled egg whites for fun colored deviled eggs! (Don't do this if you used chemical dyes!)
7. Make Colored Playdough
Add a few drops of Easter egg dye to homemade or store-bought Playdough to give it a fun, colorful twist.
8. Dye Shaving Cream
Use leftover Easter egg dye to dye shaving cream, which can be used for sensory play or art projects.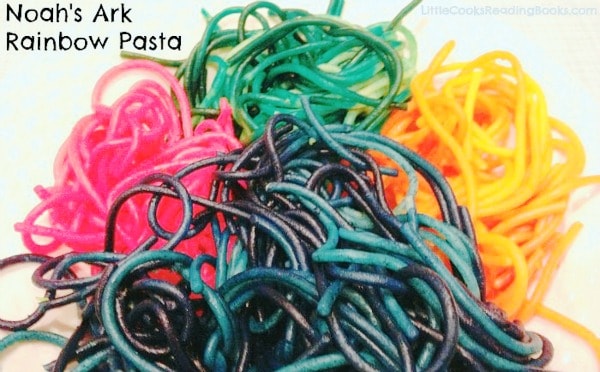 9. Dye Pasta
Dyeing pasta with Easter egg dye is another fun sensory activity for kids.
Simply add a few drops of dye to uncooked pasta, and stir until it is evenly distributed.
The colored pasta can be used for sensory play.
LEARN ABOUT SENSORY DYED PASTA HERE
10. Dye Sugar
If you haven't added vinegar to your dye (and you've used food safe food coloring), you can dye sugar with Easter egg dye to create colorful sugar for decorating play food sugar (that you don't eat).
Add a couple of drops of the food safe dye to your sugar in a baggie. Squish the baggie around until all the sugar has been dyed and then use it to decorate fake cookies or cupcakes for a kid's play bakery!
11. Make Watercolor Paintings
Yes! You can paint with Easter egg dye (aka: colored water)!
Get some brushes and thick paper and create water coloring paintings with your bit of dye that's leftover!
ACTIVITY IDEA FOR YOUNGER KIDS: If you need toddler crafts or preschool crafts, cut up small sponges and let them paint with the dye from Easter that way!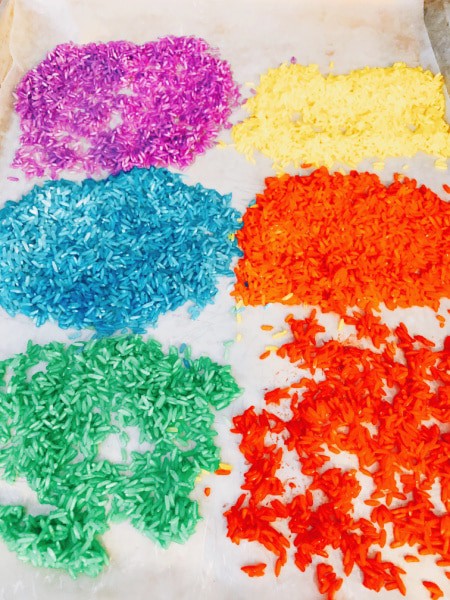 12. Make Rainbow Rice
Mix together different colors of dyed rice to create a rainbow effect. This can be used for sensory bins or art projects.
LEARN MORE ABOUT DYING COLORED RICE
13. Dye Yarn
Use Easter egg dye to dye white or light-colored yarn.
Simply place yarn in cups of dye and let it sit until you get the desired effect / desired colors (longer for darker colors and shorter periods of time for lighter colors). You may even need to add a few more drops of food coloring for darker colors.
Then, the dyed yarn can be used for crafts, braiding bookmarks, or anything else!
This is also a fun activity for kids who enjoy knitting or crocheting.
14. Dye Coffee Filters
Use leftover Easter egg dye to dye coffee filters or paint filters, which can be used for making flowers or other crafts and art projects for kids.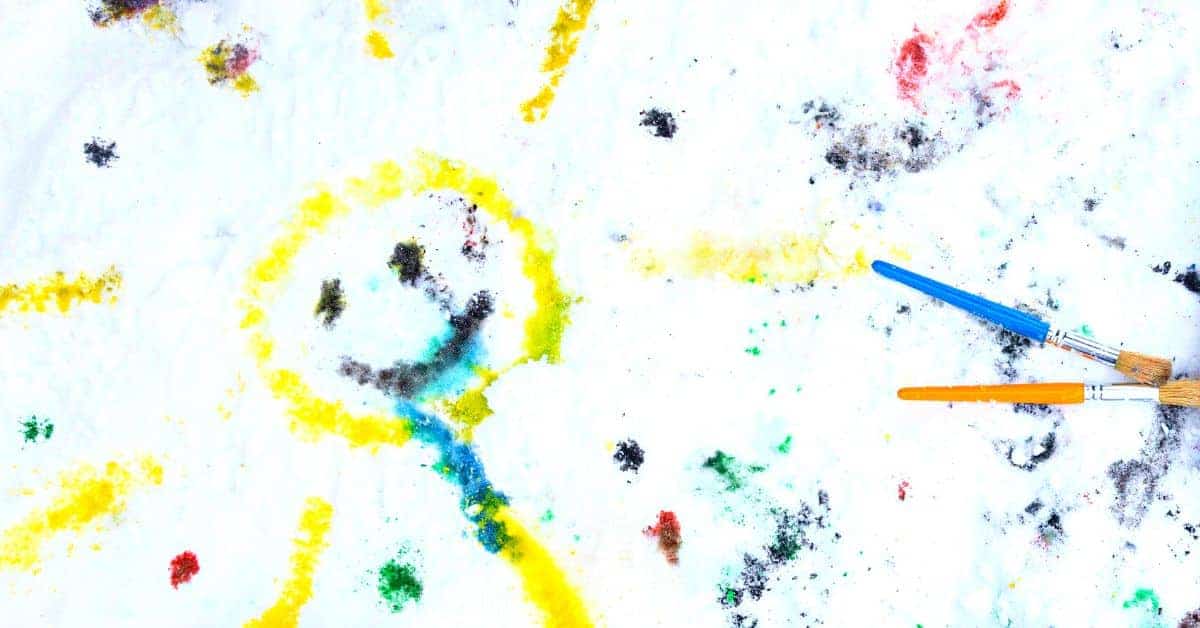 15. Make Snow Paint
If you have still have snow in your area, you can use it to paint snow! (We use mini spray containers like this.)
Or, make a painting snow sensory bin with shaved ice if you don't have snow!
16. Dye Salt Dough
Use Easter egg dye to dye salt dough, which can be used for making ornaments or other crafts or sensory playing.
17. Dye Tissue Paper
Use leftover Easter egg dye to dye tissue paper, which can be used for making flowers or other crafts.
(Lots of people use this for cross crafts for Easter!)
18. Make Stained Glass
Use leftover Easter egg dye to create stained glass art.
Simply cut out shapes from black construction paper, and fill them in with dyed tissue paper or dyed coffee filters.
19. Paint With Cotton Balls
Use cotton balls dipped in leftover Easter egg dye to create dot art or fun pictures.
You can also completely dye the cotton balls different colors and then use them for arts and crafts.
20. Dye Cotton Swabs
Dye cotton swabs with Easter egg dye to create colorful Q-tips for art projects or crafts or to dye paint with them.
Just get a bit of dye on the swab and use it for dot painting!
21. Colorful Ice Cubes Toys
Place small plastic toys and freeze leftover Easter egg dye into ice cube trays to create colorful ice cubes.
These can be used for sensory play as kids use various "tools" to try to get the toys out.
IMPORTANT: Not recommended for ice cubes for drinks.
22. Make Colorful Slime
Add Easter egg dye to homemade or homemade slime to give it a fun, colorful twist.
23. Dye Rocks
If you have light colored stones or porous pebbles, use it to see if you can dye rocks with Easter egg colors!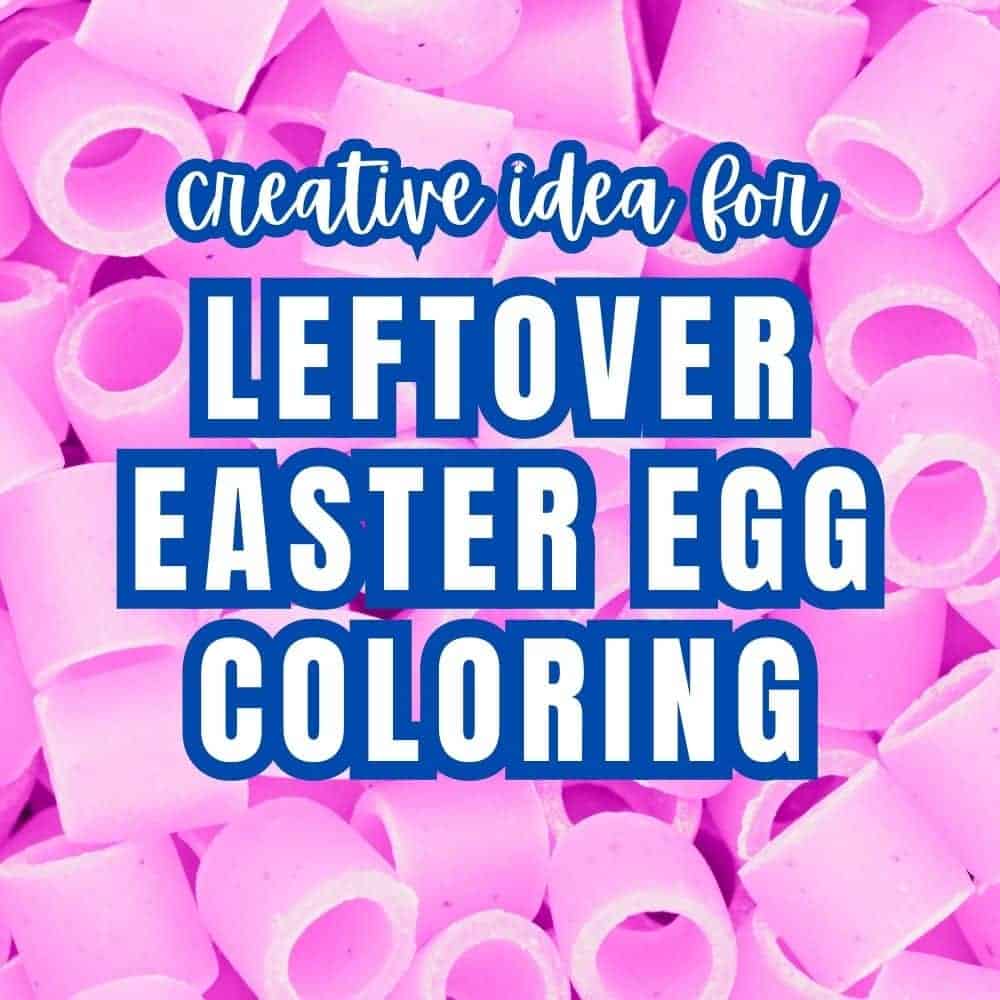 24. Color Pasta Jewelry
Place uncooked pasta tubes (like penne or ziti) into the egg dye cups and color the pasta.
Then, make jewelry and crafts with it.
(Use your dyed yarn, too!)
25. Dye Wood Beads
Use Easter egg dye to dye wood beads like this, which can be used for making jewelry or other crafts.
(You can also do this for natural wooden blocks!)
26. Make Colored Sensory Bottles
Use the leftover dyes from eggs to make sensory bottles.
Pour one color per sensory bottle or sensory jar and then add glitter and small items. Place lid on and allow kids to shake and spy items in the jar!
PRO TIP: Pick up some of those Easter egg dye kits (like the PAAS egg dye / Easter egg dye tablets) when they're clearanced after Easter. They're great to have on hand for rainy day crafts or summer craft ideas from this list!
What did we miss for our Easter dye craft projects? Let us know and we'll add them to our Spring activities list!
If you're still dying eggs, be sure to check out this great idea:
How to Dye Easter Eggs with Food Coloring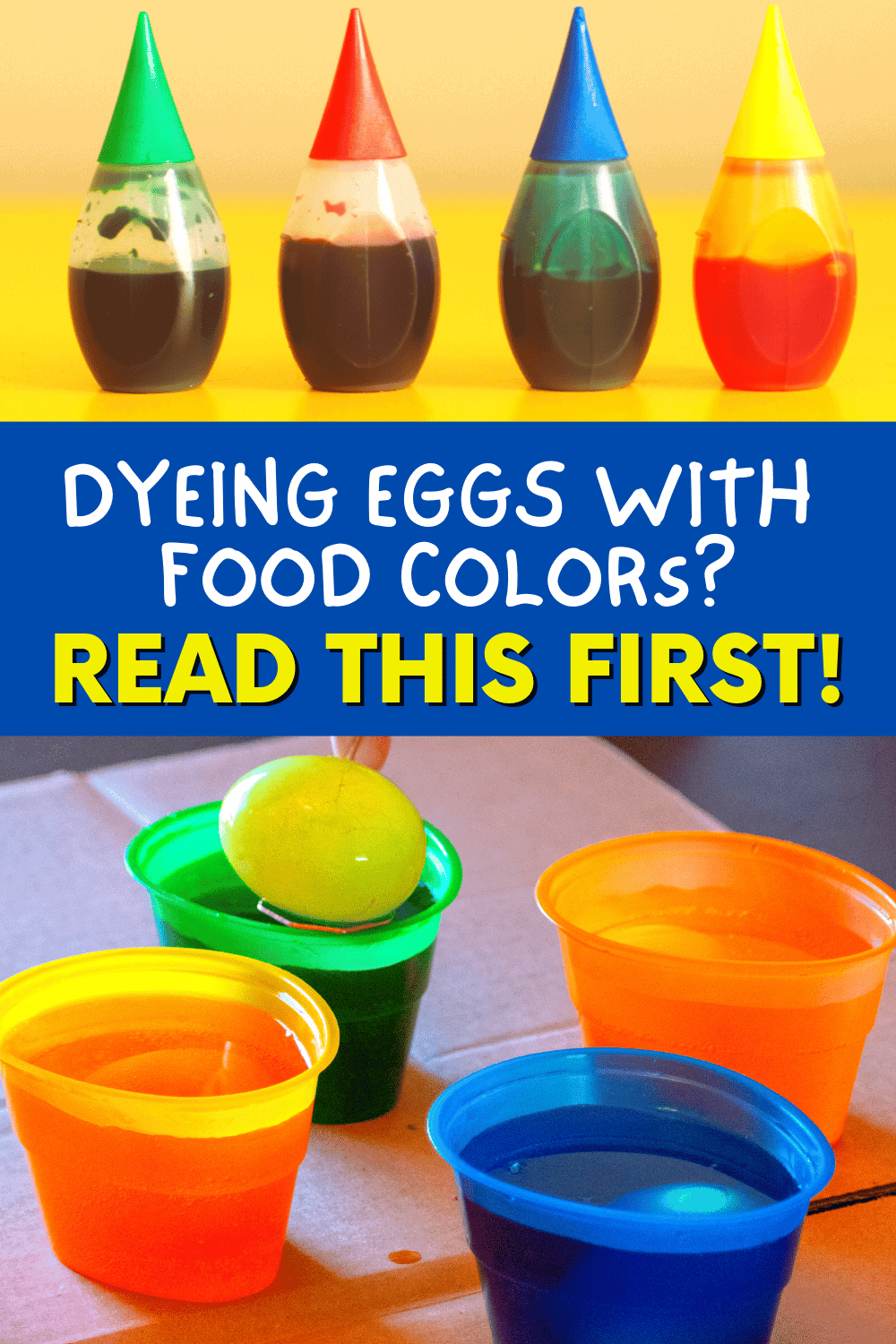 Also, learn how to make easy peel hard-cooked eggs for Easter coloring!
We hope you have fun with these leftover Easter egg dye ideas!