Learning how to dye rice is a fun and easy tactile craft for kids and can also be used for a rainbow rice sensory bin, dry sensory bottle ingredients or other sensory play / colored rice activities or even preschool art and messy play. We made our color rice with no vinegar, no alcohol hand gel and no acrylic paint / liquid water color paint!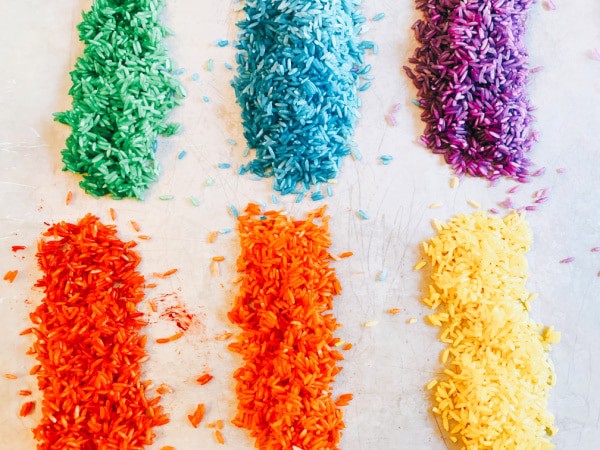 How To Dye Rice For Sensory Bin
How can I color rice without cooking it?
How to color dry rice:
Place dried rice in a resealable plastic bag.
Add drops of food coloring to create your dyed rainbow rice.
Seal plastic bag.
Gently squeeze / massage the rice in the bag until rice is mixed and colored.
If needed, add more food coloring to achieve colored of choice.
(See full dried rice directions below, including a secret tip!)
Affiliate links are used on this site. As an Amazon Associate I earn from qualifying purchases. Read more in our DISCLOSURE.
What To Do With Dyed Rice
How to play with rainbow rice:
Make a sensory bin (customize the colors for your theme sensory bin ideas!)
Create a rainbow
Use the rice with a theme sensory activity
Make a sensory bottle
Make alphabet letters in it
Practice numbers in the rice
Create pictures with the dyed rice
Use it in crafts
What is the point of rainbow rice?
Rainbow rice sensory play benefits:
Helps develop fine motor skills
Practices hand-eye coordination
Helps with learning colors in a fun way
Encourages imaginary play
Works on tactile senses
Encourages exploration skills
Rice play encourages so much fun, creative learning!
Can I dye rice with gel food coloring?
Yes. We used gel food coloring to dye our rice and the colors turned out very vibrant, colorful rice. (It even looked like painted rice!) You can also use regular food color for dyeing rice and making play rice.
YOU'LL ALSO HAVE FUN WITH:
How To Dye Pasta (For Sensory Pasta or Eating!)
OK!
Let's get to how to dye rice for colored rice sensory play!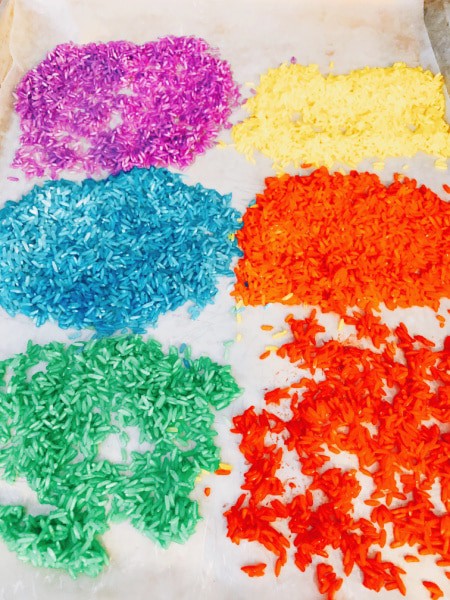 How To Dye Rice With Food Coloring
I think you'll be surprised that learning how to dye rice with gel food coloring (or regular food coloring) is so easy! Get the kids involved because it's fun to squish the rice and food coloring around in the bag and create the colors they want. (More food coloring makes deeper colored rice.)
There are many different directions out there for how to make colored rice, but we found this simple colored rice recipe to work just fine.
Just be sure to follow all our steps on how to dye dried rice before you use it for sensory rice play!
Yield: 6
Dyed Rice Recipe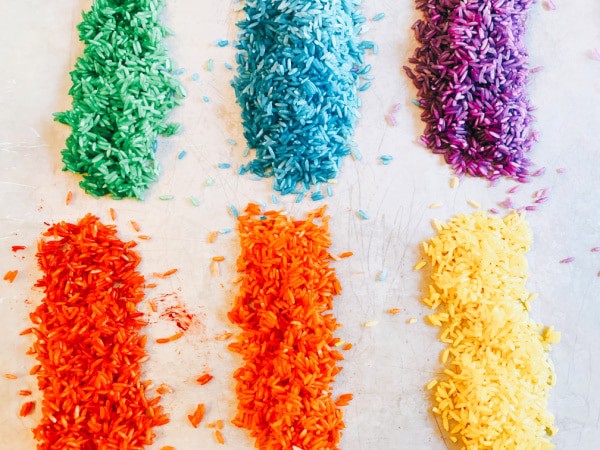 The trick to how to make colorful rice is to add a fair amount of food coloring. The more food coloring you add, the deeper the colors on rice!
Materials
6 cups white rice, uncooked
6 resealable bags, gallon size
6 different food colorings, color of choice (regular or gel)
Instructions
Place wax paper on baking sheet. Set aside.
Add 1 cup of rice to a sealable plastic bag.
Add 3-4 drops of food coloring to the bag. Reseal bag.
Gently roll and squish the rice through the bag to cover the rice with food color.
If needed, add more food coloring to reach desired color. Continue massaging rice through bag until all pieces have been covered with food coloring.
Spread rice on baking sheet with wax paper to dry.
Repeat process until all bags of rice are dyed and spread on baking sheet to dry.
After an hour, stir rice on baking sheet. Continue drying until dry to touch.
Notes
*If you're using gel coloring and find it too thick (it's not spreading around), add a tiny bit of water to the gel and rice in the bag to make the food coloring thinner.
It's important to allow the rice to dry completely before playing with it. Also, only use this rice for dry sensory bins (and not wet sensory play).
These books would be fun with this color rice recipe / multi colored rice play: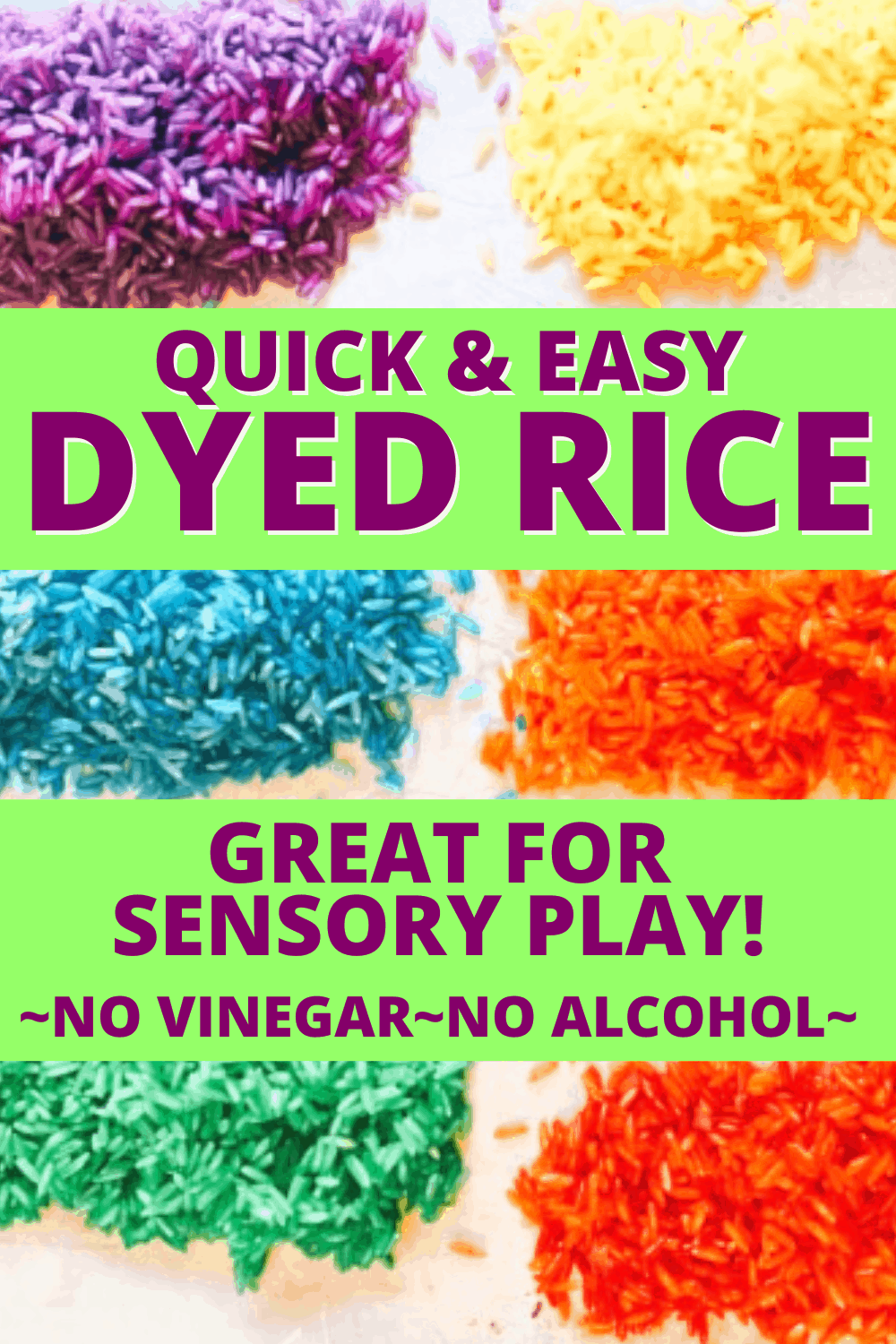 HAVE FUN LEARNING HOW TO DYE RICE AND PLAYING WITH RICE!
LOOKING FOR FUN COOKING PRINTABLES FOR KIDS?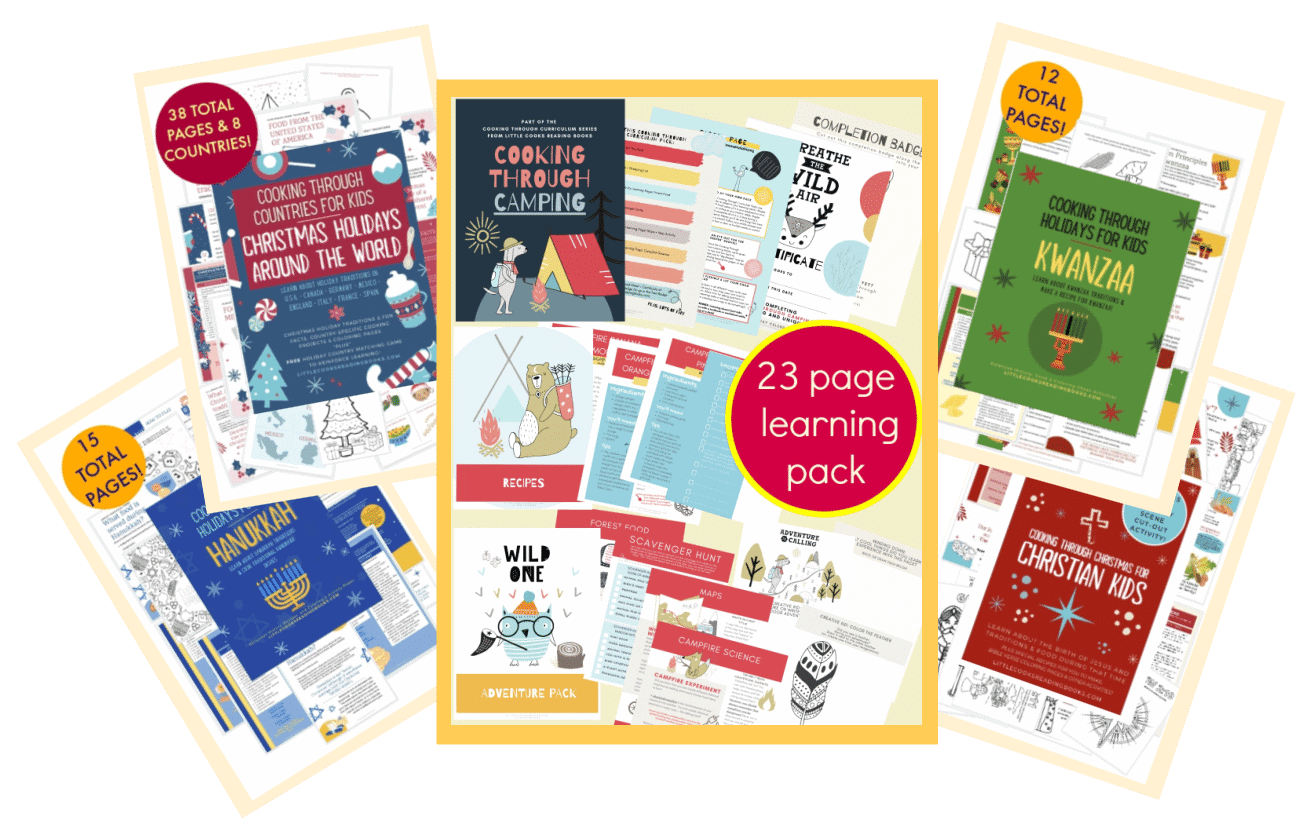 As an Amazon Associate I earn from qualifying purchases. Please refer to our
DISCLOSURE
.