Easy dye Easter eggs with natural ingredients recipe for coloring eggs naturally with food items you have at home! Free printable recipe card and color mixing guide for how to naturally dye eggs red, natural dyes for Easter eggs spinach green, purple, teal and more without chemical coloring kits!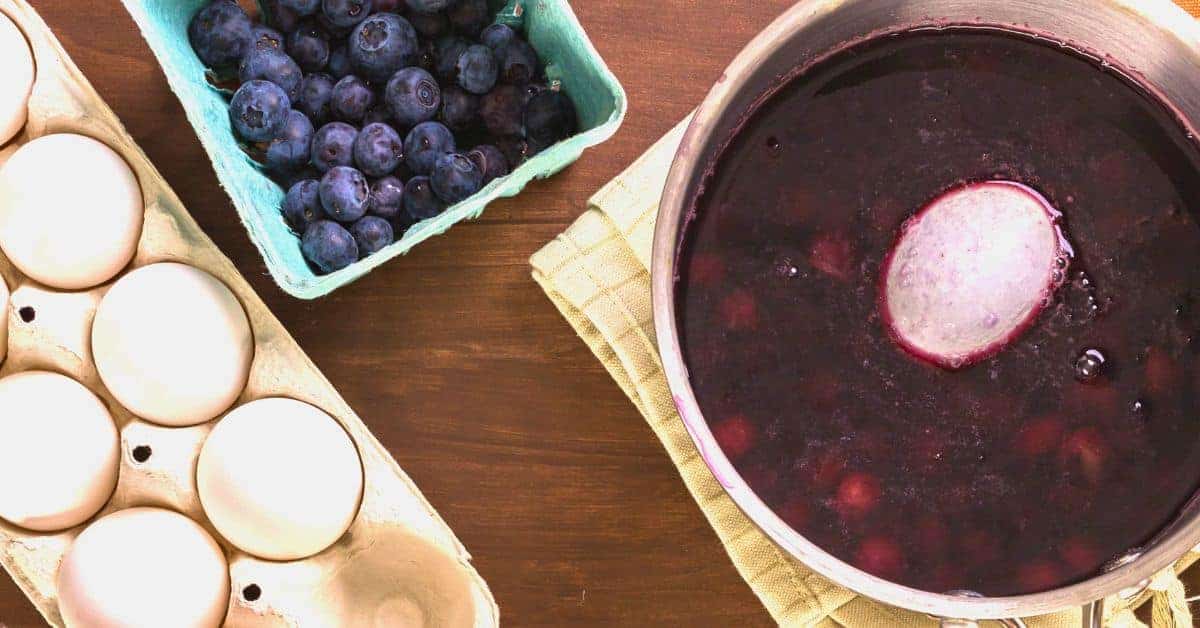 Dye Easter Eggs With Natural Ingredients Recipe (How To Dye Eggs Naturally)
Want to know how to color Easter eggs with kids without using those dye kits from the store? Learn how to dye eggs with onion skins, turmeric, purple cabbage and more with DIY homemade egg dye! There are so many ways to make natural dye for Easter eggs with things you have at home! Here's how easy it is to naturally dye Easter eggs or egg decorating for any occasion (no need to head to the grocery store for artificial colors or dye tabs! Just use these everyday ingredients!).
What can I use to dye eggs naturally?
What to use to dye eggs naturally:
Red onion skins, beets or raspberries: Red onions creates red, pink, or lavender dye for eggs (depending on the amount of time you leave the eggs in the bath).
Yellow onion skins: Makes orange (white eggs) or rust red (brown eggs).
Turmeric spice, saffron or chamomile: Makes yellow dye for eggs.
Grape juice: Makes purple egg dye.
Black coffee or black tea: Natural brown egg dye or gray egg dye.
Use red cabbage mixed with a small amount of baking soda to create a turquoise hue on brown eggs. (Natural dye easter eggs red cabbage alone, too!)
Need to know how to dye eggs blue naturally? Use Purple cabbage! It makes blue (for white eggs) and green (brown eggs) dye! Or, try blueberries for a different blue (fresh or frozen blueberries make blue eggs!).
Paprika or carrots: natural orange egg dye.
Want to know how to dye eggs red naturally? Use Beets or beet juice! Makes pink (white eggs) or darker pink/maroon/red (brown eggs) dye. (The longer you leave the eggs in the natural red Easter egg dye, the deeper the red.)
Want to know how to dye eggs green? Use spinach for a natural green dye Easter eggs!
Use beet juice mixed with a small amount of baking soda to create a lavender color on brown eggs.
Don't be afraid to play around with different items for dyeing Easter eggs naturally. I think you'll be surprised how you can color eggs how to make natural Easter egg dyes by just getting creative!
Affiliate links are used on this site. As an Amazon Associate I earn from qualifying purchases. Read more in our DISCLOSURE.
KEEP SCROLLING for the full printable natural Easter egg dyes instructions card below for how to dye eggs without food coloring for Easter and fun color Easter eggs ideas! All the information for how to naturally dye easter eggs and Easter egg colouring below! If you're wondering how to color an easter egg in unique and creative ways, give this a try! We've also included this list of natural easter egg dyes in the printable.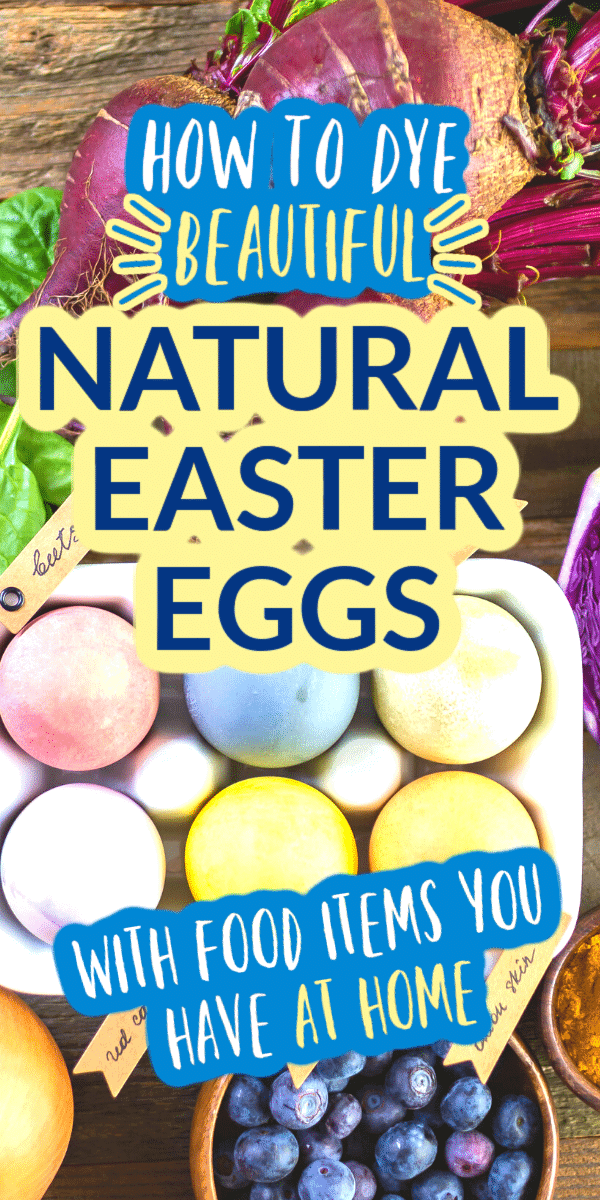 About Natural Dyed Easter Eggs From Plant-Based Dyes
Can you make your own egg dye?
Yes! You can make your own egg dye using food color or, if you want a natural dye, you can use different food items, juices, fruits and vegetables, or spices for coloring Easter eggs. Different foods make different colors — from a purple color, to beautiful pink and red dye, to teal and dark green, purple eggs, and even brown egg colors and more. It's a fun way to color eggs for the holiday season!
HAVE EASTER COLORING LEFTOVER? Try Crafts With Leftover Easter Egg Dye
How do you dye eggs without a kit?
White Vinegar and food coloring
Vegetables
Fruit skins and fruits
Spices
Colored juices
Kool-Aid
See the full directions below and dyes for eggs within the printable egg dye natural craft card! KEEP SCROLLING for color for Easter eggs tips and how to make different Easter eggs colors with cups of water and different food items!
Let's talk about how to dye brown eggs naturally, because we get questions about can you dye brown eggs…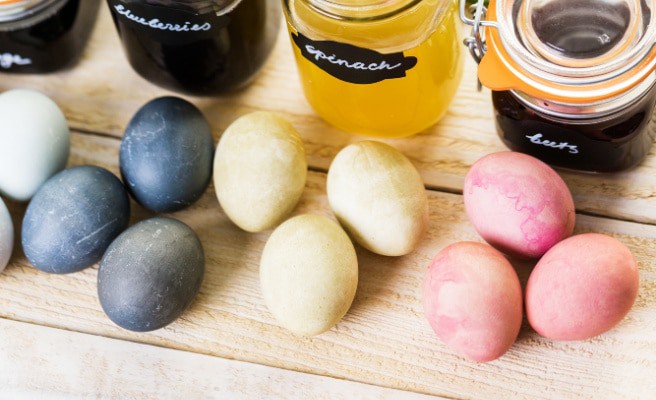 Can you dye brown eggs naturally?
YES! You can color brown eggs for Easter the same way that you can color white eggs for naturally dyed hard-boiled eggs. However, don't expect the colors on brown eggs to be as vibrant as the dye colors on white eggs. The brown eggs will dye more muted and have a more natural look, but are just as pretty and fun as the white eggs! You can dye any color eggs that come from your own chickens or from the store.
PRO TIP: Rub your dyed and dried eggs with a little bit of olive oil or vegetable oil to make them shine for best results!
ALSO CHECK OUT: HOW TO DYE BRIGHT RED EGGS and HOW TO GROW YOUR OWN NATURAL EASTER GRASS!
Can you eat naturally dyed eggs?
Yes, you can eat eggs naturally dyed with other foods (blueberries, red cabbage, spinach, etc.).Typically, Easter eggs dyed naturally with foods such as onion skins, beet juice, or turmeric, do not taste like the foods used to dye them. The dyeing process involves boiling the food item in water, then adding vinegar and submerging the eggs in the mixture. The dye molecules from the food item bond with the eggshell, creating a colored egg.
While the eggshell may absorb some of the flavor and aroma of the food used for dyeing, it is unlikely to affect the taste of the egg itself, as the dye molecules do not penetrate through the eggshell and into the egg (especially if you eat the eggs a few days after coloring them). So the egg will retain its natural flavor and taste.
However, it is important to note that if the eggshell is cracked or damaged during the dyeing process, there is a chance that the flavor of the dyeing food could seep into the egg and affect its taste.
Also, eggshells are porous, so the longer you leave them in the natural food dyes, the stronger the taste could be for the egg. For example, if eggs are left for a long period of time (like overnight in the refrigerator) in turmeric dye, you may be able to taste the spice. (Same goes for other natural egg dyes.)
It's still safe to eat natural eggs you colored with foods and even use them in egg recipes!
DON'T THROW OUT YOUR COLORED EASTER EGGS! AFTER YOUR YOU COLOR YOUR EGGS AND ENJOY THEIR BEAUTY, MAKE GRANDMA'S VINTAGE EGG SALAD RECIPE!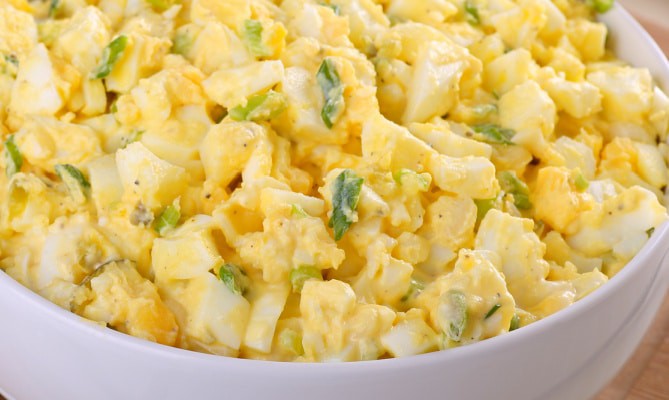 OK! Let's get to how to decorate eggs naturally (recipe for dying eggs naturally)…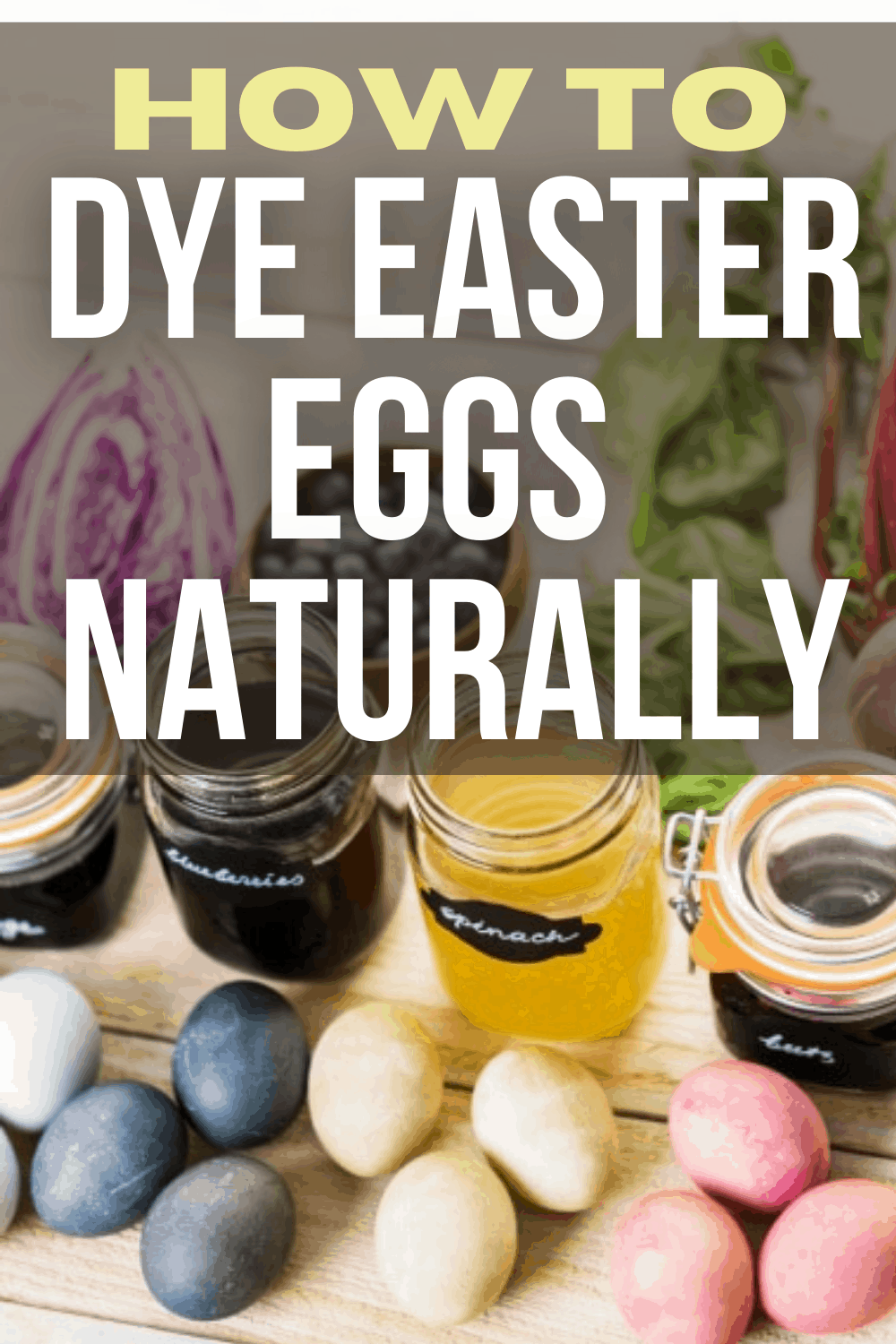 How To Dye Eggs for Easter with Natural Dyes
About The Natural Easter Egg Dye Recipe
Natural egg dye is a safe and kid friendly alternative to coloring eggs (for a non toxic easter egg dye), especially if you want to eat colored eggs after dyeing them!
How to make dyed eggs brighter: When learning how color Easter eggs with natural dyes, know that it's a process. So, have fun playing around and guessing what colors will happen from different food items or juices. Some will be more muted colors and others will be vibrant. Remember, it may take a long time (like an hour or more) to achieve the most vibrant colors for natural egg dye recipes!
Remember, dyed brown eggs will have more muted or different colors than white dyed eggs. (So you'll definitely need to play around with them to achieve the desired color for Easter eggs, but brown Easter eggs are beautiful too.)
PRO TIP: If you carefully place rubber bands or kitchen twine around the eggs before placing them in the water and dye bath colors, you can make designs on your eggs! Great way to get creative! You can also use wax crayons like this to make designs on the eggs before dying them.
*See our Recipe and Read recommendations after the recipe card for some read alouds to go with this craft!
Here's how to dye a Easter egg with natural ingredients. Making your own egg dyes is one of those easy crafts to do with kids for Easter activity ideas!
Yield: 12
Dye Easter Eggs With Natural Ingredients Recipe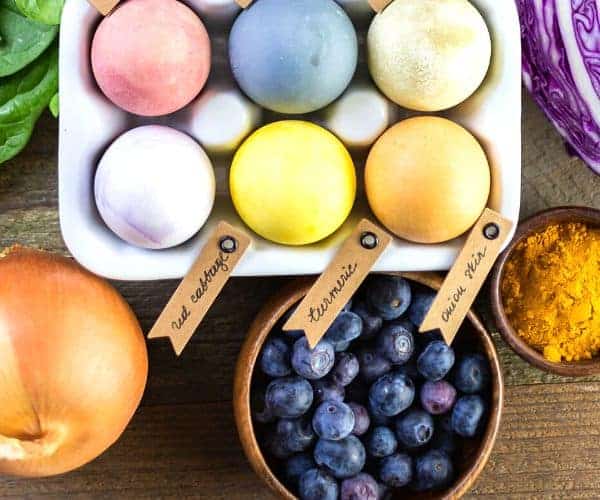 When learning how to dye easter eggs with natural ingredients recipe, you can play around with different spices and fruits or vegetables! See the coloring eggs color chart in the Notes section below for help.
Total Time
2 hours
30 minutes
Materials
3 cups of water (more, as needed)
Food items for natural dye (see Notes below)
White vinegar
Boiled eggs, at room temperature (brown or white)
Instructions
Add water to a saucepan. The amount of water (number of cups) will depend on how many eggs you will be coloring for that batch, so add more if needed.
Add the natural dye item (like red onion skins--see guide below) to the saucepan. Bring it to a boil.
Reduce heat to low and simmer (covered) for 20 minutes. Check the color of the water. Your eggs will be a few shades lighter than the dye in the pan, so continue to cook in 10 minute increments until you get the desired shades.
When you've reached the desired colors, remove the pan from heat and cool completely.
Strain the liquid.
Add 1 tablespoon of vinegar for every 1 cup of dye. Stir.
Add room temperature boiled eggs to a bowl, pour cooled dye over the eggs so that they are completely covered with the dye.
Place eggs (in the dye) in refrigerator until your eggs have reached the color you want. Remove from water and dry in egg carton or paper towels.
Repeat with each natural food item to get different colors.
Notes
DYES FOR EGGS COLOR GUIDE (Egg Color Mixing Chart):
Red, pink, or lavender dye: red onion skins or raspberries
Orange (white eggs) or rust red (brown eggs): yellow onion skins
Yellow: Turmeric spice
Blue (white eggs) and green (brown eggs): purple cabbage (also blueberries)
Pink (white eggs) or darker pink/maroon/red (brown eggs): beets or beet juice
Green: spinach
Purple: grape juice
Lavender: beet juice
Brown or Grey: black coffee or black tea
Turquoise: red cabbage mixed with a small amount of baking soda on brown eggs
RECIPE AND READ: EASTER EGG BOOKS FOR KIDS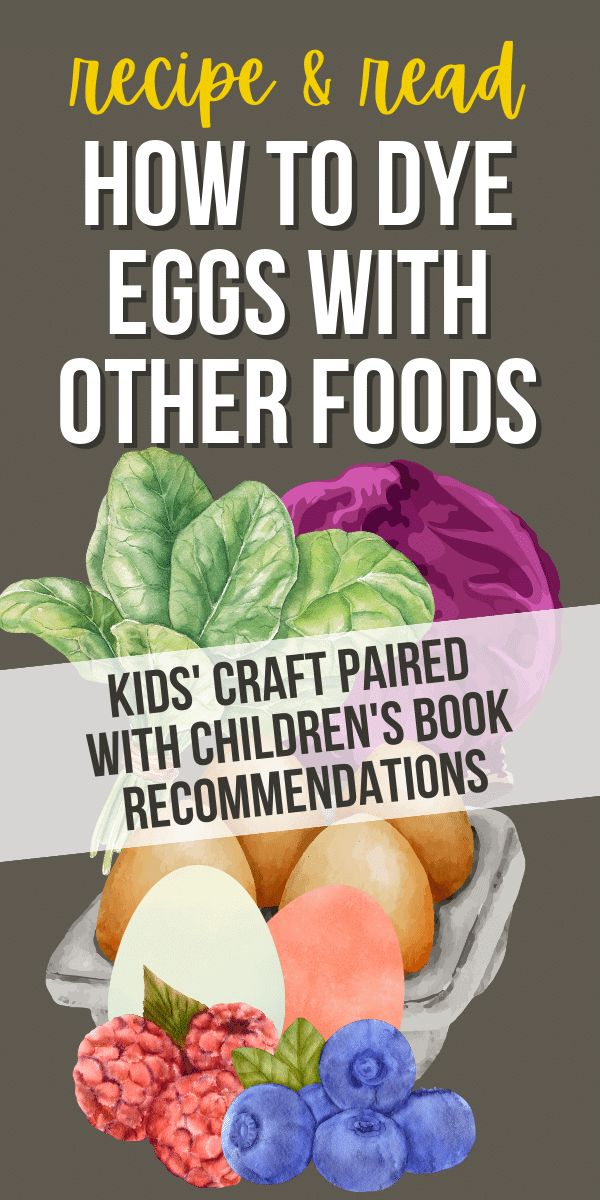 Making a nature Easter egg with kids is fun, but it does take some time. Fill in the craft down time (while you're waiting for the easy dyed Easter eggs to deepen the color) with some related children's books!
Try these for your book and craft pairing for kids to go along with your natural dyeing easter eggs project:
Also try these Spring fun activity ideas after your dye easter eggs naturally craft!
TRY THIS EASTER EGG IDEA NEXT: GROW AN EASTER EGG GARDEN!
Let us know if you have any tips for how to dye eggs naturally or different colors you use for natural dye eggs!
Have fun learning how to dye easter eggs with natural ingredients recipe!
LOOKING FOR FUN COOKING PRINTABLES FOR KIDS?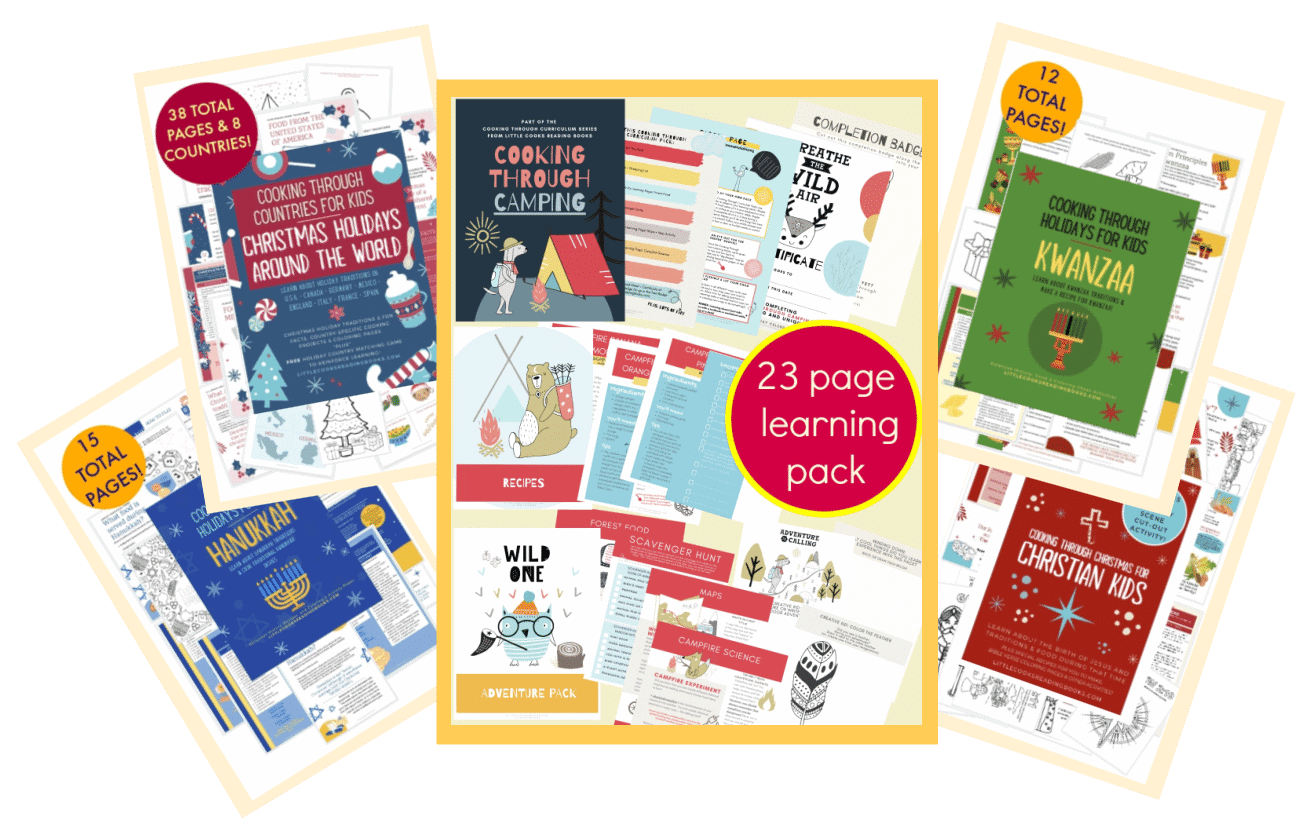 As an Amazon Associate I earn from qualifying purchases. Please refer to our
DISCLOSURE
.