Dye eggs naturally with food items you have at home! Here's how to naturally dye eggs red, green, purple and more without chemical egg kits or how to dye eggs without food coloring for Easter with these fun color easter eggs ideas!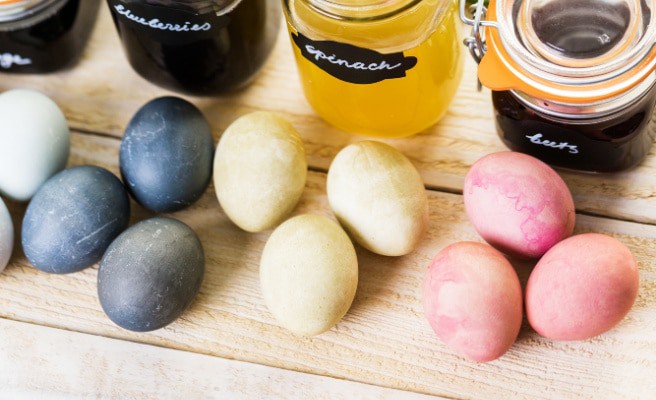 How To Dye Eggs Naturally
Want to know how to color Easter eggs with kids without using those dye kits from the store?
Learn how to dye eggs with onion skins, turmeric, purple cabbage and more with homemade egg dye!
But, before we get to the craft steps, let's covers some dyeing eggs with natural materials common questions.
Can you make your own egg dye?
Yes! You can make your own egg dye using food color or, if you want a natural dye, you can use different food items, juices, fruits and vegetables, or spices for coloring Easter eggs.
How do you dye eggs without a kit?
Vinegar and food coloring
Vegetables
Fruit skins
Spices
Colored juices
Kool-Aid
What can I use to dye eggs naturally?
What to use to dye eggs naturally:
Red onion skins: Make red or lavender dye
Yellow onion skins: Make orange (white eggs) or rust red (brown eggs)
Turmeric spice: Makes yellow dye
Need to know how to dye eggs blue naturally? Use Purple cabbage! It makes blue (for white eggs) and green (brown eggs) dye! Or, try blueberries for a different blue.
Want to know how to dye eggs red naturally? Use Beets or beet juice! Make pink (white eggs) or darker pink/maroon/red (brown eggs) dye
Want to know how to dye eggs green? Use spinach!
Grape juice: Makes purple dye
YOU MAY ALSO LIKE THESE EASTER ACTIVITIES FOR KIDS AND SPRING IDEAS:
Let's talk about how to dye brown eggs naturally…
Can you dye brown eggs naturally?
YES! You can color brown eggs for Easter the same way that you can color white eggs. However, don't expect the colors on brown eggs to be as vibrant as the dye colors on white eggs. The brown eggs will dye more muted and have a more natural look, but are just as pretty and fun as the white eggs! You can dye any color eggs that come from your own chickens or from the store.
OK! Let's get to how to decorate eggs naturally…
How To Dye Eggs for Easter with Natural Dyes
When learning how color Easter eggs with natural dyes, know that it's a process. So, have fun playing around and guessing what colors will happen from different food items or juices. Some will be more muted colors and others will be vibrant.
Yield: 12
How to Dye Eggs Naturally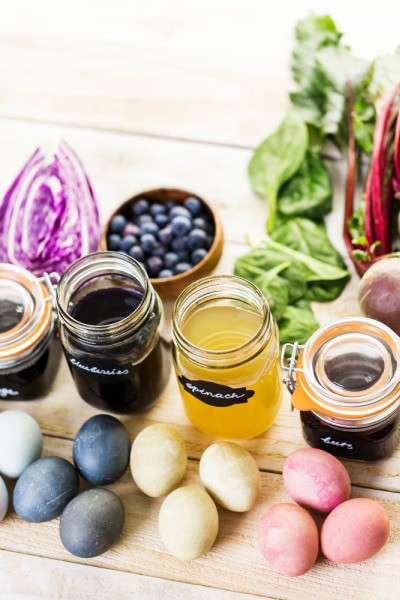 When learning how to dye easter eggs with natural ingredients recipe, you can play around with different spices and fruits or vegetables!
Total Time
2 hours
30 minutes
Materials
3 cups of water (more, as needed)
Food items for natural dye (see Notes below)
White vinegar
Boiled eggs, at room temperature (brown or white)
Instructions
Add water to a saucepan. The amount of water (number of cups) will depend on how many eggs you will be coloring for that batch, so add more if needed.
Add the natural dye item (like red onion skins--see guide below) to the saucepan. Bring it to a boil.
Reduce heat to low and simmer (covered) for 20 minutes. Check the color of the water. Your eggs will be a few shades lighter than the dye in the pan, so continue to cook in 10 minute increments until you get the desired shades.
When you've reached the desired colors, remove the pan from heat and cool completely.
Strain the liquid.
Add 1 tablespoon of vinegar for every 1 cup of dye. Stir.
Add room temperature boiled eggs to a bowl, pour cooled dye over the eggs so that they are completely covered with the dye.
Place eggs (in the dye) in refrigerator until your eggs have reached the color you want. Remove from water and dry in egg carton or paper towels.
Repeat with each natural food item to get different colors.
Notes
COLOR GUIDE:
Red or lavender dye: red onion skins
Orange (white eggs) or rust red (brown eggs): yellow onion skins
Yellow: Turmeric spice
Blue (white eggs) and green (brown eggs): purple cabbage
Pink (white eggs) or darker pink/maroon/red (brown eggs): beets or beet juice
Green: spinach
Purple: grape juice
EASTER EGG BOOKS FOR KIDS
Try these for your book and craft pairing for kids:

Let us know if you have any tips for how to dye eggs naturally!