Need best cupcakes for spring? This recipe is perfect for baby chick cupcakes Easter cupcakes, lemon dessert ideas, spring chicken cupcakes theme, farm animal theme for preschool party, easy summer cupcakes and more!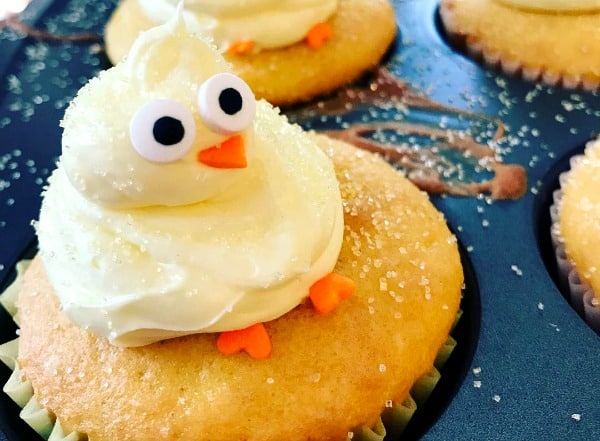 THE BEST CUPCAKES FOR SPRING: MINI CHICKEN CAKES!
Need cupcake ideas for spring or a chick birthday cake? These lemon chick cup cakes are perfect!
I like to call these cupcakes for spring "cheater cupcakes" (aka: cupcakes with cake mix). So, file this one under cupcake recipe easy.
(Because, making cupcakes from scratch doesn't need to happen every time, especially when you're in a time crunch! Check out this super simple Spring cake I made under a time crunch one time!)
Affiliate links are used on this site. As an Amazon Associate I earn from qualifying purchases. Read more in our DISCLOSURE.
One year when we were hosting an Easter party at our house, I realized that morning that we needed more desserts.
Last minute, we used a lemon cake mix and yellow icing that we had in the pantry and ended up making the cutest baby chicks cupcakes for Spring and Easter!
It's actually now one of our favorite spring cupcake recipes (and a great spring lemon dessert)!
We used lemon cake mix, but you can use any of your favorite cupcake flavors—or even make lemon the cupcake filling!
We call these cupcakes for spring, but they're actually good for any time.
These frosting chicks make perfect cupcakes ideas for:
Easter Cupcakes
Spring Desserts
Birthday Parties
Farm Animal Party Theme
Baby Showers
Spring Chicken birthday parties
Summer cookouts
YOU MAY ALSO LIKE THESE SPRING ACTIVITIES FOR KIDS:
How to Pipe a Chick in Buttercream Icing or Frosting
These cupcakes are easy to decorate, even if you're not an expert in piping buttercream icing or frosting or decorating cupcakes.
(And, I am SO NOT.)
To make these easy decorated chicken cupcakes, you'll need:
Favorite cake mix (or cupcake recipe) and ingredients to make it (listed on box)
Yellow icing
Orange (sprinkle candy) hearts, you may have to buy a mix and pick them out(see the recipe for the trick I use for these)
Fine yellow sugar sprinkles (or sanding sugar)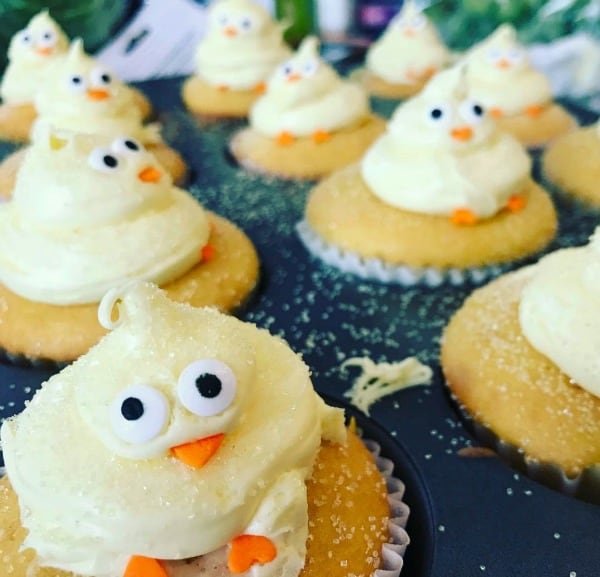 Easy Spring Cupcake Decorating Ideas: Baby Chicks
How To Make Icing Chicks
To make the icing chicks is super simple. You can actually pipe the icing one of two ways:
In a swirl
Pipe two "blobs" on top of each other, making the top one smaller for the head
(And yes, "blob" is the technical piping terminology…)
When piping, make sure you hold the piping bag and tip straight up and down (not at an angle).
When you get to the top of your chick, which will be the chicks head, leave a little swirl on top for the chick's hair (feathers). It just gives each decorated cupcake a little more character.
We used store bought frosting (in the tub), but you can use any cupcake frosting recipe, as long as it is a "sturdy" icing (like buttercream).
BEST CUPCAKES FOR SPRING IDEAS
Yield: 24
Baby Chicks Cupcakes for Spring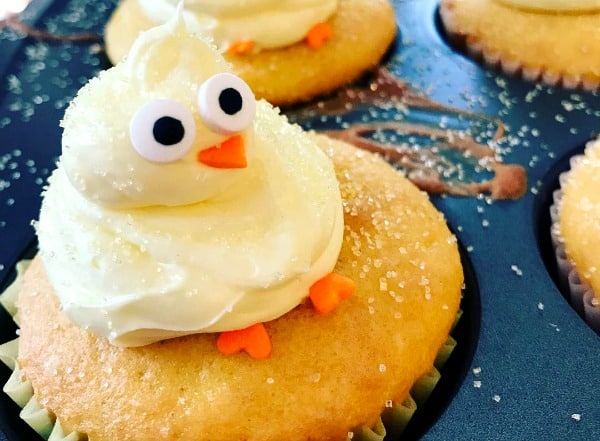 We used yellow for our baby chicks Easter cupcakes for Spring, but you can have a lot of fun and adapt the colors of the icing and cupcake batter for Easter, baby shower cupcakes, birthday party themes and more! (I think we are going to try purple icing next time!)
Additional Time
10 minutes
Ingredients
Lemon cake mix or cupcake mix (plus cupcake ingredients as listed on box), or any flavor cake/cupcake mix
Yellow buttercream icing (in tub)
Orange confetti sprinkle hearts (candy)
Yellow sugar (sanding sugar)
Candy eyes
Instructions
Mix cake/cupcake batter according to package directions.
Line cupcake pan with baking cups.
Fill each baking cup about 3/4 way full.
Bake for 15-20 minutes, or according to package directions. Cupcakes are done when a fork inserted into the middle comes out clean. Cool completely before decorating.
TO DECORATE WITH BUTTERCREAM BABY CHICKS
Assemble a piping bag with a regular round piping tip. Spoon yellow icing into the bag.
Place piping tip onto middle of cupcake (with piping bag and tip situated straight up) and pipe one large circle.
On top of the large circle, pipe a smaller circle for the chick's head. Leave a swirl at the top for the chick's "feathers. (ALTERNATELY: You can pipe the icing chick's body and head as a swirl.)
Place candy eyes on the front of the face/head.
For the beak: turn one rounded heart sprinkle so that the round edges stick into the icing and the pointed side is out. Place beak under the eyes.
For the feet: Use two heart sprinkles and stick heart points into the icing (next to the cupcake) for feet.
Liberally sprinkle icing chick and cupcake with yellow sanding sugar.
Serve immediately, or store covered until ready to use.
Notes
I could not find just orange sprinkle heart candies. Instead, I found a container of mixed heart "sprinkle" colors and just picked out the orange ones.
Nutrition Information:
Yield:
24
Serving Size:
1
Amount Per Serving:
Calories:

126
Total Fat:

3g
Saturated Fat:

1g
Trans Fat:

0g
Unsaturated Fat:

1g
Cholesterol:

4mg
Sodium:

188mg
Carbohydrates:

24g
Fiber:

1g
Sugar:

15g
Protein:

1g
Nutrition information is estimated. Changes to the recipe and use of different brands may cause changes to the nutritional information to vary slightly from the ones provided here.
Children's Books paired with Baby Chicks Cupcakes for Spring Party Ideas
There are so many great Spring children's books and farm animals kids' books (and chick kids' books) that we had a hard time picking just one to pair up with recipe.
Instead, we thought we would just give you some of our favorites to go with this theme!
And, if you are making this cupcake recipe for a baby shower, some of these books would make great gifts or door prizes to go along with the theme!
(If you have a favorite chick children's book, will you leave it in the comments so we can add it to our list?)
Tag us on Instagram. We'd love to see your best cupcakes for spring!
LOOKING FOR FUN COOKING PRINTABLES FOR KIDS?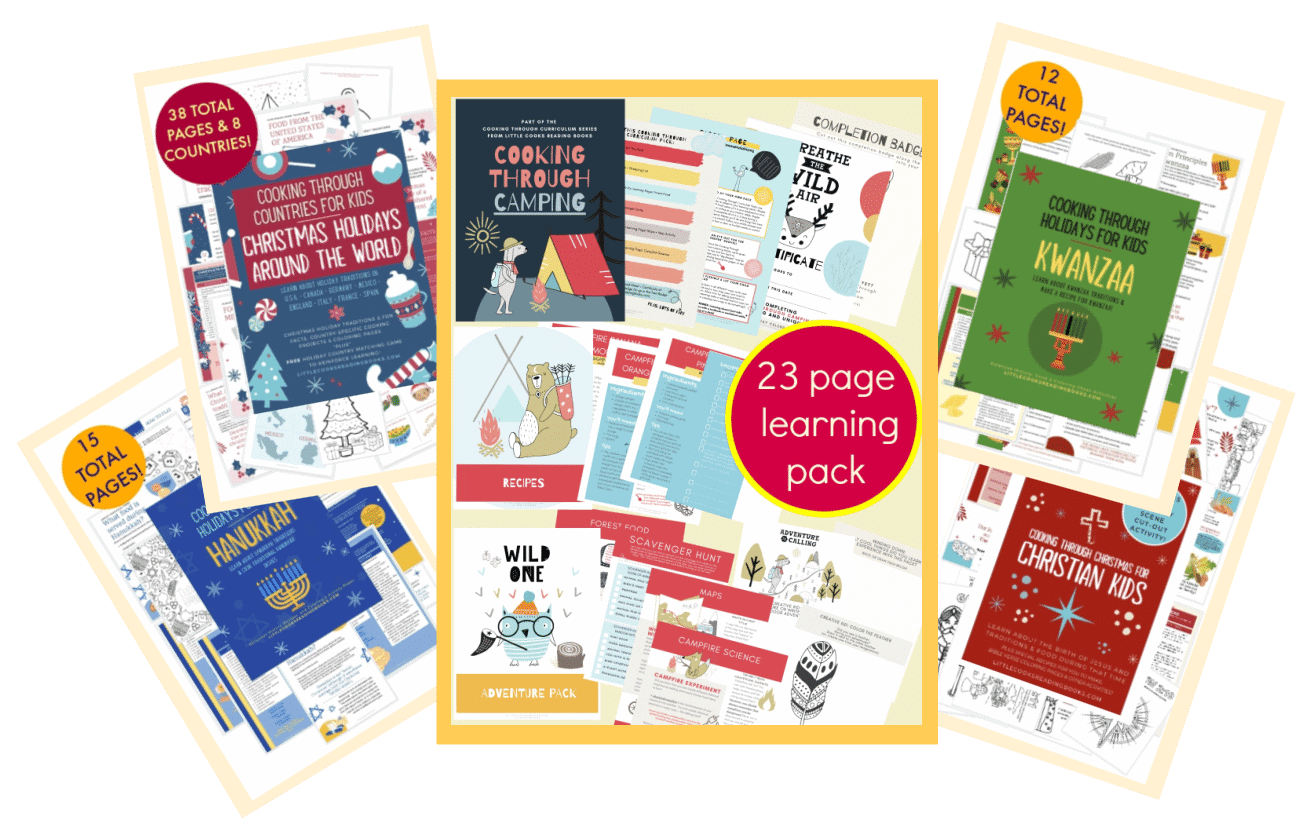 As an Amazon Associate I earn from qualifying purchases. Please refer to our
DISCLOSURE
.