This easy Chinese New Year dancing dragon craft is perfect for Chinese New Year activities / Lunar New Year ideas. Instead of a DIY Chinese dragon costume, learn how to make a Chinese puppet dancing dragon craft using supplies you may have around your house so your child can make this DIY craft at home! FILE UNDER: Fun dragon crafts for kids!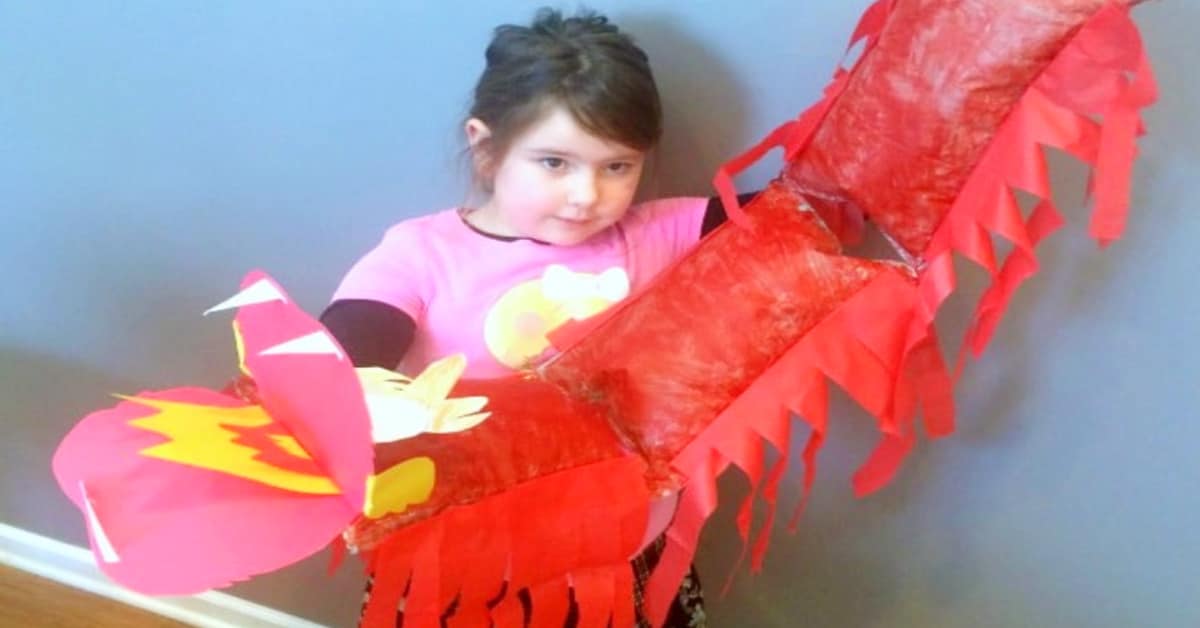 Chinese New Year Dancing Dragon Craft
If you've been wondering how to make a giant Chinese dragon puppet at home or dancing dragon, look no further! This is a fun Lunar New Year craft or if you're looking about Chinese traditions and holidays. It's a great dancing dragon prop to use (moving/dancing back and forth with your movements) when you're learning about Chinese New Year celebrations! Remember: The longer the dragon dances the more good luck you have in the new year!
How do you make an easy Chinese New Year dragon?
Chinese New Year Crafts Dragon Supplies
For this DIY Dancing Dragon Chinese New Year Craft, you'll need:
Affiliate links are used on this site. As an Amazon Associate I earn from qualifying purchases. Read more in our DISCLOSURE.
Recycled packing pillows
Red acrylic paint
Red tissue paper
Streamers
White construction paper
Yellow construction paper
Red construction paper
Wide ribbon (optional, to make handles underneath)
Markers or crayons
Paint brush
Glue stick or glue
Hot glue gun and glue
Scissors
(Don't miss the full Chinese New Year dancing dragon craft instructions below. We'll walk you through how to make a DIY Chinese dragon!)
I love this craft because it's perfect for a wide range of ages — Chinese dragon craft preschool / kindergarten, toddlers, elementary and up! Definitely add it to your Chinese lessons or Chinese New Years crafts!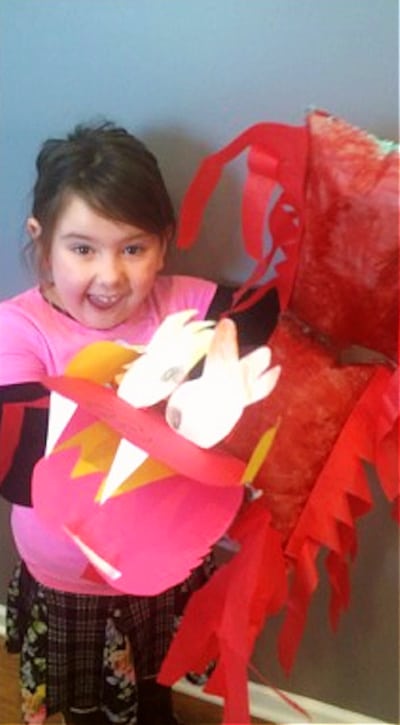 How do you make a dragon at home?
We made this easy Chinese dragon one year for our Chinese New Year studies (check it out and get a Chinese New Year Free printable!) using some things we had around our house: recycled packing materials, paint, and craft paper.
And, it's a step up from how to make a Chinese dragon out of paper! So much more fun because it moves and dances with you and feels more like how to make a dragon puppet (maybe more like a Chinese dragon accordion craft!)! It's one of the most fun Chinese dragon craft ideas I've seen!
Years later, this giant Chinese dragon puppet is STILL is one of my daughter's favorite crafts that we've ever made! Your kids will have fun becoming their own Chinese dragon dancers!
(More Chinese study ideas: We also made Chinese dumplings and fortune cookies, which we learned aren't Chinese food at all!)
Before we get to this DIY dragon Chinese New Year craft activity for kids / how to make a Chinese dragon craft, these Chinese New Year facts may help your kids understand a little better if they're unfamiliar with the holiday.
What is Chinese New Year?
Chinese New Year, also called Lunar New Year and Spring Festival, is a festival to celebrate the new year in Asian cultures, but is celebrated around the world. The Chinese New Year is based on the new moon, which happens between January and February, and lasts 15 days.
What does the Chinese New Year dragon symbolize?
The Chinese dragon meaning symbolizes good luck. The longer a dragon stays in the dance, parade or festival, the more good luck is thought to bring to the community. The dragon also symbolizes power, wealth, and wisdom.
MORE FUN FOR LUNAR NEW YEAR:
Best Chinese New Year Picture Books (Celebrating Lunar New Year with Kids)
Why is the dragon important to Chinese New Year?
Dragons are an important part of Chinese New Year. Since the dragon is believed to bring good luck, you will always see a long Chinese dragon dance being performed during festivals in China culture.
Colors for traditional Chinese dragons include:
Red for power and excitement.
Green for harvest.
Yellow for respect for the empire.
Gold or silver for prosperity.
You can try to incorporate these colors into your own dragon craft activity if you like!
OK! On to the activity with dragon art for kids and Chinese dragon puppet craft!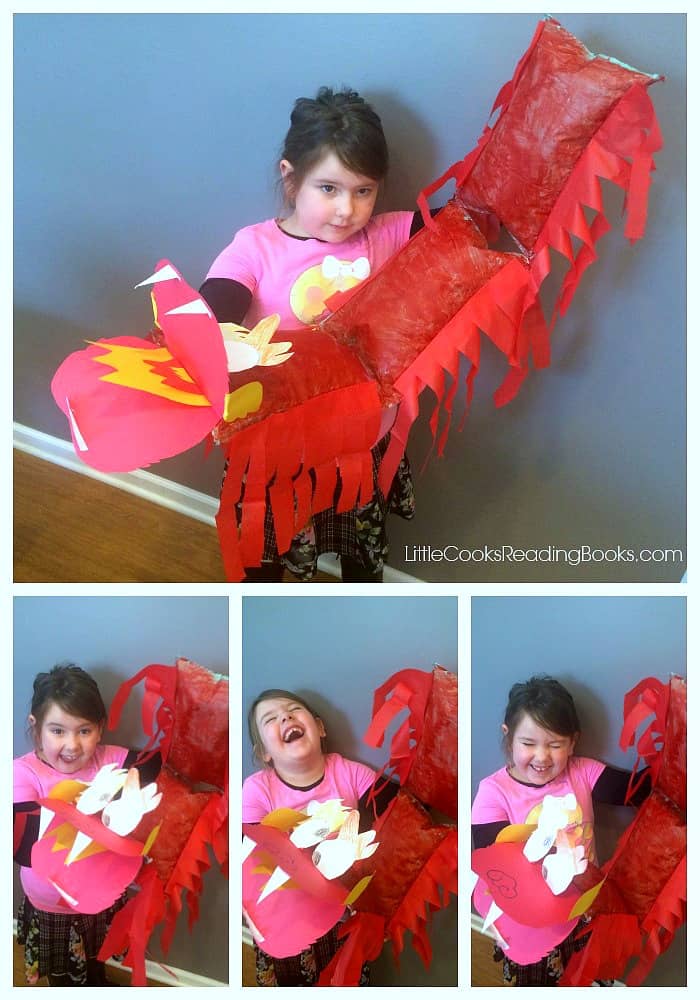 How To Make A Dragon For Chinese New Year: Easy Chinese Dragon Craft Tips
Before we get to the project, I want to give you a couple of tips for this Chinese dragon art craft:
TIP: Making the Chinese Dragon Body
For the Chinese dragon body, we used packing pillows ("air cushioning") that we already had around the house from my husband's work shipments (which made it into a recycled dancing dragon puppet!).
You will need the packing pillows that come in a single layer and are attached together. (You can pull them apart based on how long you want your dragon to be.)
If you don't have these packing/shipping pillows at your house, you can purchase them (they're inexpensive) online or at a local office supply store.
If you're doing this as a Chinese New Year group craft, you can actually get the packing pillows in a roll for multiple DIY crafts.
TIP: Painting on Plastic for a DIY Chinese Dancing Dragon
For our dragon, we used our normal Crayola Acrylic Paint to use a brush on paint for plastic. (You can see in the pictures it covered adequately, but not completely).
Also, there is some down time for the paint to dry (I've included that dry time in the craft time below), so be aware of that. We used that time to learn more about the Chinese New Year celebrations and read books about Chinese New Year and Chinese New year dragons (see the list after the craft project).
If you have little ones (or want to speed up the process for a group craft project), you may want to paint the dragon's body ahead of time with a craft paint for plastic like this paint for Plastic and let it dry before decorating your dragon.
Also, don't get too worried about having a Chinese dragon craft template! It's fun to see how everyone's project turns out a little different (and gives your DIY dragon their own personality!), especially when you're using it as a Chinese dragon dance craft and dancing around with it!
How To Make an Easy Chinese Dragon Craft
Yield: 1
Chinese New Year Dancing Dragon Craft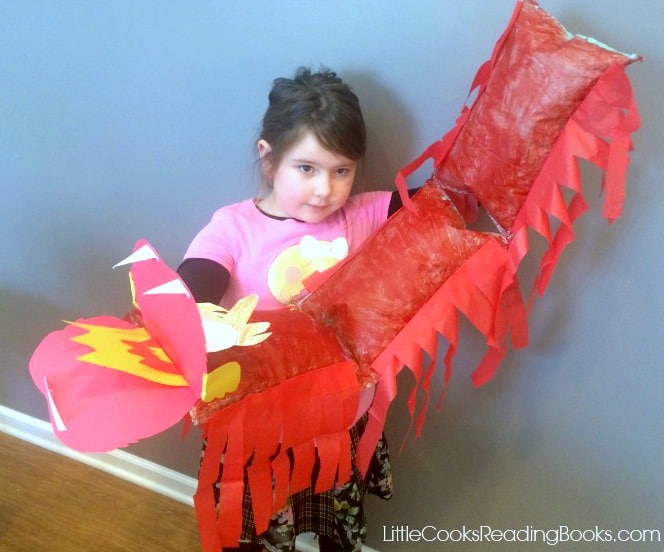 This is a fun and easy Chinese dragon craft and your kids will have a lot of fun dancing around with it while learning about Chinese New Year. I only selected "medium" difficulty because of the time it takes to dry for painting. Creating and putting together the dragon is easy!
NOTE: REVIEWING THE PICTURE COLLAGE IN THE POST WILL REALLY HELP YOU WITH ASSEMBLING THE DRAGON CRAFT! BE SURE TO SCROLL UP!
Additional Time
30 minutes
Total Time
1 hour
45 minutes
Materials
Packing Pillows (we used 3 large, attached packing pillows, but you can use small pillows also in any number you want)
Red acrylic paint (or plastic spray paint)
Red tissue paper
Red streamers
Construction paper in the following colors: white, yellow, red
Wide ribbon (optional, to make handles underneath)
Tools
Paint brush
Markers or crayons
Glue stick or glue
Hot glue gun and glue
Scissors
Instructions
Measure a length of packing air pillows as long as you want your dragon to be (we used three large air pillows) and cut them from the roll. BE SURE TO LEAVE THEM ATTACHED TO EACH OTHER FOR THE BODY. This will be the dragon's body.
Paint the top and bottom of the air pillows with red paint. Allow to dry for at least 30 minutes (or until dry to touch).
FOR THE EYES: While paint is drying, cut two large ovals out of the white construction paper for eyes. Using markers or crayons, draw pupils on each of the ovals. (You can see my daughter made our dragon have crazy eyes.) If you want your dragon's eyes to have "eyelashes," cut then out of the black or yellow construction paper. Glue then to the (back) of the top of the eyes. Set aside to dry.
FOR THE DRAGON MOUTH/SNOUT: Place two pieces of red construction paper on top of each other and turn them so they are horizontal. Cut around the outside edges so that the paper is more of a large oval shaped. At the bottom of the horizontal pages, cut a small notch so that the mouth and snout dent in a little. (see picture) Set aside. (My daughter decided she wanted to draw nostrils, as you can see in the picture, but you don't have to.)
FOR THE TONGUE FLAME: Turn a yellow piece of paper so that it is horizontal. Starting from the bottom middle, cut up and then make three flame tips (see picture). This will be pasted inside the mouth, so you want it about half as wide as the mouth. Repeat the process with the red construction paper, making it much smaller than the yellow one. Then make another yellow one, that is smaller than the red one. Using a glue stick, glue the small yellow flame on top of the small red "flame." Then Glue those onto the large red flame. Set aside to dry.
FOR THE TEETH: Cut three long, skinny triangles out of the white construction paper. Set aside.
TO ASSEMBLE THE MOUTH: Line the straight edge of the "Flames" with the back of the bottom of the mouth (away from the notch). Use the glue stick to glue just the straight edge at the back of the mouth (leave the pointy ends of the flames sticking up). Glue the edge of the top of the mouth onto the bottom of the mouth, leaving the front open.
Take the eyes and carefully fold a small portion of the bottoms of the eyes. This will create a "tab" to glue onto the face. With the glue stick, place glue on the bottom of the eye "tab" you just folded. In the middle of the top mouth (at the back), press the eyes down and hold them until they dry. (SEE PICTURE FOR PLACEMENT)
Now, glue the white triangle "teeth" onto the inside of the mouth. We glued two on the top front edges and one in the middle (edge) on the bottom.
Once the painted body of the dragon is dry, take the red tissue paper and measure one piece against the width of one of the air pillows. Cut the tissue paper's width to match the width of the pillows. CAREFULLY USING THE HOT GLUE GUN AND NOT TOUCHING THE PLASTIC AIR PILLOWS WITH THE GLUE GUN TIP (WE RECOMMENDED PARENTS DOING THIS), place a line of hot glue along the edge (width) of one of the air pillow sides. Immediately place the tissue paper edge on the glue and let dry. Repeat this process with each individual air pillow.
Once each tissue paper section has dried, cut 6-8 streamer sections, starting from the bottom and cutting up toward the dragon's body and stopping about 2 inches before you get to the body. Cut the streamers for each tissue paper section. This is what will give your dragon movement when dancing around with it.
ATTACH THE HEAD: On the bottom of the mouth (at the back), place a line of hot glue. CAREFULLY press the head onto the front of one end of the air pillows. Allow to dry completely.
OPTIONAL STEP: If you want to make it easier for the kids to hold the dragon while dancing around with it, you can use the hot glue to glue a ribbon handle on the bottom (tummy) of the dragon--one at the front and one at the back.
Children's Books for Chinese New Year
Dragon Dance: A Chinese New Year Lift-the-Flap Children's Book

We love this book, especially with this easy Chinese dragon craft puppet that you can dance around with!
Dragon Dance: A Chinese New Year Lift-the-Flap Book is a children's book by Joan Holub and illustrated by Benrei Huang.
This fun children's book, in lift-the-flap format, takes you through different customs of Chinese New Year (Spring Festival) including, the dragon dance in the parade, the significance of red envelopes, shopping for flowers, and the different foods during New Year's dinner.
Listed Age Range: 2-5 years (but we still read this book every year!)
You may also like these other Chinese New Year kids' books:
We'd love to see pictures of your Chinese New Year dancing dragon craft when you're done!
LOOKING FOR FUN COOKING PRINTABLES FOR KIDS?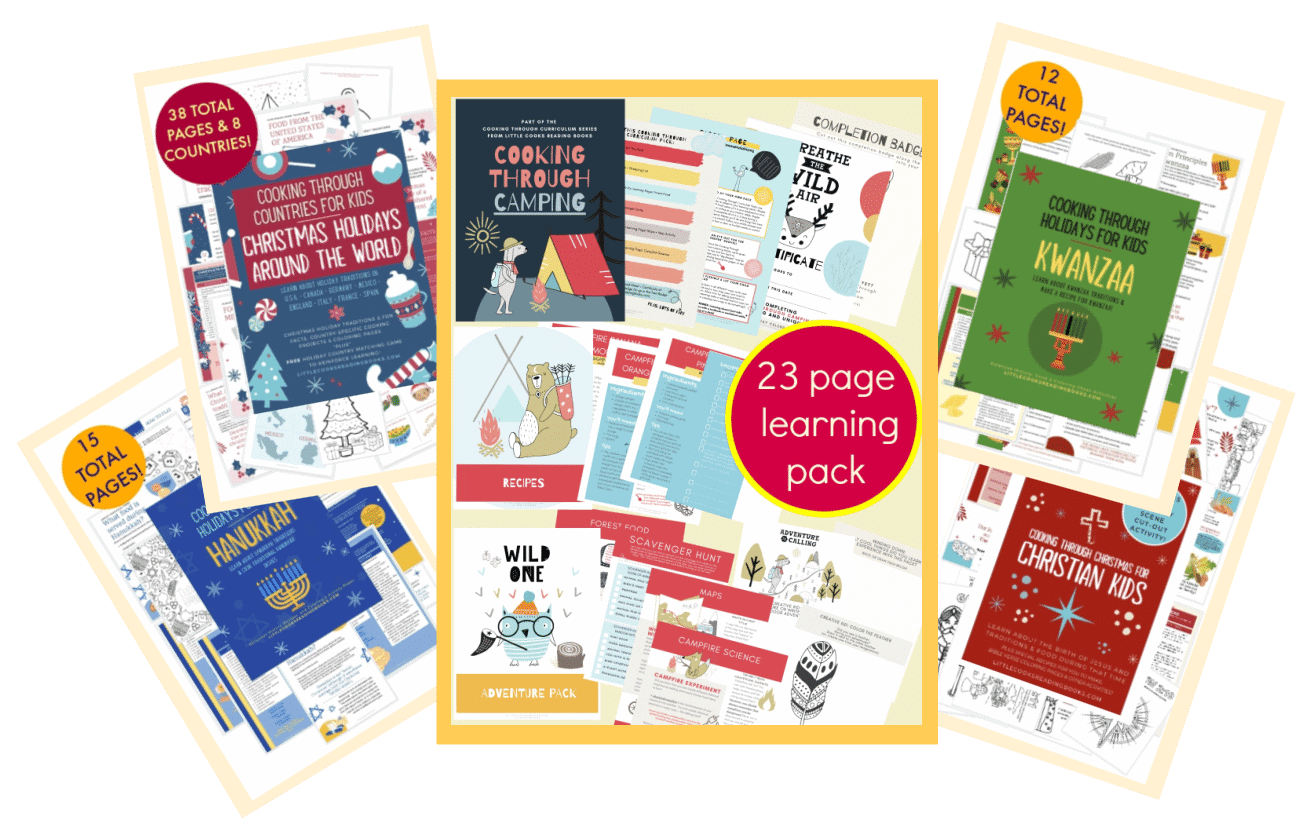 As an Amazon Associate I earn from qualifying purchases. Please refer to our
DISCLOSURE
.