Our recipe for fortune cookies is so much fun (and we'll even tell you how to get the fortune cookies sayings inside the cookies!). If you're looking for a fun dessert recipe for kids to make, try out this cookie recipe. (It's an easy recipe, probably easier than you think!)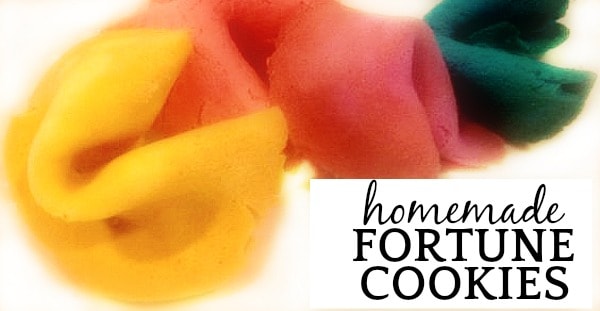 Best Recipe for Fortune Cookies
The recipe for fortune cookies is super simple, but mastering how to fold the cookies (while they are hot!) is not easy.
I highly recommend practicing folding on a piece of clay before trying this with the real cookie dough because that was the hardest part of this recipe.
(You will thank me for this, TRUST ME.)
Affiliate links are used on this site. As an Amazon Associate I earn from qualifying purchases. Read more in our DISCLOSURE.
I wish I had practiced first because I ruined a few (read: many) homemade fortune cookies before mastering the folding.
Thank goodness they were tasty anyway!
OK! Let's get to how make homemade fortune cookies!
How Fortune Cookies Are Made
What is a fortune cookie made out of?
The ingredients for fortune cookies are:
Egg whites
Sugar
All-purpose flour
Salt
Vanilla
---
Also try:
---
How to Fold a Fortune Cookie
Learning how to fold the fortune cookie is by far the hardest thing about fortune cookies recipes.
So, I recommend practicing before you ever make the cookies by using a  piece of clay, rolled out flat into a circle.
QUICK COOKING TIP: Practice folding your Chinese fortune cookie on some clay first!
If you have younger children, you will definitely want to leave the folding and shaping to the adults. Be sure to wear disposable food preparation gloves because you are handling super hot dough when folding them!
How To Fold Fortune Cookies:
Place the messages for fortune cookies.
Fold cooked fortune cookie dough circle in half.
On the straight side (the non-open side), push the dough up in the middle like this:
Grab either end and pull them down toward you to make the fortune cookie.
Place the cookies into muffin tins so they'll hold their shapes while cooling.
Making Fortune Cookie Fortunes
How do you print fortune cookie messages?
To get the sayings for fortune cookies, you can print off your own from a word processing program or a free online program like Canva.com.
I printed off some silly sayings and fortunes (that I made up) on the computer and included some fortune cookies facts.
(Or, you can even use a fortune cookies generator for fortune cookies messages if you need some ideas.)
If your kids are old enough to write they may have fun making their own, just have them write small!
Have fun with your fortune cookies fortunes!
Be sure to get all the fortunes ready before you make the cookies, including folding the fortunes into thirds.
The process after the cookies bake goes fast and you have to get everything done (fortune inserted, cookies folded) before they cool.
QUICK COOKING TIP: The fortunes are added AFTER the cookies bake, but before they are folded.
Can you make fortune cookies without fortunes?
Sure, just skip the fortune cookies message step. (But, fortunes are super fun, so at least consider it! You can also do Bible verses, affirmations, jokes, or anything that you want!)
Recipe for Fortune Cookies paired with
Fortune Cookie Fortunes Children's Book

We paired our fortune cookie recipe with the book Fortune Cookie Fortunes by Grace Lin.
From the book:
Crack, crack, crack!

The cookies snap open and the family's fortunes are revealed.

Mei Mei wants to know how hers will come true.

Jie Jie scoffs—they never come true.

But Pacy isn't so sure.

As she waits and watches, she notices magical things happening in her family.

Could the fortunes really be right?

And what about Pacy's fortune: "You will see the world in a new way"?

Well, yes, it's true! Pacy has been seeing the world through fortune cookies!
This kids' book even covers some of the history of the fortune cookie!
OK! Ready?
Here's how to make fortune cookies…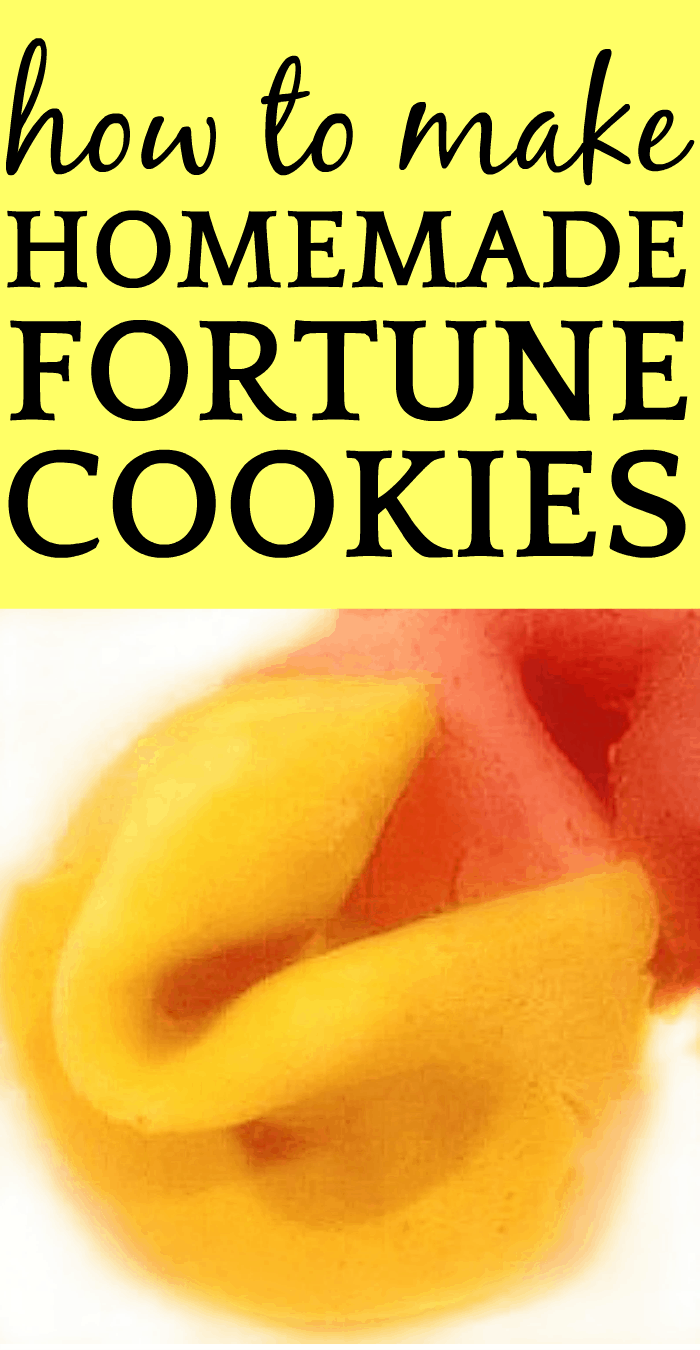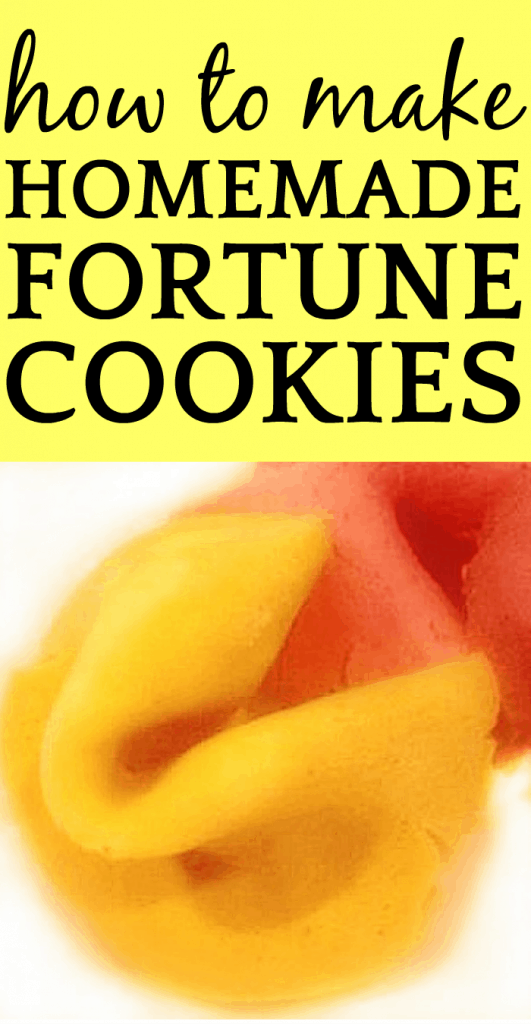 Recipe for Fortune Cookies
Yield: Approximately 36
Recipe for Fortune Cookies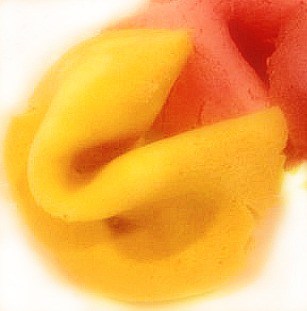 Add food coloring to this recipe for fortune cookies to make your Chinese fortune cookies even more fun!
Ingredients
3 egg whites
3/4 cup of sugar
3/4 cup all-purpose flour
1/8 teaspoon salt
1/4 teaspoon vanilla extract
1/4 teaspoon almond extract
2 Tablespoons water
Food coloring of choice
Instructions
Preheat the oven to 350 degrees and generously grease a cookie sheet
Beat together the egg whites and vanilla until foamy.
In another bowl, mix together the flour, salt and sugar.
Slowly pour the flour mixture into the egg white mixture, and blend well by hand.
Separate the cookie mixture into as many bowls as you want different colors (or, don't use food coloring if you want the "normal" color of fortune cookies).
Add a couple of drops of food coloring to each bowl.
On the greased cookie sheet, spread batter about a 3-4 inch circle.
Bake the cookies for 5-7 minutes, or until the cookies have a golden edge and lift easily.
To Shape Fortune Cookies:
Place the folded fortunes (messages) onto the middle of the baked cookies. Carefully fold cooked fortune cookie dough circle in half.
On the straight side (the non-open side), push the dough up in the middle.
Grab the ends and pull them down toward you to make the fortune cookie.
Working quickly, shape cookies by folding and pushing into a fortune cookie shape. Work quickly before dough cools!
Place folded cookies into a muffin tin to help hold shape until cookies are cool.
Nutrition Information:
Yield:
36
Serving Size:
1
Amount Per Serving:
Calories:

27
Total Fat:

0g
Saturated Fat:

0g
Trans Fat:

0g
Unsaturated Fat:

0g
Cholesterol:

0mg
Sodium:

12mg
Carbohydrates:

6g
Fiber:

0g
Sugar:

4g
Protein:

1g
Nutrition information is estimated. Changes to the recipe and use of different brands may cause changes to the nutritional information to vary slightly from the ones provided here.
Hope you have as much fun with this recipe for fortune cookies as we did!
LOOKING FOR FUN COOKING PRINTABLES FOR KIDS?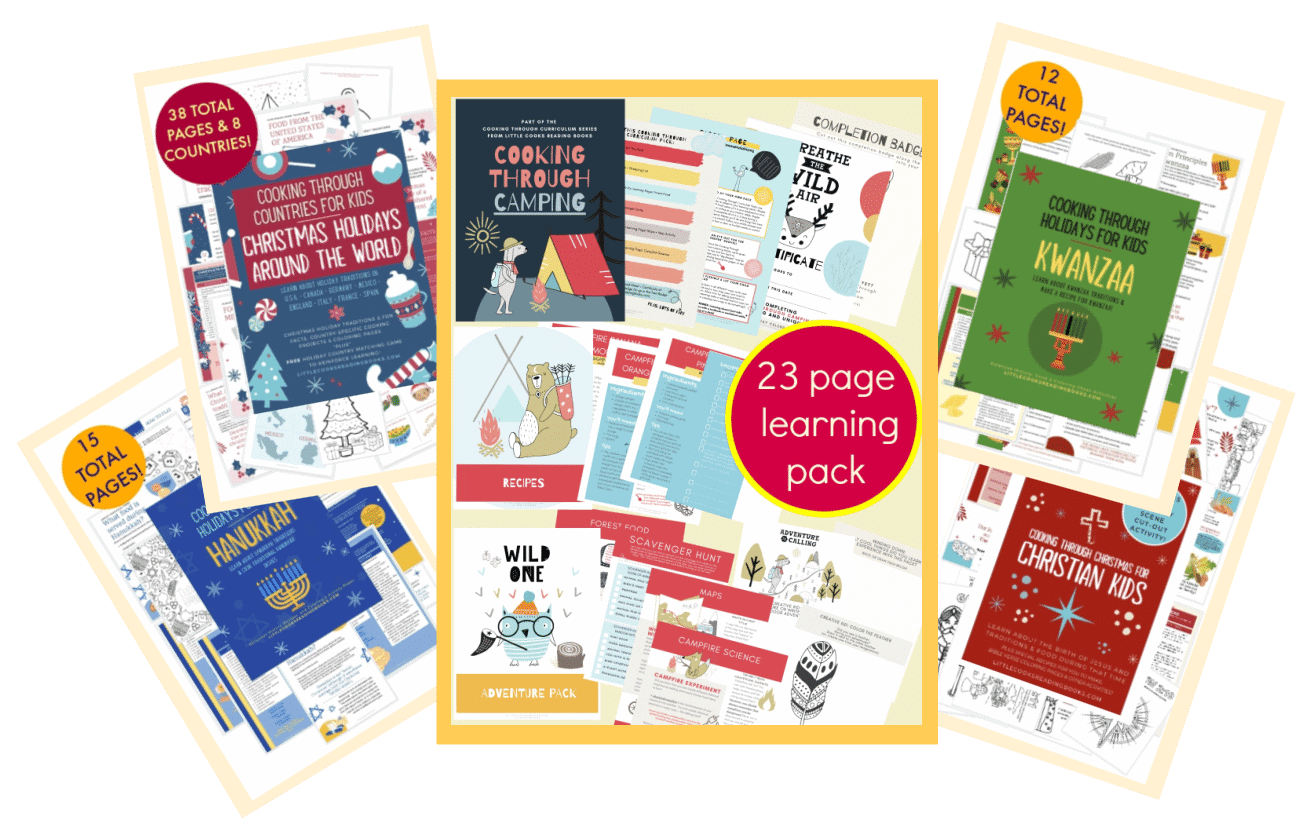 As an Amazon Associate I earn from qualifying purchases. Please refer to our
DISCLOSURE
.