This recipe for Chinese dumplings with potstickers dipping sauce is so much fun and you'll have a blast learning how to wrap a Chinese dumpling with the kids. This is a perfect pairing for Chinese New Year lessons, too!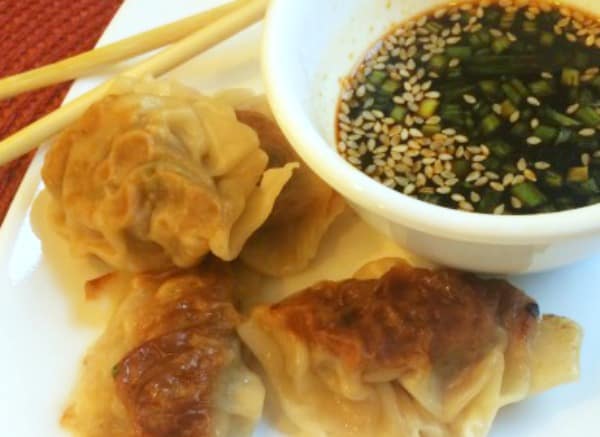 Recipe for Chinese Dumplings
While studying Chinese New Year, we decided to try our hand at this recipe for Chinese dumplings (because they are one of the main dishes eaten during Chinese New Year).
Our pot stickers were so yummy, but they weren't the prettiest dumplings around. (It does take practice, so prepare yourself for that! SEE OUR TIPS BELOW!)
We didn't realize how difficult the process of folding and creasing the dumplings was until we made them!
Affiliate links are used on this site. As an Amazon Associate I earn from qualifying purchases. Read more in our DISCLOSURE.
We wanted the pretty folded back and forth creased ones–the hardest ones (of course!).
(I have a new-found respect for those restaurants that make them to order now!)
• KEEP SCROLLING TO FIND OUT TIPS ON FOLDING CHINESE DUMPLINGS •
Potstickers vs Dumplings
What are the Chinese dumplings called?
If the recipe for chinese dumplings is steamed or boiled, they are called jiaozi. There are also guotie, which are the pan-fried jiaozi. Chinese dumplings are called also potstickers and wontons. Even though these names for Chinese dumplings are used interchangeably (especially in America), the do vary in the way they are cooked, folded (wrapped), and the filling.
What is a Potsticker?
You may be wondering what is the difference between Chinese dumplings and Chinese potstickers. Dumplings and pot stickers are very similar and the terms are often used interchangeably in America. However, dumplings are boiled while potstickers are quickly pan fried.
To make chinese dumplings fried, you fry them in a little oil for a few minutes. Then, pour water in the pan and place the lid on the pan and until you have Chinese dumplings steamed — generally just few more minutes. This is often referred to as "steam fried" and will give you nice crisp Chinese steamed dumplings.
What are Chinese dumplings made of?
Chinese dumplings are made up of a filling and an outer wrapping (wonton). Chinese dumplings are traditionally ground pork, ginger, and scallions, but the filling can be a variety of items like chicken and vegetables for a vegetarian Chinese dumplings recipe.
Also try:
Homemade Fortune Cookies with Fortune Cookie Messages
Why are dumplings important in China?
Chinese dumplings are one of the most important dishes during Chinese New Year because they symbolize wealth. It is a tradition for families to make dumplings together on New Year's eve and even hide a coin in one of them for good luck! The dumplings are eaten at midnight going into the new year.
If your kids are just learning how to use chopsticks, these animal training chopsticks really helped my daughter. She also loved these Chorks (and still uses them even though she knows how to use chopsticks!).
How to Make and Fold Chinese Dumplings (Pot Stickers)
How do you wrap a Chinese dumpling?
Wrapping a Chinese dumpling (also called folding it) takes some practice and there are several ways to fold the Chinese dumplings. For the traditional folding, place the filling in the middle of the wrapper and then wet the edge of one side of the wrapper. Fold the wrapper over the filling and then lightly press the edges together, pushing and "folding" the edges. (Think: crimping the edges.) To get a general idea of the process, I recommend watching this video first and then making our recipe after. The video gives you several options of how to fold them.
Since we'll be making these again, I might even order a dumpling press
(which is inexpensive and can be used for other things like ravioli).
IMPORTANT TIP: About Chinese Dumpling Wrappers
You can learn how to make dumpling wrappers from scratch or you can find them at the grocery store. Find the pot sticker (or wonton) Chinese dumpling wrappers in the refrigerated section (often near the pie dough or the refrigerated tortillas). I added this tip because it took me FOREVER to find them, so I hope this helps!
What Is The Sauce for Chinese Dumplings?
If you're going to make a recipe for Chinese dumplings, then you have to include a Chinese dumplings sauce! A potsticker dipping sauce is made from just a few simple ingredients: soy sauce, rice vinegar, chile sauce, chives, and sesame seeds.
(See the full dumplings sauce recipe below.)
Recipe for Chinese Dumplings paired with Celebrate Chinese New Year Children's Book
For our studies, we read Holidays Around the World: Celebrate Chinese New Year: With Fireworks, Dragons, and Lanterns by Carolyn Otto
.
The book covers different traditions that encompass the Chinese New Year including the significance of colors, different foods served, the parades and other festivities and activities–some that kids will recognize as close to some of our celebrations in America!
We enjoyed the book and the photographs were amazing. However, the book read a little dry and educational.
I think it could've been an excellent story if it had been narrated by a Chinese child who took us through all the traditions in his/her country and home.
ALSO READ: Best Chinese New Year Picture Books
Recipe for Chinese Dumplings (Potstickers)
How do you make dumplings at home from scratch? You'll be surprised at how easy this recipe for Chinese dumplings is once you get the hang of folding the dumpling wrapper!
Yield: Around 36
Chinese Dumplings (Potstickers)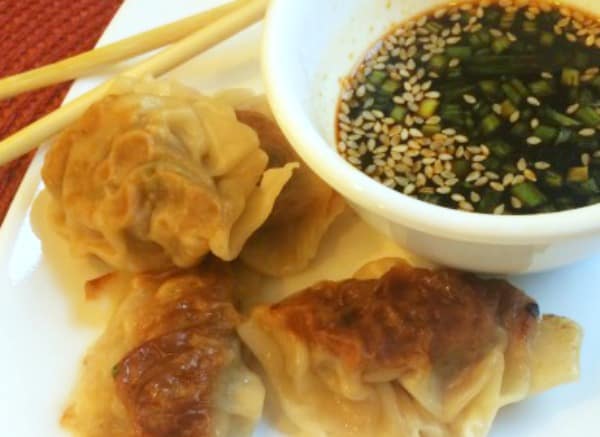 How do you make dumplings at home from scratch? You'll be surprised at how easy this recipe for chinese dumplings is once you get the hang of folding the dumpling wrapper! We made our potstickers with pork, but you can substitute chicken or play around with other fillings for the dumplings.
Total Time
1 hour
15 minutes
Ingredients
1/2 cup soy sauce
1 Tablespoon rice vinegar
1 Tablespoon chopped chives
1 teaspoon sesame seeds
1 teaspoon Sriracha Hot Chili Sauce
1 pound ground pork
3 cloves garlic, minced
1 egg, beaten
2 Tablespoons chives, finely chopped
1 1/2 Tablespoons sesame oil
1 Tablespoons fresh ginger, minced
36 Dumpling or wonton wrappers (round, if you can find them)
1 cup vegetable oil
1 quart of water
Instructions
FOR THE POTSTICKERS SAUCE
Whisk 1/2 cup soy sauce, rice vinegar, 1 Tablespoon chives, sesame seeds, and chile sauce in a small bowl and set aside.
HOW TO MAKE POTSTICKERS
Mix pork, garlic, egg, 2 Tablespoons chives, soy sauce, sesame oil and ginger in a large bowl. Stir until combined.
Place a dumpling wrapper on a lightly floured surface. Spoon about 1/2 Tablespoon of filling in the middle of the wrapper.
Wet one edge of the wrapper with your finger.
Fold the dry side of the wrapper over the filling and press into the wet side, crimping and folding together to form small pleats and to seal the dumpling.
Repeat the process until all the dumplings have been filled.
Heat 2 Tablespoons of vegetable oil in a pan with a lid.
Place enough dumplings in pan to cover bottom. Cook until brown on both sides, about 2-3 minutes each side.
Pour 1 cup of water into the pan over the dumplings and immediately cover with the lid. Cook until the dumplings are tender and cooked through, about 5 minutes.
Repeat process to cook remaining dumplings.
Cool slightly and serve with potstickers sauce for dipping.
Nutrition Information:
Yield:
36
Serving Size:
1
Amount Per Serving:
Calories:

175
Total Fat:

11g
Saturated Fat:

2g
Trans Fat:

0g
Unsaturated Fat:

8g
Cholesterol:

18mg
Sodium:

483mg
Carbohydrates:

13g
Fiber:

0g
Sugar:

1g
Protein:

6g
Nutrition information is estimated. Changes to the recipe and use of different brands may cause changes to the nutritional information to vary slightly from the ones provided here.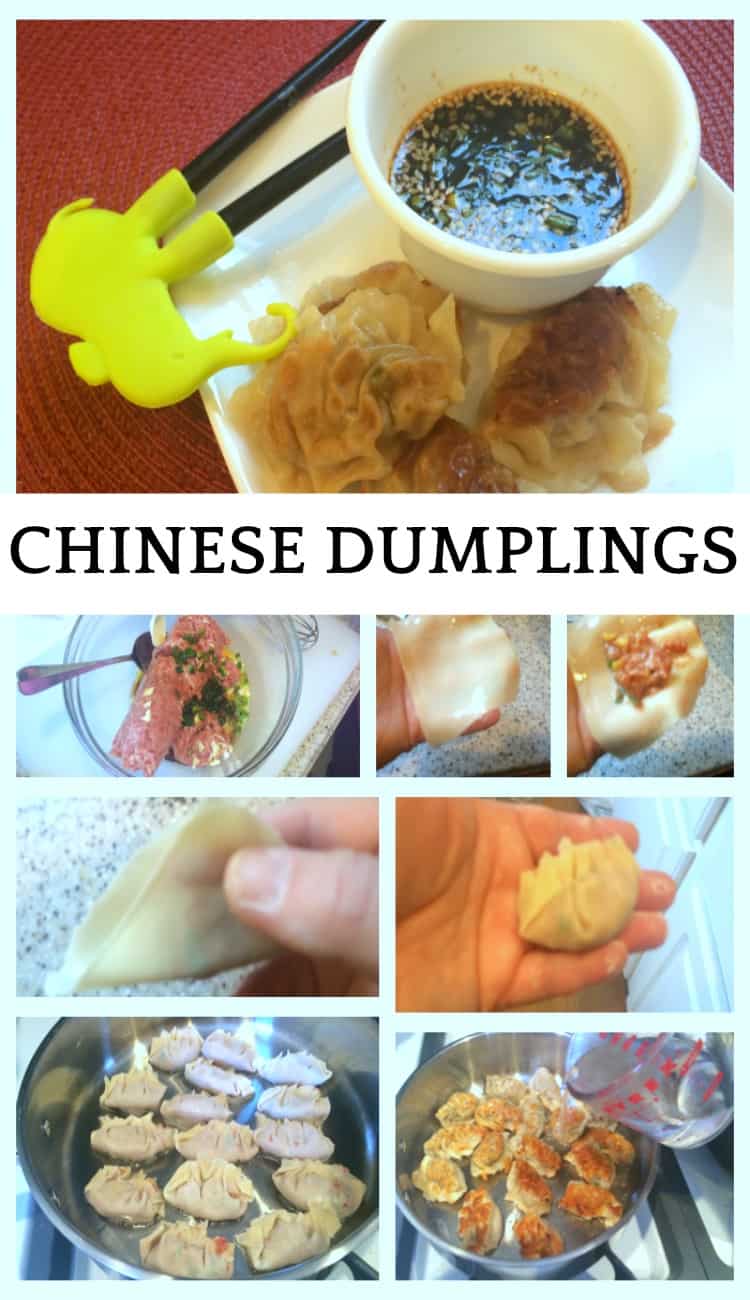 Have a different filler recipe for Chinese dumplings? We'd love to hear about it in the comments!
LOOKING FOR FUN COOKING PRINTABLES FOR KIDS?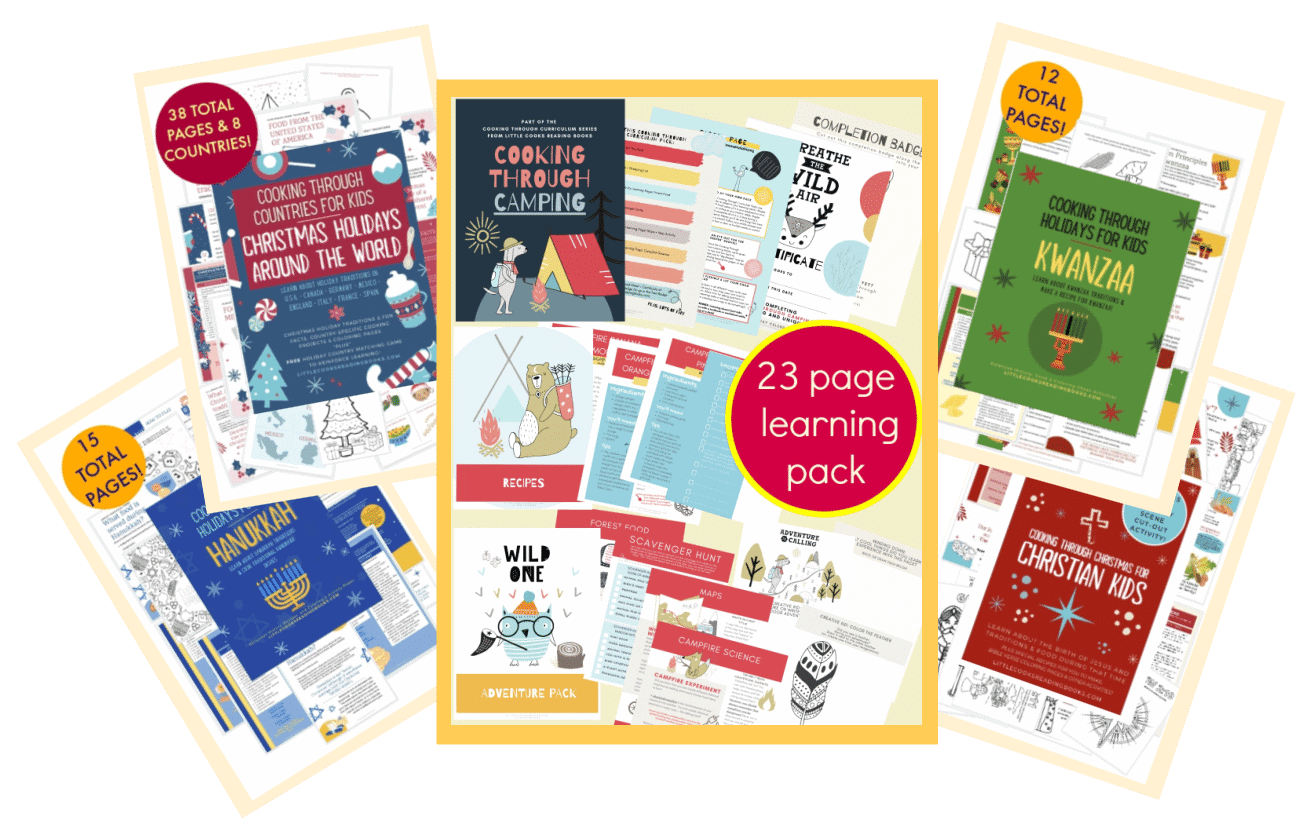 As an Amazon Associate I earn from qualifying purchases. Please refer to our
DISCLOSURE
.