This easy recipe for King Cake is a great addition to your Mardi Gras party or festivities and helps celebrate Fat Tuesday with kids. Homemade king cake recipes can take a long time, so we made this simple cake recipe for kids. We'll also cover King Cake history and traditions and why they put a baby in the King Cake!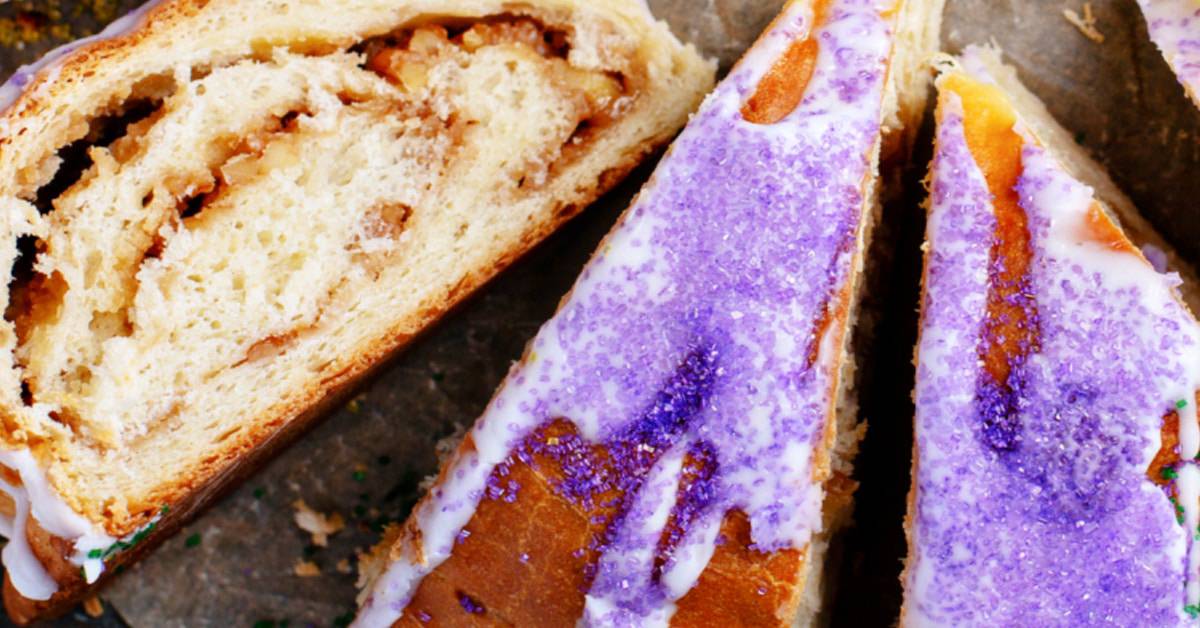 Easy Kids' Recipe for King Cake
Ask anyone, "What food do you eat on Fat Tuesday?" and Mardi Gras King Cake will be at the top of their list. However, a traditional King Cake from scratch can take around four hours, and this seemed unreasonable for a kid's project. So, we decided to adapt the traditional recipe for King Cake and make an easy Kiddie King Cake!
How To Make a Super Easy Mardi Gras King Cake With Kids
For this easy king cake recipe, you'll need:
Refrigerated crescent rolls or cinnamon rolls
Cream cheese
Cinnamon
Butter
Vanilla
Milk
Powdered sugar
Raisins
Pecans (optional)
Purple, green, and yellow colored sugar crystals
King Cake baby
(See full recipe for king cake with cream cheese filling ingredients below.)
Affiliate links are used on this site. As an Amazon Associate I earn from qualifying purchases. Read more in our DISCLOSURE.
Before we get to the easy recipe for Mardi Gras King Cake, let's cover the Mardi Gras king cake tradition, history and more about the King Cake in New Orleans to add to your children's lessons!
This is some fun Mardi Gras king cake history for kids before they make the kids king cake!
What is a Mardi Gras King cake?
A Mardi Gras King Cake is a sweet, round pastry, shaped like a circle with a hole in the middle (like a crown). It is popular between early January (for start of carnival) and Ash Wednesday. It can be made with just cinnamon inside or with many different fillings. In New Orleans, it is decorated with Mardi Gras colors and a hidden baby figure is placed inside for good luck.
What is the story behind King Cake?
The King Cake history is based on of the birth of Jesus (Christ Child). In the Bible, the Three Wise Men bring Baby Jesus gifts on the Twelfth Night. The cake and the royal colors is said to honor the Kings and their crown jewels. The cake is sometimes called Three Kings Cake or even the Baby Jesus cake.
When should you eat King Cake?
King's Cakes are eaten anywhere between January 6th, which is King's Day or the Twelfth Night, and Fat Tuesday (which is the day before the start of Lent).
MORE MARDI GRAS ACTIVITIES FOR KIDS
Mardi Gras Lessons and Free Mardi Gras Printables
What kind of cake is King Cake?
A traditional King Cake is a brioche (or a French bread dough) formed in a circle. It has fillings like chocolate, cinnamon, or cream cheese, pecan praline, or even a Bavarian cream King Cake filling. The cake is then iced with Confectioner's Sugar icing and sprinkled with colored sugar in the traditional Mardi Gras colors of gold, green, and purple — which are the royal colors of Mardi Gras from the Christian religion.
What is the flavor of a King Cake?
A traditional King Cake is cinnamon, but there may also be different fillings. Some King Cakes are filled with praline, almond, cream cheese, apples, pears or even chocolate.
Why do they put a baby in the King Cake?
The king cake baby meaning is said to represent the Baby Jesus. Also, the baby in the King Cake is a tradition that means good luck. They baby is placed in a piece of the cake before the party and means good luck for the person who finds it!
What does it mean to find the baby in the Mardi Gras King Cake?
You may be wondering what does it mean if you get the baby in a King Cake? Getting a King Cake baby in your piece is a good thing! The person who gets the piece of King Cake with the baby "gains favor" and also provides the King Cake for the party the next year.
IMPORTANT: Don't bake your cake with King Cake babies inside. Insert the baby into the piece of cake after and then remind everyone that there is a baby inside the piece!
What can I use as the baby in a King Cake?
Traditionally, Mardi Gras King Cakes used a fava bean, or a fève, as the King cake trinket. Now, you will find that they are mostly small plastic baby figures placed in the cake, but you can also use Mardi Gras doubloons or even dried beans.
You can buy a baby for a King Cake online or at any party store (and you can also get doubloons for Mardi Gras).
How do you put the baby in a King Cake?
The baby for a King Cake is not generally baked inside of a King Cake. Once the cake is baked and cooled, you can slice a small hole and place the baby after the cake is baked, or place it in a sliced piece of cake, or even under a piece of King Cake. Some people add a baby during the braiding process, but we recommend adding it after. If you want to bake the baby in the cake, make sure you get one that is designed to be baked in the King Cake.
Ready for our King Cake easy recipe?
Quick and Easy Recipe for King Cake ("Kiddie King Cake")
NOTE: This is NOT one of the traditional homemade king cake recipes! This is a modified version (quick and easy cake recipe) that is helpful when cooking with kids and makes it a kid-friendly easy Mardi Gras King cake recipe (as well as the recipe for King Cake icing).
(It also works for a Mardi Gras party, too!)
This is a recipe for King Cake with crescent rolls, but you can also make a quick homemade King Cake with cinnamon rolls, too.
I like using the crescent rolls because you can make it a recipe for small king cake or add more crescent rolls for a bigger cake ring.
(You can also buy a King Cake mix if you want a traditional king cake New Orleans recipe but don't want to make a recipe for homemade king cake from scratch with all the steps.)
Yield: Around 16 Pieces
Easy Recipe for King Cake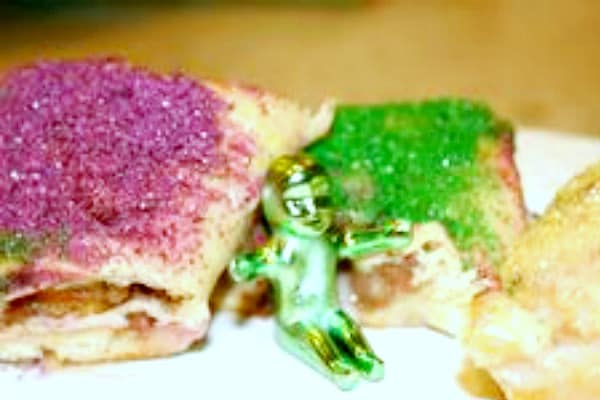 Our recipe for King Cake is a non-traditional but easy take on the dessert that we like to call the Kiddie King Cake (and simple enough to make with little ones). You can have fun playing around with the King Cake fillings, too.
Ingredients
2 rolls refrigerated crescent rolls (in the can)
4 ounces (half a block) of cream cheese
½ cup brown sugar, packed
1 tsp ground cinnamon
¼ cup raisins, soaked in hot water for 15 minutes, drained
½ cup pecan halves
1-1/2 cups confectioners' sugar (powdered sugar)
4 Tablespoons milk
1 teaspoon vanilla extract
Purple, green, and yellow colored sugar crystals
¼ cup butter, softened
Instructions
TO MAKE FILLING:
Place cream cheese, brown sugar, ½ teaspoon cinnamon, and raisins in the bowl of a food processor or mixer. Process until combined.
Add in pecan halves and process until pecans are chopped. Set aside.

FOR THE CAKE:
Preheat oven to 350 F. Spray a baking sheet with non-stick spray.
Unroll first can of crescent roll dough and lay flat on surface. Do not separate dough. Instead, use fingers to pinch/press together the seams.
In a microwave, melt ¼ cup butter.
Add the remaining ½ teaspoons cinnamon to the melted butter.
Using a basting brush, spread half of the melted butter-cinnamon mixture onto the dough.
Place half of the filling in the middle of the dough and roll the dough to form a tube. Pinch together the seams. Position the rolled dough on the baking sheet and shape into a half-moon to form the top of the King Cake.
Repeat the above steps with the second can of crescent rolls and remaining melted butter and filling to form the bottom of the King Cake. Form into a half moon shape.
Place bottom half moon of rolled dough against the top half moon (to form one full circle). Pinch together the edges of the top of the cake and the bottom to form one complete circle.
Bake 20 to 25 minutes until golden brown, and then cool completely before icing.
TO MAKE THE ICING:
Whisk together the confectioners sugar, milk, and vanilla until smooth. You want the consistency thick, but still thin enough to drip down the sides of the cake. (If necessary, add more milk.)
Spoon the icing in a ring over the top of the baked and cooled King Cake.
Sprinkle wide strips of purple, then green, then gold, alternating until you've covered the icing on the cake.

FOR THE KING CAKE BABY:
Before serving, cut the cake into slices and place the plastic baby either in or under one of the pieces. (Do not bake the plastic baby in the cake!)
Be sure to warn your guests so that they are aware of the baby and don't accidentally bite down on it!
The person who gets the King Cake baby is said to have good for the year and is tasked to bring the King Cake to next year's Mardi Gras party.
Notes
You'll also need a King Cake baby mascot that is placed under or in a piece of the cake AFTER the cake is baked. DO NOT BAKE THE CAKE WITH THE BABY IN IT!
Nutrition Information:
Yield:
16
Serving Size:
1
Amount Per Serving:
Calories:

176
Total Fat:

8g
Saturated Fat:

4g
Trans Fat:

0g
Unsaturated Fat:

4g
Cholesterol:

16mg
Sodium:

76mg
Carbohydrates:

25g
Fiber:

1g
Sugar:

21g
Protein:

1g
Nutrition information is estimated. Changes to the recipe and use of different brands may cause changes to the nutritional information to vary slightly from the ones provided here.
Recipe for King Cake paired with Mimi's First Mardi Gras Children's Book
My husband and I both love New Orleans.
For years, we visited there often and I consulted for the university there once a month.
(Yes, it was a tough gig, but someone had to go to New Orleans once a month.)
Although we have yet to take our youngest daughter, we talk to her about the area a lot — the food, the culture, the music, the people.
It really is an awesome place and about so much more than Bourbon Street. I highly recommend traveling there with your kids if you can (so much to learn there!).
None of us have been to Mardi Gras, but we can appreciate the religious, cultural and historical ties surrounding it (that has little to do with beads and flashing).
So, I was happy to discuss it with my daughter during a recent homeschooling session and read her Mimi's First Mardi Gras by Alice Couvillon and Elizabeth Moore.
Mimi's First Mardi Gras does an excellent job of explaining the entire process, through little Mimi's eyes and her first Mardi Gras, starting with Twelfth Night, the King Cake, Lent, the parties, the costumes and all the way through the parade day and different Krewes and parades.
If you know little about Mardi Gras, this will be an interesting learning tool for you, too!
The illustrations are wonderful watercolors that fill up almost the entire area on every page. They do a really great job of portraying the different things within a Mardi Gras celebration.
Be aware that the book is 32 pages (almost like a short chapter book), so it may be lengthy for younger kids and you may need to break it up into a couple of sessions.
This is a really great Mardi Gras children's book to pair with the simple recipe for King Cake!
Enjoy our easy recipe for King Cake for Mardi Gras!
LOOKING FOR FUN COOKING PRINTABLES FOR KIDS?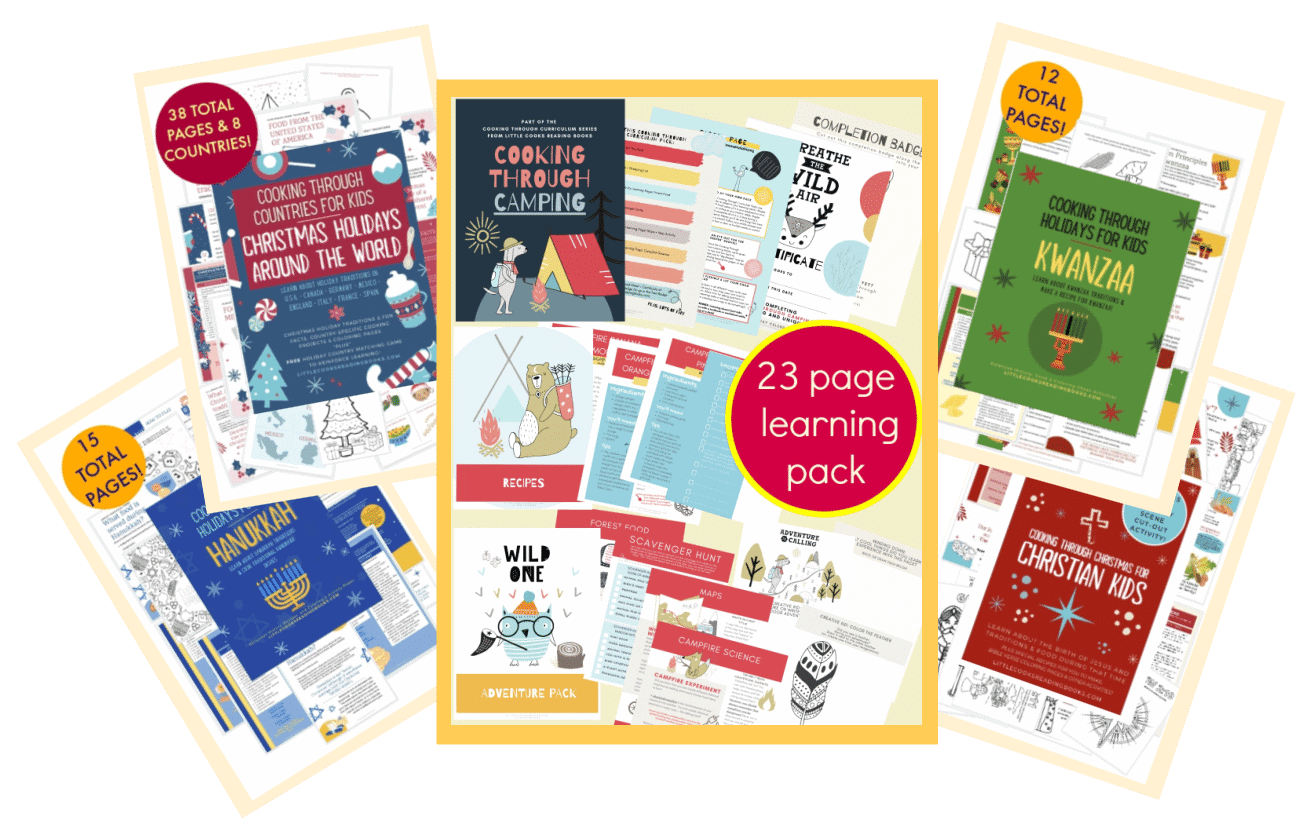 As an Amazon Associate I earn from qualifying purchases. Please refer to our
DISCLOSURE
.