Wondering how to make marshmallow pops (also called marshmallows lollipop)? These easy marshmallows covered with chocolate dessert treats can be adapted using heart marshmallows (like for Valentine's Day) or different shapes based on the holiday or party theme!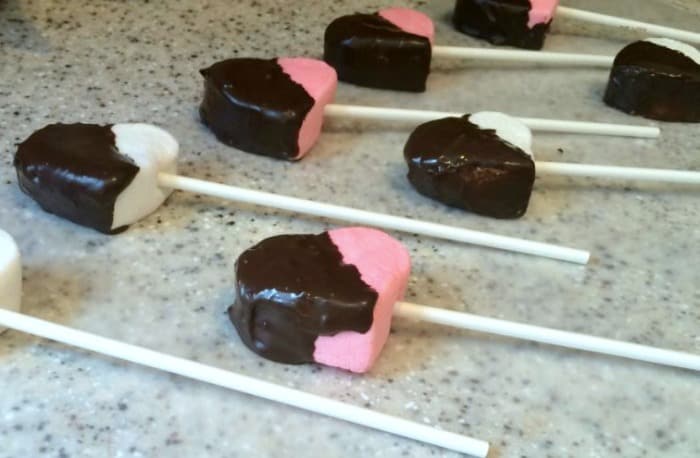 How To Make Marshmallow Pops
If you're looking for a quick and easy Valentine's Day treat or a heart theme party favor, try a super cute and EASY marshmallow pop!
(You can actually use any shape marshmallow you want. The heart just happened to fit with our theme. Frankford Candy Company has Mallo Licious with bunch of cool marshmallow shapes!)
My daughter's birthday is at the beginning of February and we made heart chocolate dipped marshmallow pops for her Alice in Wonderland theme birthday party as part of the Queen of Hearts area. They were a huge hit!
Affiliate links are used on this site. As an Amazon Associate I earn from qualifying purchases. Read more in our DISCLOSURE.
And, there were enough chocolate marshmallow on a stick pops left over that we were able to include some in Ella's Valentine's bags for her Spanish class treats a couple of days later.
(Bonus points as a 2-for-1!)
Not only are these marshmallow pops easy and fast, the kids will also have fun making them.
Just be sure that they know not to touch the hot chocolate until it has cooled!
(And, marshmallows are are for more than just rice krispie treats, right?)
Before we get to our book pairing recommendation and the marshmallow pops recipe, let's cover some FAQs that people have when making marshmallow pops.
Can you dip marshmallows in candy melts?
YES! Candy melts are one of the best things you can use to make marshmallow chocolate pops! Plus, candy melts come in a variety of different colors so you can match up your dipped marshmallow pops for your holiday or party theme. Also, be aware that candy melts sometimes dry with a harder shell than other chocolate.
ALSO CHECK OUT:
How do you melt chocolate for dipping?
Simply heat chocolate for 15-30 second intervals in the microwave, stirring periodically, until the chocolate is completely melted. Or, one of our favorite ways to work with chocolate is to use a mini crockpot to keep the chocolate melted the entire time you are dipping the marshmallows. You can also use a double boiler.
How do you dip marshmallows in candy melts?
Melt candy melts or chocolate in the microwave or in a mini crockpot. Insert a toothpick or lollipop sucker stick into the flat end of the marshmallow. Holding the toothpick or stick, carefully dip and roll the marshmallow into the melted chocolate. Tap gently on edge of bowl to remove excess chocolate and then place on wax paper to dry.
How do you make colored marshmallow pops?
If you want to make colored marshmallows without the chocolate, you can actually dye them (using a similar process to dyeing Easter eggs!). Can you food color marshmallows? YES! Just add a few drops of food coloring to enough water to cover the marshmallow. Submerge it in the water and allow it to get to the desired colored marshmallow color. Remove from water, shake to remove excess water, and place on wax paper to dry.
How long are marshmallow pops good for?
Dipped marshmallow pops will stay good for up to one week. Just be sure to store them in an airtight container. They don't need to be stored in the refrigerator.
How do you store marshmallow pops?
Once you've made your chocolate dipped marshmallow pops, you can store them on the counter in an airtight container, wrapped in cellophane, or in small party bags. It is not necessary to refrigerate them.
Can I freeze chocolate covered marshmallows?
If you want to harden the chocolate quicker, you can place it in the freezer for a few minutes. Beyond that, I wouldn't freeze chocolate covered marshmallows to store them. Chocolate changes colors when frozen and, although it is still good to eat, it might not have the desired look that you want for your marshmallow on stick.
How do you get sugar to stick to marshmallows?
One of the easiest ways to get colored sugar to stick to marshmallows is to simply lightly wet the marshmallows with a damp sponge or basting brush. Then, roll the marshmallow in sugar. Allow to dry on the lollipop stick or on some wax paper before packaging. You can also dip the marshmallow in chocolate and then immediately roll it in sugar or sprinkles. The chocolate will help the sugar or sprinkles stick to the marshmallow.
Marshmallow Decorations
Once you have dipped marshmallows, what can you use as marshmallow decorations?
How to make chocolate covered marshmallows pops with decorations, use:
Colored Sugar
Sprinkles
Crushed Cookies
Chocolate Chips
Shredded Coconut
Pop Rocks
Nuts
Mini M&Ms
Crushed Cereal (like Cheerios or Rice Krispies)
Edible Glitter or Edible Glitter Spray
Crushed Candy or Crushed Candy Canes
Colored Chocolate Drizzle
Course Sea Salt
Chocolate Covered Marshmallow Pops paired with Most Marshmallows Children's Book
We paired our marshmallow pop recipe up with a children's book called Most Marshmallows by Rowboat Watkins.
The book goes above "most marshmallows" and tells about marshmallows that dream big and do anything that they want to do!
"This sweet and silly book is an inspiring reminder to everyone that by being true to ourselves, each of us has the power to be extraordinary."
We fell in love with this book for the quirky illustrations, that are really photographs of marshmallows living out their dreams!
OK!
Let's get to it!
Here's how to make marshmallows covered in chocolate using candy melts or your favorite chocolate!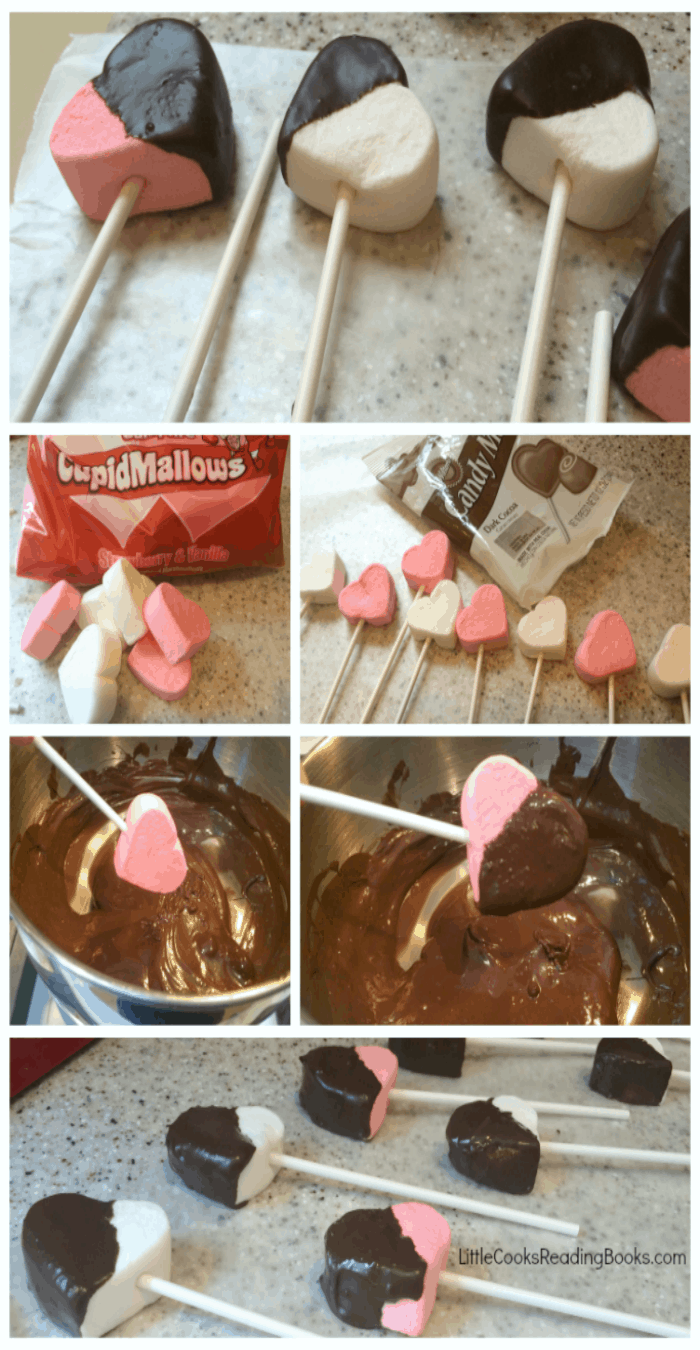 How To Make Dipped Marshmallows
Recipe for Marshmallow Pops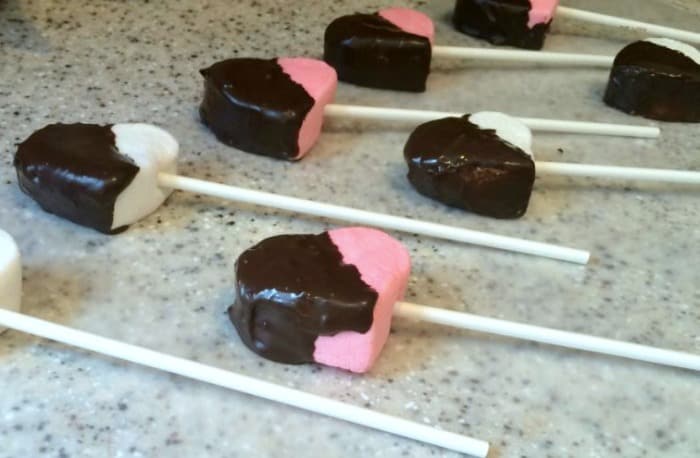 Making a marshmallows lollipop is super easy and fun. You can dip the marshmallows in chocolate and add marshmallow decorations like sprinkles, edible glitter, and more!
Additional Time
15 minutes
Ingredients
10 ounce bag of Heart Shaped Marshmallows (or any shape)
Wilton's Chocolate Melts (any color) or Chocolate or any candy melts that fit your theme
Sprinkles or crushed candy (optional)
Instructions
Place lollipop sticks into the side of each heart marshmallow.
Pour the Wiltons Chocolate Melts into a double boiler, small crock pot, or microwave. Melt on low, stirring frequently until completely melted.
Hold the end of the lollipop stick and dip one side of the heart marshmallow into the chocolate, being careful not to touch the bottom or side of the double boiler or crock pot. Lightly tap the stick on the side of the double boiler so that the excess chocolate drips off back into the double boiler.
(OPTIONAL) If you're using marshmallow decorations like sprinkles, etc., immediately roll the dipped marshmallow into them.
Place the dipped marshmallow onto the wax paper to cool.
Cool completely and then wrap in cellophane party bags for gifting. (Optional)
Notes
You'll also need:
Lollipop sticks
Party cellophane or bags (optional)
Nutrition Information:
Yield:
10
Serving Size:
1
Amount Per Serving:
Calories:

17
Total Fat:

1g
Saturated Fat:

0g
Trans Fat:

0g
Unsaturated Fat:

0g
Cholesterol:

0mg
Sodium:

2mg
Carbohydrates:

3g
Fiber:

0g
Sugar:

2g
Protein:

0g
Nutrition information is estimated. Changes to the recipe and use of different brands may cause changes to the nutritional information to vary slightly from the ones provided here.
And, that's how to make marshmallow pops (marshmallow suckers)! (Easy, right?)
LOOKING FOR FUN COOKING PRINTABLES FOR KIDS?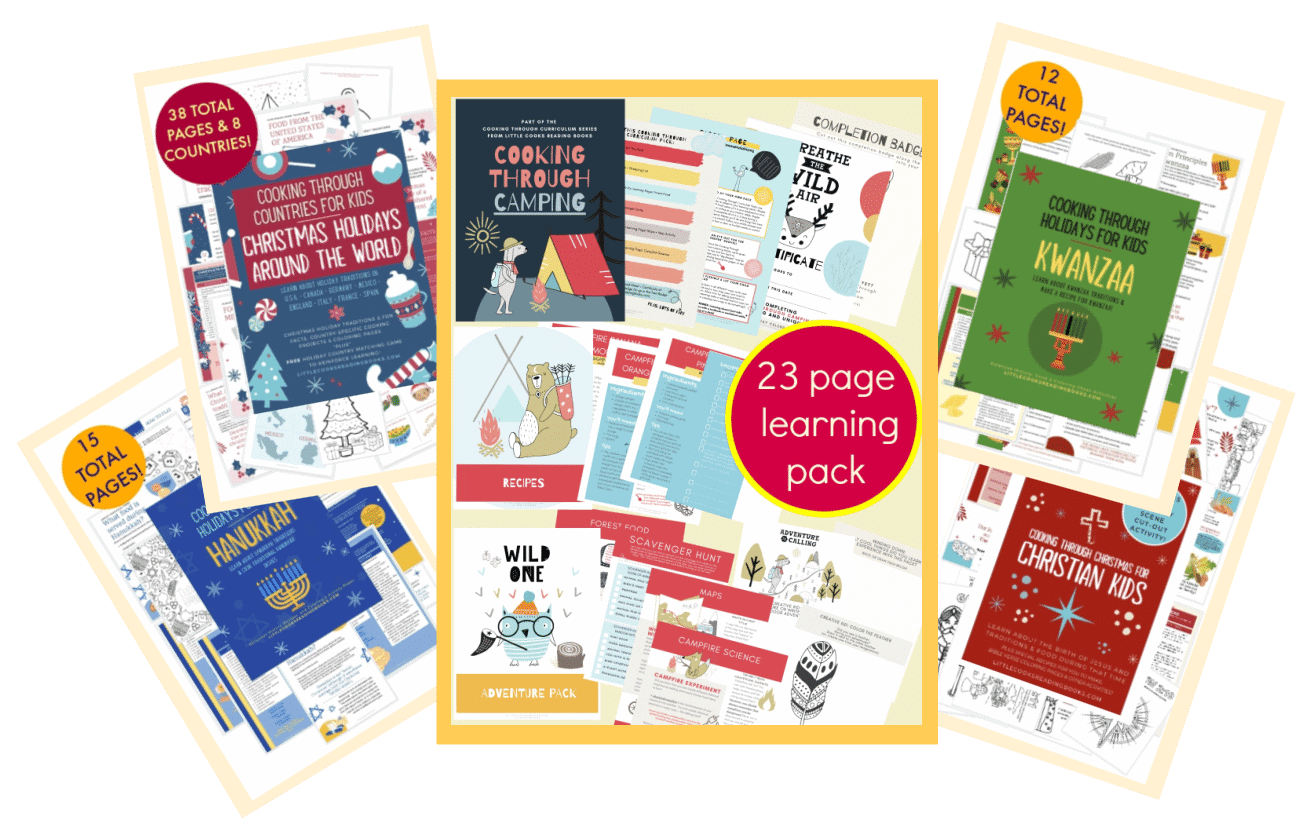 As an Amazon Associate I earn from qualifying purchases. Please refer to our
DISCLOSURE
.