A Valentine snack board (aka: Valentine's Day charcuterie board) is the ultimate Valentine's Day school snack ideas, VDay party treats for kids or fun for holiday movie night! You can make it healthy kids Valentine snacks / healthy after school snacks or surprise sweet treats! Perfect for Valentines Day treats DIY gift ideas for teachers, friends, and family members, too!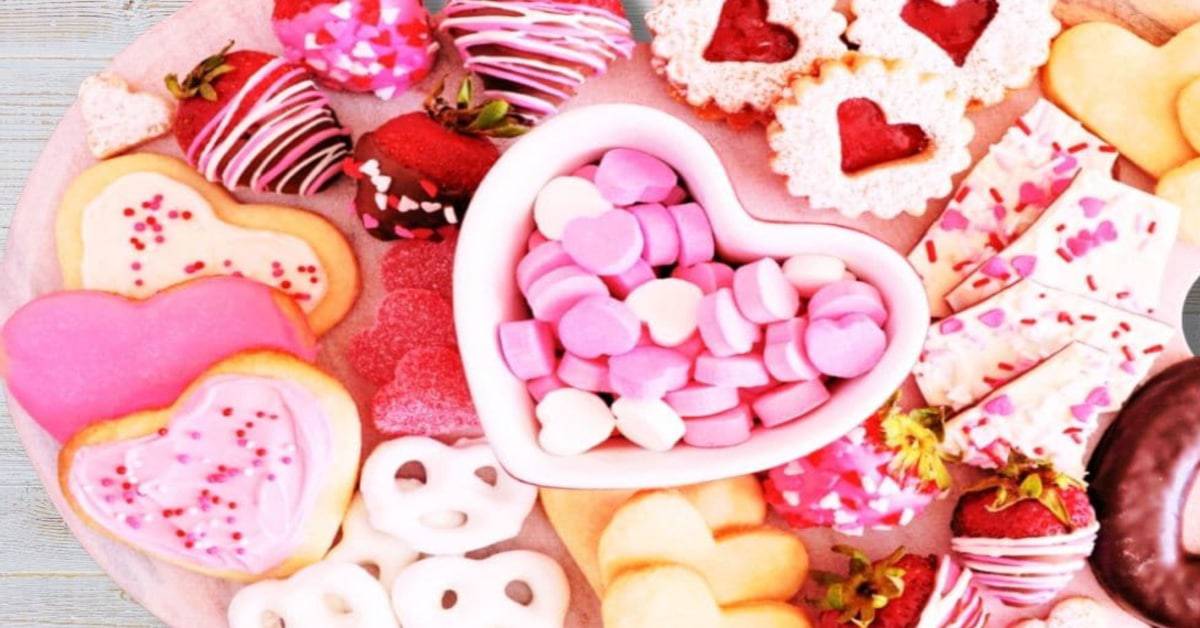 DIY VALENTINE SNACK BOARD
A Valentine snack charcuterie is fun because you can play around with a lot of different kid-friendly treats for a Valentine's Day theme party, snack, or lunch!
Valentine Charcuterie Board Ideas
Items for a Valentine Snack Board for Kids:
Valentine heart cookies
Chocolate dipped strawberries with Valentine sprinkles
Conversation Hearts candies
Raspberries
Edible red rose petals (for real!)
Heart candies and suckers
Rice crackers
Cheese cut in hearts
Meats cut in heart shapes (salami works really well)
Heart shaped Cheerios (limited throughout the year)
Pomegranate arils (seeds)
Red, white and pink gummies
Chocolate dipped pretzels in pink and red
Heart shape snack cakes
Festive holiday doughnuts
Apple slices cut into heart shapes
Heart bread (cut out with a heart cookie cutter)
LOVE cookies
Red licorice
Pretzels
Red dipping sauces in heart shaped dip dishes
Cut out heart vegetables (like cucumbers, red peppers, etc.)
Valentine Hershey kisses (pink and red)

Peppermint bark

with heart shaped sprinkles
Heart shaped marshmallows
See directions on how to make a dessert Valentine snack board below!
Affiliate links are used on this site. As an Amazon Associate I earn from qualifying purchases. Read more in our DISCLOSURE.
What is a Valentine's Day snack board?
A Valentine snack board can be a:
Savory charcuterie board (with meats and cheeses)
Sweet Valentine's Day dessert board (dessert charcuterie board) with heart-shaped chocolates and desserts
Valentine fruit board with cutout heart fruits and dips
Vegetable snack board with heart shaped veggies
Valentine hot chocolate board with Valentine candies, pink red and white sprinkles, and heart marshmallows as toppings
A mixed snack board of all of the above!
For your charcuterie for Valentines Day, use a heart plate or a colorful serving tray like this and some mini heart serving bowls to hold dips and candy to create a festive Valentine party mood!
What day is Valentines Day?
The Valentine's Day date is always February 14th each year, annually. The holiday is also called Saint Valentine's Day or the Feast of Saint Valentine.
MORE VALENTINE'S DAY RECIPES:
Heart Brownies with Marshmallows
Marshmallow Pops Dipped In Chocolate
DIY Valentines Cards Crafts For Preschool and Up
Valentine's Day Charcuterie Board (Valentine Sandwich Board)
If you want to make a savory Valentines Day snack board for kids, use a small heart cookie cutter to cut out the meats, cheeses, breads, cucumbers, etc. so for a DIY holiday sandwich board for kids.
This is a great option if you want a Valentine board of snacks that's not full of sugar!
You can still create a healthy Valentine theme by adding red, pink, and white treats like:
White bread
White cheese
Red bell peppers
Pink meats
Red jelly and peanut butter
Red leaf lettuce
Red pomegranate seeds
Dragonfruit
Tomatoes
Strawberries
Cherries
Red apple pieces
Radishes
Perfect for a Valentine's Day lunch idea!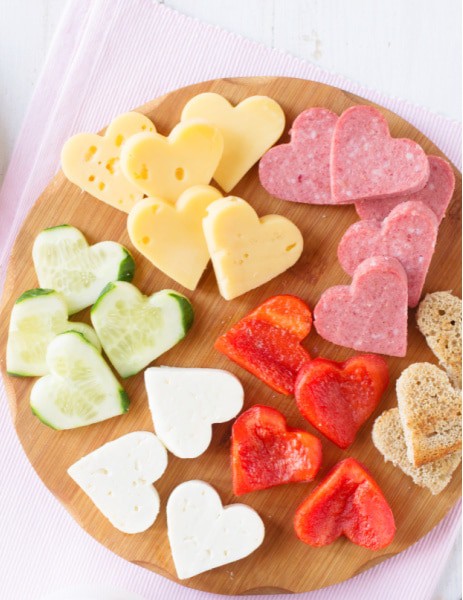 We use the cookie cutters like this because they cut through thicker items better!
LEARN HOW TO MAKE A GRAZE CHARCUTERIE TABLE FOR HOLIDAYS OR PARTIES
How To Make a Valentine Snack Board
This is a fun Valentine's Day snack to make with the kids at home, but it also makes beautiful Valentine Day treats gifts! If you're making it as a Valentine charcuterie box for holiday presents, use cute Valentine boxes like these for kids to give out to their Valentine friends (or these if you need larger boxes for teachers, etc.) to deliver your gifts!
We made our Valentine's day food board as a dessert board, but you can make it with anything that you want, like meats and cheeses cutout in the form of hearts!
TIP: You can easily make chocolate dipped pretzels pink and red colors by using these colored melts.
Yield: 1
How To Make a Valentine's Day Candy Charcuterie Board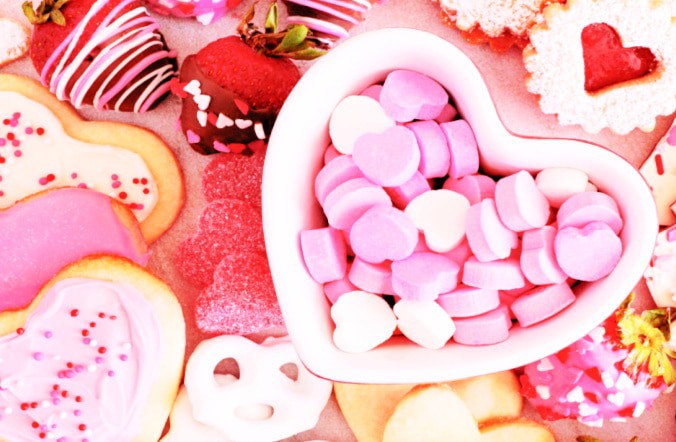 Don't stress about making everything from scratch for your Valentine snack board. (We LOVE those iced heart cookies from the grocery story like the ones in our picture!) Or, you can do a nice mix of homemade candy (like dipped pretzels) and cookies and then add in candies.
Also, use our list as a starting point! Sweet Valentines charcuterie boards are a lot of fun to play around with, so add in your own. It's also a fun food project to make with kids!
Materials
SUGGESTIONS:
Valentine cookies (variety of choice)
Valentine Conversation Heart candies
Valentine candies (variety of choice)
Pretzels (regular and chocolate dipped)
Red gummies
Strawberries (or cherries or raspberries or a mix)
Chocolate dipped strawberries with Valentine sprinkles
Tools
Serving tray of choice
Heart shaped dish (optional)
Instructions
When building a snack tray or charcuterie board, ALWAYS START IN THE MIDDLE AND WORK OUT. (Doesn't matter how big or small your charcuterie board / table is.) The building blocks in the middle are the "stars" of your board. In our case, we placed a small heart bowl filled with conversation Valentine hearts.
Continue working outward, adding a large item (like cookies) to one side and then diagonally add the same size item on the other side.
Once you do something to one side of the board, stop and do something on the opposite side of the board in the same color and/or bulk/size. This will help you keep the board feeling balanced and will help to avoid putting a bunch of the same colors together.
Continue adding items to each side until you are finished. Stand back and assess your snack board. Are there too many of one color together? Does one side of the board look "heavier" than the other? DON'T STRESS TOO MUCH. It's easy to fill in your board with small candy hearts and pretzels to make it feel complete.
SERVE AND ENJOY!
Notes
BE SURE TO CHECK OUT THE POST FOR A FULL LIST OF VALENTINE CHARCUTERIE FOOD IDEAS (HEALTHY SNACKS AND SWEET TREATS). SCROLL UP!
Valentine's Day Themed Children's Books
Here are some fun Valentine's Day children's picture books and other Valentine books you can add with this recipe and read project!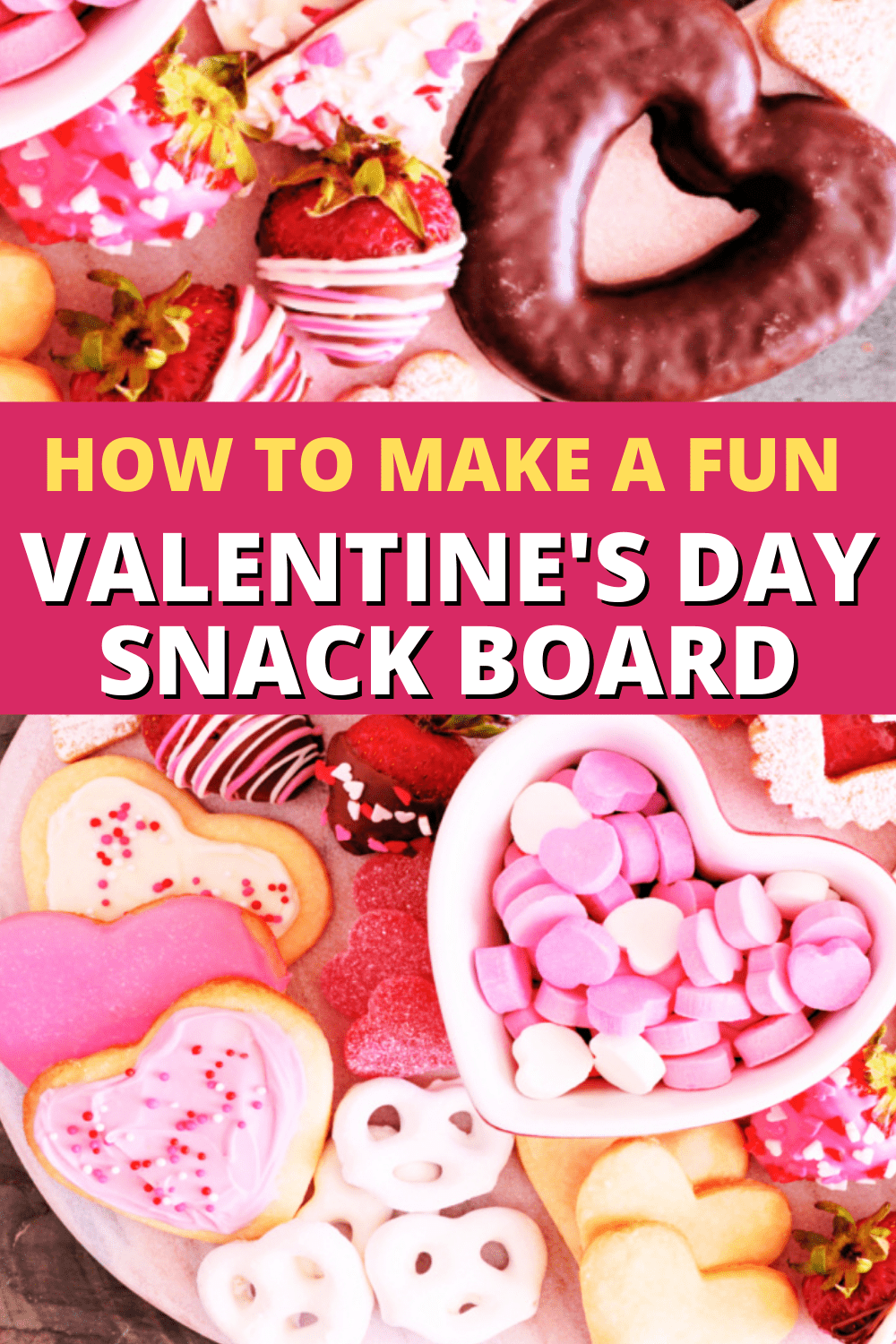 Let us know what you put on your Valentine snack board!
LOOKING FOR FUN COOKING PRINTABLES FOR KIDS?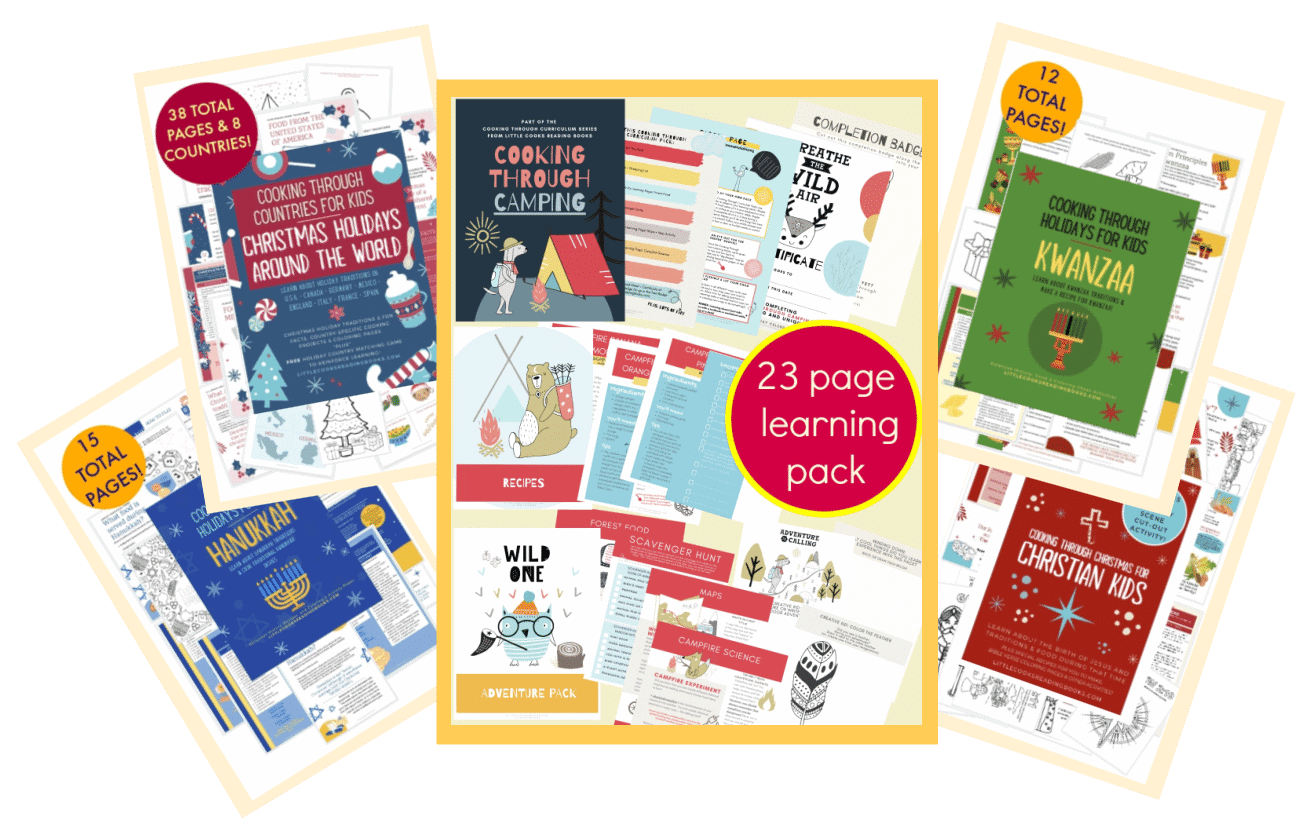 As an Amazon Associate I earn from qualifying purchases. Please refer to our
DISCLOSURE
.