Learning how to make smores as a kid is so fun! We'll cover the original smores ingredients recipe, and other smores dessert ideas like how to make smores in the oven and another fun indoor smores idea for these easy desserts!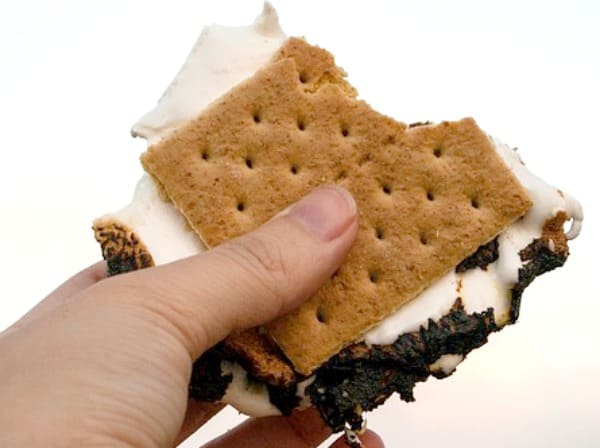 How exciting is this?
Today we're going to talk about how to make S'mores — one of those favorite camp desserts … and, we're going to pair the recipe up with the children's book Scaredy Squirrel Goes Camping!
But first . . .
Affiliate links are used on this site. As an Amazon Associate I earn from qualifying purchases. Read more in our DISCLOSURE.
What are S mores made of?
In case you've never made s'mores, it's super easy and they're a great dessert treat to make with kids!
S'mores ingredients are just three things!
S'mores ingredients:
Graham crackers
Marshmallows
Chocolate bar
(Yep! That really is it!)
How To Make Smores with Scaredy Squirrel
We decided to pair up our smores with the book Scaredy Squirrel Goes Camping by author and illustrator Melanie Watt.
If you're not familiar, Scaredy Squirrel is a fabulous little squirrel who is afraid of, well, everything (and had a lot of OCD).
In this book, Scaredy Squirrel decides to go camping for a very unique reason . . . so that he can watch camping on television and not have to deal with all the scary stuff outdoors (including the Three Little Bears and zippers).
But, to plug in his television, Scaredy Squirrel needs to stretch an extension cord from his tree and across the campground to the only available outlet.
As you can imagine, along the way across the campground Scaredy Squirrel learns a thing or two, including that the outdoors may not be as scary as he thinks—and learns how to roast marshmallows (just like we need in our smores recipe!).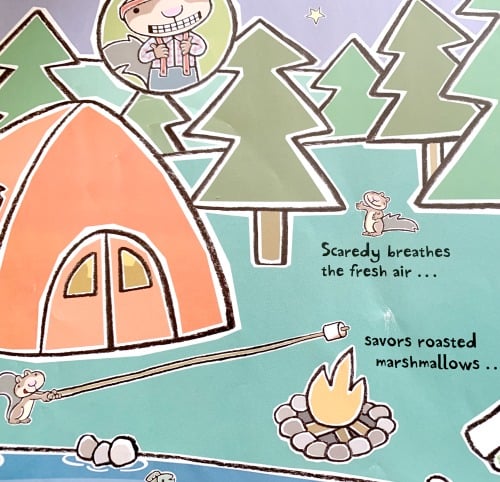 If you've never experienced the books by author and illustrator Melanie Watts, you are in for a treat!
She writes (and illustrates) them like a hysterical how-to guide.
You won't be disappointed!
Listed Book Age Range: 4-8 years
(READ WHY I DON'T PUT "READ AT YOUR LEVEL" RESTRICTIONS ON MY KID.)
WARNING: It goes without saying that if you're working around a campfire then you'll want to keep a really close eye on the kids. You may even be more comfortable helping them roast the marshmallows and then allowing the kids to assemble their own s'mores.
---
FROM OUR SISTER SITE, ALSO CHECK OUT:
---
How To Make Smores Recipe
S'more are fun to make because first you get to roast the marshmallows (which usually includes a campfire) and then you have an easy dessert to eat!
(We love these telescoping roasting sticks that you can use for hotdogs and marshmallows!)
But, we also have a recipe for how to make smores in the oven and also using an indoor smores kit after the recipe — smores alternatives from the traditional recipe and s'mores variations.
Don't miss more smores recipes after this one!
[KEEP SCROLLING!]
Yield: 4
How To Make Smores (Traditional)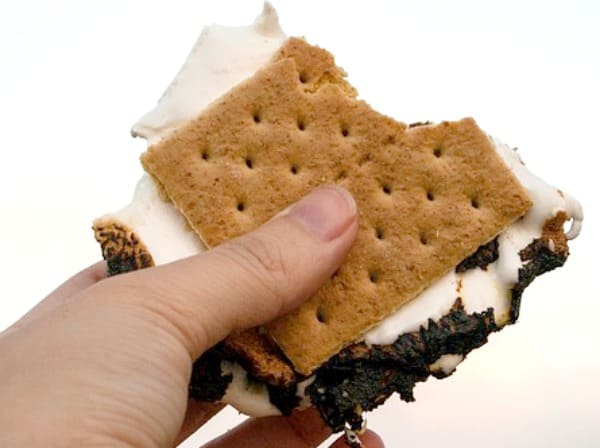 This is the easy, traditional smores recipe using only three ingredients!
Ingredients
4 sheets Graham Crackers
2 Hershey Chocolate Candy Bar
4 Large Marshmallows
Instructions
Carefully break apart the graham crackers so that they form squares. (You should have 8 total squares.)
Break apart or cut chocolate bars into square pieces. (You should have 4 squares of chocolate.)
Before roasting the marshmallows, place a row of graham crackers on a plate and then place one piece of chocolate on top of each graham cracker square. Now you've prepped the bottom of the smores and are ready to roast your marshmallows (next step)!
Place marshmallows on the roasting sticks (one or two on each stick, depending on what kind of stick you are using). Carefully roast over the top of the fire, turning the stick the entire time so that the marshmallows are roasted evenly.
With the marshmallow still on the roasting stick, place it on top of the prepared graham cracker bottoms and chocolate (from Step 3). Then, using another graham cracker square, carefully slide off the marshmallow from the roasting stick onto the chocolate. Place the graham cracker square on top and lightly press down.
Enjoy the gooey smore!
Nutrition Information:
Yield:
4
Serving Size:
1
Amount Per Serving:
Calories:

109
Total Fat:

3g
Saturated Fat:

1g
Trans Fat:

0g
Unsaturated Fat:

1g
Cholesterol:

1mg
Sodium:

82mg
Carbohydrates:

20g
Fiber:

1g
Sugar:

10g
Protein:

1g
Nutrition information is estimated. Changes to the recipe and use of different brands may cause changes to the nutritional information to vary slightly from the ones provided here.
How do you make smores in a fireplace?
If your electricity is out (or if it's just a cozy fall or winter evening), you can even make smores in a fireplace.
Just follow the recipe above and roast your marshmallows the same as you would if you had an outdoor fire.
Then, assemble your s'more as normal.
How To Make Indoor Smores
What if we told you that you didn't need a campfire to make these campfire desserts?
If you're having a theme party or want to skip the campfire part of the s'mores recipe (especially if you have little ones that you don't want around fire), you can actually do some indoor s'mores with s'mores kit.
(WAY!)
You can grab this super affordable indoor s'mores maker and not worry about your kids being around the campfire (or even worry about your campfire day getting rained out!).
I love this s'more maker because you can use it all year 'round whenever your kids need to know how to make s'mores at home indoors!
How To Make Smores in the Oven
Another indoor smores idea is this smores oven recipe.
Making smores in the oven is also a great idea if you want to have a large number of smores available all at once for a party — it's kind of a s'mores bake!
To make smores in the oven:
Preheat the oven to 450 degrees F.
Break graham crackers into "squares" (or in half) and lay them in a single layer on an ungreased cookie sheet. (Set aside "top" or other half of graham cracker square until after baking.)
On top of graham crackers, lay chocolate bar squares until the graham crackers are covered.
On top of the chocolate squares, place marshmallow squares. If you don't have marshmallow squares, use kitchen scissors to cut the marshmallows in half so they lay flat.
Bake partially assembled smores in the oven for 3-5 minutes, or until the marshmallows start to puff and turn golden brown.
Remove from the oven and immediately place top graham cracker onto the marshmallow. Push down lightly.
Using a spatula, carefully remove each s'more "sandwich" from the cookie sheet. Serve immediately.
What's your favorite smores recipe?
Learning how to make smores is so fun with your family!
As an Amazon Associate I earn from qualifying purchases. Please refer to our
DISCLOSURE
.