Wondering how to make s'mores in the microwave? Sometimes you just need to know how to make s'mores without fire (or need an easy desserts for kids). Make this simple dessert recipe, even when you aren't camping. You don't even need campfire for microwave smores (and we'll even cover can you microwave marshmallows for s'mores)!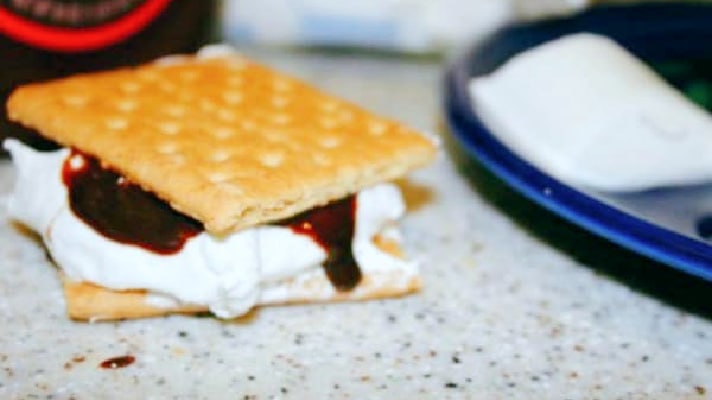 How To Make S'mores In The Microwave Recipe
Ever wondered how to make smores at home without fire, how to make s'mores inside, or can I make s'mores in the microwave?
Can you make s'mores in a microwave?
YES! You can make smore in the microwave with marshmallow and chocolate, too! Making microwave smores will taste a little different than campfire smores, but they're still yummy!
How do I make s'mores in the microwave?
To make microwavable smores, you'll need:
Affiliate links are used on this site. As an Amazon Associate I earn from qualifying purchases. Read more in our DISCLOSURE.
Marshmallows, or
Marshmallow cream, and
Chocolate, or
Chocolate spread (like Nutella), or
Chocolate syrup, and
Graham crackers
(see the full microwave s'mores recipe below)
One rainy summer day (without a campfire), my then 5 year old asked if she could have a s'mores dessert. And, it got me thinking about how to microwave s'mores.
We tried them two ways that day and my daughter loved them both! These microwave s'mores for kids will become a go-to for those times you don't have campfire smores!
How long to microwave s'mores?
You will microwave one square of the graham cracker with a marshmallow on top for 15-30 seconds, depending on your microwave. You don't want to microwave it more than 30 seconds or your graham cracker may get soggy or your marshmallow may explode!
How long do microwave s'mores last?
Microwave s'mores are best served fresh and hot. (One of the best part of smores is the ooey, gooey -ness of them!) However, if you have leftover smores, you can place them in resealable bags for a couple of days, but probably no longer.
ALSO TRY OUR OTHER S'MORES RECIPES:
Before we get to the recipes, let's answer some common questions about microwaving marshmallows…
Can you cook marshmallows in the microwave?
Can marshmallows be microwaved? You can cook marshmallows in the microwave in a large microwave safe dish. Be sure to microwave marshmallows in 15-30 second increments. And, keep your eye on them! Marshmallows expand in the microwave, so use a big enough bowl!
This leads us to…
Is it safe to put marshmallows in the microwave?
Do marshmallows explode in the microwave?
Marshmallows puff up and expand in the microwave. If you leave them in the microwave too long, they will expand to the point that they explode in the microwave. (And then you have a sticky mess to clean up!) So don't cook marshmallows too long in the microwave!
(Although, that might be a fun kitchen science experiment to do with the kids: why do marshmallows expand and blow up, how long before they explode, and do different size/colors of marshmallows expand/explode differently?)
Also try out this microwave s'mores maker. Your kids will love it!
---
HAVE FUN WITH OUR PRINTABLE CAMPING PACK TO GO ALONG WITH YOUR SMORES RECIPE!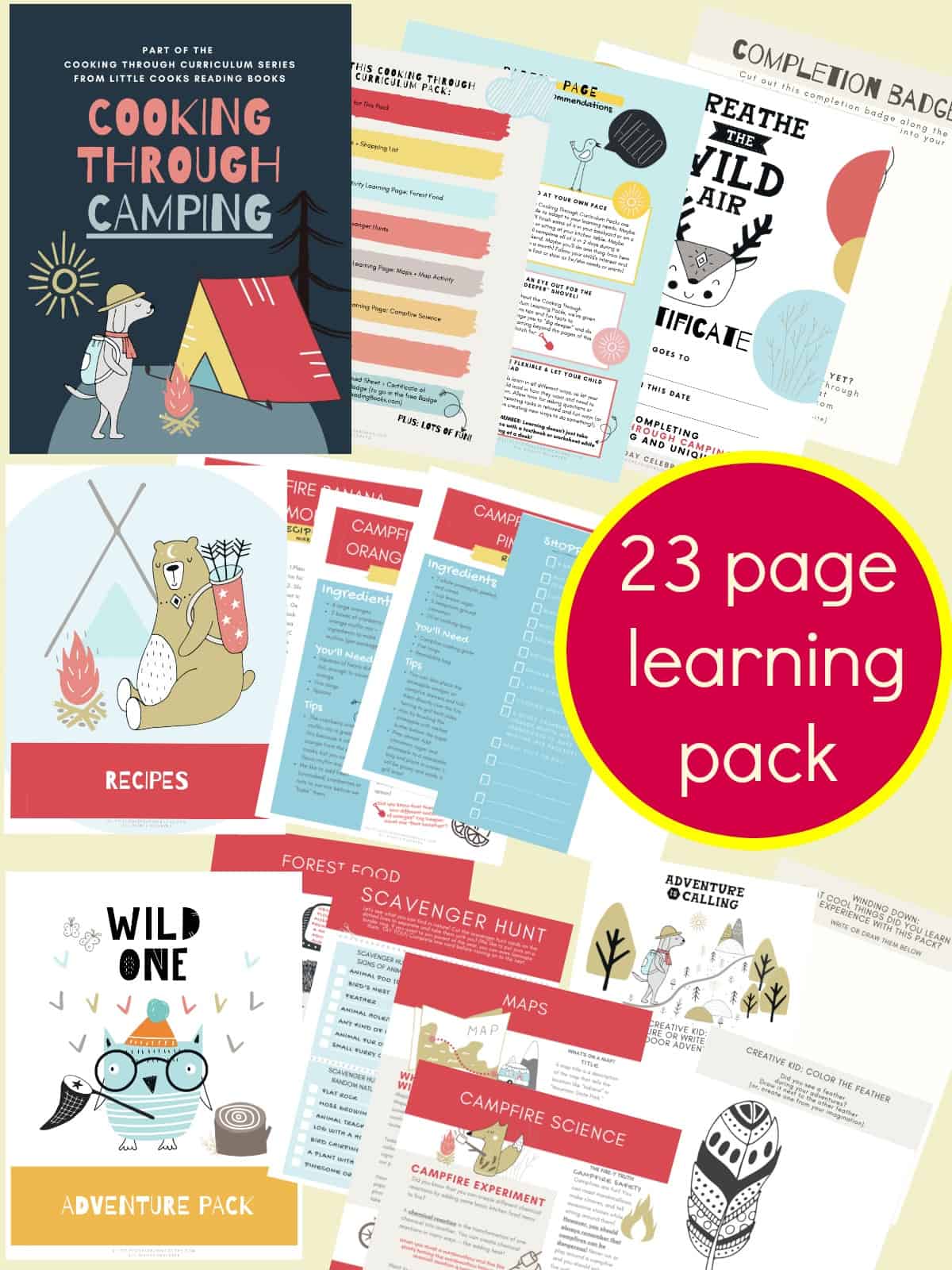 CLICK TO GET THE KIDS' ACTIVITY PRINTABLE PACK
---
OK!
Let's get to how to make s'more in microwave!
How Do You Make S'mores In The Microwave?
If you're wondering can you microwave s'mores, here's how! There's no best way to make s'mores in the microwave (you can make them traditional or try them with marshmallow fluff and chocolate syrup, which my daughter LOVED).
Have fun and play around with this easy recipe to see how you like it best!
(Don't miss our other smores dessert recipe after this one!)
Yield: 1
Microwave Smores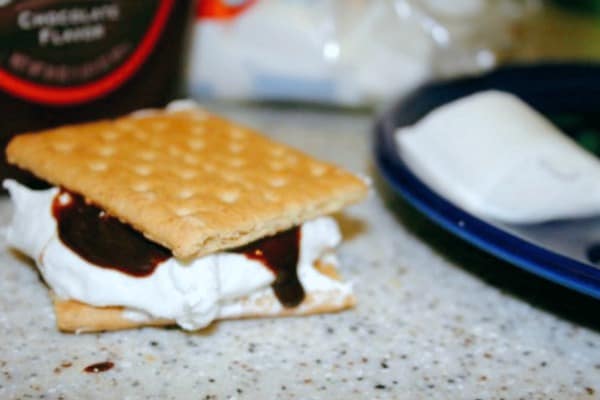 How to make smores in the microwave is so easy and can be ready in about 2 minutes!
Total Time
1 minute
15 seconds
Ingredients
2 graham cracker squares
1/2 plain chocolate bar
1 large marshmallow
Instructions
On a microwave safe plate, place one square of the graham cracker.
Top graham cracker square with the chocolate. Place marshmallow on top.
Microwave on high for 15 seconds, or just until marshmallow starts to puff. Do not overcook or marshmallow will explode!
Remove from microwave and place other graham cracker square on top. Push down lightly. Serve immediately.
Nutrition Information:
Yield:
1
Serving Size:
1
Amount Per Serving:
Calories:

201
Total Fat:

8g
Saturated Fat:

4g
Trans Fat:

0g
Unsaturated Fat:

3g
Cholesterol:

5mg
Sodium:

87mg
Carbohydrates:

30g
Fiber:

1g
Sugar:

19g
Protein:

3g
Nutrition information is estimated. Changes to the recipe and use of different brands may cause changes to the nutritional information to vary slightly from the ones provided here.
Can You Make S'mores In The Microwave Without Marshmallows?
YES! You can substitute marshmallow cream (or marshmallow fluff) instead of marshmallows. For our indoor smores recipe, we also decided to try a recipe without marshmallows and making our smores without chocolate bars.
(Gasp! I know!)
ALTERNATIVE S'MORES RECIPE
These microwave s'mores directions are another way to make them…
What can be used instead of marshmallows?
Instead of marshmallows for your s'mores recipe, you can use marshmallow cream. Spread half of a graham cracker square generously with marshmallow cream. Microwave on high for 10-15 seconds (just enough to warm). Remove from microwave, drizzle with chocolate syrup, and place other marshmallow square on top. Serve!
My daughter actually liked these cheater microwave smores as much as the regular ones! (And, the chocolate syrup is a great (yummy) backup if you're out of chocolate bars!
If your kids want to learn how to make indoor s'mores, this is great alternative.
What can I substitute for graham crackers in S mores?
You can substitute almost anything for graham crackers in your s'mores.
Try:
Ritz Crackers
Keebler Crackers
Saltine Crackers
Sugar cookies
Golden Graham cereal
Chocolate chip cookies
Play around with your smores recipes and see what else you like instead of graham crackers!
Definitely add this to your yummy microwave desserts recipes!
Hope you had fun learning how to make s'mores in the microwave!
LOOKING FOR FUN COOKING PRINTABLES FOR KIDS?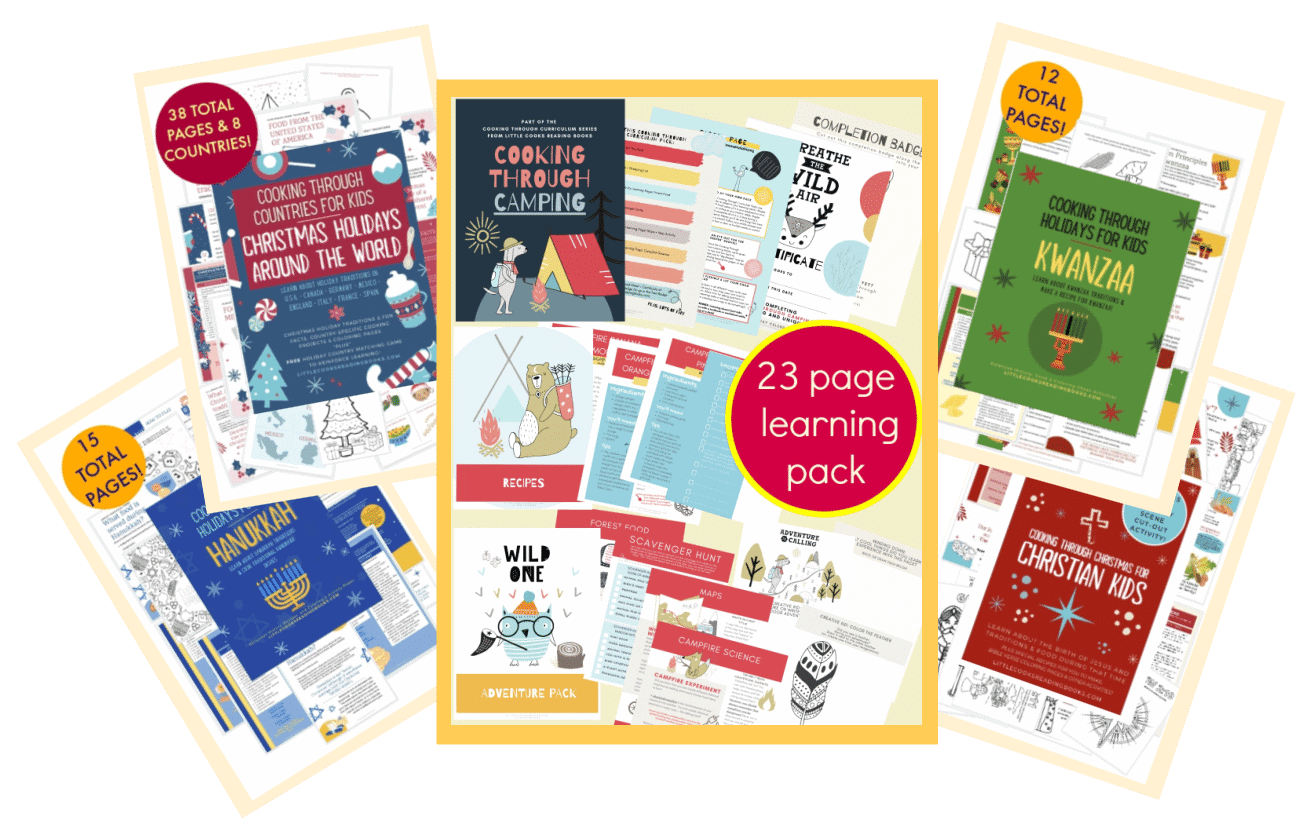 As an Amazon Associate I earn from qualifying purchases. Please refer to our
DISCLOSURE
.