Want to have a pirate party? Here are great ideas for the pirate party theme and activities, pirate party game ideas, and fun pirate food for kids. Perfect for pirate birthday party, Talk Like A Pirate Day, princess and pirate party, Halloween party ideas, and more!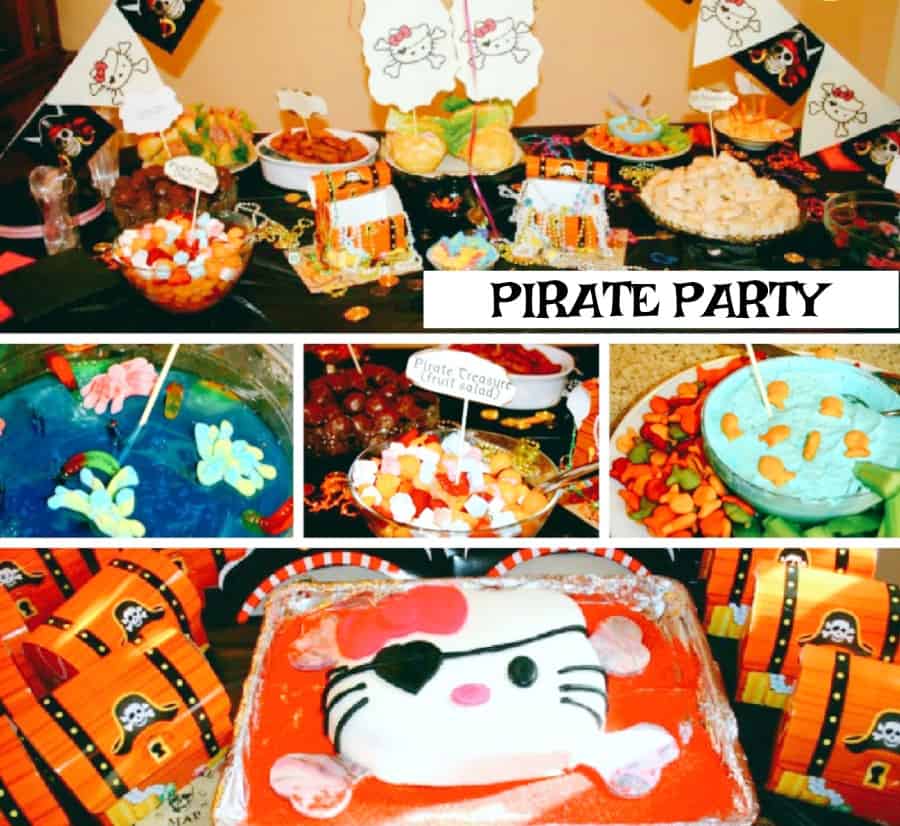 Children's Pirate Party Food Ideas and Activities
One year my daughter asked specifically for a Hello Kitty pirate party. I guess it was more like a pirate and princess theme.
So, I had to do some creative pirate theme planning. (When we had this party, pink pirate party supplies were not a thing!)
These suggestions aren't just for a pirate and princess party, though. You can use them for any pirate theme!
Affiliate links are used on this site. As an Amazon Associate I earn from qualifying purchases. Read more in our DISCLOSURE.
Before we get to our best pirate party ideas for kids, let's answer some common questions for a pirate party.
What do you serve at a pirate party?
Pirate Pinwheels (tortilla roll-ups)
Pirate Pond (blue dip with floating Goldfish crackers)
Pirate Princess Cake
Treasure Salad
Pirate Cannonballs
Octopus Ocean
Walk the (Chicken) Planks
Pirate Ship Sub Sandwiches
How do you do a pirate treasure hunt?
Determine what your treasure chest (or pirate booty) will be as the prize.
Create (or buy) a scavenger hunt.
Hide the pirate treasure chest prize.
Strategically place your treasure hunt clues throughout your home or party area to lead to the treasure chest. (Make sure they're hidden!)
Create a treasure map that kids need to follow to go along with the clues.
Provide pirate costumes or dress-up items to let kids get into character.
Explain the rules BEFORE the hunt begins.
Unleash the pirates to find the booty!
How do you make a pirate map?
To age the paper: mix together tea and coffee and sponge onto your paper. Allow it to dry.
On the prepared paper, hand draw or create a pirate map in an online photo editing or design software. (I like PicMonkey and Canva, which both have free options.)
Coordinate it with your treasure. If you're using it for a pirate scavenger hunt, you'll want the trail to correspond to where the clues or the next map is. Don't worry about it being perfect or to scale. You just want some dashes for a trail, some smaller X's for the clues/next maps, and an X marks the spot for the treasure location.
Add pirate clipart like skull and crossbones, eye patches, hats, swords, ships, anchors, palm trees and more.
When finished, crumple the map to give it more of a worn look. Sometimes, I like to burn the edges a little to give it more of a battle look. (ONLY ADULTS SHOULD ATTEMPT THIS!)
Fold or roll the map for the party.
Kids' Party Pirate Theme & Pirate Activities
1. Pirate Party Food Ideas and Snacks for Pirate Party
The first thing to do is come up with food ideas for pirate party.
It's fun to include pirate sayings or pirate phrases in your party, especially with the pirate food!
I just used my imagination and renamed some party food favorites.
I made a fruit salad to look like jewels and called it Pirate Treasure, some chocolate covered brownie bites and called them Pirate Cannonballs, chicken tenders became Walk the (Chicken) Planks, and sub sandwiches became pirate ships with sails on them.
I made them more festive by also sticking some pirate flag toothpicks randomly around in the food.
For the pirate party food labels, I put the names of the dishes on cream-colored paper and burned the paper around the edges to give it an old map kind of feel.
(See full pirate party recipes /descriptions below!)
2. Pirate Theme Decorations
My daughter actually wanted a "Hello Kitty Pirate Princess Party."
As you can imagine, you can't readily find this theme, so I printed off some Hello Kitty pirates clipart, cut them into triangle flags and taped them onto a string to make a pirate pennant.
We strung the pennant from each side of our chandelier onto the dining room table, which was covered with a black tablecloth to make it appear like a pirate ship.
►I also love this tablecloth that looks like water. It would be fun to use with this pirate drink boat in the middle!
I scattered pirate coins,
pirate treasure rings,
and pirate beads
and old skeleton keys all around the table in between the food. (These didn't just serve as decorations, we also encouraged the kids to take some of the treasure!)
I also used some party fishing nets
around the room and hung plastic spiders and crabs from them.

I'm going to go out on a limb and assume that your party will not be a Hello Kitty Pirate Princess Party.
So, you may want to try some of these pirate decorations and pirate party stuff instead:
Don't forget to create a pirate background for photo opps!
Grab some pirate party costume ideas and try out these backdrops and party photo props:
*There are actually a ton of really cool pirate party photo backdrops on Amazon! Check them out if you want to scroll through them!
3. Pirate Party Favors and Pirate Party Bags
For favors, we provided each child with: pirate party hats and pirate treasure chest, filled with things like pirate eye patches,
their own pirate treasure maps (this pack of 24 is super cheap),
pirate coin necklaces and beads,
and treats.
(This is a great set with a huge variety of things to go in favor bags.)
It's also fun to put pirate tattoos and patches pirate in your pirate gift bags!
4. Pirate Party Games and Activities
Need kids' pirate party games ideas?
Pirate party games for kids can be fun for all ages!
We did a couple of games that the kids of all ages (and even the adults) really had fun playing.
Instead of pin the tail on the donkey, we did a pirate version of pin the treasure on the map. You can also do X marks the spot on the map or pin the eye patch on the pirate.
The biggest hit of the party (kids and adults), though, was the pirate scavenger hunt game, so DEFINITELY do one of those.
You can easily make your own make your own treasure scavenger hunt.
More Pirate Party Games Ideas:
More Fun Pirate Activity Ideas:
Pick out your pirate names or have a pirate name generator names for a pirate. (These are fun pirate name signs for the tables.)
Have pirate jokes on the tables (nothing like pirate jokes for kids!)
Play pirate songs and music for pirate party
Have pirate talk / pirate language cards — especially fun if you're having a talks like a pirate day party!
Do a pirate hat drawing or have a pirate crafts table
5. Pirate Movies for Kids
You can also add a pirate kids' show to your party.
Try:
Pirate Party Themed Food
OK!
Now the fun ideas for pirate party food and pirate party snacks!
I've included the pirate expressions (pirate names) we used with our pirate snacks, but you can make up your own!
These are fun for pirate adventure dinner or even just pirate party finger food ideas.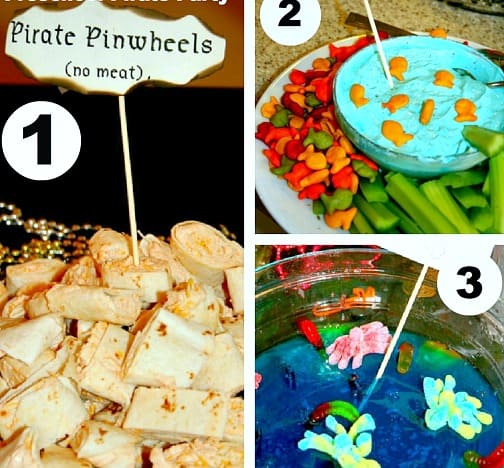 1. Pirate Pinwheels
The Pirate Pinwheels are really fiesta roll-ups, but they make the perfect pirate party snack ideas. You just make them with tortillas, Fiesta Ranch mix, shredded cheese, and cream cheese.
It's a super simple recipe that everyone seems to love.
It's also a vegetarian option for those guests who prefer that.
2. Pirate Fishing Pond
The Pirate Fishing Pond is ranch dip (sour cream and dried ranch mix) with blue food coloring to make it look like water. However, you can make it any dip flavor you like (just add the blue food coloring to make it ocean-y).
Then, add sides of Goldfish crackers and celery sticks.
The kids can "fish" using the celery as fishing poles and the Goldfish crackers will stick to them with the ranch dressing dip.
Note: I thought this would be a big hit, but many of the kids were wary of the blue color of the ranch dip, so take that into consideration if you're doing this for young kids. So weird.
3. Octopus Ocean
The Octopus Ocean is made of blue Jello.
After the Jello set in the refrigerator, I pushed Swedish Fish, Gummy Worms and Sour Octopus gummies into the Jell-O and on top of the Jello so it looked like they were swimming in the water.
Be sure to make the jello in a glass bowl so you can see the fish and worms and octopi "swimming" in the ocean.
This snack was a HUGE hit with the kids.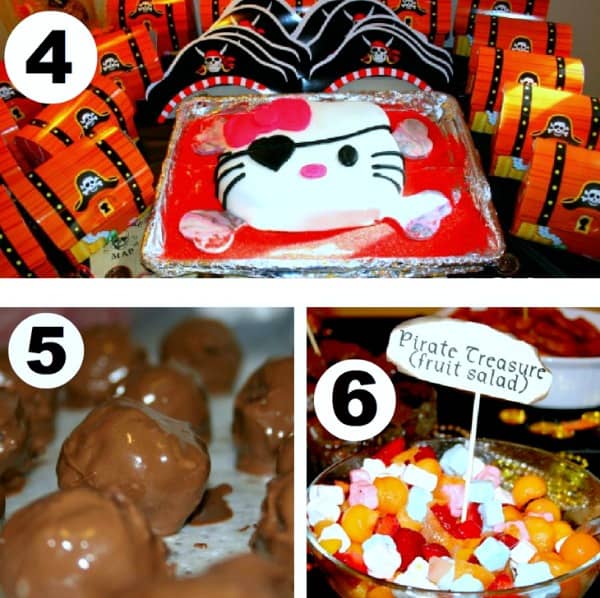 4. Hello Kitty Pirate Princess Cake
Just in case you do want to make a Hello Kitty Pirate Princess cake…
My husband and I made the Hello Kitty Pirate Princess cake ourselves.
It wasn't as hard as we thought (we made a template out of paper and worked from there), but it was our first time working with fondant, so there was a learning curve for that. (Like, we made the fondant way, way too thick and now my daughter hates fondant on cakes.)
For the shape:
We found an image of Hello Kitty on the internet and printed it out and cut it out. Then, we laid the cut out on top of a sheet cake and just cut around the template. (If you're not that adventurous, you can just use a Hello Kitty cake pan.)
We made the face, pirate eye patch, bow, and bones coming out of the kitty (like a skull and crossbones) out of fondant.
The pink around the cake is just pink sugar.
You could also make a regular skull and crossbones cake (non-Hello Kitty theme) with this cake pan.
5. Pirate Cannonballs
Hands down, these were the star of the party.
The "Pirate Cannonballs" were chewy brownies, shaped into balls and dipped in chocolate (kind of like cake pops without the stick) – super simple and super yummy.
GET THE FULL PIRATE CANNONBALLS BROWNIE RECIPE
6. Pirate Treasure Salad
The kids also loved the Pirate Treasure Salad.
I used:
Balled melon
Strawberries
Canned mandarin oranges
Canned fruit salad (with juice)
Then, I added star-shaped colored marshmallows and called it a Pirate Treasure.
You can use any fruit that your kids love in this salad, but I think the star marshmallows really made it feel more treasure-y.
7. Pirate Ship Sandwiches
We also made long sandwiches (on sub sandwich rolls) and put "masts" on them to look like ships.
The masts are just the Hello Kitty pirate princess (you could use a pirate ship or skull and crossbones or whatever) printed on off-white paper.
I then cut around them and burned the edges to make them look like ships that had been in battle.
I glued the paper to wood chopsticks so that they were sturdy to stick into the sandwiches. (They turned out really cool.)
8. Pirate Punch
We made a party kid punch and called it Pirate Punch.
Honestly, this can be any kind of punch that you like … even juice just poured into a punch bowl.
9. Walk the Chicken Planks
I also made plain old chicken strips and called them Walk the (Chicken) Planks.
I included ranch dipping sauce and a few other sauces.
These were a huge hit, too.
What you provide at your pirate theme party is only limited by your imagination!
What other pirate party ideas should we add to our theme?
LOOKING FOR FUN COOKING PRINTABLES FOR KIDS?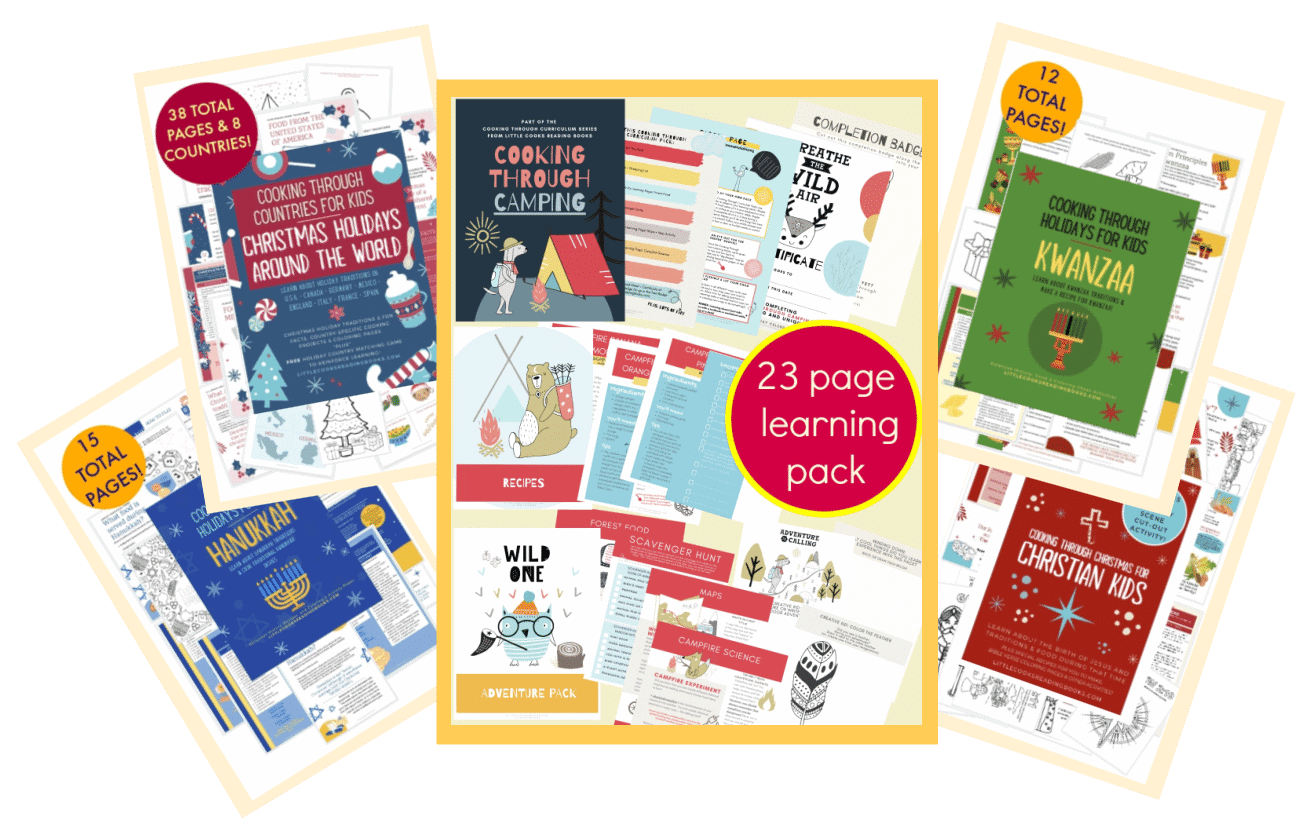 As an Amazon Associate I earn from qualifying purchases. Please refer to our
DISCLOSURE
.