This DIY easy pirate costume can be made for less than ten dollars with just a few items! Learn how to make pirate costume at home without sewing and with clothing and items you may already have! You don't even need a pirate costume pattern! It's a great pirate halloween costume DIY, pirate day dress up ideas, Talk Like a Pirate Day party, or for pirate pretend playing!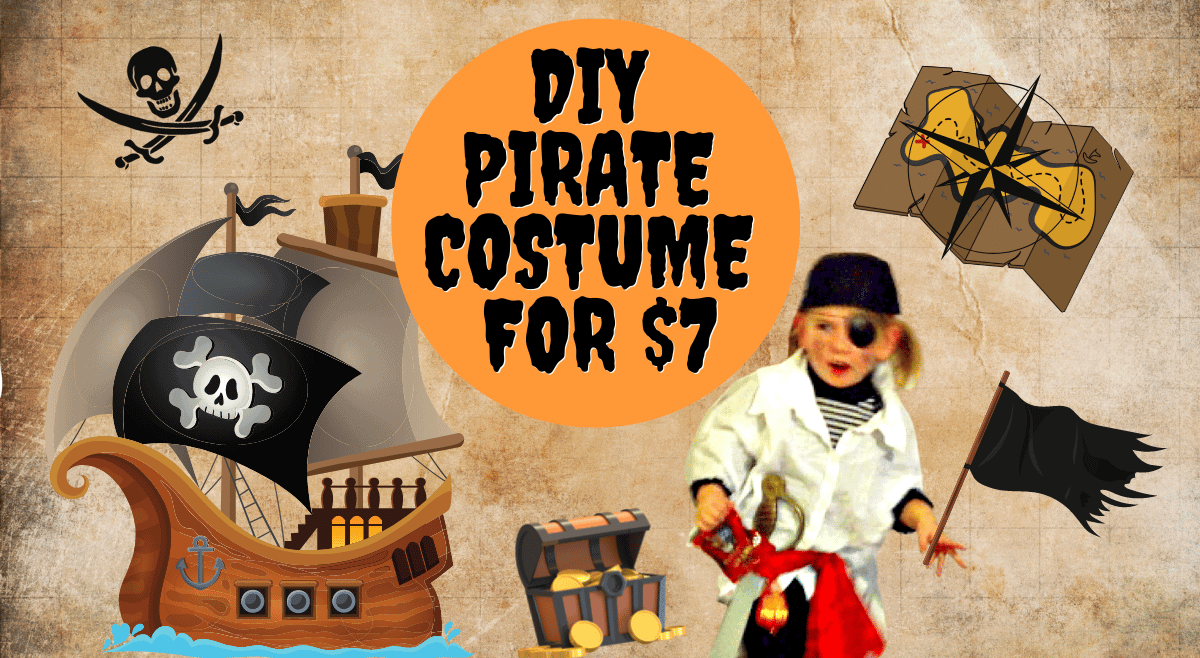 DIY Easy Pirate Costume for Kids
This is great for a last minute DIY pirate costume for kids or adults! So, how do kids dress like pirates or pirate dress up day?
How do you put a pirate costume on regular clothes?
For a DIY pirate costume for kids you'll need:
Adult White Shirt (old, that can be ripped and cut)
Red Sash or Scarf (for a DIY pirate belt)
Black Pants / Leggings (or jeans for a pirate pants DIY)
Black Boots (or their regular tennis shoes)
Black Head Scarf (easy instead of a handmade DIY pirate hat)
Plastic Pirate Sword or DIY Cardboard Sword
Pirate Eyepatch
*This can even work for a DIY pirate costume womens party or for a men's do it yourself pirate costume, too! Just as easy to transform it to an easy DIY pirate costume adults as for children or even inexpensive DIY family pirate costumes. KEEP SCROLLING to learn how to make own pirate costume! You'll love this DIY cute pirate costume for EASY homemade pirate costume ideas!
Affiliate links are used on this site. As an Amazon Associate I earn from qualifying purchases. Read more in our DISCLOSURE.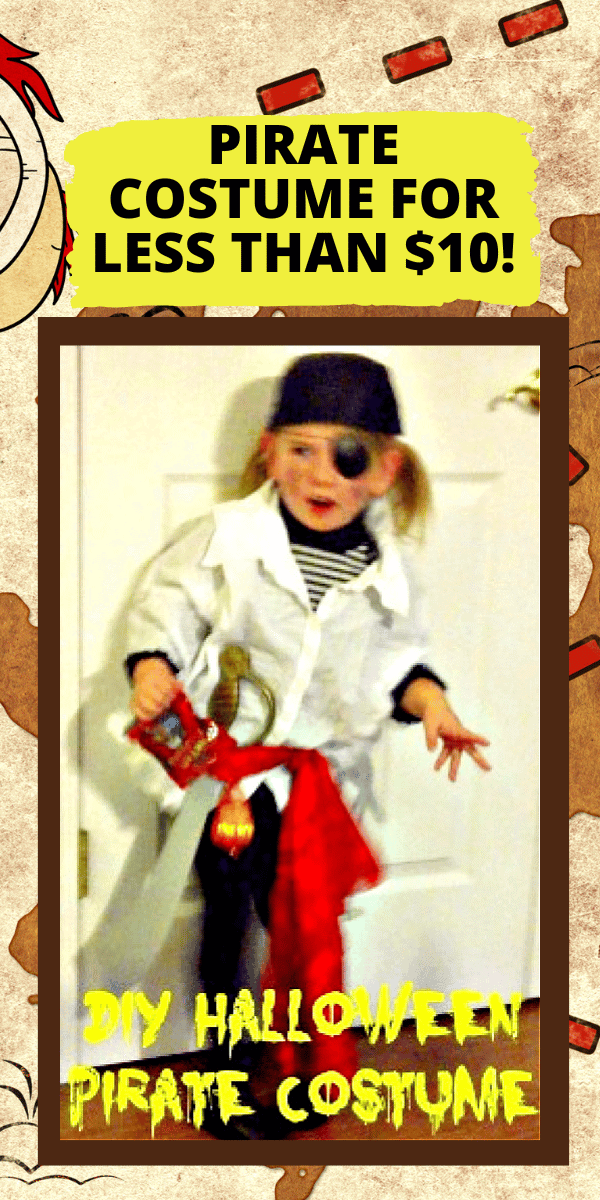 Before we get to our last minute DIY kids pirate costume step-by-step and how to make pirate outfit, let's cover some pirate costume ideas and pirate costume inspiration for kids and adults.
These are tips for easy to make pirate costumes that work just as well for easy pirate costume ideas for adults as for kids!
How can I dress like a pirate for cheap?
This is how to dress like a pirate with regular clothes:
Use items that you already have (a closet pirate costume!)! Transform a white button down shirt you don't use any longer as a shredded pirate shirt. Drag out those black boots for black pirate boots. A red tie transforms to a pirate sash!
Pick your one item that you want to spend the most on. If you want cool pirate boots? Make that the ONE thing. If you want a fun pirate sword, make that your one thing.
Use thrift stores to find your clothing items.
Shop dollar stores for your pirate eye patch and pirate toy sword for your pirate costume ideas DIY.
Use a red tie or red scarf that you already have to make a waist sash. (Easy accessory for pirate costume to make!)
Grab a cheap black bandana for a pirate scarf for your head. You can find them at regular box stores for around $1.
How do you cut a shirt like a pirate?
Start with a white button down shirt. It can even be an old adult white business shirt that you don't need anymore. You're going to cut it down!
Using sharp sewing scissors (like these), cut the cuffs off of the sleeve and "shred" it by cutting triangles up the base of the sleeve. They don't need need to be perfect! You're going for more of a "shredded" look. (You can also just roll up the sleeves.)
Cut the same jagged (triangle) pattern around the bottom of the shirt hem (all the way around).
As an extra, you can thread a leather lace like this through the button holes. (Optional, but sometimes you can find them at the thrift store.)
Tie the red sash around the waist. (If you're using an adult shirt for a childrens pirate costume, you can also use safety pins to pin the shirt in the back.)
This is such an easy way to make a homemade pirate shirt out of a shirt you already have! You can also include your own DIY pirate accessories!
AFTER LEARNING HOW TO MAKE A PIRATE OUTFIT, ALSO CHECK OUT: FOOD FOR A PIRATE PARTY (Halloween pirate ideas) – great fun to wear your pirate theme party costume to!)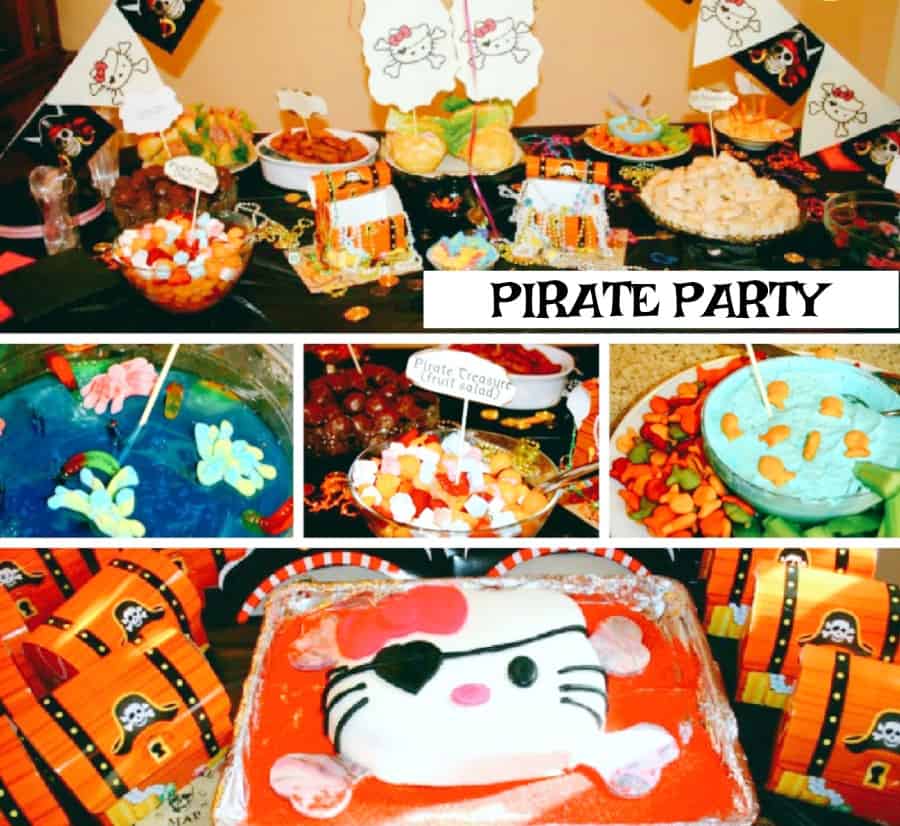 MAKE THESE FOR YOUR PIRATE PARTY TO GO WITH YOUR PIRATE HOMEMADE COSTUMES! Pirate Party Cannonballs
When my daughter was younger, she decided to be a pirate for Halloween while all the rest of her friends were dressing in princesses costumes.
(It really wasn't that surprising because she's always had a thing for pirates.)
However, have you checked out the pre-made pirate costumes?
At that time, there weren't that many pirate costumes.
Or, they were either too expensive or (shockingly) too sexy for a kid. (Seriously.)
So, we just decided to make our own Halloween pirate costume (a NO SEW handmade pirate costume). She continued to use it as pirate dress up ideas for other days, too (and not just for Halloween pirate costume ideas)!
Let's learn how to make a DIY pirate costume and how to dress like a pirate with stuff at home — great if you need a pirate costume last minute, too!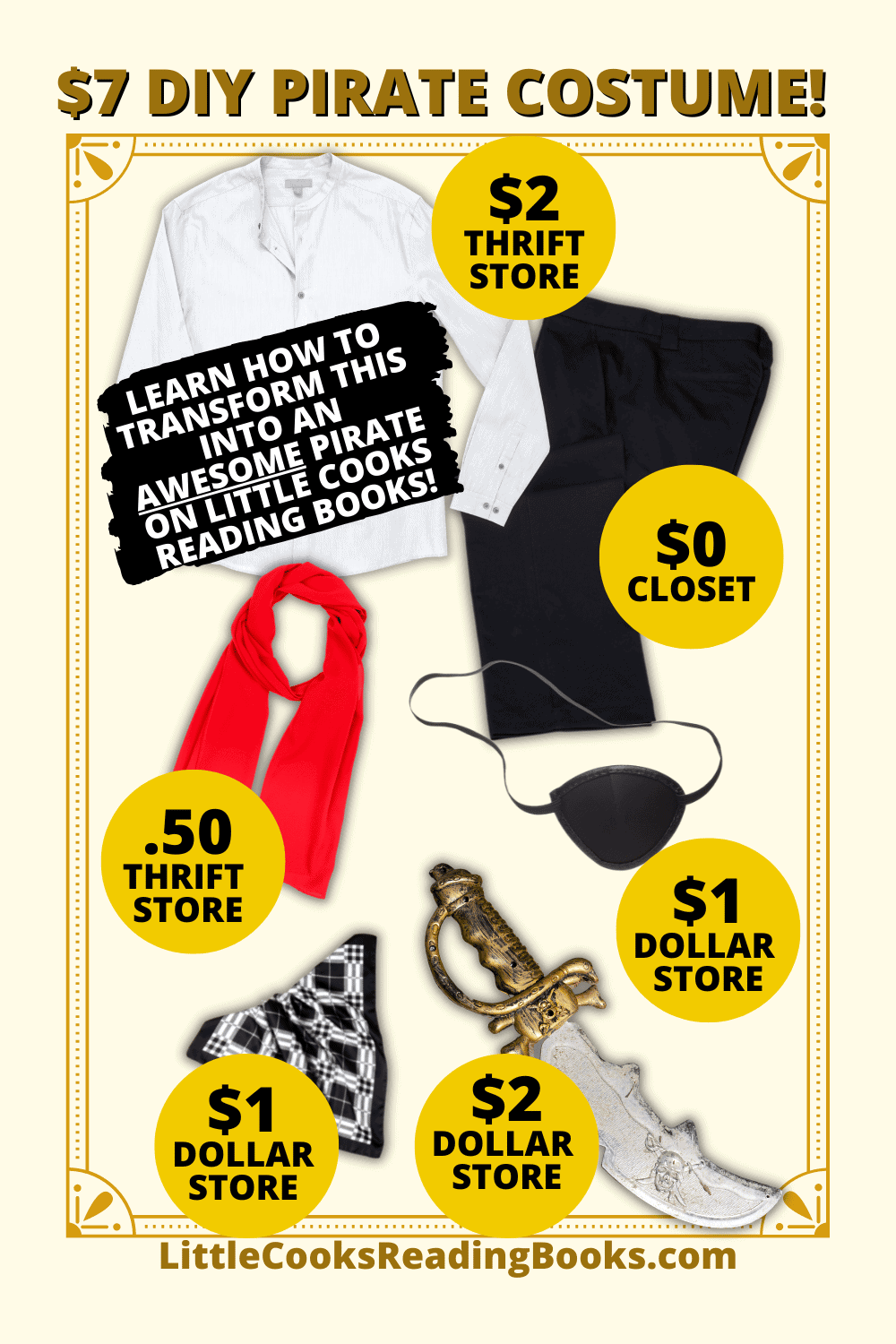 Easy Homemade Pirate Costume For Kids' Halloween Party or Costume Party
I love that this pirate outfit homemade is made without sewing, which makes it simple for dress like a pirate day ideas or Halloween party pirate themes!
I also enjoy that you can make unique pirate costumes that match your style or your child's style!
So… How do you make a simple pirate costume and get cheap pirate costumes ideas?
Here's a pirate costume make your own that's super easy and how to look like a pirate from things in your closet!
Creating a Child's Pirate Costume #1: Visit the local thrift shop for the basics.
This easy DIY kid pirate costume starts with an oversized white button shirt. (You can use an adult shirt you already have or buy one.)
My daughter already had a black fitted pants and black boots, so all we needed was a white shirt and a sash.
If you con't have pants, your kid can wear jeans or find pants (even larger ones) at the thrift store and cut them down.
We actually bought a woman's dress shirt and I cut it down by making the edges jagged on the bottom and then pinned it in the back.
It was "blousy" on her and worked out really well.
If you need pants, look for black pants of any style (they don't have to be fitted) and chop them off to the length you need.
Be sure to crop them so that you can cut them as jagged (think reverse triangles with the point down) on the bottom just like a pirate who has been out to sea!
Don't forget to buy a red sash to tie around their waist.
We found a woman's red scarf, but a plain red tie will work, too.
(And, it serves double duty by either helping to hold the pants up or tying around the blouse.)
If you don't have black boots, buy an adult pair of black socks, cut out the foot and slip the over the shoes (think leg warmers).
Or, just let your kids wear their regular tennis shoes for a simple pirate outfit.
Total for our thrift shop spree? Around $2.50 for our simple pirates costume!
Creating a Child's Pirate Costume #2: Shred the shirt!
These are used items, so don't be afraid to cut apart the shirt and pants to make them look more ragged and "piratey."
Again, I shredded the bottom of the white shirt to make it look older. I just cut reverse triangle patterns randomly over the bottom edge of the shirt.
You can also cut off the shirt sleeve cuffs and shred the sleeves, but I just rolled our sleeves up.
You can do the same with the pants. If your kids are wearing their own jeans, you don't have to worry how to make pirate pants. Their own jeans, black leggings, or black sweatpants are fine!
(We had a black and white shirt that she wore under the with shirt.)
YOU'LL ALSO LOVE: Talk Like A Pirate Day Activities for Kids
Creating a Child's Pirate Costume #3: Make a trip to the dollar store.
We rounded out the outfit by adding things from the dollar store for our DIY pirate costume accessories – a plastic sword and eyepatch.
We had a pirate head scarf (from my husband's outfit a few years back), but you can pick up a black bandana at the dollar store for .50 to $1.00 (or use one you have!) and create the same effect.
The pirate swords are going to be one of the things that cost the most.
If you can't find a cheap sword or one at the dollar store, make a pirate sword craft out of cardboard for your pirate DIY costumes!
NOTE: We added a pirate-like coin purse like this that we tied to her sash, but this is optional. It was just something she really wanted, so we didn't include that in the costume price here because it's really not necessary. If your kids want this as part of their pirate accessories DIY and you don't want to spend money, tie some coins (that will jiggle) in a bandana attached to their pirate sash belt.
Total for our dollar store spree? Around $4 for our easy pirate costume DIY and kids dressing like a pirate ideas!
Creating a Child's Pirate Costume #4. Don't forget the pirate face!
I used some of my darker eye shadow and rubbed a little on her cheeks.
(I mean, pirates are dirty and smelly, right?)
If you're doing this for a DIY pirate costume toddler girl or DIY pirate costume for toddler boy, you may want to pass on the face smudges since their skin can be sensitive.
Additional Cost: $0 for our cute pirate costume DIY
We had comments from almost everyone that passed us about how cool the pirate outfit was. (I wish I had more pictures than the one blurry one I took!)
While I watched the $60 princess costumes pass by, I smiled smugly knowing that I made an awesome pirate outfit for under $10.
(Who can believe? Such cheap and easy ideas for homemade pirate costumes and for a last minute pirate costume DIY!)
Ahoy Matey!
Ditch the pirate costume near me searches and have fun and get creative with your last minute pirate costume!
We hope this helped with how to make a kids' pirate costume from things at home.
Tag us with your DIY pirate costumes for kids!
Let us know how your DIY easy pirate costume turns out!
LOOKING FOR FUN COOKING PRINTABLES FOR KIDS?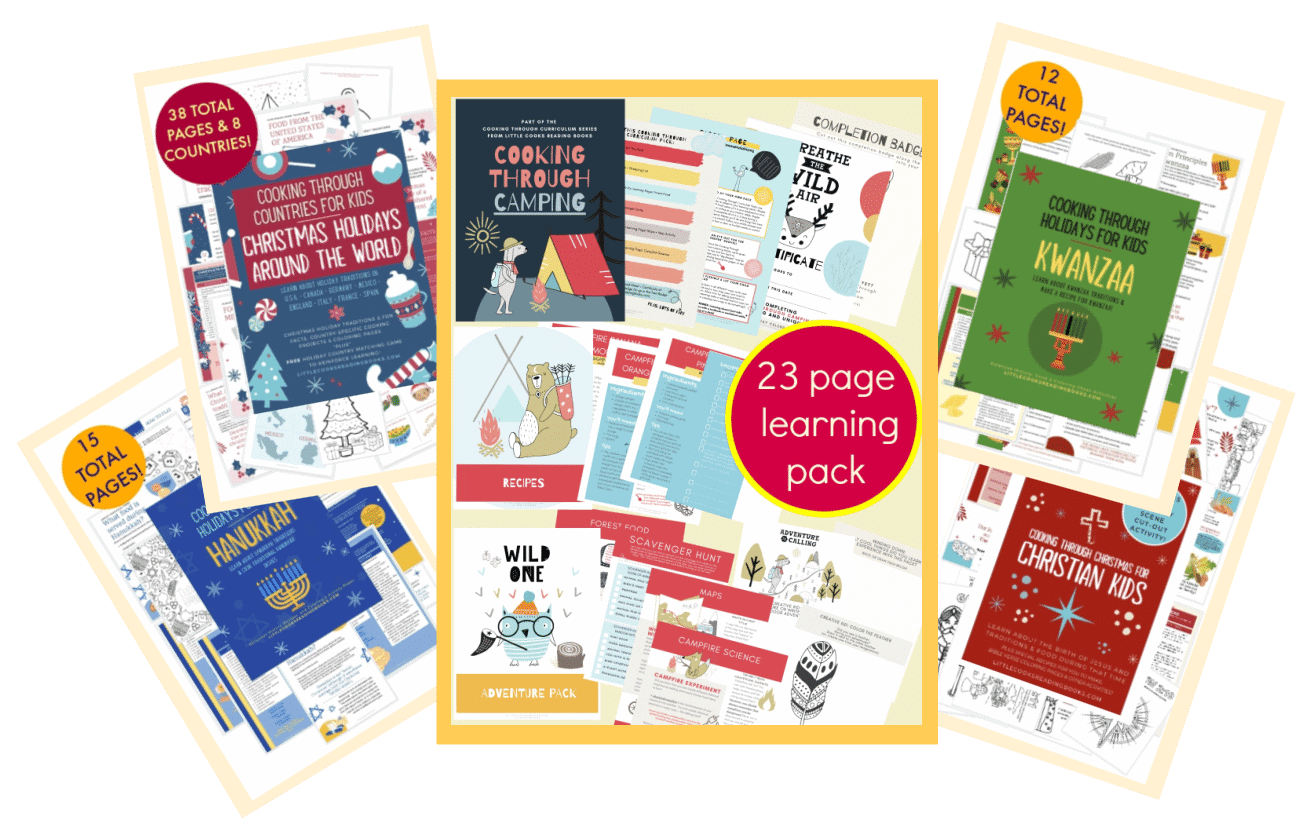 As an Amazon Associate I earn from qualifying purchases. Please refer to our
DISCLOSURE
.