This brownie bites recipe is super simple and lots of fun! Whether you call them brownie cake pops or brownie balls, brownie truffles, or brownie bombs, you'll love these brownies by making them chocolate dipped brownie bites! (We used them as pirate cannonballs to go with our pirate party theme.) If you love a chewy brownie and brownies fudgy, you'll love these!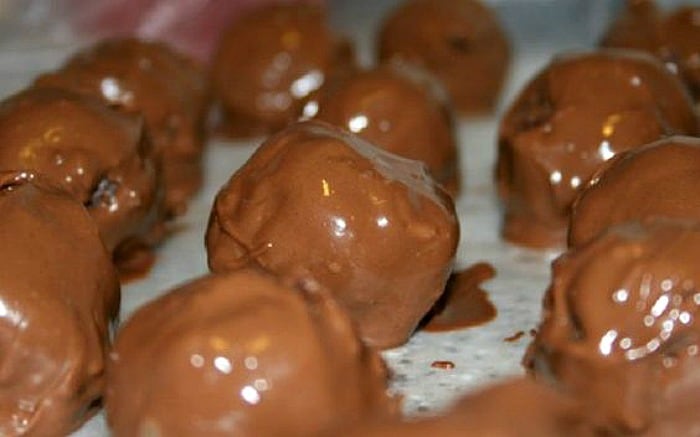 What are brownie bites?
Brownie bites recipes are exactly what they sound like: one bite of a brownie. You can make them in mini muffin pans or, like us, you can form them into brownie balls and cover them in chocolate.
Easy children's desserts that adults will love, too!
How do you make brownie bites?
To make this an easy brownies recipe, we use brownie mix and cook them according to the package directions in a long pan.
Affiliate links are used on this site. As an Amazon Associate I earn from qualifying purchases. Read more in our DISCLOSURE.
(To make chewy brownie bites, we use the fudge brownie recipe mix.)
Then, we scoop the baked, cooled brownies out and crumble them into a bowl, add icing, and form them into balls.
We also dipped ours in chocolate using chocolate melts.
If you are going to make mini bites (and not balls), just use a mini muffin pan instead of a regular baking pan.
If you are going to make brownie cake pops, you'll need lollipop sticks, too.
DISCLOSURE: Affiliate links are used on this site and may be used in this post.
How do you get brownie bites out of a pan?
We make our brownie bites into brownie balls.
When you do this, you don't have to worry about them sticking to the pan because they are made just like cake pops.
You scoop out the baked brownies and crumble them into a bowl (so, it doesn't matter if they stick).
If you're making mini brownie bites, you'll want to use mini cupcake liners (you can peel them off after they bake) or a non-stick muffin pan.
Can you make brownies in silicone bakeware?
If you don't want to make your brownie bites into balls like we did (or brownie cake pops), you can also bake them into individual bites using silicone bakeware. We like the mini muffin silicone bakeware for this brownie bites recipe.
How long to keep homemade brownies?
You can keep brownies, stored in an airtight container at room temperature, for up to 4-5 days.
Can you eat frozen brownies?
You can freeze brownies for 3-4 months, if they are properly stored in a freezer container. If you are going to dip your brownie bites in chocolate (like we did), you might want to wait until after they have been removed from the freezer and thawed to room temperature. Then, dip your brownie bites in chocolate as normal.
Brownie Bites Recipe (Pirate Cannonballs) paired with A Pirate's Twelve Days of Christmas Book
We paired our brownie bites, aka: pirate cannonballs, up with—what else?—a pirate book!
This oversized book, A Pirate's Twelve Days of Christmas, was written by Philip Yates and fantastically illustrated by Sebastià Serra.
(The illustrations fill up the entire pages with colors. I love that, don't you?)
It is about a pirate crew who makes one sad little cabin boy crew member stay behind to take care of the ship while the rest of the pirates go off pirating.
While on the ship, the cabin boy mysteriously receives different unique gifts each day for 12 days—all set to the same rhyming song style as "The Twelve Days of Christmas" song.
(My favorite were his gifts on day seven. You'll understand if you know me and my "interests" when you read it.)
Listed Age Range: 3-6 years
If you want non-holiday children's pirate books, try these:
---
Try This Brownie Recipe Next:

---
To celebrate the pirate theme, we decided to pair this book up with … what else?
Brownie Bite Pirate Cannonballs!
We made these at Ella's pirate-themed fourth birthday party and they were the hit of the party.
So, if you're looking for ideas for pirate party food or pirate party snacks, be sure to add these and call them pirate cannonballs.
You won't believe just how easy this recipe is and it's a ton of fun for little hands to help with!
File these under: easy desserts kids can make!
How To Make Brownie Bites
Easy Brownie Bites Recipe (or Brownie Cake Pops)
Yield: 16 brownie balls
Brownie Bites Recipe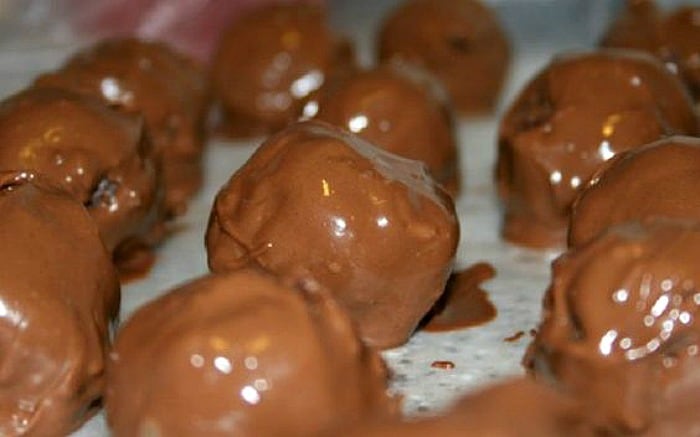 These brownie bites (or brownie balls) make the ultimate brownie recipe fun! Super simple, you'll be eating these chewy brownie bites in no time!
Ingredients
1 Box Fudge brownie mix , (+ ingredients according to package directions)
1/4-1/2 Cup Vanilla icing in tub , (or, icing flavor of choice)
2 12-Ounce Bags Wilton Light Cocoa Candy Melts, (or, chocolate melts of choice)
Toppings like sprinkles or crushed cookies, (optional)
Instructions
Preheat oven to 350° F.
Prepare brownies according to package directions (for the chewy fudge brownies).
Bake according to package directions, around 25-30 minutes, or until set. Allow to cool.
Scoop and crumble cooled brownies into a large mixing bowl. Add icing, all little at a time, and stir. Continue adding icing until brownie crumbles are sticking together and can be formed into a ball.
Using your hands, roll and form brownie-icing mixture into a ball. Set aside on parchment paper. Repeat until all the brownie mixture has been formed into balls.
TO MAKE CHOCOLATE DIPPED BROWNIE BALLS
Over a double burner, melt the chocolate melts on low.
If you are going to making brownie cake pops, insert a lollipop stick into each brownie ball. If you are just making bites, do not insert a lollipop stick.
One at a time, dip each brownie ball into the melted chocolate, twirling or turning until the brownie ball is covered with chocolate. Lift and lightly shake over pot to remove excess chocolate.
*If you are using a topping like sprinkles or crushed cookies, immediately roll them in the toppings when they come out of the chocolate dip.
Place on parchment paper and allow chocolate covering to harden. ENJOY!
Notes
*If you are dipping the brownie bites in chocolate melts, you can also freeze the brownie bites before dipping them for up to 2 hours to make them harder and stay together better for dipping into the melted chocolate.
Nutrition Information:
Yield:
16
Serving Size:
16 brownie balls
Amount Per Serving:
Calories:

262
Total Fat:

8g
Saturated Fat:

1g
Trans Fat:

0g
Unsaturated Fat:

3g
Cholesterol:

2mg
Sodium:

45mg
Carbohydrates:

39g
Fiber:

9g
Sugar:

10g
Protein:

9g
Nutrition information is estimated. Changes to the recipe and use of different brands may cause changes to the nutritional information to vary slightly from the ones provided here.
Let us know how your brownie bites recipe turns out!
LOOKING FOR FUN COOKING PRINTABLES FOR KIDS?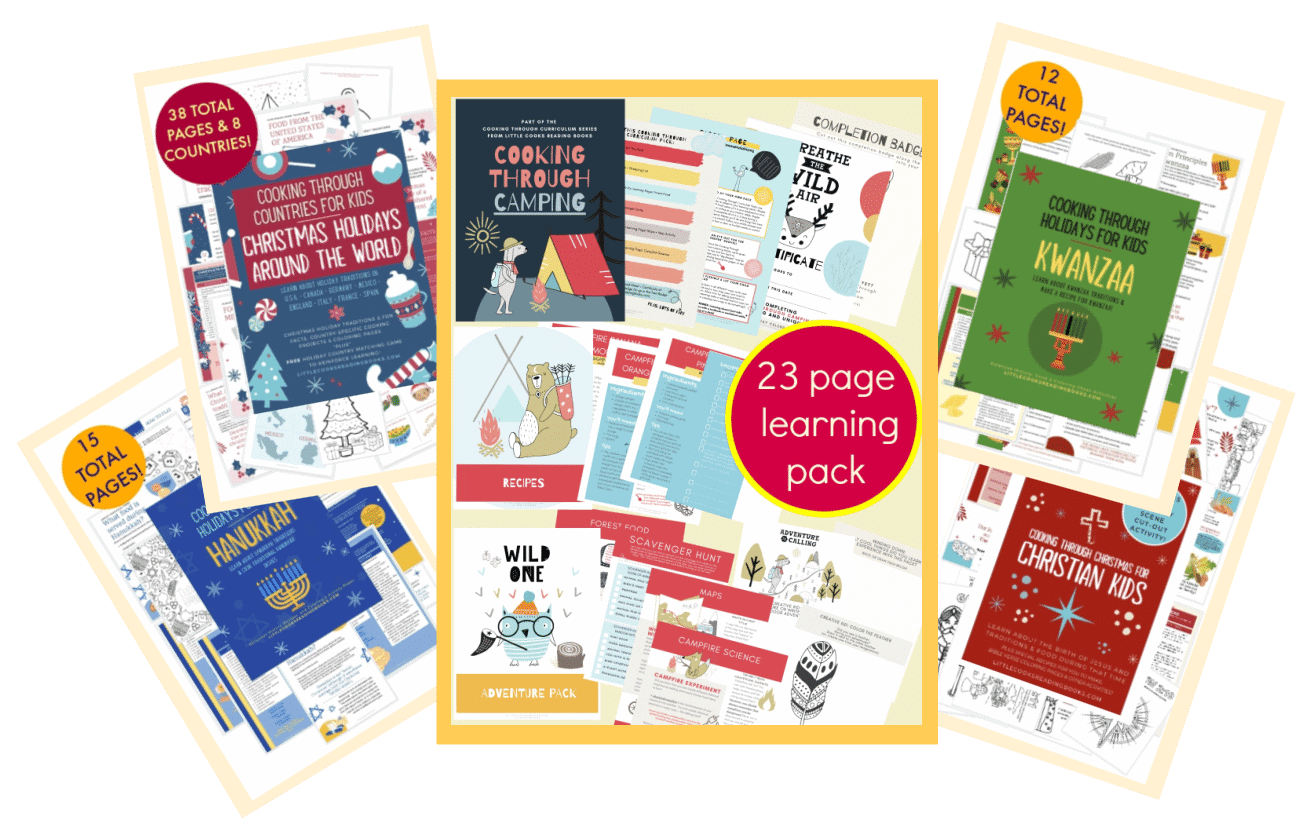 As an Amazon Associate I earn from qualifying purchases. Please refer to our
DISCLOSURE
.