Air fried smores! This is a super easy recipe for making s'mores without a campfire, ideas for smores kids activities for a rainy day, or how to make smores at home in the winter! If you love the traditional fall treat, we have a secret tip to making your air fryer s'mores taste just like camping smores! We're answering all your can you make s'mores in air fryer questions!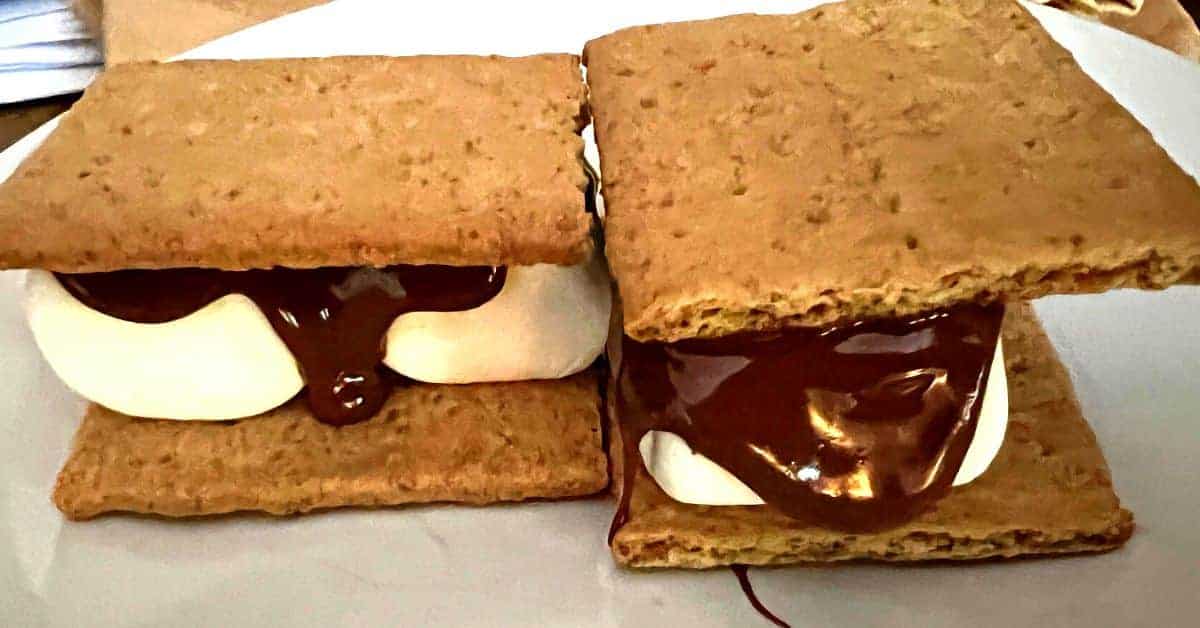 Best Air Fried Smores Recipe That Tastes Like Campfire S'mores!
Have you ever wondered can you air fry smores or tried air fryer s'mores? Our secret tip to charring marshmallows for indoor smores make these taste just like the campfire treat you love (especially if you love campfire marshmallows / burnt marshmallows on your s'mores!). And, sometimes you're all about making s'mores memories in the winter, so this recipe is great for that!
How To Make S'mores In The Air Fryer
What do you need to make s'mores in the air fryer?
Graham cracker sheets (your favorite best graham cracker for smores)
Chocolate bars
Regular marshmallows
Cooking Spray
Aluminum foil (optional)
Spatula
Smores plates
Get the full directions, SECRET to making your s'more ingredients taste like campfire s'mores, and printable recipe card for how to make s'mores in air fryer below. KEEP SCROLLING for how to make the perfect s'more in air fryers!
Affiliate links are used on this site. As an Amazon Associate I earn from qualifying purchases. Read more in our DISCLOSURE.
Can you make s'mores in an air fryer?
YES! You can make an easy air fryer smores recipe just like you make oven smores, smores in the microwave, or fire smores. There are a few adjustments you need to make and there's a secret trick to making them taste like camping smores, so be sure to check it out!
It's my new best way to make s'mores inside for kids activities or rainy day treats!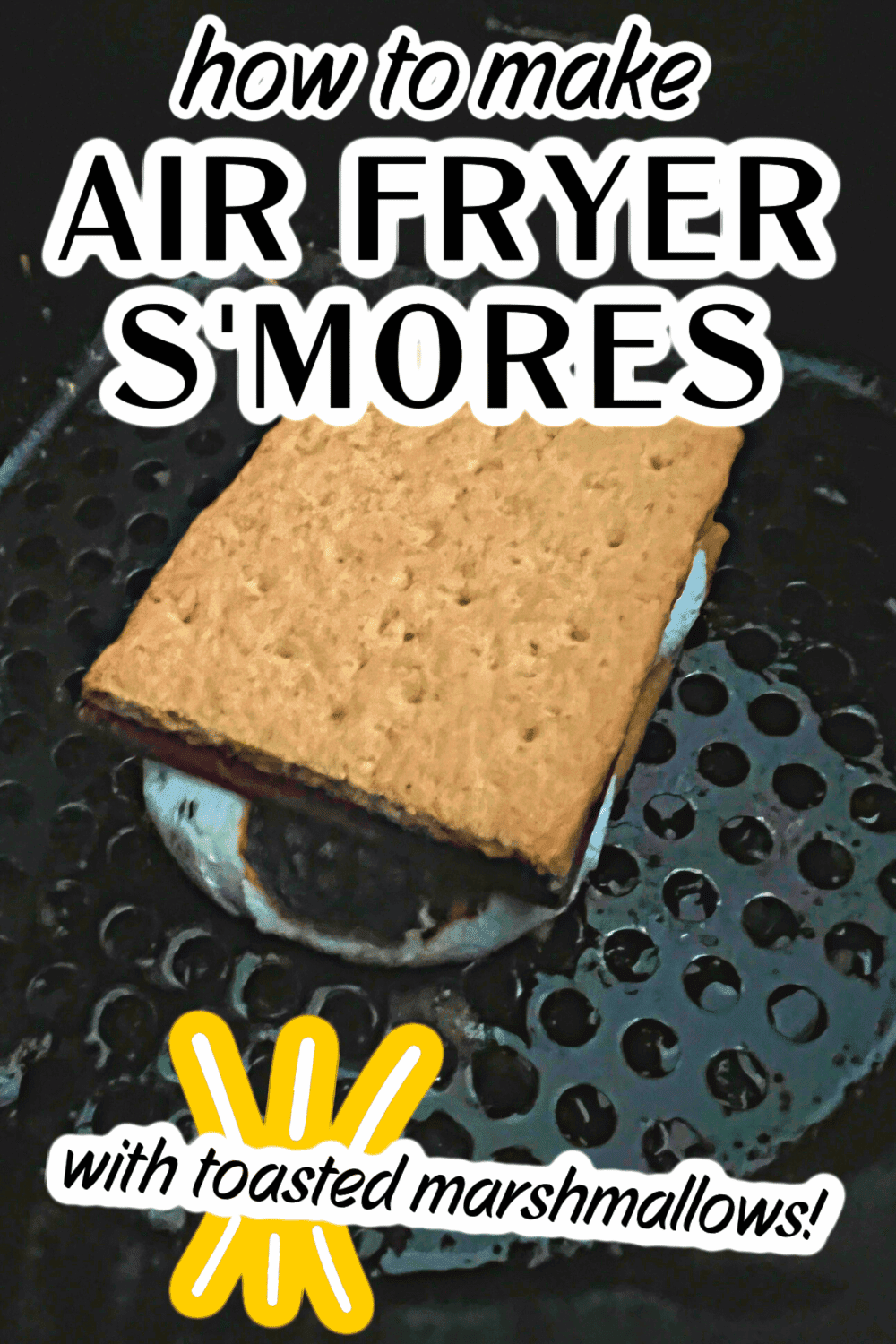 Tips For Air Fryer Smores (How To Cook S'mores At Home)
What size marshmallows for s'mores?
If you're making indoor s'mores, you want to use the regular size marshmallows in the bag. Save the large ones for roasting smores over a fire (or the large square marshmallows are great for fire smores, too). You also don't want to use the small marshmallows. Save the smaller marshmallows for your smores dip, s'more flavored snacks, and other some more marshmallow recipes.
What are the best graham crackers for s'mores?
The best smores graham crackers are your favorite graham crackers! We prefer the plain Honey Maid graham crackers for our graham cracker for smores because we like the thin crispness of them. But, it really is a personal preference. Just make sure you get graham crackers for smores that come in sheets so that you can make a square for smore tops and bottoms.
You can also use s'more crackers (like Saltines, Ritz crackers, or club crackers) if you don't like graham crackers.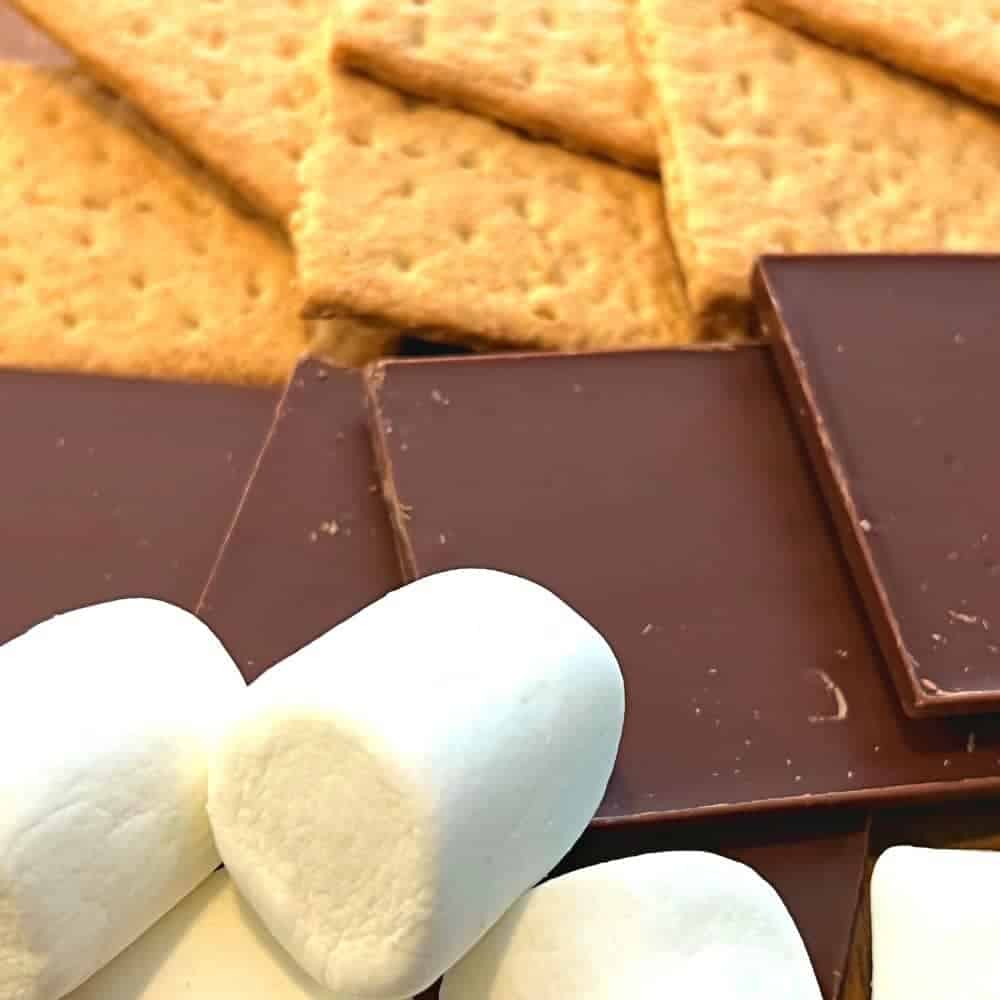 Different Chocolate For S'mores
Air fried s'mores are just like any other smores, meaning you can use your favorite milk chocolate, dark chocolate, or even white chocolate for smores!
For fried s mores, you'll have to keep a close eye on your chocolate or else it will completely melt.
What is the best way to melt chocolate for S mores?
When making air fried smores, you need to be careful with the chocolate as it will quickly completely melt and become runny. The best way to melt chocolate for smores in the air fryer is to heat your air fryer basket first and then cook your smores in different layers.
AFTER SMORE AIR FRYER FUN, HERE ARE MORE S'MORES RECIPES TO TRY NEXT:
How To Make S'mores In The Oven for More Indoor Smores Ideas
How To Make S'mores In The Microwave (2 Easy Ways)
Air Fried Homemade S'mores Ice Cream
How Long To Cook S'mores In Air Fryer
Air fried smores cook very quickly! Air frying smores is a multiple step process, but they only cook for 1-2 minutes before they are ready. Smore cooking time and air fryer temperature will vary based on the brand and type of air fryer you are using.
WE USED AN AIR FRYER LIKE THIS FOR OUR SMORES IN AIR FRYER
Can You Air Fry Marshmallows?
Yes! You can air fry marshmallows, but you will need to protect your air fryer basket or tray in your oven air fryer. You have to keep a close eye on marshmallows in air fryer. Use cooking spray and aluminum foil so you don't have a sticky mess with melted marshmallows everywhere.
Can you toast marshmallows in air fryer?
If you're wondering can you put marshmallows in the airfryer and do toasted marshmallows, you can't. Air fried marshmallows won't toast like over a campfire.
So, see our secret smores marshmallow tip if you're wondering can you roast marshmallows in an air fryer…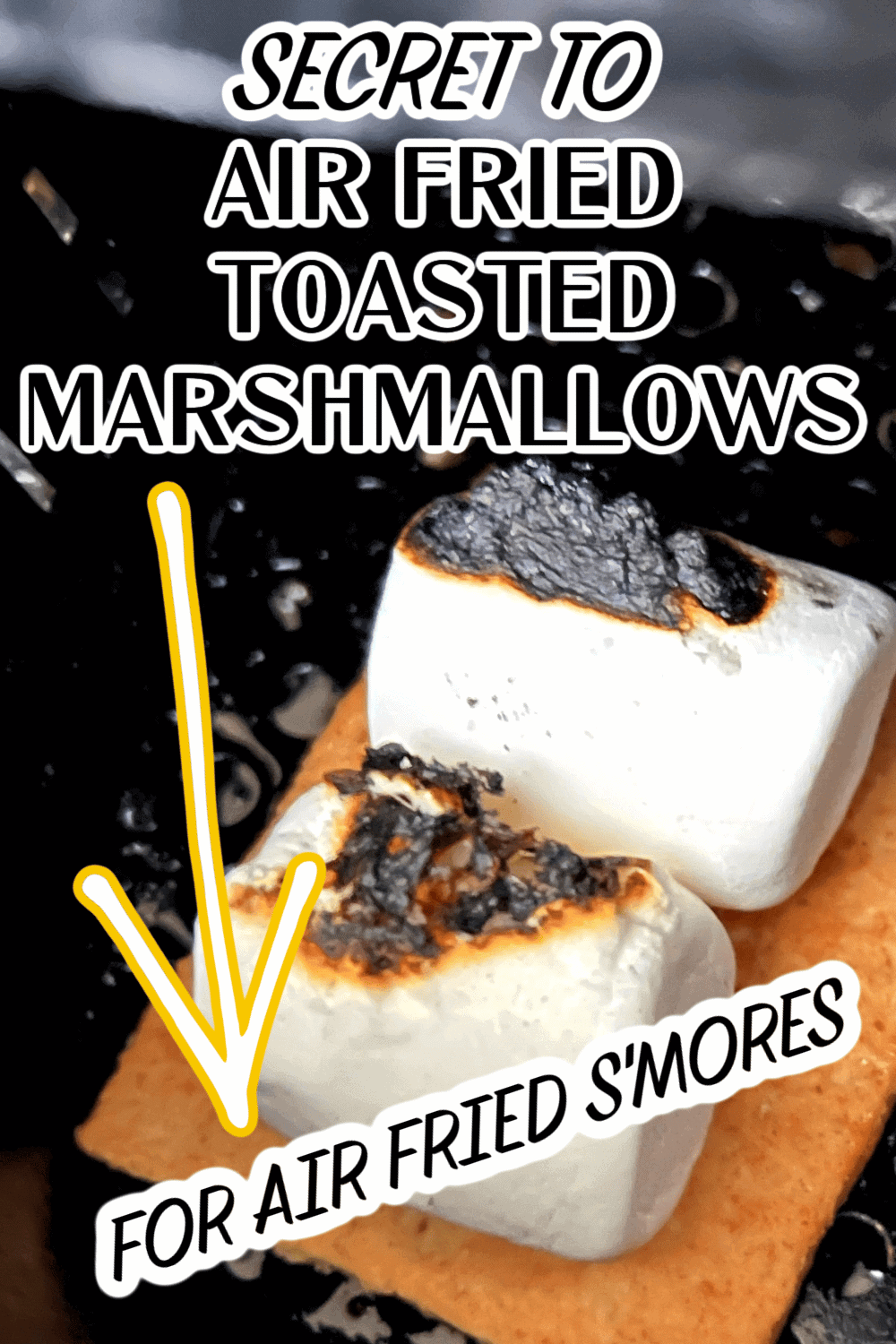 Secret Tip To Campfire Smore In Air Fryer
One of the best thing about eating smores is that crispy, smoky, charred marshmallow that comes from smores over campfires, right?
One of the cons of a smores recipe indoors is that it misses that smores while camping flavor.
That's why we decided to indoor roast marshmallows before cooking air fryer smores!
(And, it's way better than just plain air fryer marshmallows and way better than that air fryer s'mores TikTok recipe you see going around!)
Here's how to make s'more without fire and make it still taste like camp fire smores.
Best way to make smores indoors taste like camping s'mores:
Place a marshmallow on a wood toothpick.
Using a

kitchen torch

or

lighter like this

, lightly toast your marshmallows on the front side of the marshmallow.
Let marshmallow cool slightly before using it for air fried smores.
It's the best way to make s'mores without fire and still have that marshmallow toasted taste!
It's my personal DIY smore hack for perfect smores indoors or best way to make s'mores at home when you're in a hurry!
How To Make S'mores Without Marshmallows
If you don't want to use marshmallows for your smores, you can also use gluten free marshmallow fluff like this. Put your air fried smores together and then air fry the whole smore for around 1 minute.
It's another fun how to do s'mores at home variation!
Let's get to the s'mores air fryer recipe — one of the best way to make s'mores in winter or for rainy day kids activities.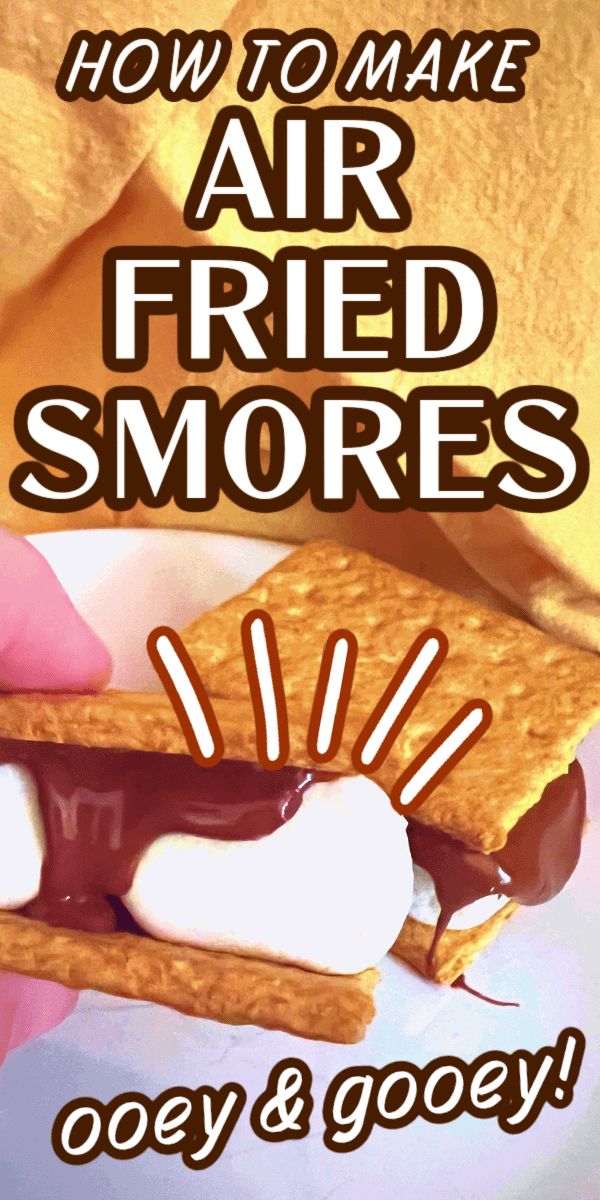 How To Make Smores in the Air Fryer
We made our air fryer smores in our smaller air fryer, but you can definitely make s'mores in air fryer oven. You may have to adjust the temperature and smores cooking time based on your specific air fryers.
Making s'mores in air fryer is a quick and easy recipe. You may need to test out cooking smores to adapt them to your specific air fryer machine.
You can double or triple (etc.) this air fryer s'mores recipe to meet your needs / fit your airfryer oven.
Also, toasting the air fryer marshmallow first makes a huge difference in the taste of the smores inside!
TIP: Definitely use cooking spray for your airfryer smore no matter what type of air fryer you use!
Here's how to heat graham crackers chocolate bar and marshmallows in airfryer for a smore recipe…
Yield: 1
Easy Air Fried Smores Recipe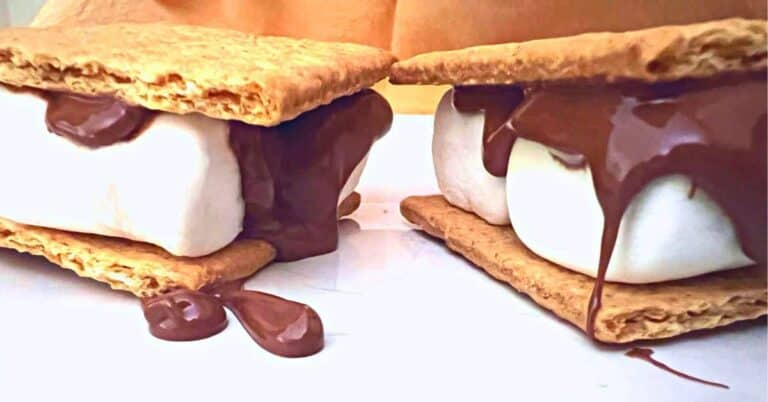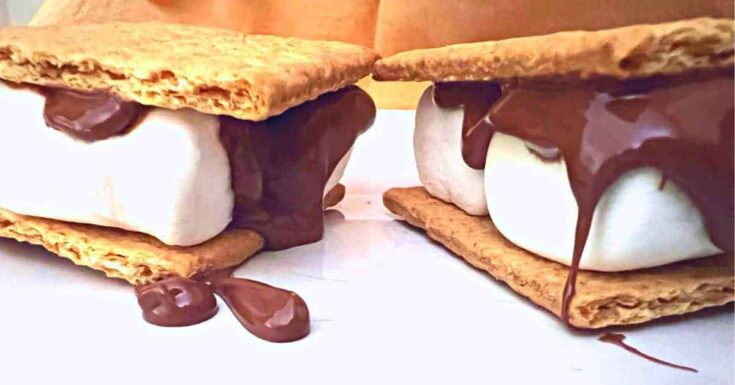 This air fried smores recipe is so simple, but we have a SECRET TIP to making them taste like camping s'mores and not just blah indoors smores!
WE HAVE A LOT OF GREAT TIPS FOR A SMORE RECIPE IN THE POST, SO BE SURE TO SCROLL UP AND READ THEM TO MAKE THE BEST SMORES!
Ingredients
2 regular marshmallows
1 sheet graham crackers, halved into squares
1/3 of Hershey's chocolate bar
Instructions
Preheat air fryer basket at 400 °F.
Using matches or a kitchen torch, carefully and lightly toast the tops of the marshmallows. We do this by either putting the marshmallows on toothpicks and roasting them indoors or just roasting the tops while they are on a cutting board. (Optional step, but really elevates your air fryer smores recipe above everyone else.) ~GROWN UPS ONLY STEP~
Spray the air fryer basket / air fryer oven tray with cooking spray (or place aluminum foil in bottom of air fryer basket / tray).
Place the bottom graham cracker into the air fryer tray. Place toasted marshmallows on top. Air fry for 1 minute.
On top of the air fried marshmallows, place one square of chocolate. Top with remaining graham cracker square. Air fry for up to 1 minute. (Our air fryer took less time.) You just want to warm the chocolate bar and not completely melt it.
Using a spatula, carefully remove the cooked smore onto the smores plate. Press down lightly on top graham cracker. Immediately eat the warm and gooey air fried smore!
Notes
IMPORTANT: Because every air fryer basket or air fryer oven varies greatly, you may have to test out the times and temperatures and may vary slightly from the ones listed in our recipe.
The toasting marshmallow air fryer before the recipe really does make a difference in the taste, but is a completely optional step.
Nutrition Information:
Yield:
1
Serving Size:
1
Amount Per Serving:
Calories:

148
Total Fat:

5g
Saturated Fat:

3g
Trans Fat:

0g
Unsaturated Fat:

1g
Cholesterol:

3mg
Sodium:

55mg
Carbohydrates:

26g
Fiber:

1g
Sugar:

18g
Protein:

2g
Nutrition information is estimated. Changes to the recipe and use of different brands may cause changes to the nutritional information to vary slightly from the ones provided here.
We hope this helped answer can you make s'mores in the air fryer!
Definitely add these to your smore desserts recipe ideas!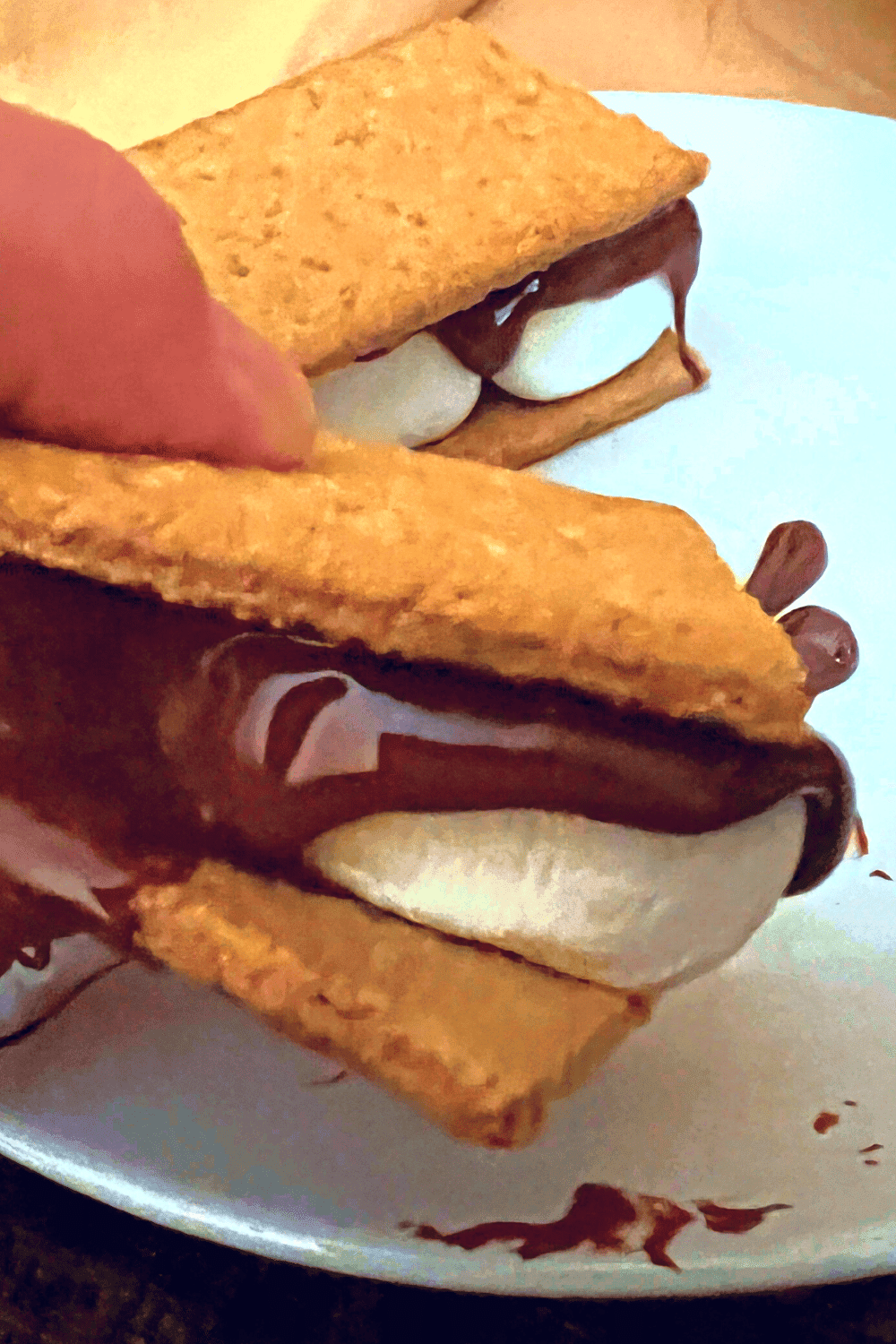 Let us know how your air fried smores turn out!
LOOKING FOR FUN COOKING PRINTABLES FOR KIDS?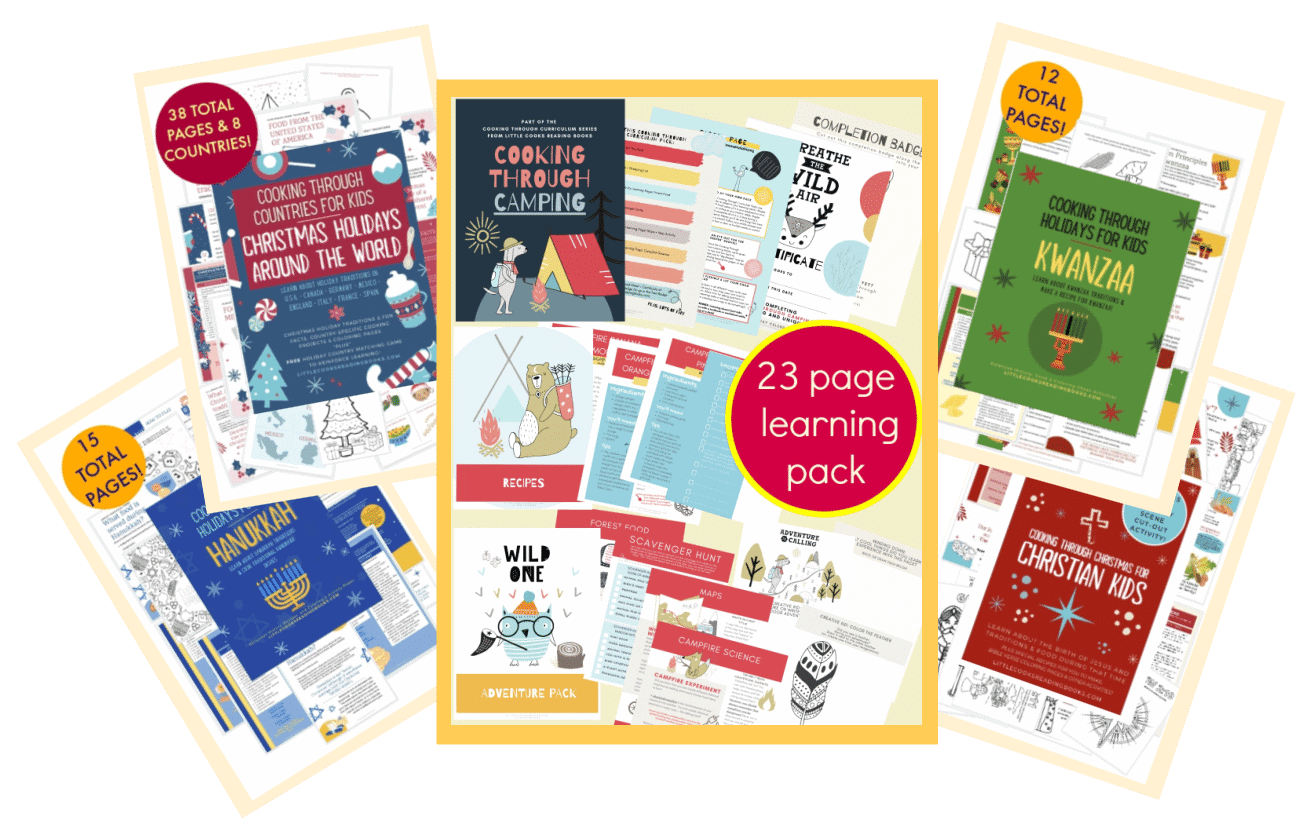 As an Amazon Associate I earn from qualifying purchases. Please refer to our
DISCLOSURE
.