Need Halloween punch recipes for kids? This Hocus Pocus punch (witch's brew drink) is perfect for Halloween punches, Hocus Pocus recipe ideas, Sanderson sisters party food ideas / witch themed parties, or if you're looking for non alcoholic punch recipes with Sprite for kids. Super cool Halloween kid drinks and unique kid friendly Halloween drink ideas! Be sure to check out the magic drink glitter video so you can see the cool drink effect!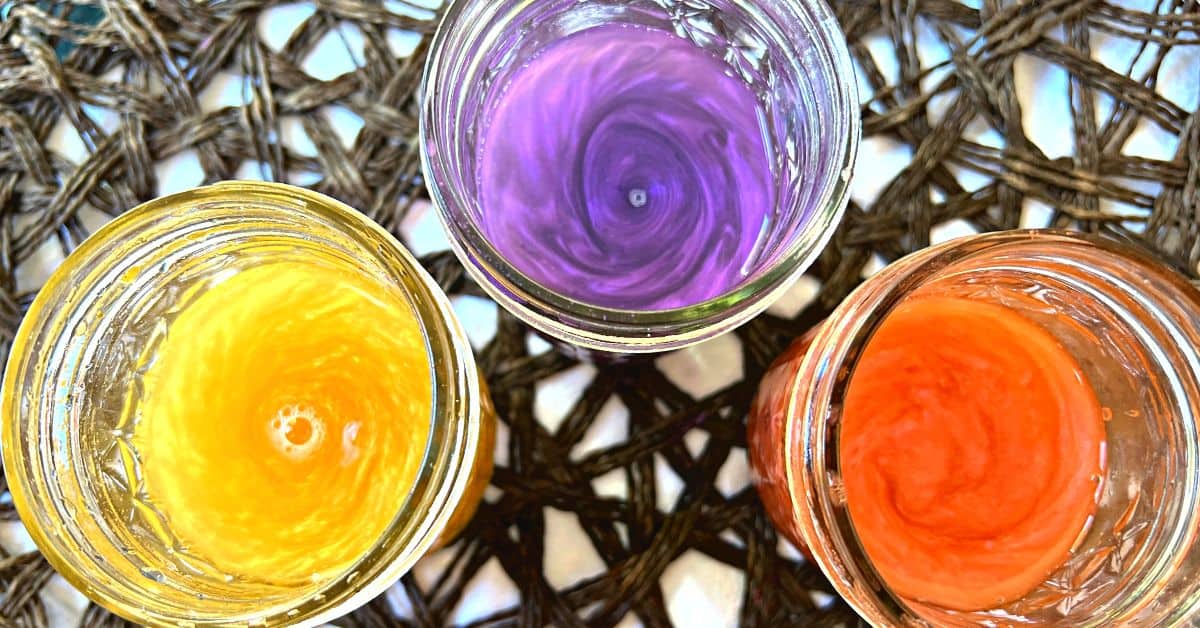 Hocus Pocus Halloween Punch Recipes (Witches Brew Punch)
This is one of the most fun Halloween children's drink ideas or non alcoholic drinks for Halloween! The magic dust makes this witch brew punch a swirling, magical party drink. Great alternative to the Halloween Hawaiian punch recipe, Halloween drinks that smoke, or glow in the dark drinks non alcoholic! And, it's an easy kids punch with only three ingredients (and you don't even need a Halloween punch bowl). I think it's much cooler than dry ice punch Halloween or a smokey Halloween punch!
How To Make Halloween Hocus Pocus Punch
For easy 3-ingredient Halloween punch recipes:
Lemon lime soda
Pineapple juice
Magic drink dust
8 ounce quilted jelly jars with lids (optional)
Halloween straws (optional)
Get the full Halloween punch recipes non alcoholic for kids printable recipe card below. KEEP SCROLLING for the fun mocktail Hocus Pocus cocktail for kids. We also cover can you use edible glitter in drinks and all about food safe glitter.
Affiliate links are used on this site. As an Amazon Associate I earn from qualifying purchases. Read more in our DISCLOSURE.
We made green Halloween drinks, purple Halloween drinks, and orange drinks for Halloween to stay on a Hocus Pocus theme (to match Hocus Pocus sisters hair), but you can make any color glitter drinks you want!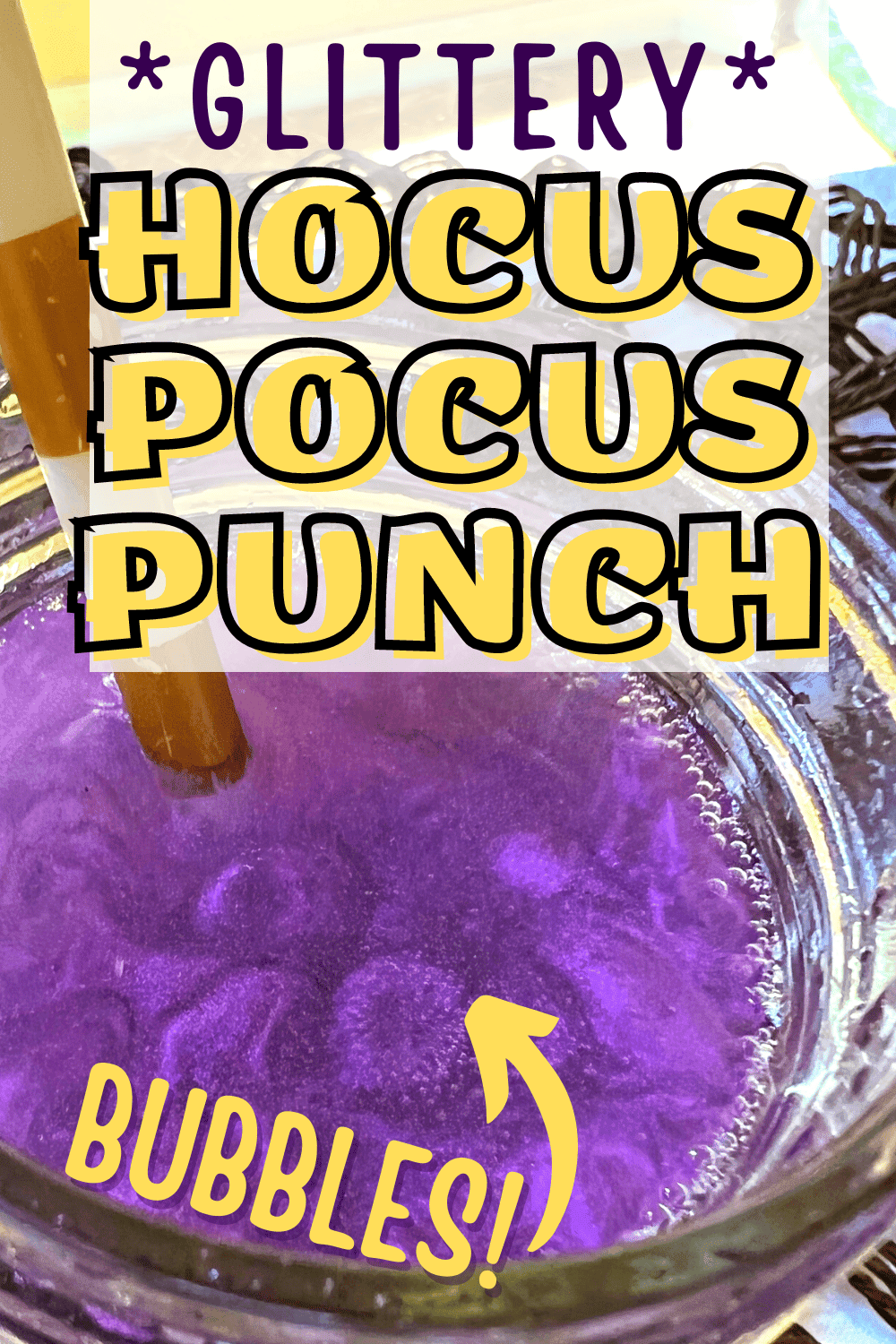 What I love about these Halloween kid drink recipes is that you can use this drink concept for any theme party or different color drinks — you can make them as blue party punch recipes, green punch ideas, purple Halloween drinks non alcoholic ideas, or even black Halloween drinks.
We made these as kid friendly Halloween drink ideas with purple, yellow, and orange to match the Sanderson sisters hair from the Hocus Pocus movie for a fun punch for Halloween.
You can make them any color for a punch to drink at party for kids or adults! Great for a Maleficent Halloween theme, shimmering purple bat punch, or fun brew glitter of any color.
It's just as fun to make these kid drinks for Halloween than it is to drink them! Glitters make cool cocktail effects for kids and adults!
ALSO CHECK OUT:
How To Throw A Hocus Pocus Party
Cool Halloween Drink Names
It's also fun if you give Halloween drinks kid friendly names! You can give each color a different Halloween punch name or party drink theme!
Fun Halloween Drink Names for Kids:
Sanderson Sisters Sips
Hocus Pocus Punch
Ghoul-Aid
Vampire's Blood Punch
Witches' Brew
Zombie Apocalypse Punch
Mummy Milk
Spider Surprise
Bat Brew
Ghoulish Grape
PurplePeople Eater Punch
In case you're not familiar with making drinks with glitter and wondering how do you add glitter to drinks…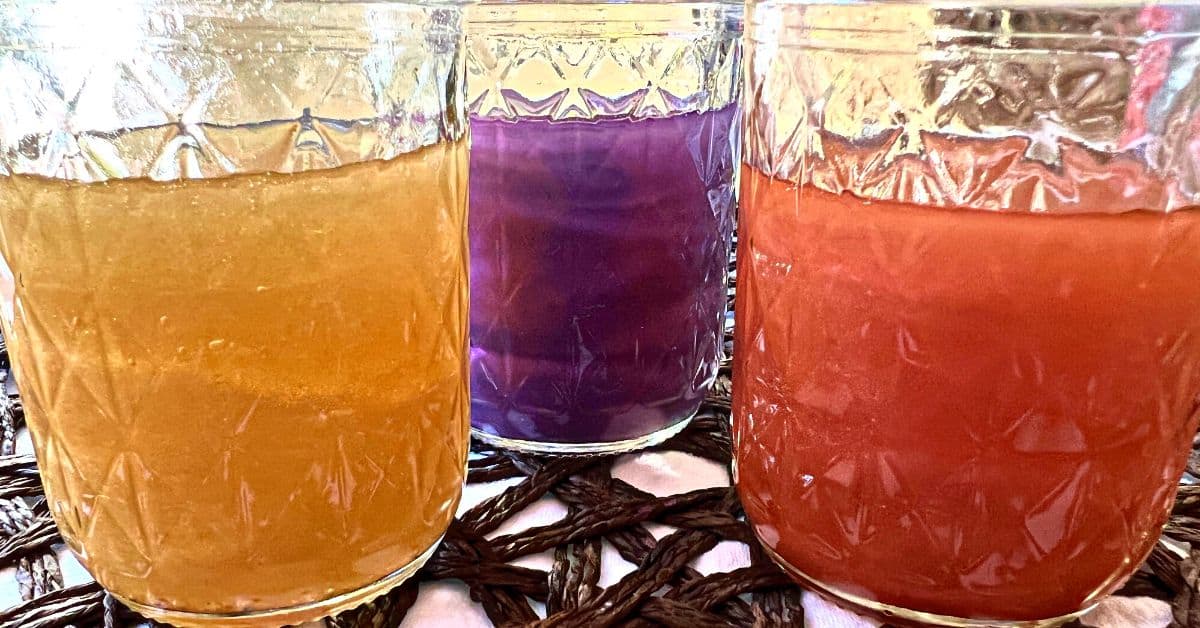 How To Make An Edible Glitter Drink Recipe
For our swirling witch brew drink we used a magic brew glitter (aka: edible food glitter, or sometimes called edible cocktail glitter dust).
Can I use edible glitter in drinks?
YES! Edible glitter makes a fun magical swirl effect when used in drinks — especially in carbonated drinks because it keeps bubbling! Just add a tiny amount of the edible drink glitter to your glass before adding the liquid beverage.
IMPORTANT INFORMATION ABOUT USING EDIBLE GLITTER:
Food glitter is NOT regular glitter. This is food grade glitter made to use with cakes, cookies, cupcakes, drinks, etc. You CANNOT use regular glitter for drink glitter as it is not made for consumption. Edible glitter vs regular glitter is very different and should not be used interchangeably!
What is edible drink glitter made of?
The ingredients for edible drink glitter vary based on the brand of the edible glitter, but almost every food glitter has a main ingredient of sugar. It then usually includes cornstarch and a variety of coloring additive ingredients. Be sure to check your specific edible glitter brand package ingredients.
How do you make edible glitter drinks?
To make edible glitter drinks, simply add a very small amount of the drink glitter to a clear glass. Then, added your liquid and stir.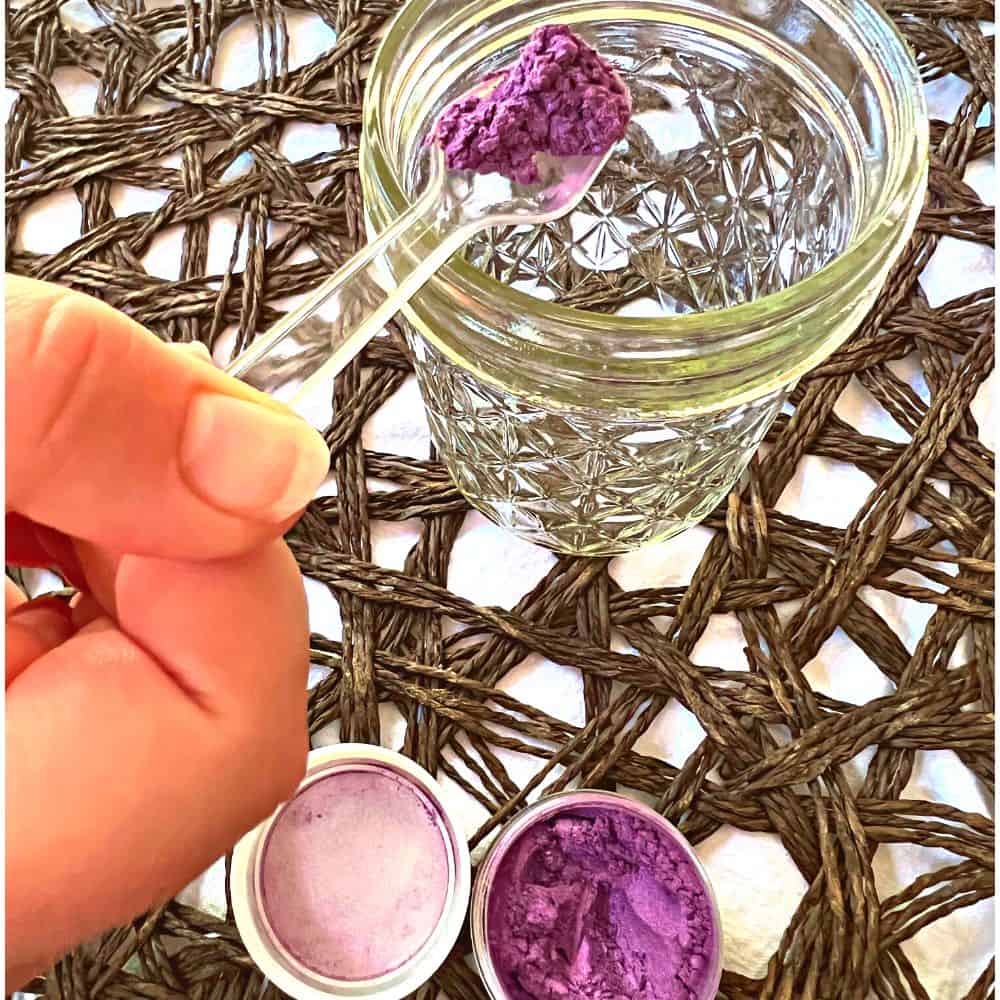 How much edible glitter do you need for a drink?
You only need a very small amount of drink glitter for a drink. Use a small pinch (around 1/8 to 1/4 teaspoon) for each drink glass before adding your drink mix.
DRINK RECIPE TIP: Food glitter can be costly. If you are making drinks with kids, adults should be the one to add the glitter you can eat. It only takes a little!
Is edible glitter safe to eat?
Yes. Edible glitter sold in the United States should be FDA compliant ingredients and food safe.
YOU'LL ALSO ENJOY THIS JACK-O-LANTERN HALLOWEEN ORANGE DRINK!
Where can I buy edible drink glitter?
You can buy edible drink glitter or food glitter at specialty food stores, craft foods that have food decorating items (like Michaels), party stores, and even online.
This is the edible drink glitter we bought for our Sanderson Sisters hair colors. The edible glitter for drink colors we used: gold, orange, and purple. (We also used jars like this for our drink glasses.)
Let's get to the magical Hocus Pocus mocktail (aka: Halloween drink with edible glitter or edible drink sparkles)!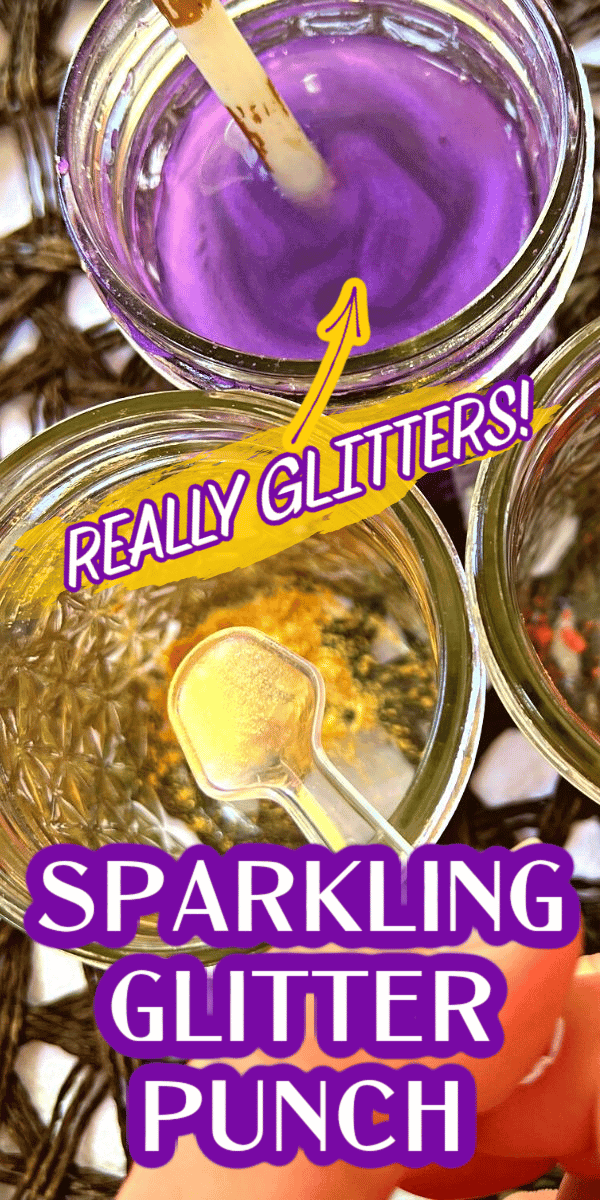 How To Make Hocus Pocus Punch Halloween Drink
If you're looking for different Halloween punch recipes that will wow you guests, this recipe Halloween punch is it!
It is also a cool teen drink for teenager parties and if you need creative Hocus Pocus food ideas! (These easy DIY Halloween drinks take almost no time but are super fun drinks for parties!)
RECIPE TIP: We put lemon lime soda in the recipe, but you can use any clear bubbly soda (carbonated drinks). We tried it with LaCroix and Bubly drinks (carbonated flavored water) and my daughter loved it!
This is the best punch recipe Halloween idea EVER if you're looking for a Halloween punch non alcoholic for kids and family.
And, it's super fun kids activities for a party if you make a DIY drink potion station for non alcoholic Halloween drink ideas (virgin Halloween drinks)!
IMPORTANT: If you are going to use this on big Halloween cauldron for drinks, consider using a see through punch bowl instead like this. The fun of this drink for Halloween is the effect that it creates when the edible food glitter is added!
Yield: 4
Glitter Halloween Punch Recipes (Magic Hocus Pocus Drink)
This is one of my favorite Halloween punch recipes! The edible magic dust gives the drinks a magic witch cauldron feel and make a fun drink for kids for any party theme really!
BE SURE TO SCROLL UP IN THE POST TO READ TIPS ABOUT THE GLITTER DUST FOR THE DRINKS AND DRINK MAKING TIPS!
Ingredients
24 ounces carbonated lemon lime soda, chilled *
1 cup pineapple juice, chilled
1/2 teaspoon orange edible glitter
1/2 teaspoon gold (yellow) edible glitter
1/2 teaspoon purple edible glitter
Instructions
Pre-portion 1/8 to 1/4 teaspoon of the edible glitter dust into each glass jar - just about a pinch for each glass. (We use 8 ounce jelly canning jars with lids.)
Add 1/4 cup pineapple juice to each jar.
Add lemon lime soda to each jar. **IMPORTANT do not fill all the way to the top. Once you place the lid on and shake the jar, the carbonation will explode if you fill the glasses/jars too full.
Immediately place lid on jar and shake. Observe the awesome drink magic! (If you are using clear glasses instead of jars, stirring the drink with a straw or spoon will get the same result.)
Remove lid and place straw in drink. Served immediately.
If at any point the drink dust glitter settles, just stir with a spoon or straw. It will magically appear again!
Notes
*You can also use carbonated flavored waters like Bubly and La Croix. Just make sure you use carbonated drinks for full bubbling drink effect!
Use glasses for best effect so you can see the cool drink effects taking place.
We used 8 ounce canning jelly jars with lids, which allowed us put the lids on and shake the drink. Then, when you remove the lids, add a party straw and you have a super cool Halloween drink for children!
We used purple, gold, and orange drink colorings because we wanted to make the colors of the Sanderson sisters hair for a Halloween Hocus Pocus party, but you can use any color to match to your theme or party.
IMPORTANT TIP: The edible glitter for drinks can be costly. If you are having a kids Halloween party or doing kids activities with it, you'll want to pre-portion the glitter drink dust into the glasses before adding the liquid.
Nutrition Information:
Yield:
4
Serving Size:
1
Amount Per Serving:
Calories:

109
Total Fat:

0g
Saturated Fat:

0g
Trans Fat:

0g
Unsaturated Fat:

0g
Cholesterol:

0mg
Sodium:

20mg
Carbohydrates:

27g
Fiber:

0g
Sugar:

25g
Protein:

0g
Nutrition information is estimated. Changes to the recipe and use of different brands may cause changes to the nutritional information to vary slightly from the ones provided here.
Definitely add this to your children's Halloween punch recipes or drink potions and let us know how your colorful Halloween non alcoholic drinks turn out!
Have fun with these fun Halloween punch recipes for kids!
LOOKING FOR FUN COOKING PRINTABLES FOR KIDS?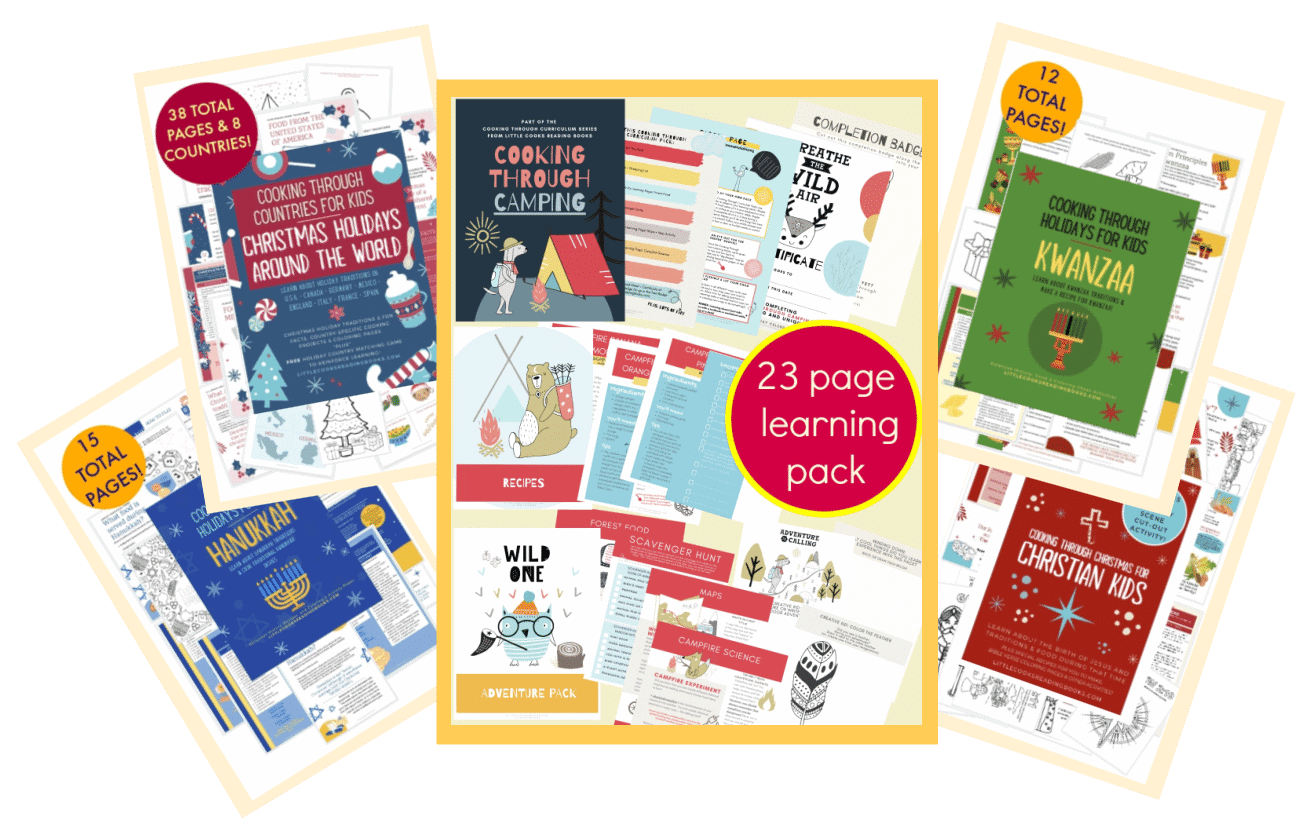 As an Amazon Associate I earn from qualifying purchases. Please refer to our
DISCLOSURE
.