Fun apple on a string game, or the catching apples game (aka: snapping or snap apples), is a great alternative to bobbing for apples for Halloween party games, fall festival activities or fall harvest, fun outdoor birthday party ideas, or a fun idea for after apple picking.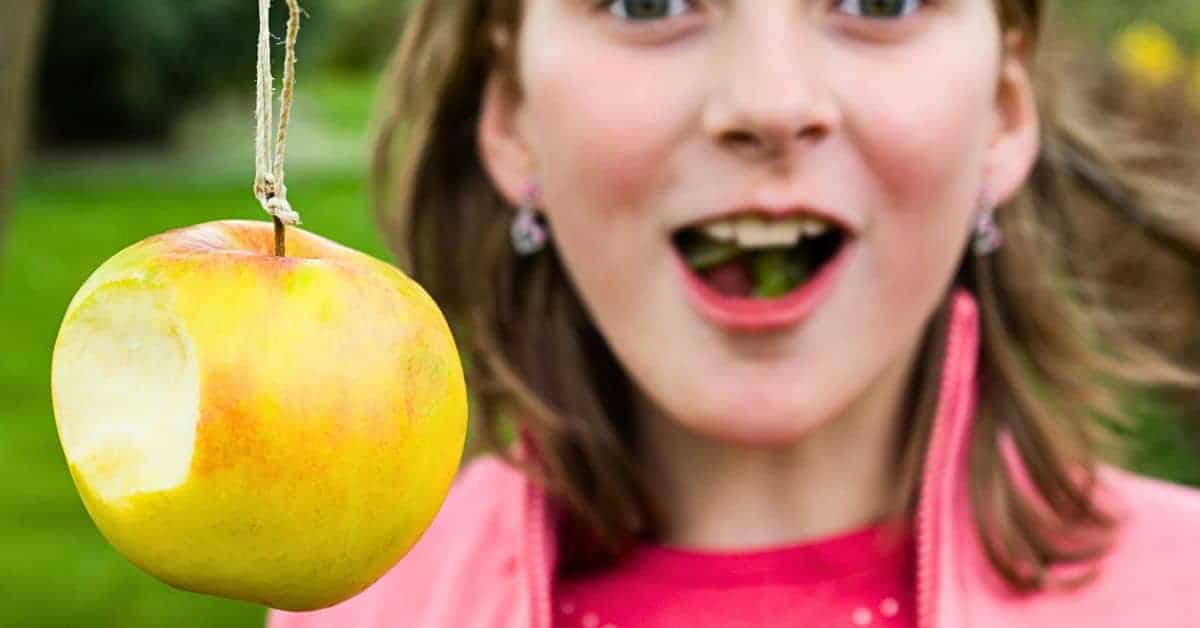 How To Play The Easy Apple On A String Game (Catch The Apples Game)
How do you hang an apple for a game?
To play the apple on string game (apple eating game), you need to hang apples on strings to accommodate the amount of players you have playing the apple game without the apples falling off easily.
Materials You'll Need For The String Apple Game:
Apples
Sturdy string or twine
Scissors
Apple corer
How To String The Apple:
Affiliate links are used on this site. As an Amazon Associate I earn from qualifying purchases. Read more in our DISCLOSURE.
To hang the apple so that it doesn't fall:
Using an apple corer, remove the core from a whole apple, being careful not to cut the apple. (You want to keep the apple whole.) (Skip trying to push a long needle through the apple with a string. It's too difficult.)
Cut a piece of twine 3-4 feet. (This will depend how tall your anchor line is. SEE BELOW.)
Loop a long twine or string through the cored center of the apple. Using one end of the twine, tie it securely onto each apple so that it doesn't fall when you test it out. You will want to double knot or triple knot the apple string on the apples.
With the free (untied end) tie it from the tree limb, stick, clothesline or other strong twine stretched between two trees so that the apple is hanging straight down and ready for the game.
Be sure to vary the length of the strengths based on the height of your players.
IMPORTANT FOR THE EATING APPLE GAME: Make sure you have a fresh apple for each person playing. No sharing apples or eating after each other!
If you have apples with long, strong apple stems, you can securely tie the twine to the stems, but they will break and fall easier than if you tie them through a cored apple. However, some people like to play the game this way because it makes it more difficult (because the apples fall easier). It's more challenging this way!
PRO GAME TIP: To prevent the apples from turning brown before the party, soak them in lemon juice before stringing the apples.
KEEP SCROLLING for the full apple on string game rules.
How Do You Hang Apples For The Apple String Game?
Ideas For Hanging Apples:
Use a tight clothesline (wash line) to tie apples to
Hang apples from low hanging tree limbs
Use two ladders for the anchor string and then hang the apples down from that
Use a long pole or a stick (that someone holds) to hang apples and have contests as partners (one person holds the apple stick while the other person tries to eat it)
Indoor beam with apples attached from a ceiling
MORE APPLE IDEAS & APPLE THEMED ACTIVITIES:
Apple Snickers Salad Recipe
Apple Charcuterie Board Ideas
Fried Apple Zombies
How To Dry Apples
Apple Fries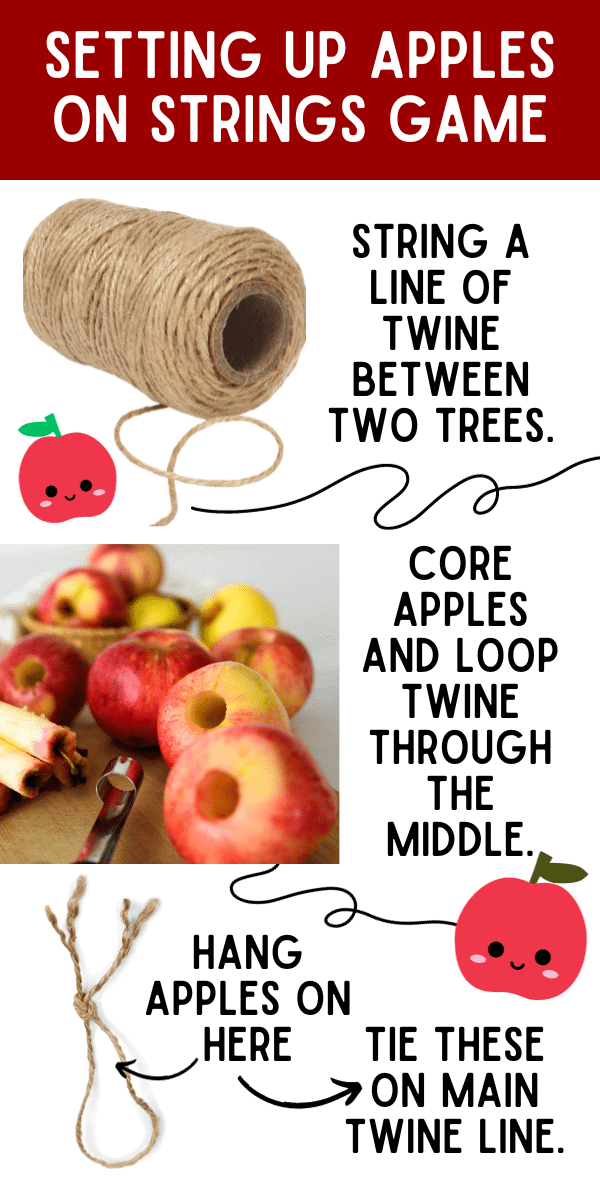 Apple On A String Game Rules And Apple Bobbing On A String Game Play (Apple Bobbing With A Twist!)
If you're looking for an apple bobbing alternative, this is a safe game for that — no apple bobbing bucket needed!
How do you bob apples on a string?
Choose a Location:
The best place to play the apple bobbing string game is outdoors, where you can easily tie apples and allow party guests to have a lot of room to play the game.
Hang the String:
Hang a rope, thick twine, or use a clothesline as the anchor string.
You will want somewhere that you can stretch out the string and then securely tie the apples that hang down for the game.
PARTY TIP: Remember, party goers will be swinging apples and pulling on them, so you want a horizontal string that is anchored securely before hanging the apples.
Attach the Apples:
Loop one of a piece of twine, 3-4 feet long, through a cored apple and securely tie it. (Loop it through the core several times and tie it tight!)
Attach the free end of the string to your anchor string (or tree limb, etc.).
Make sure the apple hangs at a comfortable height for players to reach.
If you have adults and kids playing, tie the hanging apples at different heights. (You can loop them around the anchor string if you need them shorter for adult heights.)
Play the Apple On A String Game:
The goal is to try to take a bite of the apple without using your hands.
Players can use their mouths to try to grab the apple as it swings and eat the apple, but no hands allowed!
Game Rules and Variations:
On GO! the first person to eat the apple from the string without it falling wins.
If your apple falls to the ground, you're out of the game.
Hands behind back and hands can't be used at any time.
You cannot touch the string or the apple with your hands at any time or you're disqualified from the game.
The apple on a string rules are pretty relaxed and you can easily make your own game rules. For example, you can also set a timer and make it the person who eats the most within 30 seconds wins.
FUN GAME TIP: At the end of the game, cut the strings and give kids their apples to eat!
MORE GAME IDEAS FOR KIDS HALLOWEEN PARTIES OR FALL ACTIVITIES:
Want more food on a string game ideas (or other games using string) or eating games / eating contests? PLAY THE DONUT ON A STRING GAME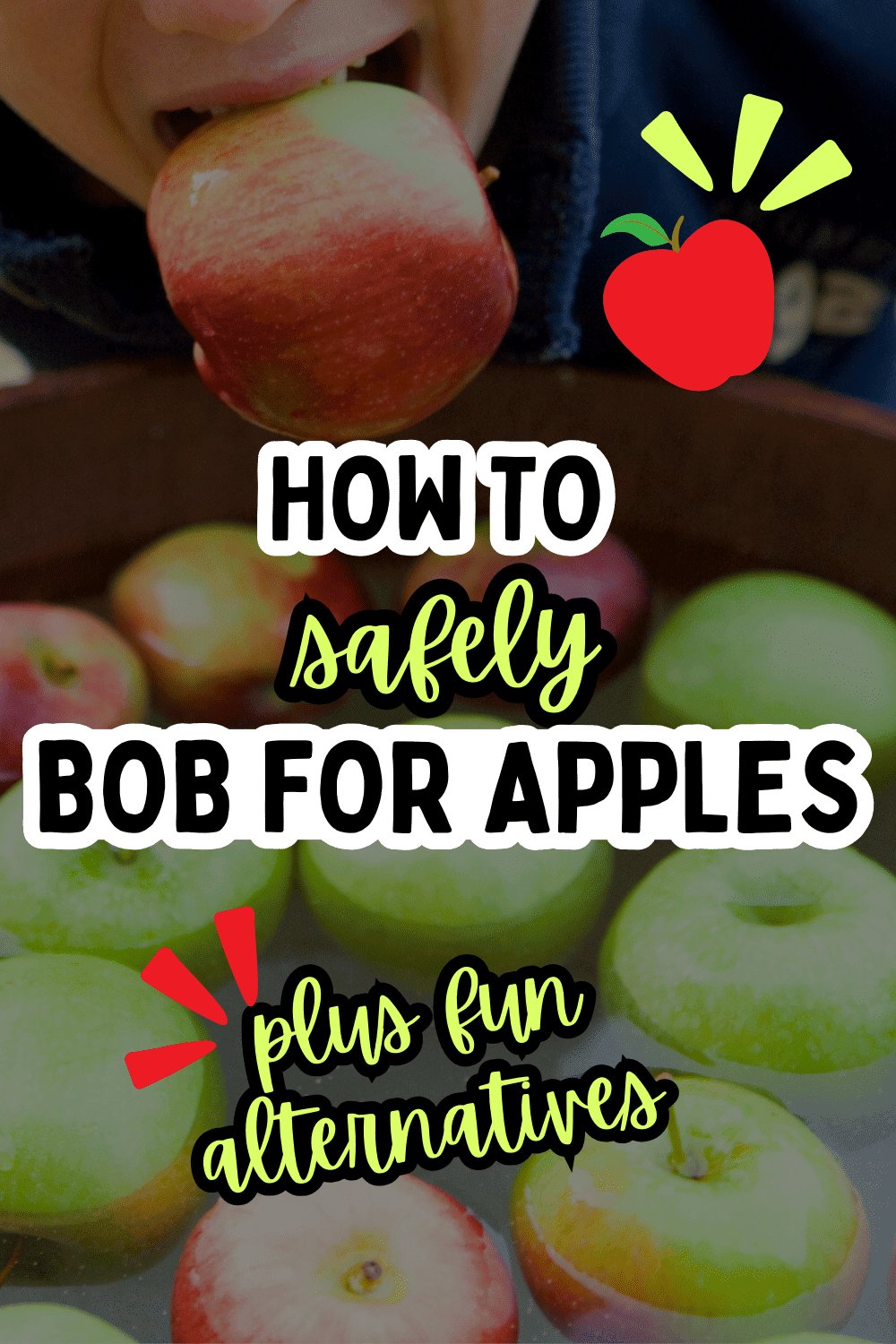 How To Bob For Apples The Traditional Way (TRADITIONAL HALLOWEEN PARTY GAME FOR FAMILY FUN)
Want to safely bob for apples the old-fashioned way or wondering how to beat others when you play bobbing for apples?
How do you get an apple bobbing for apples?
There's no real "trick" to apple bobbing for apples and it's mostly about timing.
The challenge comes from trying to grab an apple with your teeth while it's floating in a basin of water without using your hands.
Here are some tips to improve your chances of winning bobbing for apples:
Be Patient: Wait for the apple to float close to you. It may take a moment for an apple to drift within reach.
Timing Is Key: Try to time your bite when the apple is close to the edge of the basin so you can lean over and get a good grip with your teeth.
Angle Matters: Experiment with the angle at which you approach the apple. Sometimes, tilting your head to the side can help you get a better bite.
Use Your Mouth/Teeth, Not Lips: Instead of trying to trap the apple between your lips, use your teeth to clamp down on the apple's skin. Once you have a firm grip, lift the apple out of the water.
Don't Give Up: It might take a few tries to get the hang of it, especially if you've never bobbed for apples before. Keep trying, and you'll improve your technique.
Practice Breathing: While it's a game about biting apples, remember to come up for air as needed. Don't keep your head submerged for too long.
PRO PARTY TIP: If it's not against the rules (everyone has different bob for apple rules), try to catch the stem of the apple instead of biting it.
LEARN HOW TO SET UP AND PLAY BOBBING FOR APPLES FOR AUTUMN GAMES
Have fun with your apple on a string game!
LOOKING FOR FUN COOKING PRINTABLES FOR KIDS?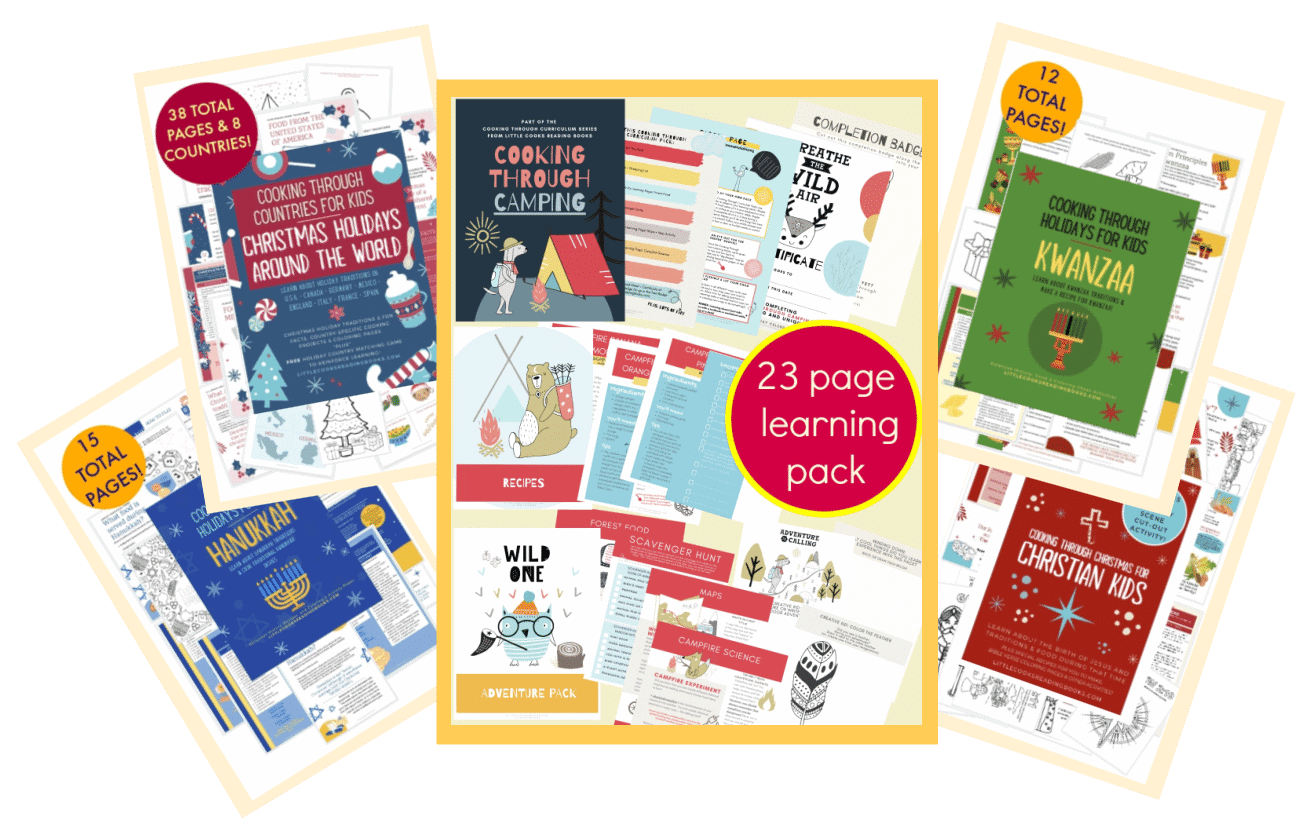 As an Amazon Associate I earn from qualifying purchases. Please refer to our
DISCLOSURE
.