Fun zombie theme food ideas for kids activities! Great if you need zombie birthday party kids ideas, monster themed recipes for kids activities, Walking Dead party, or need zombie Halloween ideas!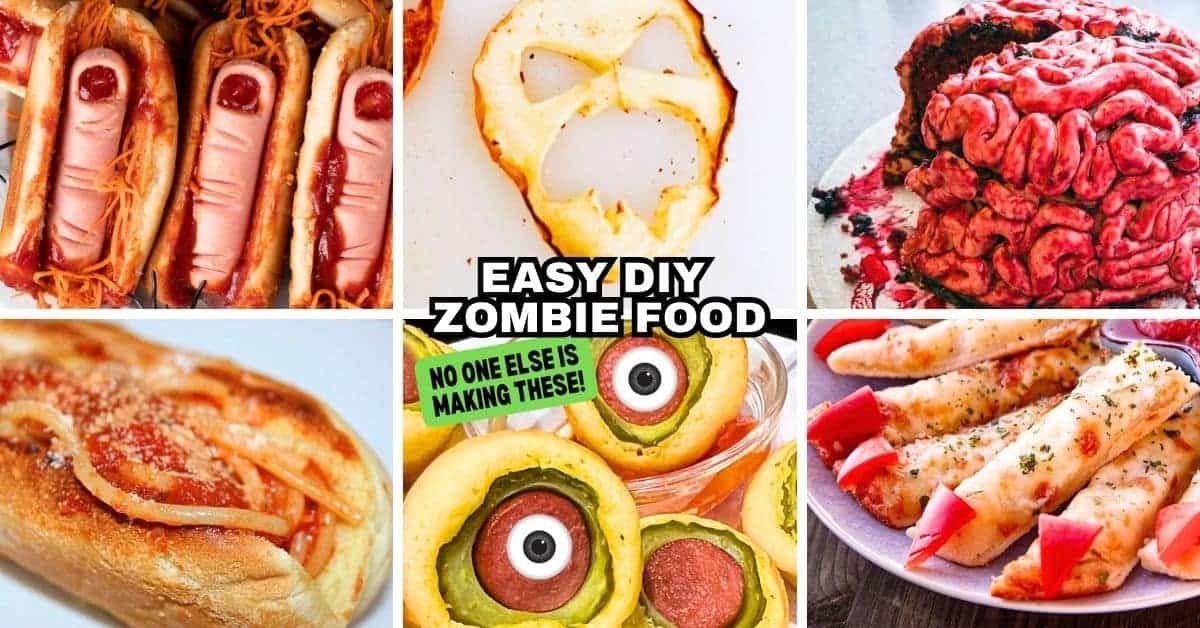 Not Too Creepy Zombie Theme Food Ideas For Children
Kids will love these zombie party treats for Halloween or a fun zombie themed party any time of year!
Fun Zombie Party Food Ideas & Zombie Treats
Severed Fingers: Create "severed fingers" by using baby carrots or cocktail sausages with a sliced almond as the fingernail. Dip the tip in ketchup for a gory effect.
Bloody Good Sausages: Cook sausages and serve them with ketchup or tomato sauce splattered on the plate to look like blood.
Zombie Hand Meatloaf: Mold a meatloaf mixture into the shape of a hand and use sliced onion rings for fingernails. Add ketchup or barbecue sauce for a gory touch. (Or make Halloween feetloaf shaped like a foot!)
Zombie Fingers in Guacamole: Use bell pepper strips as "zombie fingers" and serve them in a bowl of guacamole for a creepy, yet delicious snack.
Skeleton Bone Breadsticks: Bake breadsticks in the shape of bones and serve them with marinara sauce for "blood" dipping.
Brain Jello: Create a brain-shaped gelatin mold using a brain-shaped mold like this or a bundt cake pan. Serve with raspberry or strawberry sauce for a realistic look.
Zombie Punch: Make a green or red punch and add floating "eyeballs" (use candies like these) for a creepy zombie effect.
Maggot Mac and Cheese: Make a macabre mac-n-cheese and label it maggot mac and cheese.
Zombie Brain Cupcakes: Make cupcakes and decorate them with pink or gray frosting to resemble brains. Add red gel icing for a gory touch. Or, for a simple touch, add brain candy like this to store-bought cupcakes.
Zombie Guts Spaghetti: Serve spaghetti with a tomato-based sauce and tell the kids it's "zombie guts."
Monster Eyeball Deviled Eggs: Make deviled eggs and place a sliced olive or a pickle slice in the center to create the appearance of a monster eyeball.
Zombie Bites (Pizza Bites): Cut mini pizza slices into zombie or monster shapes using cookie cutters.
Skeleton Veggie Platter: Arrange fresh vegetables in the shape of a skeleton. Use a bowl of dip for the skull.
Zombie Brains Rice Krispie Treats: Make Rice Krispie treats and shape them like brains. Use pink frosting for a realistic look.
Eyeball Pops: Make cake pops or meatballs and decorate them like eyeballs. Use edible food gel to draw the iris and veins. (PARTY TIP: To save time, grab these eyeball lollipops instead.)
Coffin Cakes: Bake coffin-shaped cakes or brownies and decorate them with dark frosting and spooky decorations.
Zombie Gummy Candy: Serve gummy candies shaped like brains, eyeballs, bone candies or chocolate body parts candy. I love this pack for zombie body parts!
Zombie Potion: Create a "zombie potion" by mixing green or red fruit punch with ginger ale. Add gummy worms or other creepy candies for extra effect.
Zombie Boogers: Grab these candies and label them "Zombie boogers."
KEEP SCROLLING for ideas and pictures of fun zombie party treats for Halloween or zombie theme parties!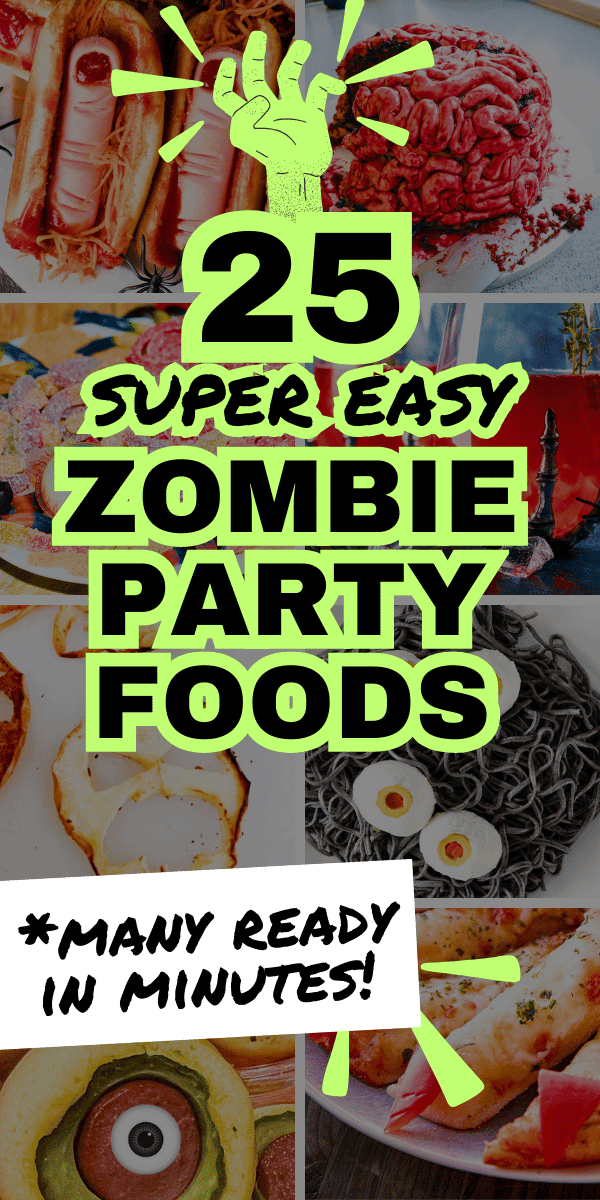 Affiliate links are used on this site. As an Amazon Associate I earn from qualifying purchases. Read more in our DISCLOSURE.
Easy Zombie Recipe Ideas and Fun Zombie Party Foods
These are our favorite Halloween zombie party treats, creepy Halloween food, zombie movie watch party, or zombie foods for any monster party! These are zombie dishes that are ready in minutes — quick and easy zombie recipes!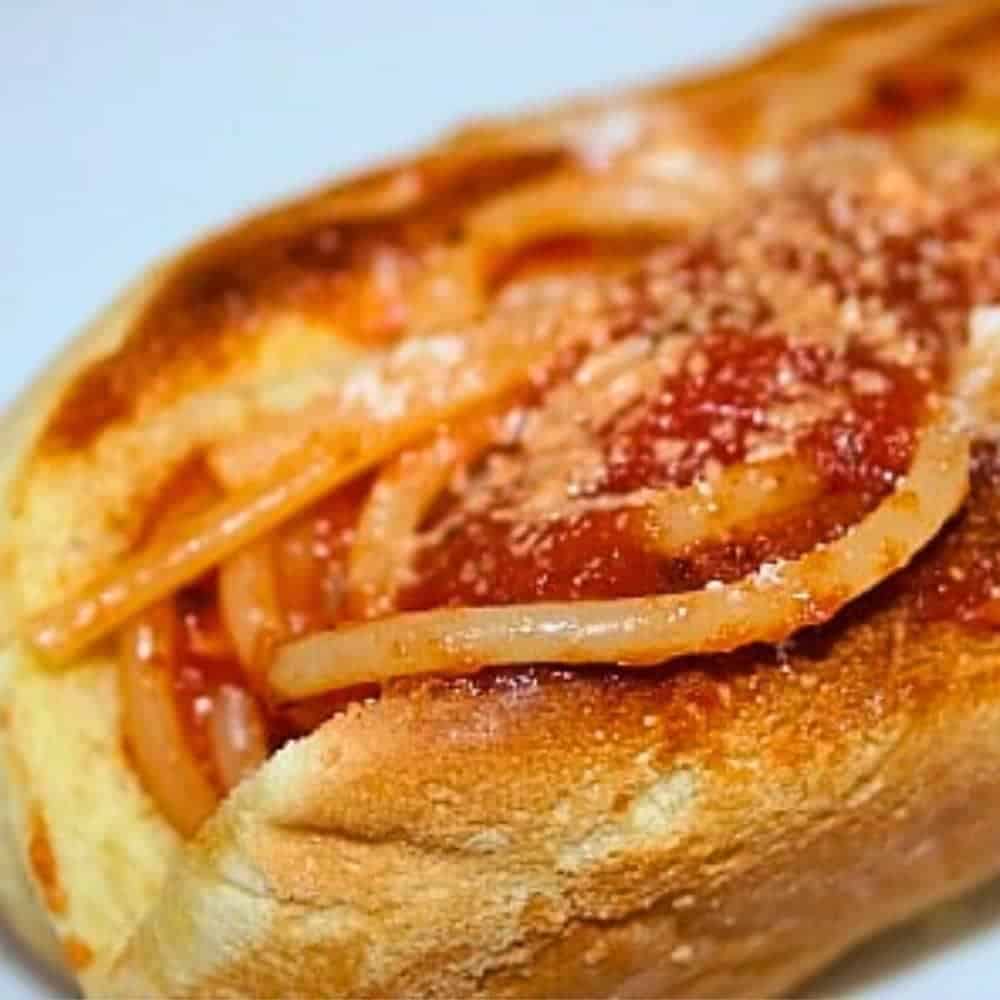 Guts In Buns
We made it a Halloween snack just by calling it guts in a bun.
(You could also call it guts in skin, if you want to make totally disgusting food names.)
It's actually spaghetti in a hot dog bun and makes a perfect Halloween party food because it's easy to pick up and eat.
Slice the buns in half or even quarters to make them a more bite-sized appetizer for parties.
GET THE FULL SPAGHETTI IN BUN RECIPE HERE
Worms in Dirt
Make chocolate pudding cups and crumble chocolate cookies on top to create "dirt."
Add gummy worms and bone candies for a fun and creepy treat that looks like a graveyard.
These are easy zombie food ideas that kids enjoy when we make them!
GET THE WORMS CRAWLING OUT OF DIRT RECIPE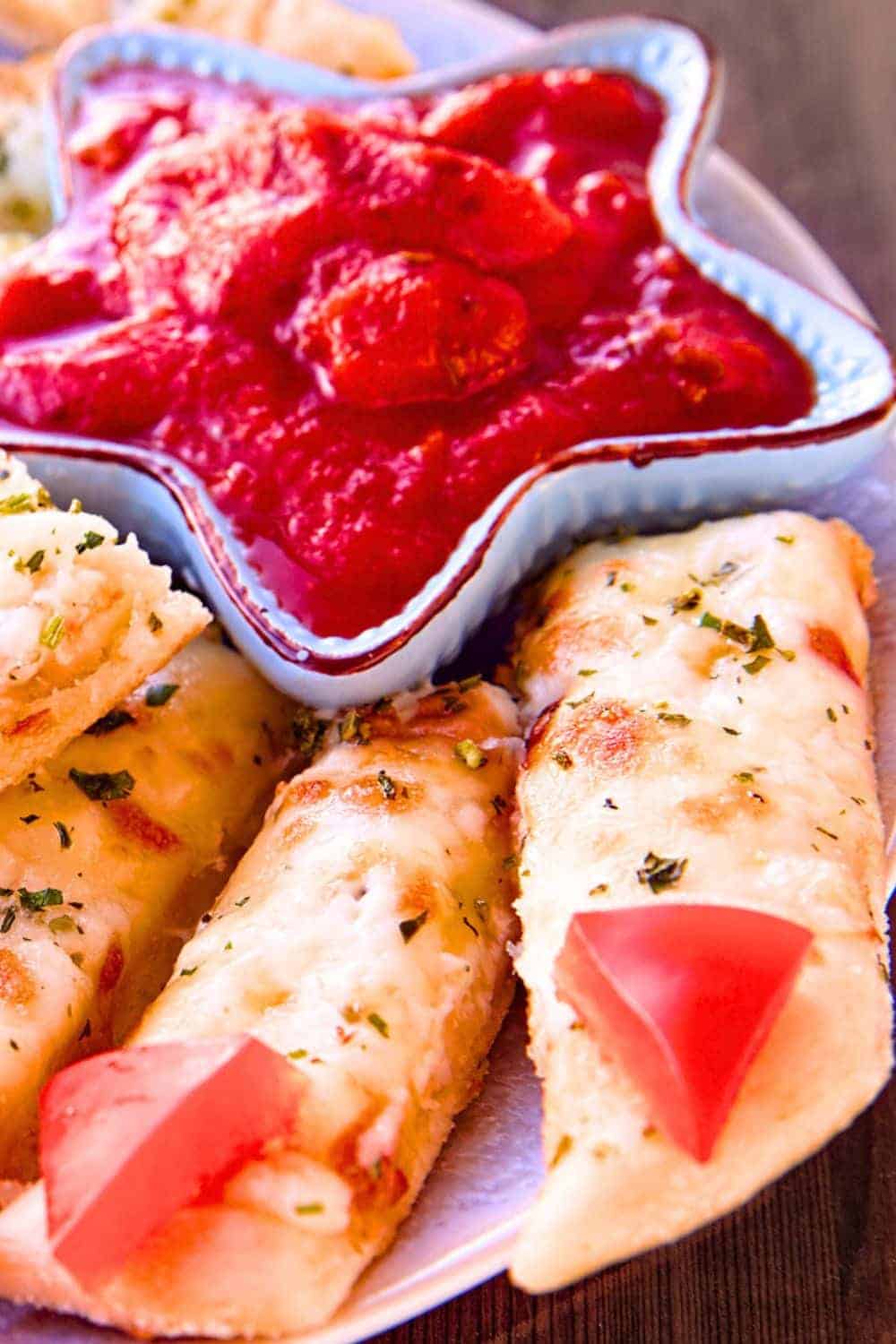 Severed Zombie Fingers
There are lots of ways that you can make zombie body parts, but these "finger" foods (heh, get it?) are my favorites!
Add bell pepper "fingernails" on the end of cheesy bread sticks for breadstick fingers.
Serve the zombie monster fingers with a side of marinara "blood" dipping sauce.
These are zombies snacks that everyone loves!
CHECK OUT MORE FUN CREEPY HALLOWEEN FOODS FOR CHILDREN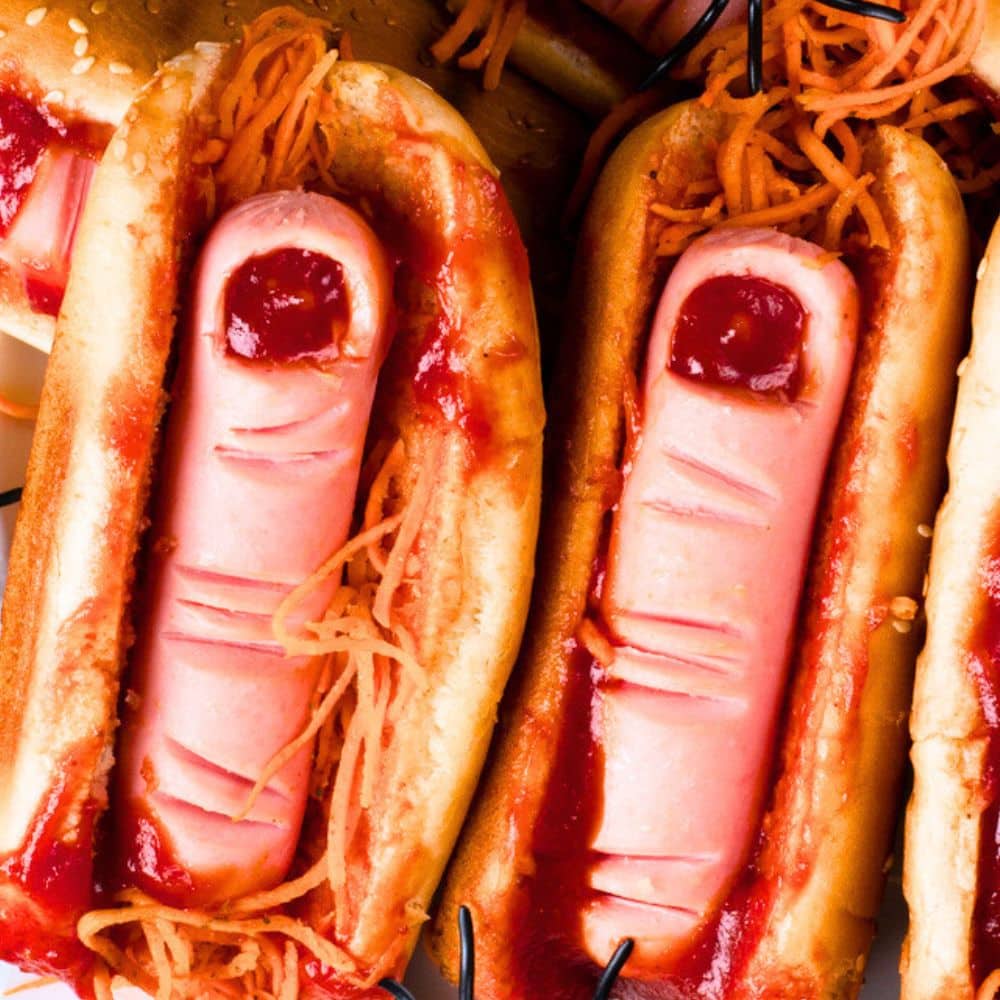 Or, you can make zombie hotdog fingers by cutting fingernail indentations and finger wrinkles into hotdogs. Then, place them on a bed of ketchup "blood" and cheese in a hotdog bun.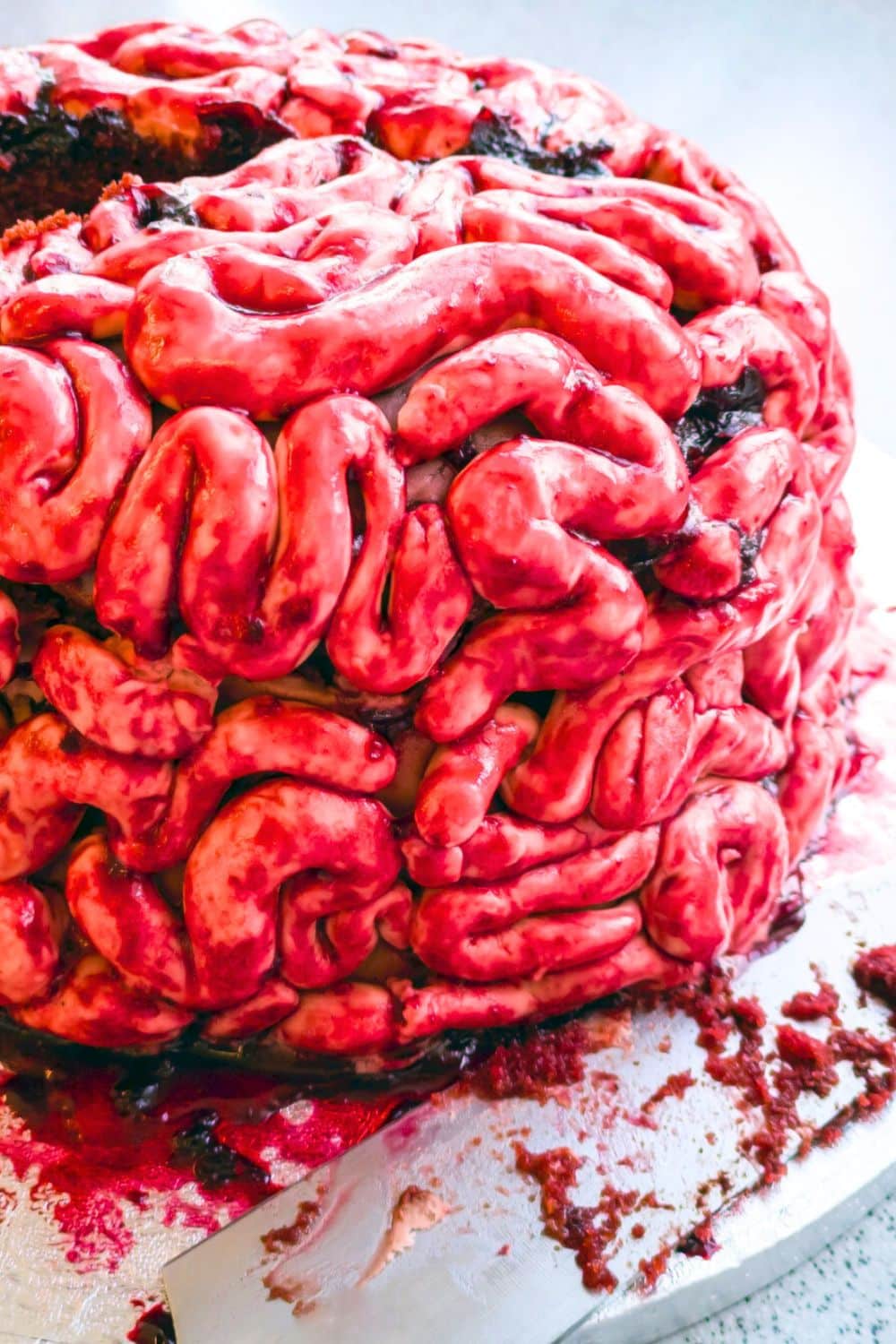 Zombie Brain Cake For Halloween Zombies
Bake a brain-shaped cake (use a brain cake mold like this with your favorite cake mix).
Then, instead of icing, baste on strawberry or cherry glaze to make a gooey, bloody brain.
You can also use red molding chocolate to make brains or also to make it an intestine cake.
This is one of those zombie desserts that look like really gross foods!
EASY ZOMBIE PARTY TIP: Short on time? Grab a white cake from the store and strawberry glaze. Spoon the glaze over top to look like blood and then plunge a knife into the top for a gory cake effect.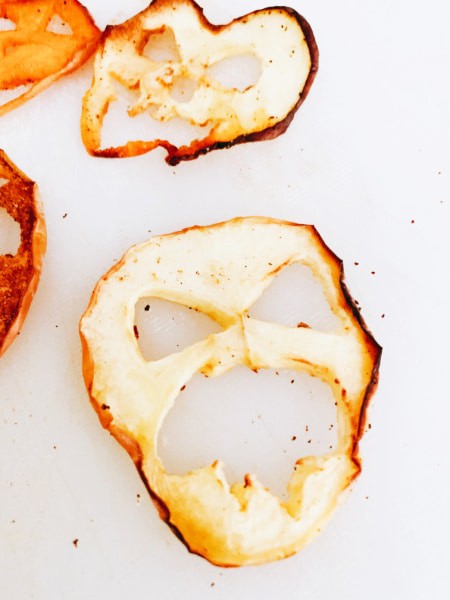 Zombie Apple Faces
Honestly? We've never laughed so hard when making a kids' recipe.
It was really fun to carve out apple zombies and then see how the faces turned out after cooking!
This is a fun food craft to do with kids for a zombie craft.
LEARN HOW TO MAKE APPLE ZOMBIES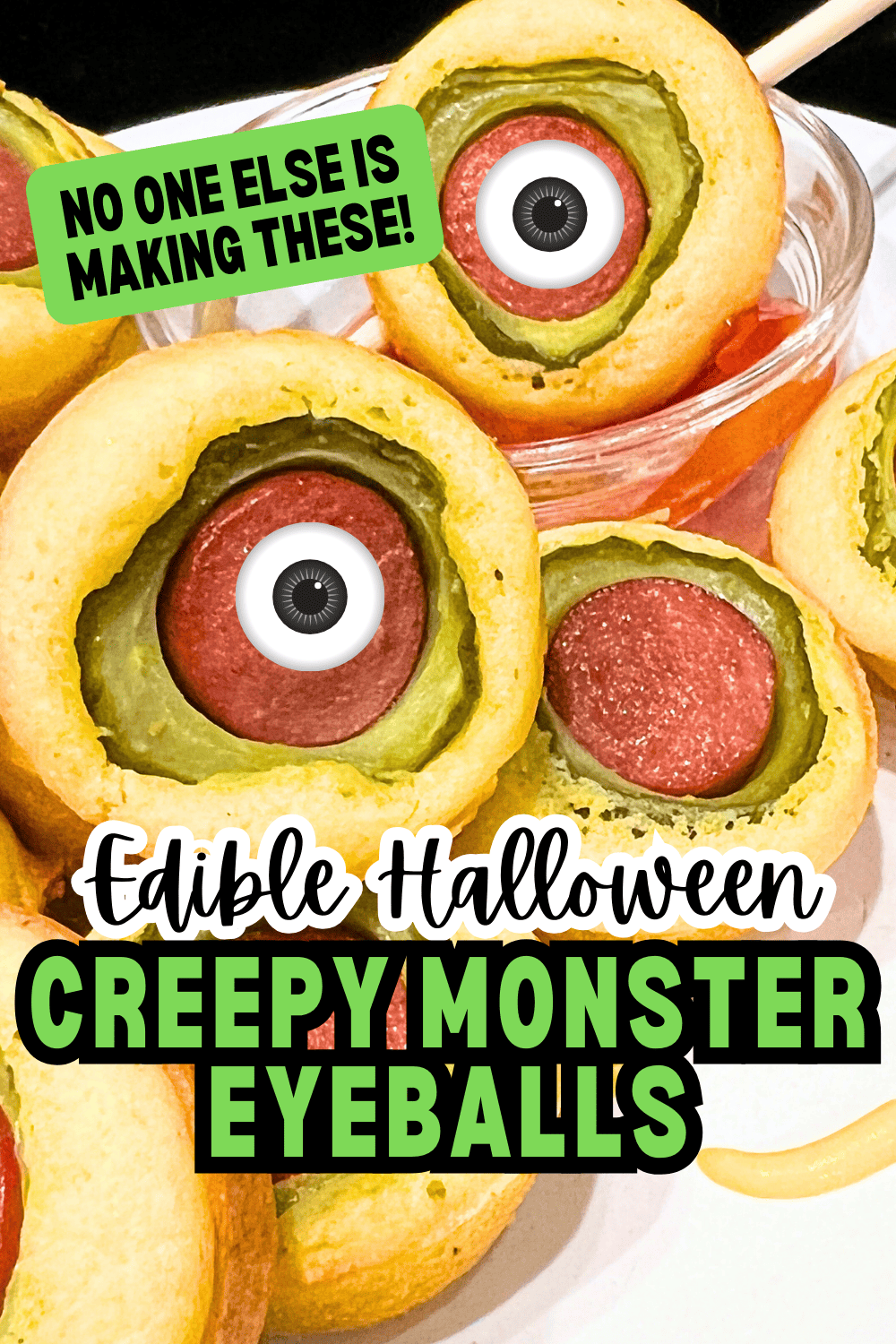 Pickle Dog Eyeballs
These pickle corn dog bites make great zombies foods if you add candy eyeballs to them!
GET PICKLE CORN DOG BITES RECIPE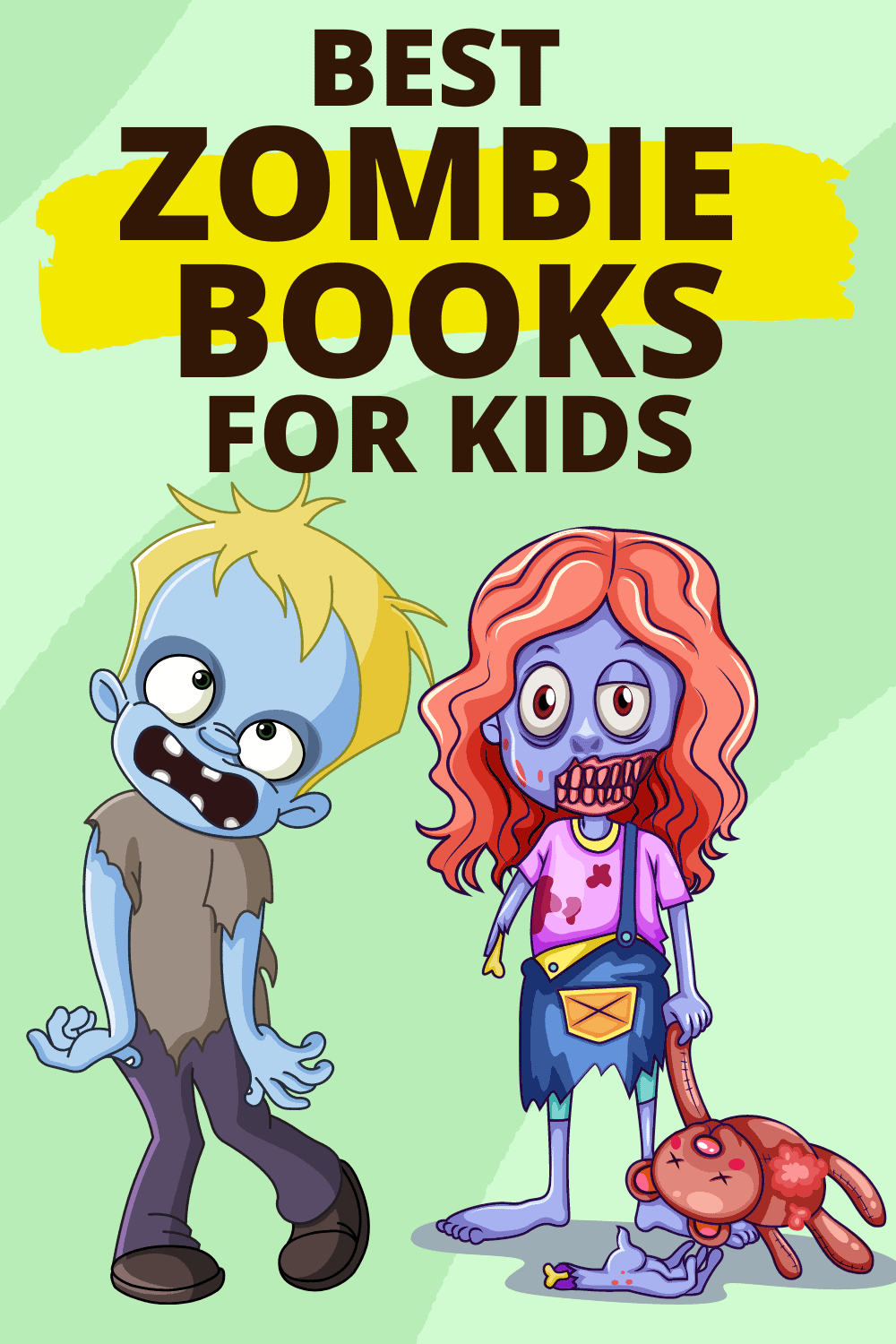 Keep The Zombie Fun Going!
Add some zombie themed books to your party or gathering to go with your zombie themed food and zombie food ideas! Great for your little zombies for Halloween or books for all year!
Children's Books On Zombies
Night of the Zombie Goldfish
Rot & Ruin Zombie Book Series
Dead City
Zombie Baseball Beatdown
Zombie Elementary
The Zombie Awakening
The Zombie Survival Guide
No Zombies Allowed
The Last Kids on Earth Series About Zombies
Better Off Undead
Peanut Butter & Brains: A Zombie Culinary Tale
SEE THE FULL LIST OF ZOMBIE BOOKS FOR KIDS
You'll Also Have Fun With These Halloween Food Hacks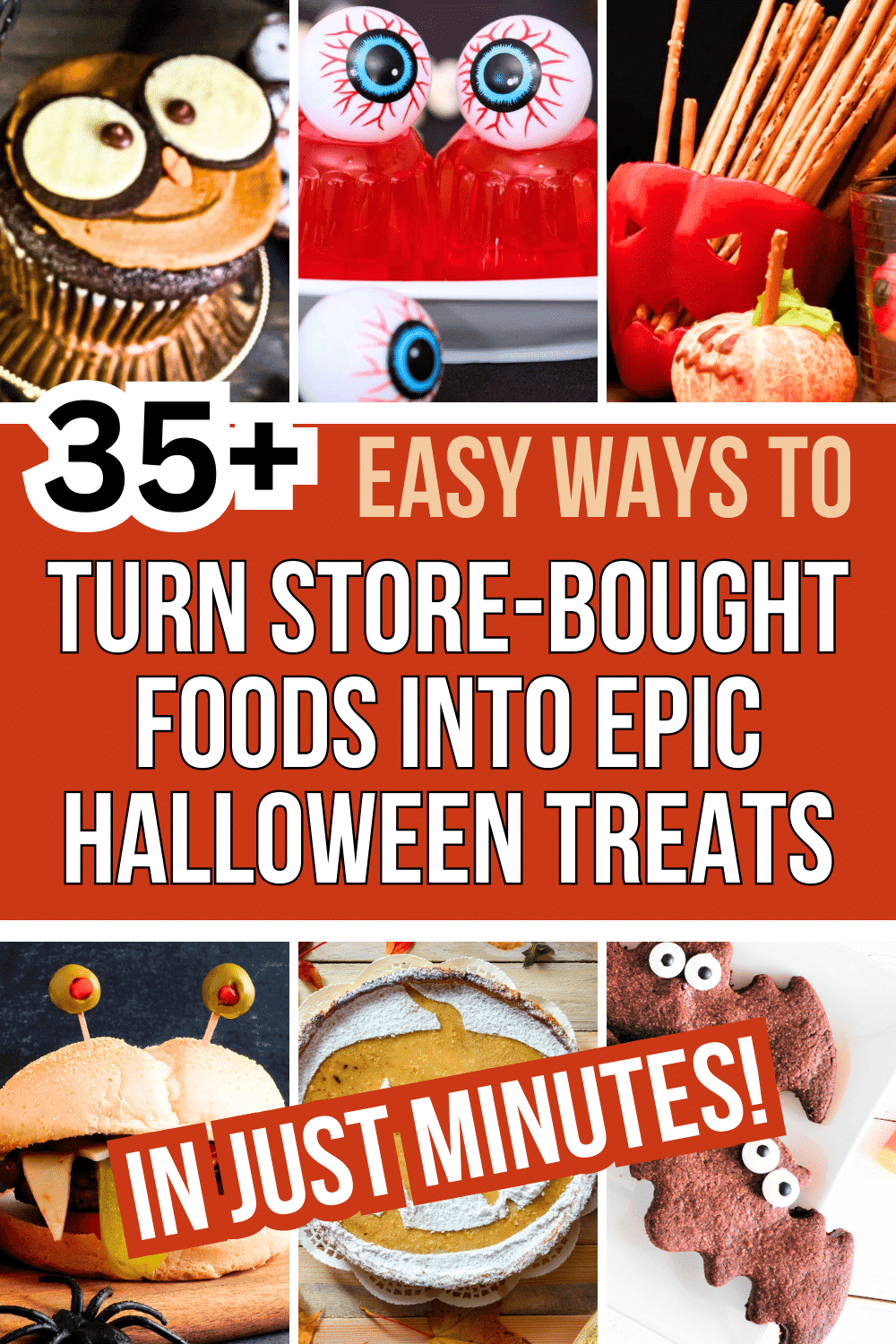 Let us know if you have any favorite zombie themed foods or fun zombie ideas for Halloween and we'll add them to our list!
Have fun with these zombie theme food ideas for your zombie themed party!
LOOKING FOR FUN COOKING PRINTABLES FOR KIDS?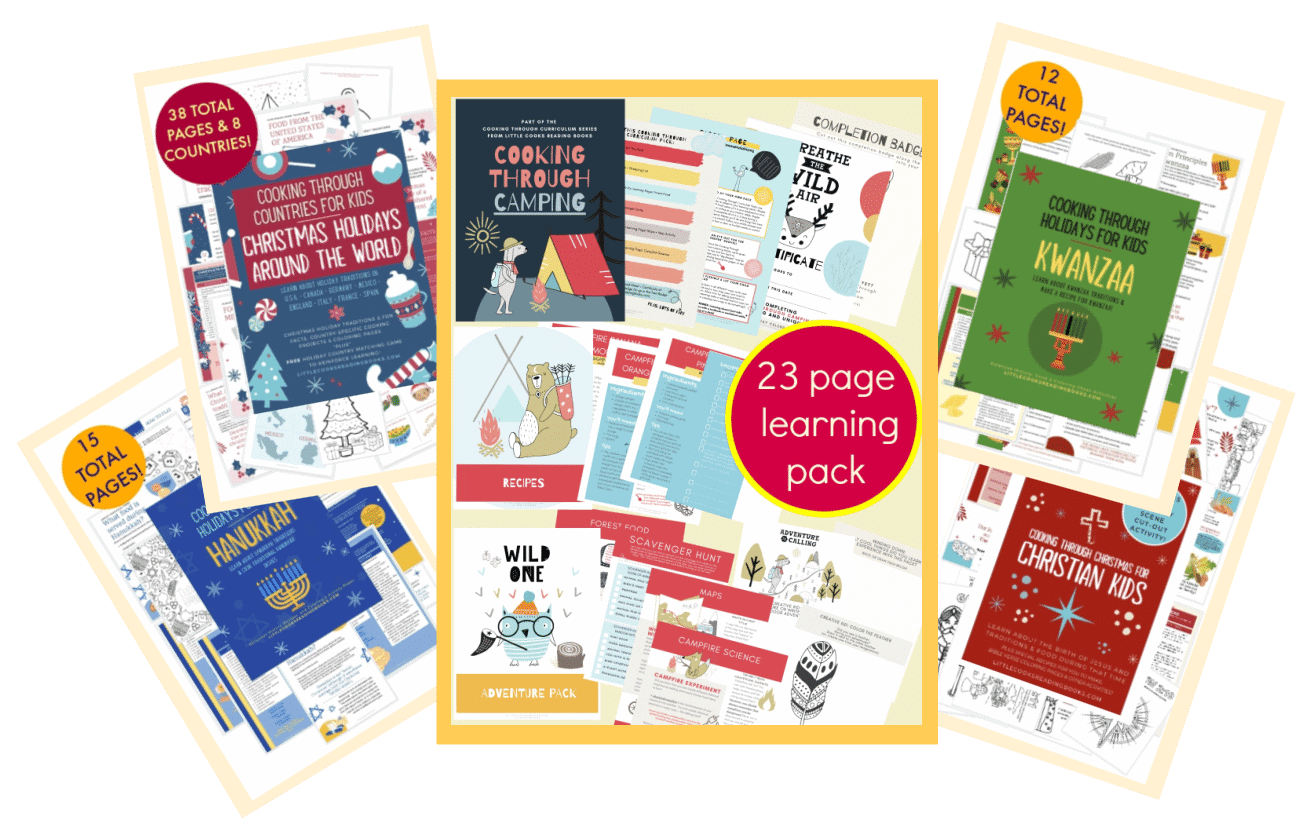 As an Amazon Associate I earn from qualifying purchases. Please refer to our
DISCLOSURE
.