Easy DIY backpacking snacks for nature hikes with children. Easy kid-friendly snack ideas for hiking, nature walks, or longer back pack trips. Best trail food to keep energy high and small tummies full! (They even work for homemade snacks for travelling and snacks to bring to the park!)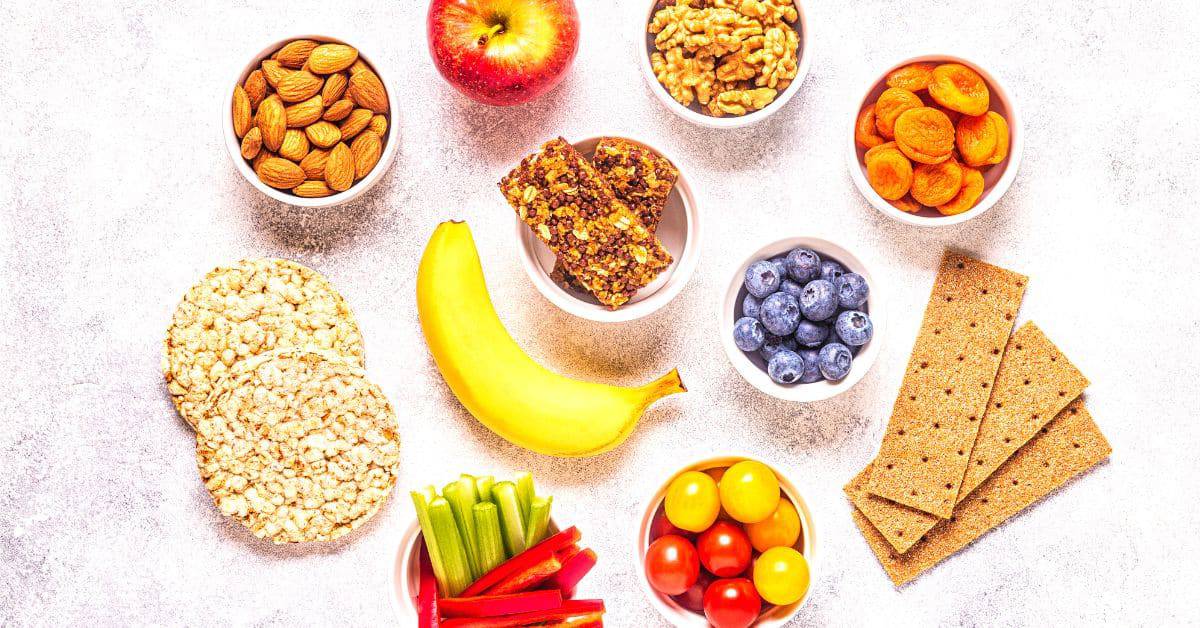 DIY Backpacking Snacks For Family Hiking
Here are simple snacks for backpacking with family — yummy snacks your kids will actually eat (including backpacking meals for picky eaters and backpacking foods that don't need refrigeration!). Great lunch for hiking ideas whether you need winter snacks for preschoolers hiking or summer backpacking foods!
What are some yummy snacks for kids?
Kid-Approved Hiking Snacks:
Homemade trail mix / Gorp / Scroggin (or other trail snack ideas)
Beef jerky
Carrot sticks
Nut butters in single serving packs
Granola
Frozen grapes
Tuna pouches
Dried fruit
Mediterranean fruit and nut mix
Apple
Raisins
Rice cakes with peanut butter
Healthy home-baked treats
Graham crackers and peanut butter
Peanut butter and celery
Roasted flavored chickpeas
Orange
Pretzels
Salami or pepperoni slices
Energy bars / granola bars
Squeeze fruit
Fruit leather
KEEP SCROLLING for the DIY backpacking food kids and adults will love! Big list of backpacking snacks ideas, including homemade backpacking snacks! (Even good hiking snacks for toddlers and best lunches for hiking with little ones!)
Affiliate links are used on this site. As an Amazon Associate I earn from qualifying purchases. Read more in our DISCLOSURE.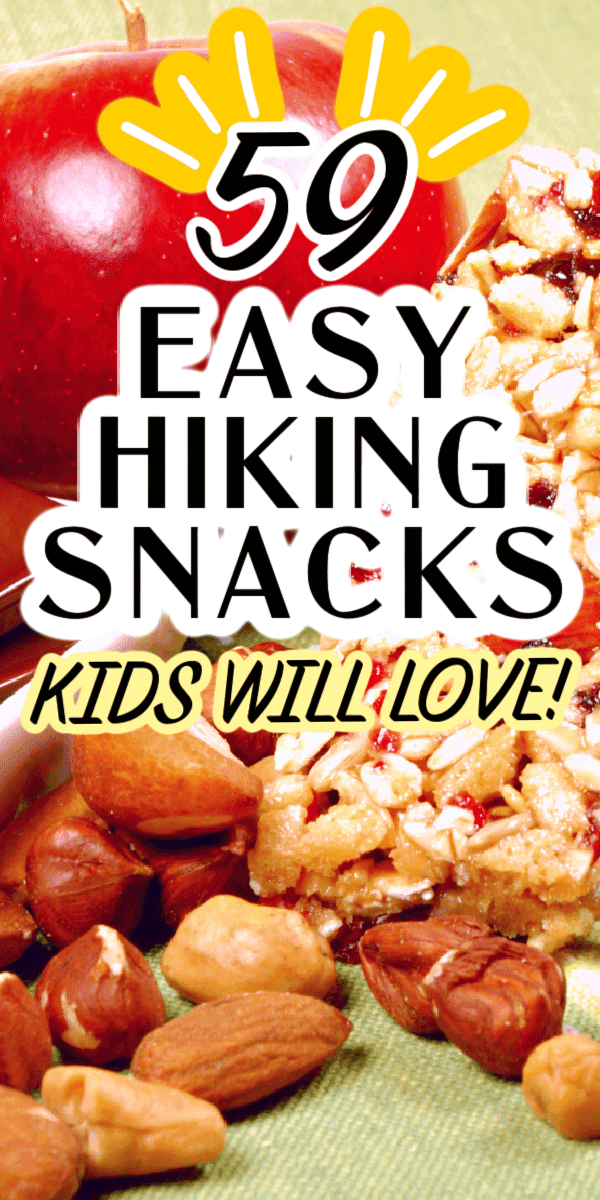 DIY Hiking Snacks Tips
1. Make sure the back pack snacks are something they'll actually eat.
This may seem obvious, but packing foods that end up in the bottom of your pack is just a waste of time and money, even if they are convenient.
Getting your kids involved in a lunch to pack for hiking will insure that they eat what you bring!
2. Look for foods that are easy to carry with you when backpacking.
It doesn't matter if you're going for an afternoon nature hike or an entire day backpacking trip with kids, the hiking food you bring needs to be lightweight enough to carry while walking (especially if kids are carrying their own food).
Cut up watermelon in a container might sound good after a long hike, but it might not be the easiest to pack and carry.
3. Pack snacks that you can eat out of their own container.
Packaged foods like squeeze fruit and jerky sticks are easy to eat right out of their packaging.
Don't forget to teach kids to pack out whatever you bring in (and not throw their food packages down during your hikes).
4. Remember to pack plenty of water as well.
You and your kids will feel the effects if you're not drinking enough fluids.
While snacks will help keep them going during your hike, you need to make sure they're staying hydrated as well.
Check out hydration backpacks like these that even your kids can carry!
ALSO TRY THESE BEACH DAY OR LAKE SNACK IDEAS: Fun Beach Snacks For Kids
What are some healthy prepackaged snacks for kids?
There are good hiking snacks to bring that are already packaged and ready to go with no extra effort from you!
Pre-packaged easy snacks for hiking:
P3 snack packs (my daughter's favorite hiking snack!)
Individual pretzel bags
Trail mix mini packs
Dried fruit packs
Granola bars
Individual sunflower seed packets
Squeeze fruit pouches
Tuna packs
Almond butter packs (

we love this brand

)
Whole grain Sun Chips mini bags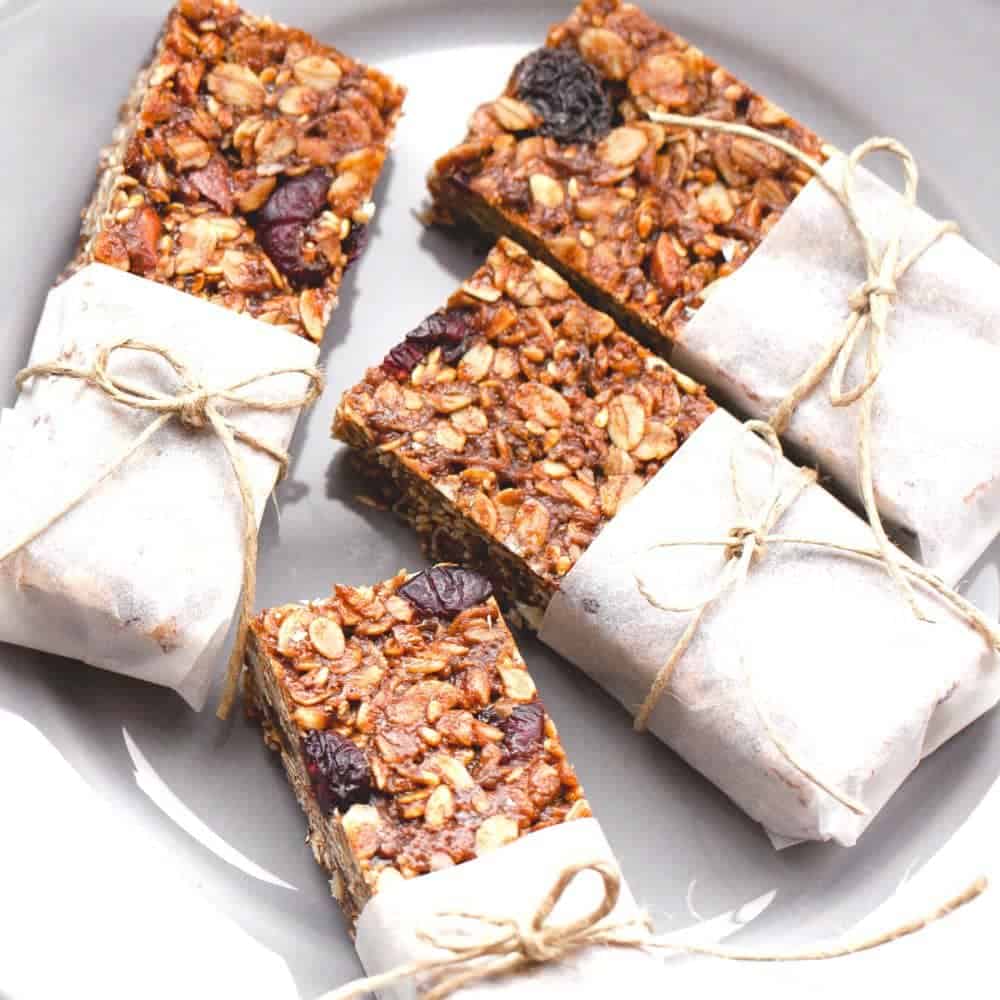 Healthy Hiking Snacks For Kids (Best Snacks For Kids To Eat While Backpacking)
If you are planning a family hiking trip, it can be tough to find snacks that both kids and parents will enjoy.
While sweets and junk food might seem like the most appealing options (especially since they are pre-packaged and easy to carry), these are actually not ideal for a day on the trail.
Instead, you should focus on packing healthy, wholesome snacks that provide plenty of energy without weighing you down — whether you're doing a day hike or a longer backpacking trip.
Some good options to consider include fresh fruits, dried fruits and nuts, granola bars, trail mix, and lots of water or other hydrating fluids. You can bag your own with these reusable DIY snack bag with zipper closures (one of our favorite reusable backpacking ideas!).
Remember that it is important to stay well-hydrated both before and during your hike, so be sure to include a lot of water when planning what snacks to take hiking!
DIY Backpacking Food Ideas for Children
Here are some of the best foods to bring hiking with kids…
Fruit
Whether fresh or dried, fruit is an excellent choice for both kids and adult hiking food.
Fruit provides the body with sugars that are easily absorbed into the system, as well as essential vitamins and minerals like potassium and vitamin C.
Pairing it with a protein source can help keep sugar levels stable throughout your hike.
They make simple healthy snacks for hiking!
Nuts
Nuts are a great source of protein, fat, and fiber and also make good snacks for hiking.
Some nuts, like almonds and cashews, are particularly rich in vitamin E and magnesium as well.
They require no cooking or preparation and you can easily bring them along on your hike.
Look for raw unsalted varieties to get the most nutritional value from them and so your kids don't get too thirsty from salty snacks.
ALSO CHECK OUT: How To Roast Flavored Pumpkin Seeds
Jerky
Jerky is the perfect answer for a hiker who wants to pack as much protein as possible into their day.
The best backpacking snacks are those that don't require cooking or additional preparation.
(Plus, you can get all different kinds and flavors of jerky!)
Cheese Sticks
Stick cheeses are great for short hikes or if you're taking a food cooling pack with you.
Cheese sticks are perfect for backpacking with kids because they come individually wrapped for easy packing and are available in a wide variety of flavors and types to meet all the kids needs.
Dried Fruit
Dried fruits are easy to carry, will help to keep your energy levels up, and are easy ideas for food to bring for hiking.
You can buy pre-packaged freeze dried fruit snacks like these (that are super light to carry in a kids' backpack) or make your own dried fruit in a dehydrator or in the oven!
ALSO CHECK OUT: How To Dry Your Own Apples
Energy Bars / Granola Bars
Granola and energy bars are another good option, especially if you're planning a long hike because they contain enough calories and carbs to fuel your body throughout the day and will also help kids feel fuller longer.
Trail Mix
Trail mix is a favorite backpacking foods because it's easy, flavorful, gives hikers energy, and won't go bad in your bag — all which makes it one of the best snacks for hikers.
Trail mix is also a great for homemade backpacking food ideas because you can make your own granola and then add in the snack items that work best for your family.
These are definitely good snacks to bring hiking for kids!
Juice Powders
Those individual juice powder packets like this are also great to take along on backpacking trips because they help replace any electrolytes lost (especially if you're hiking on hot days!).
They are also fun for kids and they can easily add them to their water bottles.
Great idea if you have a hard time getting your kids to drink water, too!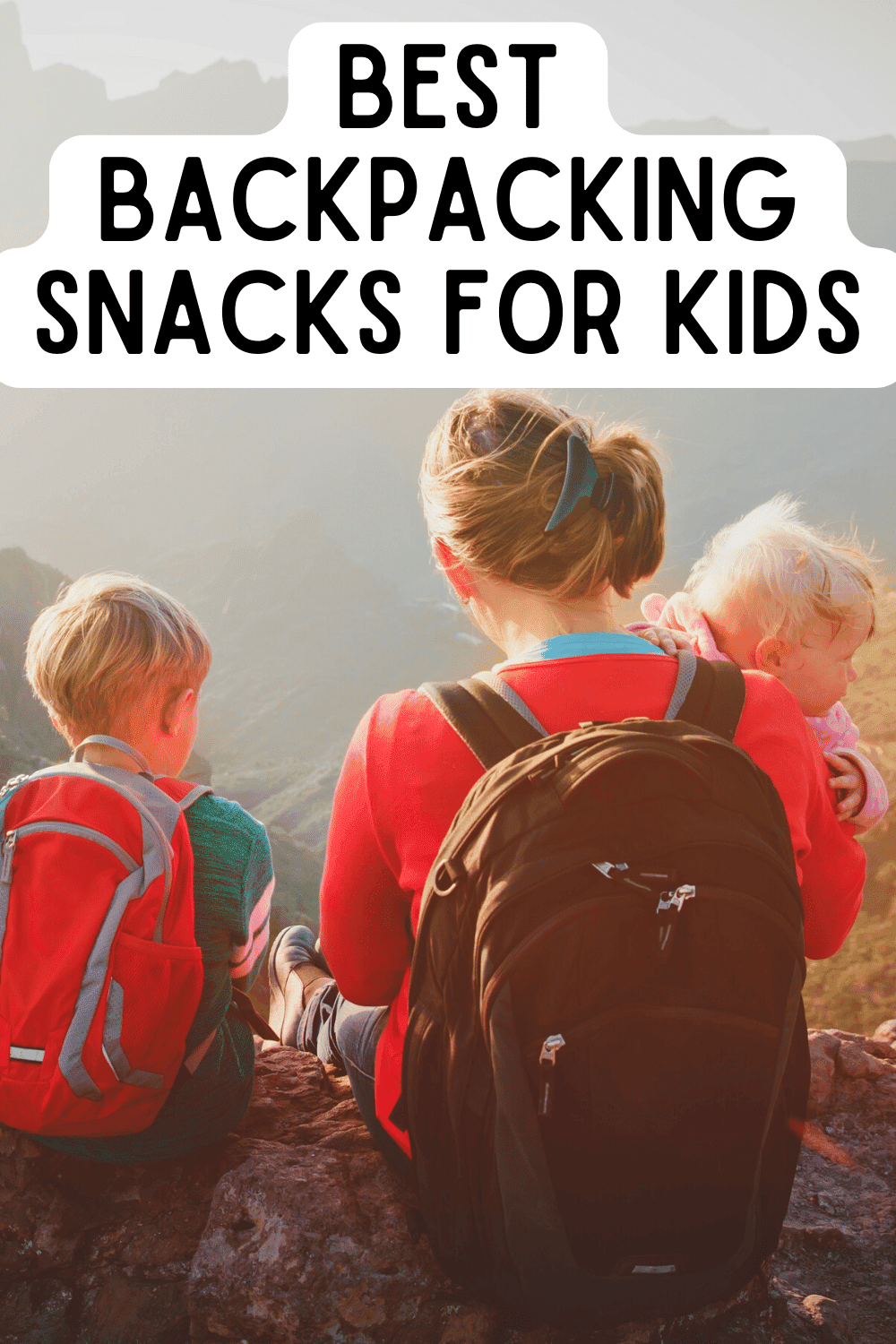 More Easy Backpacking Snacks
Here are more hiking snacks ideas…
What Snacks To Pack For A Hike
Sandwich wraps / rollups (our favorite ideas for hiking lunches!)
Banana
Honey Nut Cheerios (dry) or oat cereal
Trails best salami sticks
Peanut butter and jelly sandwiches
Hummus with vegetables or pita bread
Craisins
Air popped popcorn with dried spice flavorings like this
Energy balls or protein balls made from nuts, seeds, dates, and dried fruit
Banana bread
Mini tomatoes
Frozen yogurt tubes
Tangerines
Peanut butter crackers
Fruit leather or homemade fruit roll-ups
Dried meats like salami, pepperoni, or jerky
Packaged cheese and crackers
Mini bagels and individual honey packets
Mashed avocado (they can eat it right out of the baggie or on a bagel for easy trail lunch ideas!)
Roasted chickpeas with spices
Cheese crisps made from tortillas and cheese slices
Homemade veggie chips
Dried fruit medley (like apples, apricots, cherries, bananas, etc.)
Let us know your favorite snacks for backpacking trips, best hiking lunch, and good ideas for hiking food and we'll add them to our list!
READ THIS NEXT: How To Hike With Kids: Beginner Hiking Tips for Family
As a parent of children who love to be outdoors and go on backpacking trips with you, you know how important it is to have healthy snacks and best hiking lunches that are also easy to take on the trail.
Whether you need something to keep your kids satisfied during a long hike or you just want to have some nutritious snacks to share with friends and family around the campfire at the end of a long day, these are some of the best DIY backpacking snacks for kids.
Enjoy your DIY backpacking snacks!
LOOKING FOR FUN COOKING PRINTABLES FOR KIDS?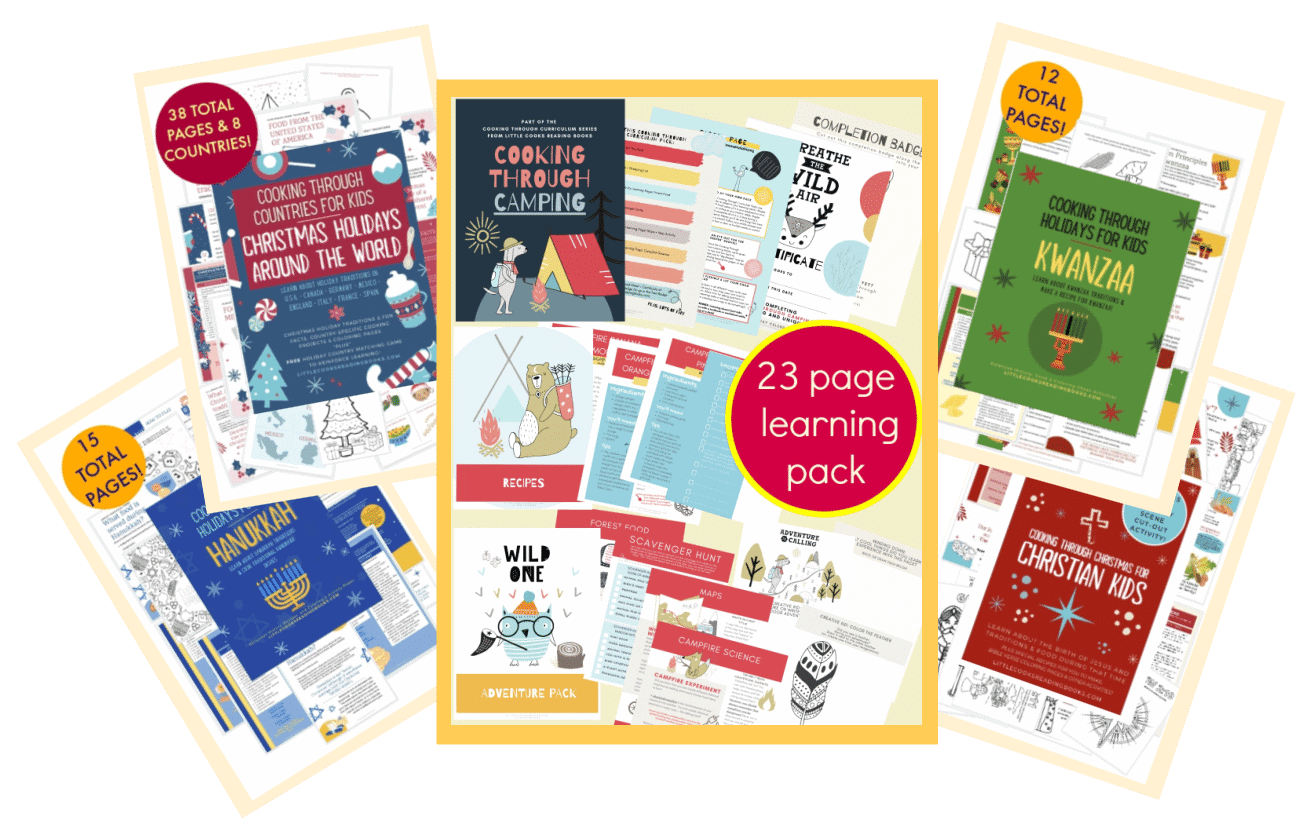 As an Amazon Associate I earn from qualifying purchases. Please refer to our
DISCLOSURE
.