Want to have fun with a popcorn balls recipe? Make these Purple People Eater popcorn balls with marshmallow — great ideas for Halloween treats, ideas for Halloween food, a cute Halloween party table or theme party snacks!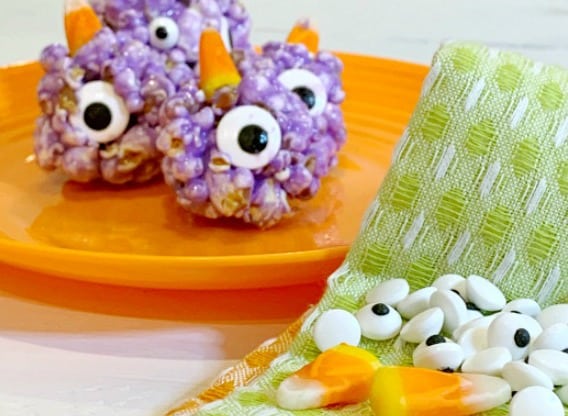 Popcorn Balls: Halloween
I love popcorn balls old fashioned way (you know the Karo syrup popcorn balls recipe). Those are the treats that I remembered from my childhood Halloween trick-or-treating.
So, I was a little skeptical about these popcorn balls with marshmallows.
But … they are soooooo good. This will be my new way to these easy desserts (and favorite popcorn balls homemade)!
If you're looking for a popcorn balls easy recipe, this is it!
Affiliate links are used on this site. As an Amazon Associate I earn from qualifying purchases. Read more in our DISCLOSURE.
Before we get to the recipe, let's answer some questions about making popcorn balls that will help you out with the recipe.
What are popcorn balls made of?
There are popcorn balls caramel, old-fashioned popcorn balls with molasses, popcorn balls with Jello (on our list to try!), and popcorn balls with marshmallows (which is the one we made for this recipe). There popcorn balls without corn syrup.
The ones with marshmallows that we made here are without corn syrup and stick together just fine!
How long do popcorn balls stay fresh?
So, how long do popcorn balls last? Popcorn balls will stay fresh for up to a week in a sealed container, but eat some immediately! They are best the day you make them!
Can you freeze popcorn balls?
If you want to freeze popcorn balls, first wrap each one individually in plastic wrap and then place in a freezer bag.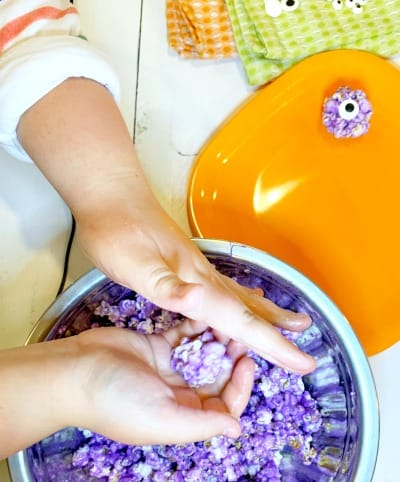 Secret Recipe Tips for the Best Popcorn Balls
OK. I have some super secret tips for making popcorn balls:
I use white popcorn. I think white popcorn makes a crispier popcorn ball.
SALT YOUR POPCORN! This is something that many people don't do and then they talk about their popcorn balls tasting bland. The saltiness balances out the sweetness of the marshmallows perfectly for yummy popcorn balls!
Although we love to make popcorn the old-fashioned way (on the stove, described in the recipe), for a few years now we've used this brand of popcorn maker that we absolutely love. It still has that yummy (oil) taste that microwave popcorn misses and it's fast, easy, and fun to watch!
Purple People Eater Popcorn Balls Pairing
For our reading and recipe pairing, we didn't . . . use a book this time.
Instead, we decided to do a singing and recipe project using the Purple People Eater song because my daughter (STILL) thinks that song is so funny! (Plus, it's a fun Halloween theme!)
If you're not familiar with the song, you're in for a treat!
It's actually a song from 1958 by the singer Sheb Wooley. (You can stream it on Pandora for free or find it on YouTube).
The song starts:
Well, I saw the thing comin' out of the sky

It had the one long horn, one big eye

I commenced to shakin' and I said "ooh-eee"

It looks like a purple eater to me
It was a one-eyed, one-horned, flyin' purple people eater

(One-eyed, one-horned, flyin' purple people eater)

A one-eyed, one-horned, flyin' purple people eater

Sure looks strange to me (one eye?)
And, it just gets stranger from there.
It made for such a fun song to pair with this recipe!
We made Halloween popcorn balls, but you can make these as popcorn balls for Christmas by changing up the colors (and leaving off the horn and eyes). The popcorn ball recipe is the same!
---
---
How To Make Popcorn Balls
We made mini Purple People Eaters with this recipe for popcorn balls and it made about 20 1- to 2-inch popcorn balls.
However, the number that it makes will depend on how large or small you make your popcorn balls.
Yield: 20
Purple People Eater Popcorn Balls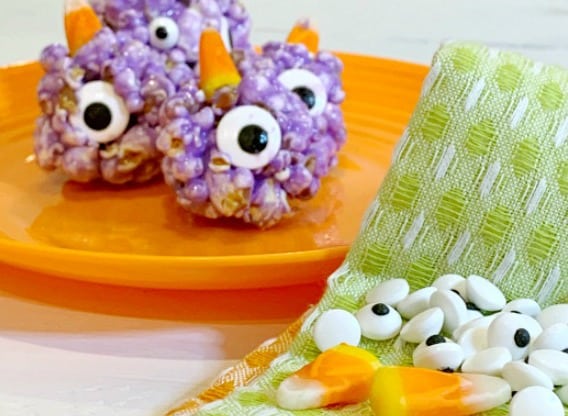 This popcorn balls recipe with marshmallows is so fun to make into Purple People Eaters. If you want regular popcorn balls, just leave out the purple food coloring. The rest of the recipe stays the same.
Additional Time
20 minutes
Ingredients
1 Tablespoon vegetable oil
1/2 Cup unpopped white popcorn
8 Tablespoons butter
5 Cups miniature marshmallows
Salt (to taste)
Purple food coloring gel
Candy Corn
Jumbo candy eyes
Decorating icing (optional, to affix eyes/candy corn)
Non-stick cooking oil spray (for hands)
Instructions
Add vegetable oil to pan and heat on high until hot.
Add popcorn to pan and cover with lid. Shake pan to keep popcorn moving until all the kernels are popped. Immediately remove from heat when popcorn stops popping. Transfer to a large bowl. Salt to taste.
Melt butter in pot over low heat. Stir in marshmallows and continue cooking, stirring constantly until marshmallows are melted.
Add purple gel food coloring to melted marshmallows and stir until you get the desired purple. Immediately pour over popcorn. Mix with spoon (sprayed with cooking oil) and stir until completely covered.
Spray hands with non-stick cooking oil spray. Make small popcorn balls (we made mini ones, about the size of our palms) by forming a ball in with your hands.
Use your thumb to make a small indentation and immediately place the candy eye in the center.
Gently push a Candy Corn into the top of the head for the horn.
Place on parchment paper to harden.
Notes
If the candy eye or Candy Corn doesn't want to to stick to the popcorn ball, use a little bit of white decorating icing (in the canisters with the spray nozzle) to get them to stick.
Recommended Products
Affiliate links are used on this site. As an Amazon Associate I earn from qualifying purchases.
Nutrition Information:
Yield:
20
Serving Size:
1
Amount Per Serving:
Calories:

122
Total Fat:

6g
Saturated Fat:

3g
Trans Fat:

0g
Unsaturated Fat:

3g
Cholesterol:

12mg
Sodium:

82mg
Carbohydrates:

17g
Fiber:

0g
Sugar:

13g
Protein:

0g
Nutrition information is estimated. Changes to the recipe and use of different brands may cause changes to the nutritional information to vary slightly from the ones provided here.
Why won't my popcorn balls stick together?
In some cases, you may find that your popcorn balls won't stick together. If you're making the popcorn balls with syrup or molasses, the liquid might be too hot and "thin." It might help to let the liquid sit for a minute. Also, if the syrup is too cool or the popcorn mixture has cooled completely, you might have a hard time getting the popcorn to form into balls. If you're using marshmallows, the popcorn will easily form into balls if you do it immediately.
This popcorn balls recipe can be adapted to any theme (just change the food coloring color or leave them plain!).
As an Amazon Associate I earn from qualifying purchases. Please refer to our
DISCLOSURE
.