Have leftover Halloween candy? Here's how you can sell your candy, make leftover Halloween candy recipes, cookies and bars, do some candy science and crafts, learn where to donate leftover Halloween candy, and more! Whether you have leftover fun size candy bars or wondering what to do with leftover lollipops (does Halloween candy expire?), we've got you covered — and it doesn't even involve binging on candy!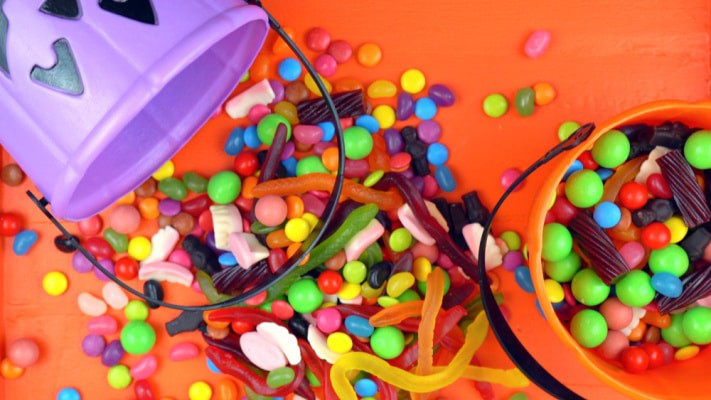 What can you do with leftover Halloween candy?
It's that time of year! Halloween is over and you're looking at that big bag of leftover Halloween candy sitting on the table and thinking, "What are we ever going to do with all that leftover candy corn?"
No matter how much you love your favorite candy for Halloween, you're probably not going to eat it all.
Here are clever ways to get rid of excess Halloween candy…
Ideas for Leftover Halloween Candy
Sell the leftover candy with Halloween candy buybacks.
Donate Halloween candy to local organizations / charitable organizations.
Freeze it.
Bake with the candy and make leftover Halloween candy cookies!
Keep it. (Candy has a long shelf life!)
Cook with the candy.
Bake easy cookies with leftover Halloween candy using refrigerated sugar cookie dough (like a candy corn cookie bar!).
Give it to a local food pantry.
Trade it out with the Switch Witch.
Use melted-down candy for fondue.
Make leftover Halloween candy fudge.
Fill a mason jar with candy for Christmas gifts or Thanksgiving gifts.
Make Halloween candy pie (or other recipes using leftover Halloween candy!).
Bake recipes to use up chocolate bars.
Make leftover Halloween candy bark.
Save those candy corns for Thanksgiving decorating and baking.
Use the Halloween candy for decorations.
Make thank you bags for first responders in your community.
Use chopped-up candy for ice cream toppings or milk shakes.
Donate leftover Halloween candy to our troops. (Or, search places to donate halloween candy near me or where to give leftover halloween candy for troops.)
Make theme party drinks with them.
Use chocolate candies to make homemade party mix (and other party recipes).
Bake a cake with leftover Halloween candy.
Decorate monster cake pops.
Use excess candy in holiday baskets for raffle tickets and donate proceeds from the tickets to charity.
Do candy science.
Add candy to boxed brownie mix for easy leftover Halloween candy brownies.
Mix the candy with rice krispies treats.
Make leftover Halloween candy cookie bars.
Bake leftover Halloween candy cake recipes.
Make candy crafts.
Throw it out.
See the full list and details below on how do you get rid of Halloween candy, including how to donate leftover Halloween candy / where to take leftover Halloween candy if you don't want it, where to send leftover Halloween candy, Halloween food ideas, how to store leftover Halloween candy, and more great ideas! KEEP SCROLLING!
MORE HALLOWEEN IDEAS:
What To Do With Your Leftover Halloween Pumpkins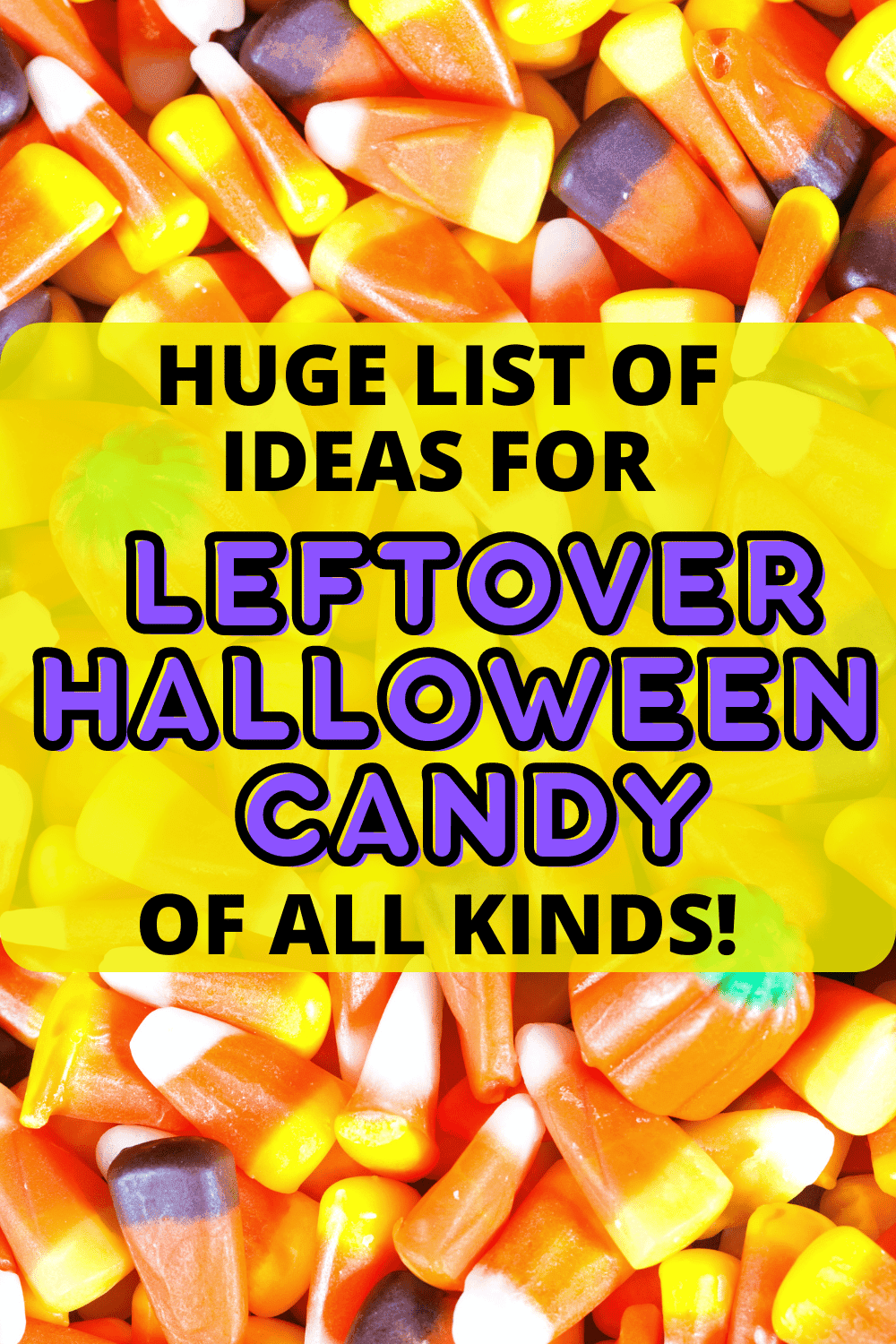 Can you donate leftover Halloween candy?
Yes! There are many places that will take wrapped, unopened Halloween candy that has not expired. Call ahead to the nonprofit organization or where you want to donate to check with them first, or search: who takes leftover Halloween candy near me.
You may also be wondering when does Halloween candy expire…
Can I save leftover Halloween candy for next year?
If you have too much candy, Halloween candy can be stored in an airtight container (like a resealable plastic freezer bag) and frozen for a up to a year. If you want to save your leftover Halloween candy to bake with or use in projects over the next year, store it in the freezer and be sure to date the bag for expiration. It's good for personal use this way, but not recommended to give out for trick-or-treat candy again.
What To Do With Leftover Hard Candy
If you're wondering what to do with leftover lollipops or hard candies, try:
Bake stained glass cookies
Make candy bark
Add to teas or hot cocoa
Decorate gingerbread houses with them
Make candy apples with them
Grind them up for a whipped cream topping for drinks and desserts
Use it for stocking stuffers or in advent calendars
Make treat bags and donate them for kids in a shelter
Hand them out on kindness cards (I love this idea for what to do with leftover candy for any holiday!)
Look up a hard candy recipe and cook with them
What To Do With Old Chocolate Bars
Wondering what to do with leftover chocolate or leftover Halloween candy bars?
Make hot chocolate
Shave or chop and add to whipped cream for desserts or drink toppings
Make a chocolate syrup or sauce for ice cream
Add to icing
Make milkshakes
Make ice cream toppings or place them in small bowls for a DIY sundae bar
Add to brownies (candy bar brownies), cookies or cookie bars
Decorate gingerbread houses
OK!
Ready for leftover Halloween candy ideas (aside from just getting this cute pumpkin jar, filling it with the candy, and then eating it until it's gone?)?
We'll go into more detail on the creative ways you can whittle away at that mound of sugar starting right after Halloween.
Let's get to those unique ways to use leftover Halloween candy! (You'll definitely find something in this huge list of things to do with leftover Halloween candy!)
Tips for Using Candy Leftover from Halloween or Holidays
Sell your leftover Halloween candy.
Many local dental offices participate in "buy back" programs where you can get coupons to local businesses, fun items or even cash.
Check out the Halloween Candy Buy Back site to find dentists near you participating in the program.
Donate your leftover Halloween candy.
Yes, treat or treat candy donations are a thing! (My number one best way to get rid of Halloween candy!)
Call your local homeless shelters, women's shelters, or even nursing homes to see if they would like the unopened candy.
For many staying in those places, candy will be a nice treat that they don't often spend money on as a splurge.
TIP: Check with the organization because if you're shipping them they often want non chocolate candy.
Who takes leftover Halloween candy?
Children's hospitals
Women's shelters
Homeless shelter
Food banks
Nursing homes
Deployed soldiers, service members, and troops overseas (Check out care packages for Operation Gratitude, Operation Stars & Stripes, or Soldiers' Angels Treats)
Ronald McDonald House Charities
Operation Shoebox (*check this because I think they've changed their rules on taking food or candy)
Other great programs in your community / any other good cause in your community is a great option to get rid of candy!
You can also search where to donate leftover Halloween candy near me and see if anything comes up! This is one of my favorite uses for leftover Halloween candy!
Store the Halloween candy or freeze candy.
How long can you keep Halloween candy?
Did you know candy usually has a pretty long shelf life, sometimes between six months to one year. Store your candy and it will keep for many months!
How do you store leftover Halloween candy?
If you plan on keeping your Halloween candy, it should be stored in an airtight container in a cool, dry place (like in the pantry and not at a warm room temperature) or even freeze Halloween candy leftovers!
If you're wondering can you freeze leftover Halloween candy, the answer is YES!
Freezing Halloween candy:
Most candy will freeze just fine to keep for later dates and extend candy life well past the expiration date. Just be aware that when freezing chocolate that it often has light discoloration to it. That's completely normal and is still fine to eat.
The freezing method will also help you to monitor candy consumption. It's easier for kids (or you) to eat three Snickers out of a bag then to wait for the same three to thaw before you eat them. (BONUS!)
Cook or bake with the Halloween candy.
There are so many great recipes out there for using Halloween candy — from candy bars to Red Hots and even those traditional candy corns.
Try the Snickers Salad, turkey cookies for Thanksgiving, or search the internet for recipes using the kind of candy you have left.
Ideas on what to make with leftover Halloween candy:
Snickers Salad with Apples (good with Milky Way bars, too!)
Brownies with leftover halloween candy – almost any Halloween leftovers are good in brownies (M&Ms, Nerds, chopped up candy bars, etc.)
Leftover Halloween candy bark
Leftover Halloween Candy blondies (or brownies)

Crazy Confetti Compost Cookies

(where you can use Halloween candy bars and pretzels or any other candy leftovers to bake cookies with leftover Halloween candy!)
…Or many other desserts using leftover Halloween candy!
Decorate with the candy.
With upcoming holidays, you will have plenty of opportunities to use the candy for homemade baking gifts and decorations.
Just sort out (or unwrap) the ones that are in traditional Halloween black and orange and go from there.
And, believe me, a box of Nerds can make an awesome cookie or gingerbread house decoration. No one will even guess they are from Halloween.
Make party drinks with candy.
Look, why are the kids the only ones who get to have fun?
Using leftover candy to make or garnish yummy adult drinks (or even "virgin" drinks for kids) for your holiday parties is a fun way to get rid of candy from Halloween.
Have a ton of leftover suckers?
Make the Tootsie Pop drink, unwrap a sucker and then plop it right in the drink for garnish.
(Works the same with Jolly Ranchers or Sweet Tarts.)
Or, try the Liquid Snickers drink, cut up a Snickers bar and put on the rim of the glass as a garnish.
Make Candy Corn Punch for kids.
Get some of those candy corn pumpkins? Garnish a Pumpkin Face Smoothie with them!
Get creative!
Do candy science or kitchen science.
Sneak in some STEM learning with your leftover candy.
(Really! These make for fun leftover Halloween candy activities!)
Start here with candy experiments.
Make leftover candy crafts.
When all else fails make some candy crafts or candy art.
Check out:
Play games with Halloween leftovers.
Use Halloween candies and extra candy to play games like:
Candy Corn Tic-Tac-Toe
Guess The Candy Amount games for parties
Throw the leftover Halloween candy out.
Our last tip for what do with leftover Halloween candy is to throw it away.
For real.
Stop feeling guilty about throwing out Halloween candy, especially if all those leftover Halloween candies are just taking up space.
Better to just get rid of it now than four months from now when you're still looking at pounds of candy from Halloween while you're taking down the Christmas tree or you're sick of Reese's Peanut Butter Cups!
PS: If you're wondering what to do with leftover Easter candy or Christmas candy (or any other candy holiday), you can use these tips, too!
(You can donate easter candy and Christmas candy just as easy as Halloween candy!)
We hoped this helped with what to do with leftover Halloween candy!
Do you have creative ways to get rid of leftover Halloween candy that we didn't mention?