Southwest sweet potatoes and chicken soup in crockpot is an easy dinner recipe (and family recipe favorite!). This is also easy to adapt to vegetarian soups crockpot recipes. Perfect for comfort food dinner ideas or if you're wondering what can I make for dinner when it's cold outside.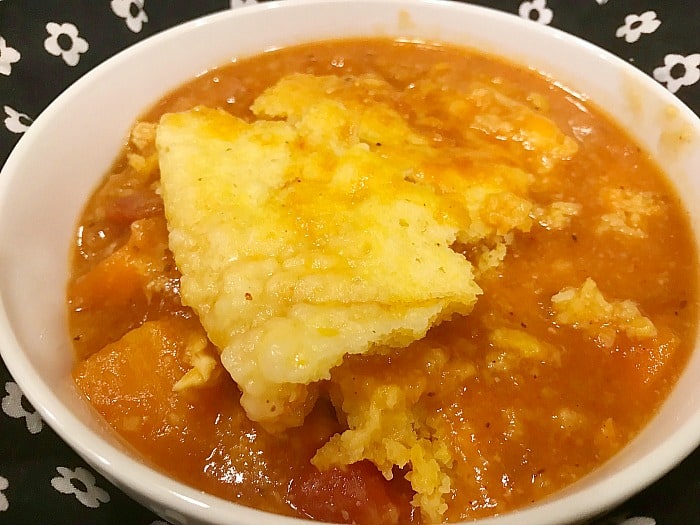 HOW TO MAKE SWEET POTATOES AND CHICKEN SOUP
This recipe for spicy sweet potato soup is truly one of my favorites—especially if you're looking for an Instant Pot or slow cooker soup for a rainy day or a chilly winter recipe for comfort food.
If you're looking for crock pot easy recipes or chicken and sweet potato recipes, you'll definitely want to add this to your list!
To make southwestern sweet potato soup you'll need:
Affiliate links are used on this site. As an Amazon Associate I earn from qualifying purchases. Read more in our DISCLOSURE.
Chicken breasts
Sweet potatoes
Onion or garlic
Chicken broth or vegetable broth
Rotel (spicy level of choice)
Tomato paste
Sweet cream corn
Hot sauce
Cornbread mix
(see full Southwest sweet potato soup recipe below)
One of my favorite things about this spicy chicken sweet potato soup is that you can adjust the spiciness to how your family likes it!
Before we get to this soup with sweet potatoes and chicken, let's cover some common questions that people seem to have about these potatoes.
(Finding answers to questions is one of the things I like to do when cooking with kids because you can discuss all the different nutrition and fun facts while cooking. It's another facet that makes cooking with kids a great learning opportunity!)
What goes with sweet potato soup?
Salad
Crackers
Cornbread
Crusty bread
Tortilla chips and sour cream
Pretzel bread
Chicken or turkey sandwiches
Grilled or baked chicken
Garlic bread
Fresh rolls
How long will potato soup last in the refrigerator?
You can store your easy sweet potato soup in the refrigerator for up to 5 days. Allow soup to cool and then place in an airtight container with a lid. Eat within 3-4 days. On the fifth day, you probably want to discard the soup.
Can you freeze sweet potato soup?
You can freeze sweet potato soup (so make extra to store in the freezer!). Allow the sweet potato soup to cool, then ladle into sealable freezer bags. Carefully remove as much air as you can and seal the bag. Store flat in freezer for 3-6 months.
Use with this recipe to protect little hands:
Heat Resistant Soup Bowl Cozy Holder To Prevent Burning Hands
Is this a Southwestern Sweet Potato Stew Recipe?
I go back and forth between calling this slow cooker sweet potato stew and sweet potato soup (or maybe even a version of southwest sweet potato chili). To me, it's heartier than a soup, but not quite as thick as a potato stew.
No matter, it's one of my favorite sweet potato easy recipes and slow cooker soups. Throw everything in and then by dinner you have an amazing crockpot stew!
(And, it's a sweet potato recipe healthy soup!)
OK!
On to the sweet potato soup in crock pot!
Here's how to make sweet potato soup from scratch…
Crock Pot Sweet Potatoes and Chicken Soup with Cornbread Topping
This sweet potato soup chicken can also be made without the chicken for a spicy vegetarian soup and it's just as good!
If you want a sweet potato soup without onion, just leave it out of the recipe (or use garlic instead).
We like to make our sweet potato soup spicy with hot sauce. You can definitely play around with spices for sweet potato soup and use what you like!
Also, if you don't want the cornbread topping just leave it off and make this as a sweet potato soup with crispy tortilla topping instead. (Just crumble tortilla chips on top before serving.)
This is such a savory sweet potato soup that you'll love it for fall or winter soup recipes!
Yield: 8
Sweet Potato Soup Crock Pot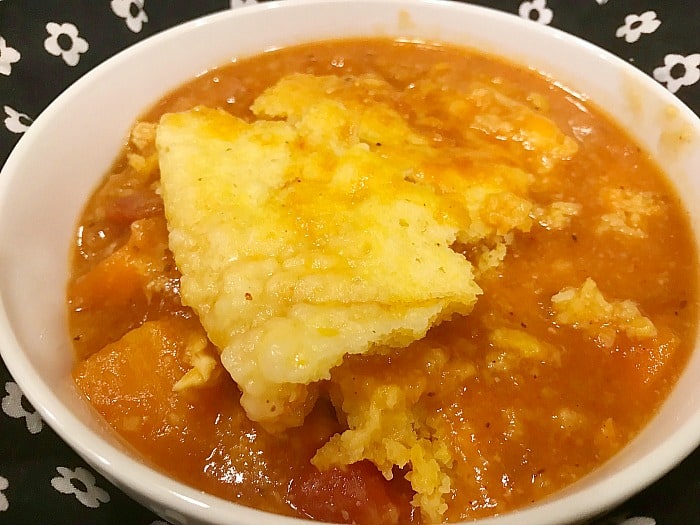 This recipe for crock pot sweet potatoes soup is a family favorite! The cornbread topping is completely optional, but I really think it adds to this soup for a complete meal. We make our sweet potato soup with chicken, but you can leave it out for a vegetarian soup recipe.
Total Time
6 hours
15 minutes
Ingredients
3-4 frozen chicken breasts
2 sweet potatoes, peeled and cubed
1 white onion, diced
2 cans of chicken broth
1 can of Rotel tomatoes with green chilis (I use mild or medium, but use the heat intensity that you like)
1 can tomatoes with garlic
1 can tomato paste
2 soup cans of water (+ more, if needed)
2 tsp. oregano
1 tsp. cumin
1 can sweet cream corn
2-3 shakes of hot sauce, optional
1 box Jiffy cornbread mix + ingredients for the cornbread, optional
Instructions
Place frozen chicken breasts on the bottom of the crock pot.
Place remaining ingredients, except for the corn, on top of the chicken in the crock pot.
Cook on low for 5 hours.
For the last hour, remove chicken breasts and shred.
--IF YOU WANT THE CORNBREAD TOPPING, SKIP THIS STEP AND SEE DIRECTIONS BELOW--Add shredded chicken back in, as well as the can of cream corn, and cook for 30 to 60 additional minutes.
FOR THE CORNBREAD TOPPING (OPTIONAL)
Mix cornbread according to package directions.
Add the shredded chicken breast and corn into the soup.
Spoon cornbread batter in dollops on top of the soup. Replace crockpot lid and cook for 30 to 60 minutes or until cornbread is cooked through.
Notes
If you like a thicker base and less chunky, I sometimes use an emulsion blender to blend the base (a little) before I added the chicken and corn back in. You can also achieve this with a blender.
Nutrition Information:
Yield:
8
Serving Size:
1
Amount Per Serving:
Calories:

456
Total Fat:

10g
Saturated Fat:

5g
Trans Fat:

0g
Unsaturated Fat:

5g
Cholesterol:

85mg
Sodium:

1063mg
Carbohydrates:

64g
Fiber:

4g
Sugar:

44g
Protein:

29g
Nutrition information is estimated. Changes to the recipe and use of different brands may cause changes to the nutritional information to vary slightly from the ones provided here.
FILE UNDER: Sweet Potato Dinner Recipes / Crock Pot Chicken and Sweet Potato Stew
Here are fun food facts for kids. This would actually make a great unit study for homeschool, classroom recipes or learning at home!
Sweet Potato vs Potato: What's the Difference?
Did you know that sweet potatoes and potatoes are completely unrelated?
(Weird, I know.)
According to PrecisionNutrition.org:
Potatoes (Solanum tuberosum) are in the Solanaceae family, related to tomatoes, peppers, and eggplant along with deadly nightshade.

Plants in this family produce solanine, which is poisonous.

So don't eat the leaves or stems of any plant in this group, or potatoes that have gone green.

Sweet potatoes (Ipomoea batatas) are in the Convolvulaceae family with flowering morning glory vines.

Unlike potatoes, you can eat the leaves of sweet potatoes, which are very nutritious.
Is sweet potato a vegetable?
Sweet potatoes are root vegetables, meaning that we eat the part that grows underground.
Sweet Potato vs Yam
Guess what? Sweet potatoes and yams are not the same thing!
(WHAT?!?)
In fact, sweet potatoes and yams are completely different root vegetables and look very different.
How are yams and sweet potatoes different?
Yams have a brownish skin that looks a lot like tree bark. The inside is like a regular potato and it's not very sweet to taste. Sweet potatoes have a more reddish-brown skin and the inside "flesh" is usually sweet in taste.
However, there are also white, orange, and purple sweet potatoes!
However, many American grocery stores market sweet potatoes as yams.
The reason for the name mix-up, she explains, is because Louisiana sweet potato growers marketed their orange-fleshed as 'yams' to distinguish from other states' produce in the 1930s—and it stuck.
If you want to do a cooking project with your kids to show the difference between yams and sweet potatoes, you'll probably have to find real yams at a speciality grocery store because the ones in your local grocery store are probably just sweet potatoes (even if the sign says "yams").
Did you know that 50% of the country's sweet potatoes are grown in North Carolina?
Sweet Potato Nutrition Facts
Sweet Potato Benefits
According to Harvard Health:
Sweet potatoes are higher in beta carotene than many other vegetables and are a good source of potassium, fiber, and vitamins A and C.
Sweet Potato Calories
One small sweet potato (cooked with nothing on it) has around 112 calories.
Is sweet potato a starch?
Sweet potatoes contain starch and is "slow-burning," meaning they will help you feel full longer.
Sweet Potato Soup Slow Cooker Recipe paired with
Little Sweet Potato Children's Book
One of the best ways to get kids to try something new (like the best southwest chicken and sweet potato soup recipe) is to give them something to relate it to.
And, one of the best ways I've found to do that is to pair up a recipe with an awesome children's book!
For this recipe and reading project, we recommend Little Sweet Potato by Amy Beth Bloom and illustrated by Noah Z Jones.
Little Sweet Potato must find a new home.
And, he's very "lumpy and bumpy," so he's not sure how well he'll fit into a new home and with new friends.
During his journey, he meets up with mean vegetables like carrots, eggplants, and even some flowers who tell him that he's just too lumpy and bumpy to be friends with them.
Soon, though, Little Sweet Potato finds his group and feels right at home being comfortable just as he is.
This is a good book to discuss the topics of kindness, bullying, diversity, and more while you're enjoying your Southwest sweet potato soup recipe!
Listed Age Range: 4-8 years
Enjoy the sweet potatoes and chicken southwest soup!
LOOKING FOR FUN COOKING PRINTABLES FOR KIDS?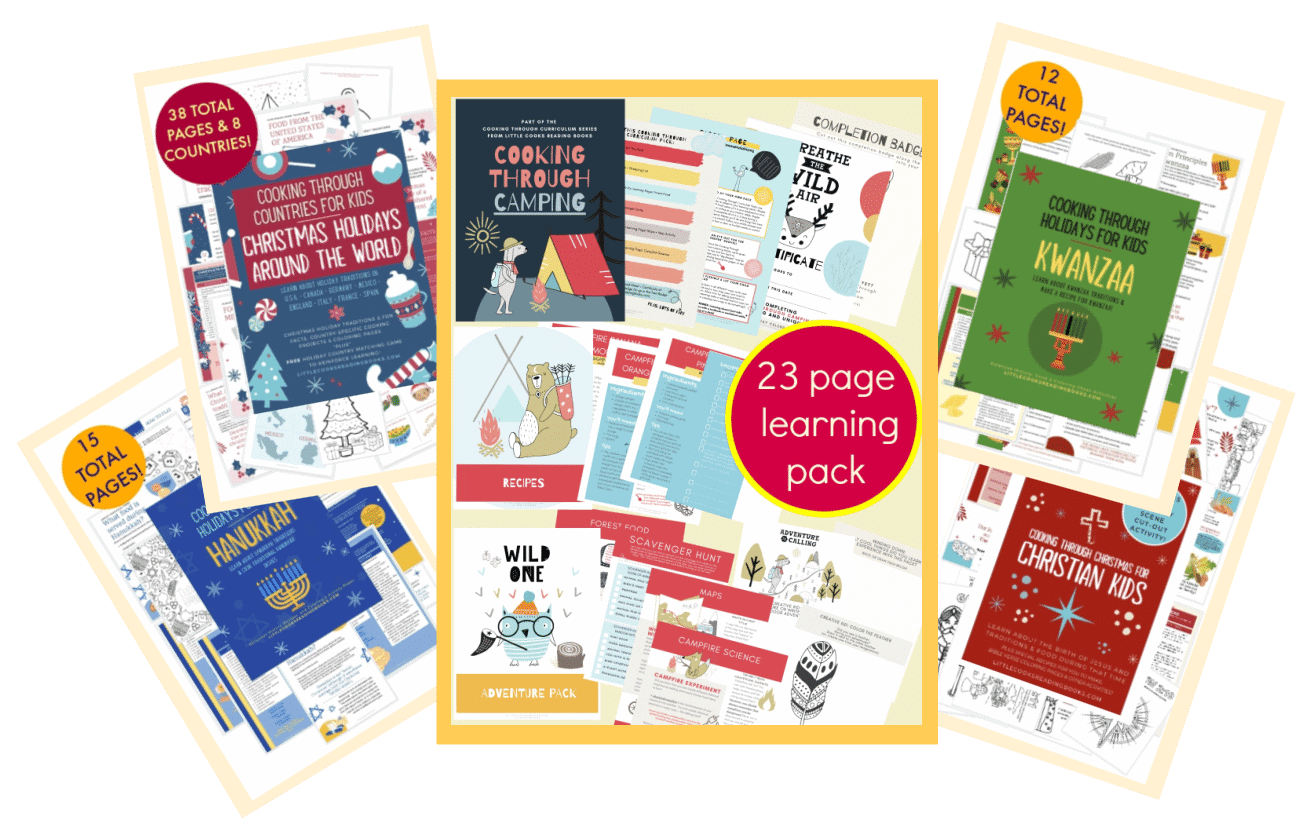 As an Amazon Associate I earn from qualifying purchases. Please refer to our
DISCLOSURE
.