This state fair kettle corn recipe (or county fair kettle korn recipe) is just like the popcorn from fairs and festivals! You may be surprised at just how easy this popcorn treat is to make from scratch, but there is a secret tip for this homemade carnival popcorn recipe…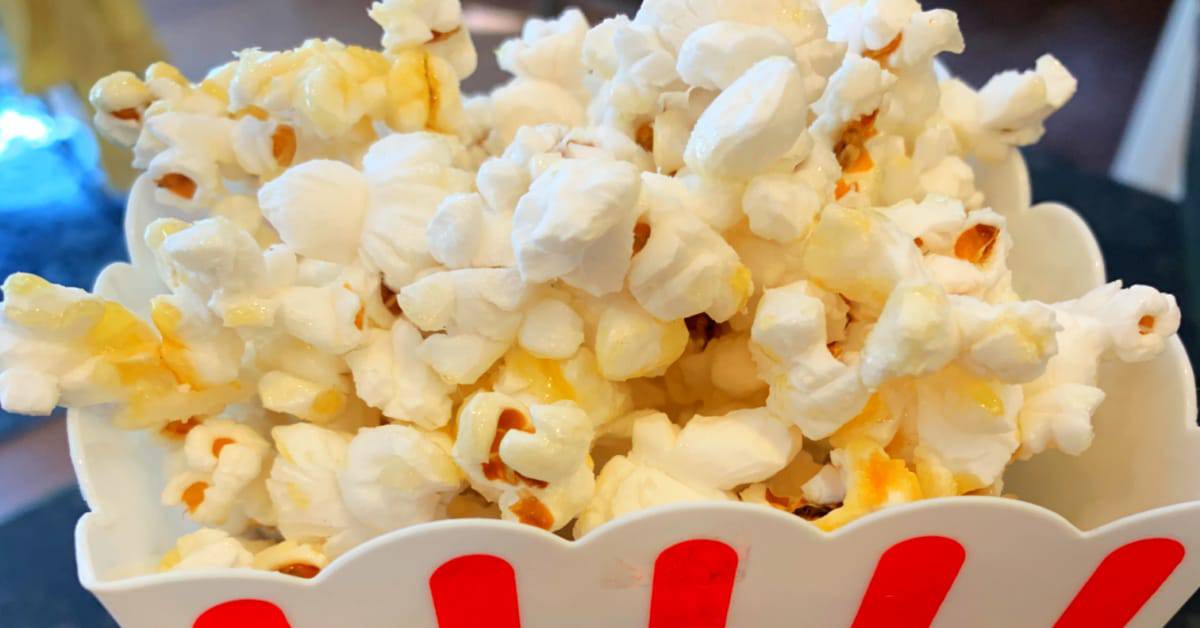 EASY STATE FAIR KETTLE CORN RECIPE
One of our favorite things at the fair is to get state fair popcorn!
We made this homemade kettle corn on the stove and it tastes like you bought it at the state fair!
How do you make kettle corn from scratch?
Making old fashioned kettle corn from scratch is easier than you think with just a few ingredients!
Affiliate links are used on this site. As an Amazon Associate I earn from qualifying purchases. Read more in our DISCLOSURE.
How do you make kettle corn at home:
White popcorn
Vegetable oil
White sugar
Salt
Heavy bottom pot with lid (for the kettle corn popcorn recipe stove top)
We love this easy to make homemade kettle corn recipe, but because it can burn easily (AND the hot popcorn can burn if stuck on skin), we recommend that adults take the lead in making this recipe with kids.
Before we get to the homemade kettle corn recipe, let's answer some common questions. Since this recipe burns easily, read through all these tips before popping kettle corn!
What gives kettle corn its flavor?
That crispy, sweet kettle corn flavor you love at festivals, fairs, and carnivals comes from oil, salt, and sugar. The kettlecorn is popped in oil with sugar, which gives it that kettle corn glaze on each popped kernel.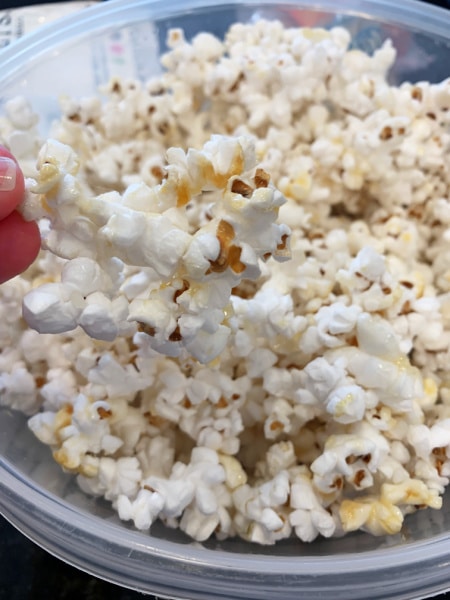 What is the difference between kettle corn and regular popcorn?
Kettle corn is regular popcorn that has sugar popped into the flavor. Regular popcorn is usually just seasoned with butter (but can also have many different seasonings that are available now!).
What is the difference between caramel corn and kettle corn?
Caramel corn is popcorn with a brown sugar and butter glaze mixture. Kettle corn is made by just adding white sugar to the popcorn as it is popping, which adds a clear sugar glaze.
YOU'LL ALSO LOVE THESE OTHER POPCORN RECIPES:
How Do You Add Color To Popcorn?
How To Make A Homemade Popcorn Garland
What is the best kettle corn popcorn?
Answering what kind of corn is used for kettle corn is really based on your preference. We prefer white popcorn for our kettle corn (and just popcorn recipes, in general) because we find the smaller popcorn has a lighter, crunchier taste (and often has less hulls). Yellow popcorn is generally larger and you may enjoy that surface to hold the sugar for your kettle corn.
Test it out with the popcorn recipe and see which you prefer! (There's no right or wrong answer!)
Why is kettle corn so sweet?
The homemade kettle corn seasoning and what gives kettle corn that sweet flavor is just plain old white sugar. It's a kettle corn recipe easy to make with just a few ingredients!
How To Make Kettle Corn Sauce
The kettle corn sauce (or kettle corn glaze) isn't much of a sauce. It's actually made from adding sugar during the heating and popcorn popping phase, which gives it kind of a light popcorn glaze.
How To Make Kettle Corn Without Burning It
The best way to make kettle corn at home without burning it is to use a heavy pot with lid that you shake the entire time it is cooking. Once the popcorn popping slows, immediately dump the popcorn into a large bowl to prevent burning.
You can also use an old-fashioned popcorn popper that has a handle that you crank and stirs the popcorn while cooking to prevent it from burning.
OK! Let's get to making kettle corn at home!
RECIPE FOR KETTLE CORN
We like making kettle corn on stove because it really does taste like the gourmet kettle corn recipes you buy.
Some people make this as a kettle corn recipe brown sugar, but we find the white sugar tastes just like the fair popcorn.
WARNING: This sweet and salty kettle corn recipe is not an easy recipe to double. We've tried several times and it didn't turn out any of the times we tried to double it. If you need more than this recipe, we recommend just making several batches of this smaller recipe.
Yield: 10
Old-Fashioned Kettle Corn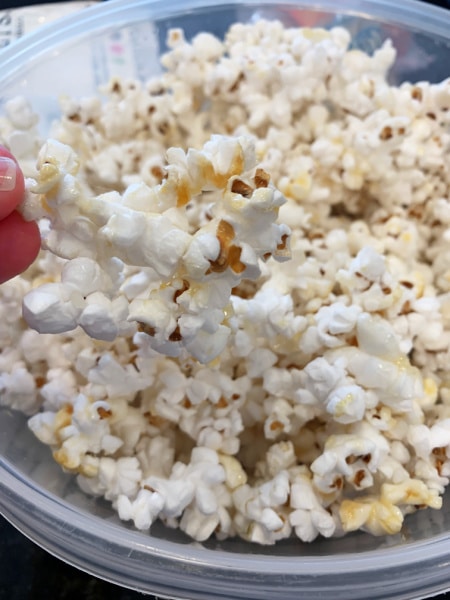 Learning to make kettle corn is a fun family activity and this popcorn recipe is easier than you think! This homemade state fair kettle corn recipe will quickly become a family favorite!
TIP: This recipe DOES NOT double well.
Ingredients
1/2 cup vegetable oil
1/4 cup white granulated sugar
1/2 cup uncooked white popcorn kernels
Salt, to taste
Instructions
In a large, heavy bottom pot with lid, heat vegetable oil. Add 2-3 kernels of popcorn to the oil. When those pop, your oil is ready!
Add sugar to the oil and stir until it starts to dissolve.
Add popcorn to oil and sugar. Immediately cover with lid and start shaking the pot continuously over the burner. WARNING: THE POPCORN WILL BURN EASILY Continue shaking until you hear the popcorn popping slow down.
Immediately remove from heat and carefully pour popcorn into a large bowl. Add salt and carefully stir popcorn. Serve immediately.
Notes
The trick to making kettle corn is to shake, shake, shake the pot so the popcorn doesn't burn. After, add a healthy shake of salt for that sweet and salty flavor you get from fair popcorn!
Nutrition Information:
Yield:
10
Serving Size:
1
Amount Per Serving:
Calories:

118
Total Fat:

11g
Saturated Fat:

1g
Trans Fat:

0g
Unsaturated Fat:

10g
Cholesterol:

0mg
Sodium:

61mg
Carbohydrates:

5g
Fiber:

0g
Sugar:

5g
Protein:

0g
Nutrition information is estimated. Changes to the recipe and use of different brands may cause changes to the nutritional information to vary slightly from the ones provided here.
Childrens Popcorn Books
Try these kids' books about popcorn to pair up with this best kettle corn recipe ever!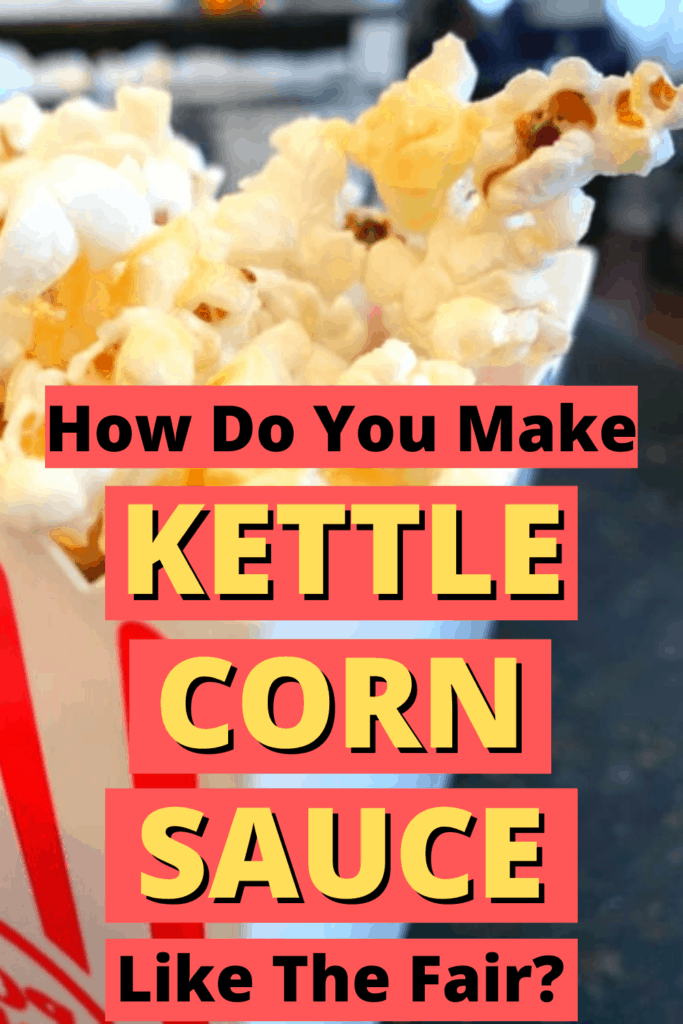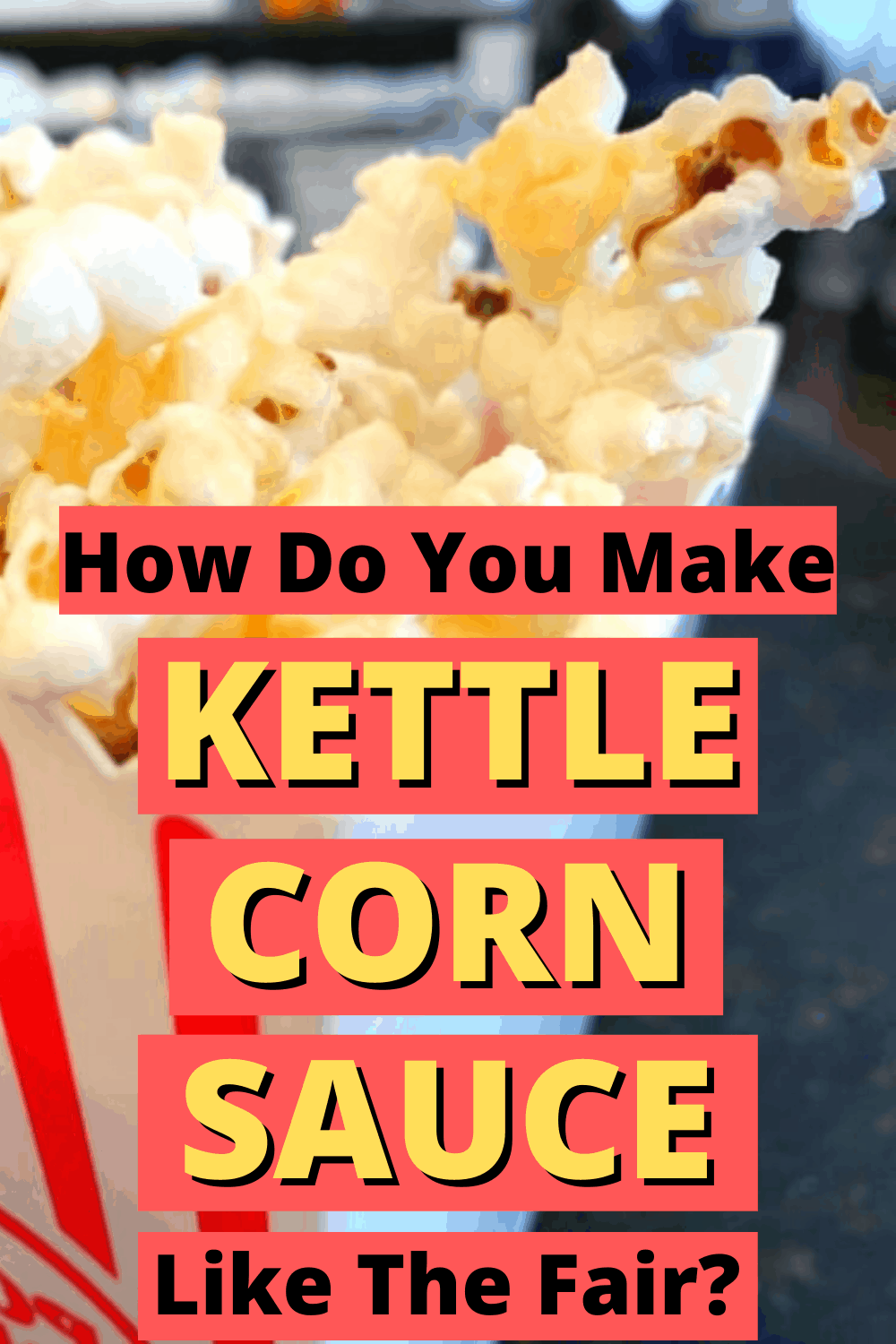 Have fun making state fair kettle corn recipe at home!
LOOKING FOR FUN COOKING PRINTABLES FOR KIDS?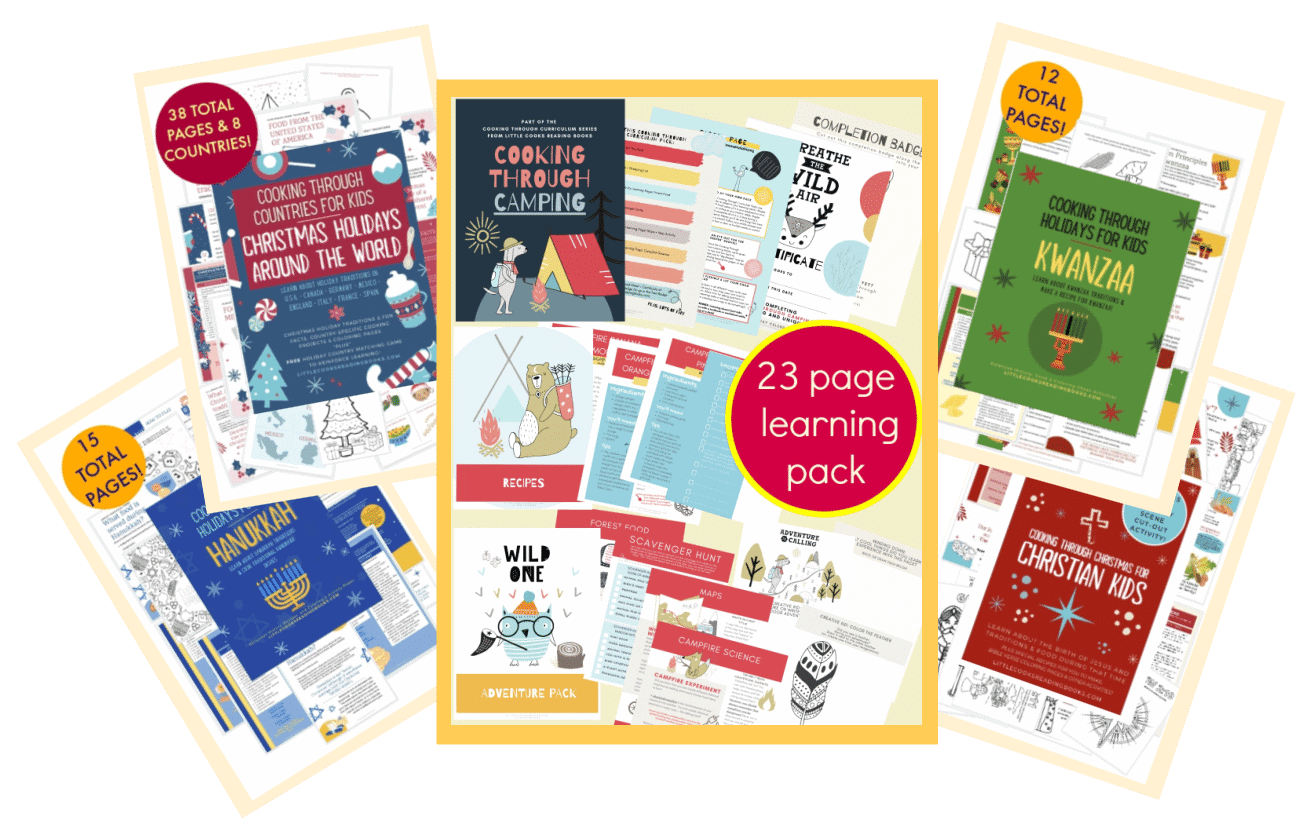 As an Amazon Associate I earn from qualifying purchases. Please refer to our
DISCLOSURE
.