Wondering how to make pizza sauce? We have great news because this easy pizza sauce is made from things you probably have in your food pantry! (Plus, making pizza with the kids is super fun!) Here's how to make pizza sauce from tomato paste and just a few other ingredients — a no cook recipe.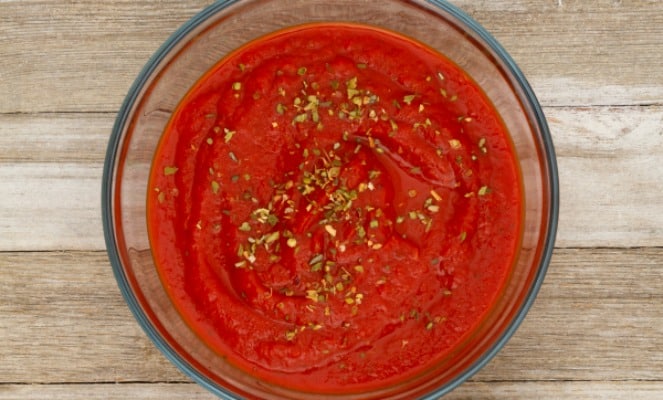 How To Make Pizza Sauce (Super Easy!)
Think learning how to make pizza sauce is a difficult recipe? Think again! If you're going to make pizza, you have use this pizza sauce easy recipe.
There are many pizza sauce recipes, but this is probably the easiest one that I've made.
Once you learn how to make pizza sauce at home, you may never spend money on the jar pizza sauce again!
Affiliate links are used on this site. As an Amazon Associate I earn from qualifying purchases. Read more in our DISCLOSURE.
This is an easy recipe to make with kids, especially the little ones with short attention spans since it doesn't require cooking!
How To Make Pizza Sauce At Home: FAQs
Before we get to the pizza sauce recipe, here are some common questions that people have about making pizza sauce homemade that will help you out and may save time. So be sure to read through them!
What is pizza sauce made of?
A basic traditional pizza (red) sauce is made of tomatoes, olive oil and different herbs. However, there are many different types of pizza sauce and ingredients may include different oils, cream (white) sauces, barbecue sauce and more.
How do you make pizza sauce from scratch?
Making pizza sauce from scratch is very easy and you can probably make it will things you already have in your pantry! The ingredients for pizza sauce (basic red sauce) include tomato paste, water, olive oil, garlic and a mix of herbs.
Can I use tomato paste instead of pizza sauce?
Tomato paste is pureed tomatoes cooked down into a thick paste. As pizza sauce, it may be too thick for some people's liking. However, you can thin it out with water and olive oil to get the desired consistency for pizza sauce.
Is pizza sauce and spaghetti sauce the same?
What is the difference between tomato sauce and pizza sauce? Pizza sauce is generally a little thicker than spaghetti sauce. Pizza sauce doesn't need to be cooked, while homemade spaghetti sauce is generally cooked slow over low heat to allow the infusion of all the ingredients.
What can I do with leftover pizza sauce?
Don't throw out your leftover homemade pizza sauce! Instead use this italian pizza sauce recipe for other cooking and recipes!
What to make with pizza sauce:
Pasta (pizza sauce marinara)
Meatball or Italian sandwiches
Chicken parmesan
Eggplant parmesan
Bagel pizzas
Pizza sauce dip for breadsticks or pizza rolls
Toss with vegetables
Leftover spaghetti sauce sloppy joes
Leftover spaghetti sauce casserole (or other casserole dishes)
Chili
Rice
Any recipe that calls for a tomato sauce
Freeze to use for later!
And, as usual, we'll recommend kids' books to pair up with this recipe!
We like to read the book first and then make the recipe. That way we can discuss the book while we cook. So, read the pizza books and then learn how to make your own pizza sauce!
Children's Books To Read With This Recipe

Let's get to how to make pizza sauce from scratch!
HOW TO MAKE PIZZA SAUCE
NOTE: Make sure you use crushed rosemary and not the rosemary leaves!
Yield: 6-8
Pizza Sauce Recipe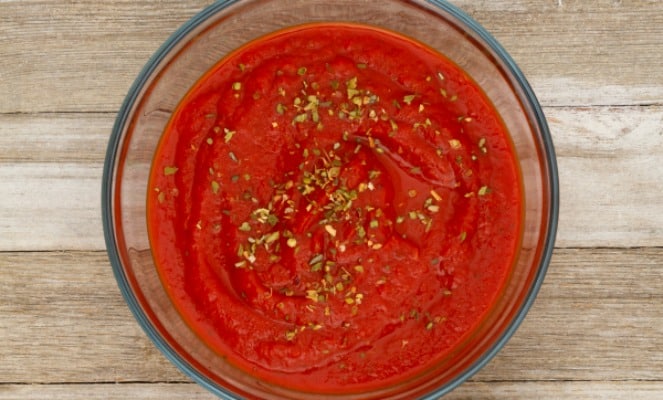 This is a super easy, no-cook, homemade pizza sauce recipe. You can use it right away for your pizza, but the longer you let it stand, the more the flavors will be infused.
Ingredients
1 (6 ounce) can tomato paste
1 cup water
1/3 cup extra virgin olive oil
2 cloves garlic, minced
1/2 tablespoon dried oregano
1/2 tablespoon dried basil
1/2 teaspoon dried crushed rosemary
Salt and pepper to taste
Instructions
In a medium mixing bowl, stir together tomato paste and 1/2 cup water. Stir until combined (and no "chunks" of tomato paste are left). Set aside.
In a small mixing bowl, add olive oil.
To the olive oil: add garlic, oregano, basil and rosemary. Whisk until combined.
Pour the olive oil and herbs mixture into the tomato paste/water bowl. Stir until completely combined. The sauce should be a little thicker than regular pasta sauce. If it is too thick, add the remaining 1/2 cup of water and stir.
Add salt and pepper, to taste.
Use as normal for pizza sauce. No need to heat or cook before using! Cover and store in refrigerator until ready to use.
Notes
You can easily double or triple the recipe for freezing. I place it in sealable freezer bags, smooth them out, and then freeze them flat. If freezing, heat it up before using it on your pizza.
Nutrition Information:
Yield:
8
Serving Size:
1
Amount Per Serving:
Calories:

83
Total Fat:

9g
Saturated Fat:

1g
Trans Fat:

0g
Unsaturated Fat:

7g
Cholesterol:

0mg
Sodium:

40mg
Carbohydrates:

1g
Fiber:

0g
Sugar:

0g
Protein:

0g
Nutrition information is estimated. Changes to the recipe and use of different brands may cause changes to the nutritional information to vary slightly from the ones provided here.
WE HOPE YOU HAVE FUN LEARNING HOW TO MAKE PIZZA SAUCE! TAG US WITH YOUR PICS!
LOOKING FOR FUN COOKING PRINTABLES FOR KIDS?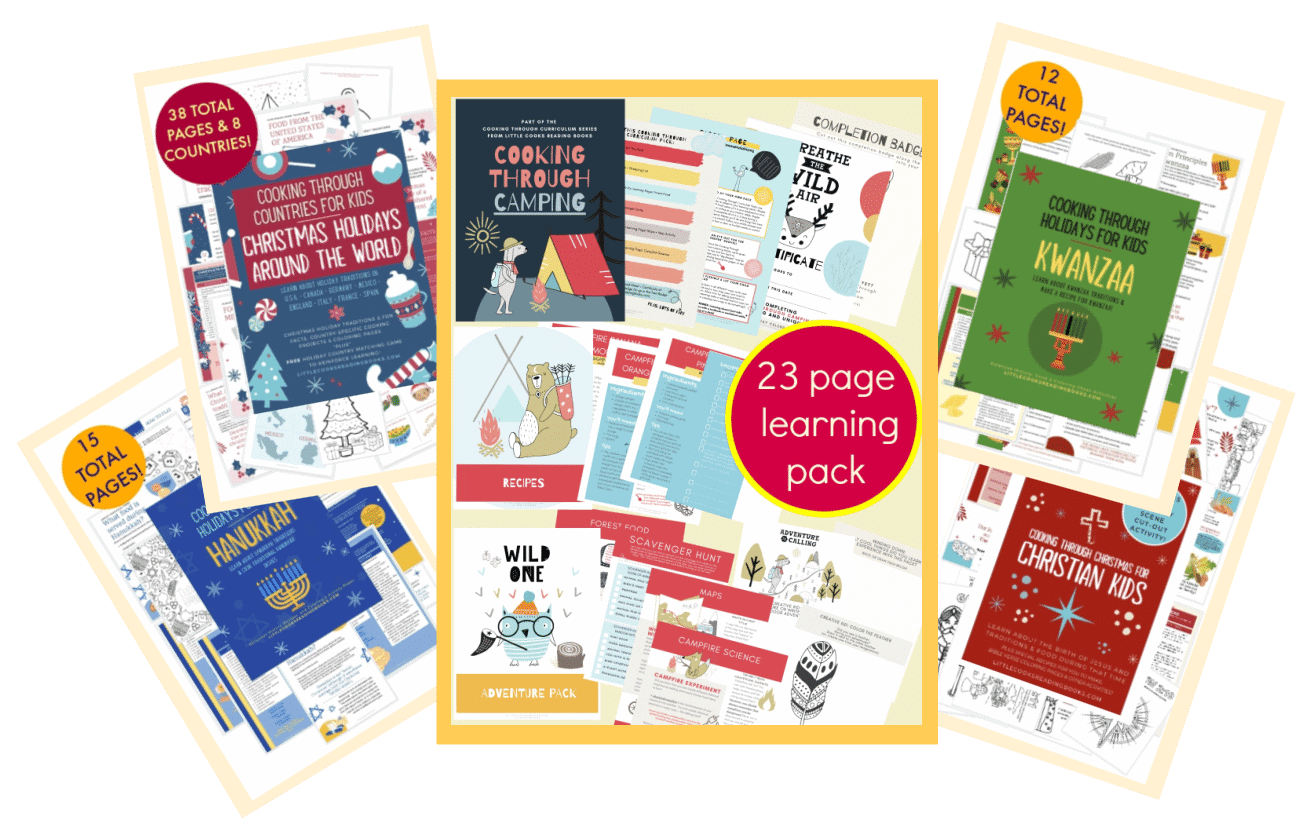 As an Amazon Associate I earn from qualifying purchases. Please refer to our
DISCLOSURE
.