Last Updated on
Your kids will have so much fun with this bug party theme and these bug themed snacks! Perfect for any bugs for kids lessons, hosting your own bug parties, Halloween snacks, or just fun kids snack ideas!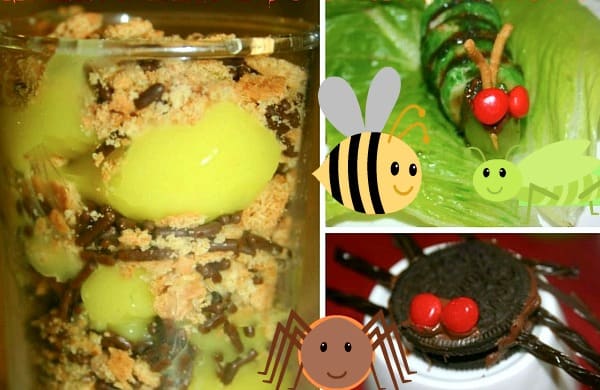 My daughter always had an interest in studying bugs, so one year we decided to do a bug party theme and make some bug recipes.
(Don't worry, it's not as gross as it sounds.)
Affiliate links are used on this site. As an Amazon Associate I earn from qualifying purchases. Read more in our DISCLOSURE.
We made these for a Halloween party, but honestly they would be good for any time you want to have a bug party or even have theme lesson plans on bugs.
These kid snacks are fun and easy and even the kids can get involved making these with you! (Which is the most fun way of cooking!)
If you want to make this a read and learn (because, duh), I recommend pairing these bug recipes with my daughter's favorite book when she was younger . . .
DISCLOSURE: Affiliate links are used on this site and may be used in this post.
Bug Party Snacks paired with The Bugliest Bug Children's Books
The Bugliest Bug, written by Carol Diggory Shields and illustrated by Scott Nash, is one of my daughter's all time favorite books.
I started reading it to her when she was a toddler and now, many years later, we still have her tattered copy and she still talks about it.
(I can still even recite some of it from heart!)
The rhyming in the book is clever and sometimes even poetic.
But, still manages to be hysterically funny.
Publisher's Weekly called it, "A rollicking, tongue-in-cheek entree to the entomological world."
I think that is the perfect one sentence to describe this fun bug book for kids!
It's also a great discussion book about differences and how everyone has their own special skills.
Listed Book Age Range:4-8 years
BUG RECIPES
Bug Party Food and Kids' Snacks
1. Ant Pudding Cups
This "ant" pudding looks like you are staring right into a real ant house and watching those busy little ants.
The chocolate sprinkles act as ants and crushed graham crackers look just like dirt or sand.
(This is also a fun play on pudding dirt cups recipe if you've made those before!)
Ingredients
Directions
1. Crush graham crackers and mix with chocolate sprinkles. Be sure to mix more chocolate sprinkles than graham crackers. (That's the trick to getting the sprinkles to show through and look like ants in the sand.)
2. Make pudding according to package directions. (Or, you can use those instant pudding cups, too.)
3. In a clear glass, layer pudding (we used lemon because that's what my daughter likes, but you could use vanilla) and graham crackers/sprinkle mixture. Ending with crushed graham crackers on top for the dirt or sand.
2. Caterpillar Snacks
These cute caterpillar snacks are perfect for a bug party, caterpillar snack ideas for a book or learning pairing, or even just a fun, healthy kids' snack.
Ingredients
Bananas

Grapes

Peanut butter, Nutella (or a nut butter substitute to meet special allergies)

Green sprinkles

Red Hots or candy eyes
Directions
1. Break or cut wooden skewers in half.
2. Slice layers of bananas and spread with peanut butter or Nutella.
3. Slide each banana slice onto the wooden skewer so that it forms a line (and sticks together with the peanut butter or Nutella)–around six slices, leaving a bit of the wooden skewer showing at the end for the head.
4. Spread the top banana piece with peanut butter or Nutella and place a grape head onto the end of the skewer.
Sprinkle the caterpillar with green sprinkles, which will soak in the longer the caterpillar sits.
5. Place a bit of the nut butter on the head and use Red Hots or candy eyes for the yes.
6. Poke Chinese noodles for antennae into the top of the grape head.
7. Place on a serving platter of lettuce leaves or on these fun leaf plates. Refrigerate until ready to use.
3. Oreo Spiders
Aren't these Oreo spiders cute? And, you don't even need a cookie recipe!
These edible arachnids easily assembled from a few ingredients!
Ingredients
Oreos
Twizzlers Chocolate Licorice Twists
Nutella, peanut butter, or nut butter substitute
Red Hots or candy eyes
Directions
1. Cut Twizzlers Chocolate Licorice Twists into thin, long strips.
2. Spread Nutella around the edges of the Oreos.
3. Stick Twizzler "spider legs" into the side of the Nutella (four on each side).
4. Affix candy eyes or red hots on top with dots of Nutella.
4. Cheese Bugs
These cheese bugs are also a super simple kids snack or fun addition to your bug party recipes.
Ingredients
Cheese rectangles
Crispy Chow Mein noodles
Directions
1. Buy or cut cheese into rectangles.
2. Place Chinese noodle legs into each side and antennae on top.
If you use a harder cheese (like cheddar), make slits in the cheese with a knife tip prior to inserting the Chow Mein noodles or they will break.
3. Place on a serving tray of lettuce leaves or cute bug plates and refrigerate until ready.
As an Amazon Associate I earn from qualifying purchases. Please refer to our
DISCLOSURE
.