This homemade milkshake strawberry recipe is a fun drink recipe for kids and adults alike! Learning how to make a strawberry milkshake is also an easy cooking activity for kids. Here's how to make strawberry milkshake step by step and a list of strawberry books for preschoolers and up to pair up with this recipe for shakes! (Definitely add it to your summer berry ice cream recipe rotation!)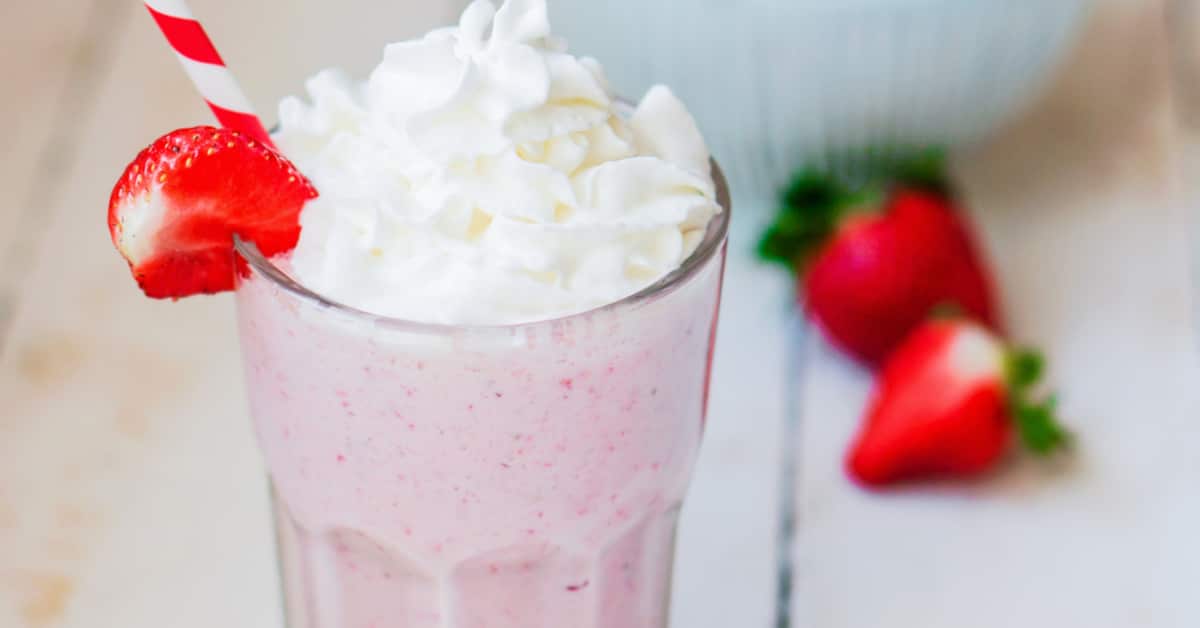 Easy Milkshake Strawberry Recipe with Fresh Strawberries
What is strawberry milkshake made of?
How To Make The Perfect Strawberry Milkshake:
Fresh strawberries
Ice cream
Whole milk
Sugar
Vanilla extract
Whipped cream
Optional garnish:
Sprinkles
Mini chocolate chips
Chocolate shavings
Mint leaves
Crushed cookies
Mini chocolate chip cookies
*NOTE: We make ours as fresh strawberry milkshakes, but you can try frozen strawberries for milkshakes, too. Also, some people use malted milk powder, but be sure to see our note about milk in the recipe directions. See the full strawberry milkshake with ice cream recipe below. KEEP SCROLLING for the how to make milkshake strawberry recipes and ideas!
Affiliate links are used on this site. As an Amazon Associate I earn from qualifying purchases. Read more in our DISCLOSURE.
Is strawberry milk shake good for you?
Strawberry milkshakes can be high in fat (including good fats!), but are also healthy sources of fiber, vitamins, and minerals like calcium, iron, protein, fiber, and more. If you want a more healthy strawberry milkshake recipe, leave out the sugar and use a fat free milk, lower fat milk product, or milk alternative like almond milk. Or, skip the ice cream and make a milkshake with strawberry yogurt!
What is strawberry milkshake syrup?
If you want strawberry milkshake without strawberries, you can use a strawberry milkshake syrup. A drink syrup comes in many different flavors and is added to drinks to give them different flavorings.
Buy milkshake strawberry syrup here.
We don't make our strawberry milkshake recipe with strawberry syrup because we found that the natural syrup mixture (after mixing the strawberries, sugar, and vanilla) is yummy!
What kind of blender do I need to make milkshakes?
A sturdy stainless steel blade blender is the perfect blender for milkshakes. There are milkshake machines that also froth the milk and ice cream, but those aren't necessary for making milkshake recipes at home.
A few years ago, we splurged on this blender and LOVE IT because it makes smoothies and milkshakes, but also changes out for a food processor (and the mini drink maker is awesome!).
[Here's a regular milkshake machine if you want to see one.]
ALSO TRY: Infused Water Recipes Kids Will Love!
If you're looking for alternative milkshake recipe strawberry ideas, try these shake ingredients!
Strawberry Milkshake Ideas
What are some good milkshake combinations?
Strawberry yogurt milkshake (if you want strawberry milkshake recipes without ice cream)
Milkshake with strawberry ice cream (instead of plain vanilla ice cream)
Milkshake recipe strawberry banana
Milkshake with strawberry syrup
Milkshake with strawberry jam
Milkshake strawberry chocolate combination
Milkshake with Strawberry Crush
Did you know that there are milkshake strawberry straws? Might be something fun to try with your kids!
OK! Let's get to how do you make a strawbery milkshake!
How To Make a Milkshake Strawberry Recipes
One of the things I love about this milkshake recipe is that the strawberry milkshake ingredients are easy to change up and make it your own. You can also add banana for a strawberry banana milkshake or some people have told me they add chocolate candies like Whoppers for a Whoppers milkshake strawberry! (We haven't tried a candy milkshake recipe like that yet!)
We make ours as a strawberry milkshake with vanilla ice cream, but you can definitely make this strawberry milkshake without ice cream by substituting your own ice cream alternative or even as a milkshake strawberry ice cream!
ONE LAST TIP: If you really want a creamy homemade milkshake recipe, add our homemade whipped cream (easier than you think!).
Yield: 2
Easy Strawberry Milkshake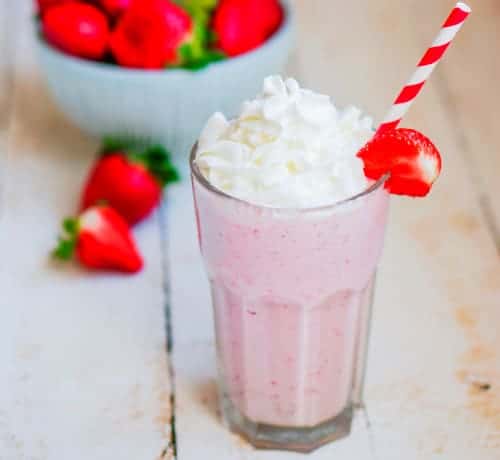 This milkshake strawberry recipe is a fun summer drink or anytime you want to make milkshakes! If you don't have fresh strawberries, try it as a frozen strawberry milk shake!
Ingredients
2 1/2 cups sliced strawberries (about 1/2 pound fresh strawberries) + extra whole strawberries for garnish (optional)
1 Tablespoon sugar
1 teaspoon vanilla extract
2 1/2 cups of vanilla ice cream (about 1 pint of ice cream)
1/4 cup whole milk*
Whipped cream (for topping, optional)
Instructions
In a medium mixing bowl, add sliced strawberries, sugar, and vanilla extract. Stir to combine well. Set aside.
In a large blender, place strawberry mixture (including any natural strawberry juice or natural "syrup" that has formed in the bowl) and ice cream.
*Check consistency and thickness of milkshake. If it seems too thick, add the whole milk. If the consistency seems right and you like the flavor, you can leave out the milk.
Pour in tall glasses. Add whipped cream and a whole strawberry as garnish (optional). Serve immediately with a straw.
Notes
• NOTE: If you have time, allow the strawberry mixture in Step 1 to sit for up to an hour before moving on to Step 2. The longer you let the flavors infuse, the better the milkshakes taste!
• We like our strawberries a little more tart. If needed, add an additional Tablespoon of sugar in Step 1 if you like a sweeter mixture.
• MILKSHAKE GARNISH IDEAS:
Whipped cream
Sprinkles
Chocolate Sprinkles
Mini Chocolate Chips
Crushed Oreos
Mini Chocolate Chip Cookies
Nutrition Information:
Yield:
2
Serving Size:
1
Amount Per Serving:
Calories:

468
Total Fat:

20g
Saturated Fat:

12g
Trans Fat:

0g
Unsaturated Fat:

7g
Cholesterol:

78mg
Sodium:

148mg
Carbohydrates:

64g
Fiber:

6g
Sugar:

54g
Protein:

8g
Nutrition information is estimated. Changes to the recipe and use of different brands may cause changes to the nutritional information to vary slightly from the ones provided here.
Recipe and Read: Strawberry Children's Books
Try these for children's books strawberry theme:
Let us know what you think about this milkshake strawberry recipe!
LOOKING FOR FUN COOKING PRINTABLES FOR KIDS?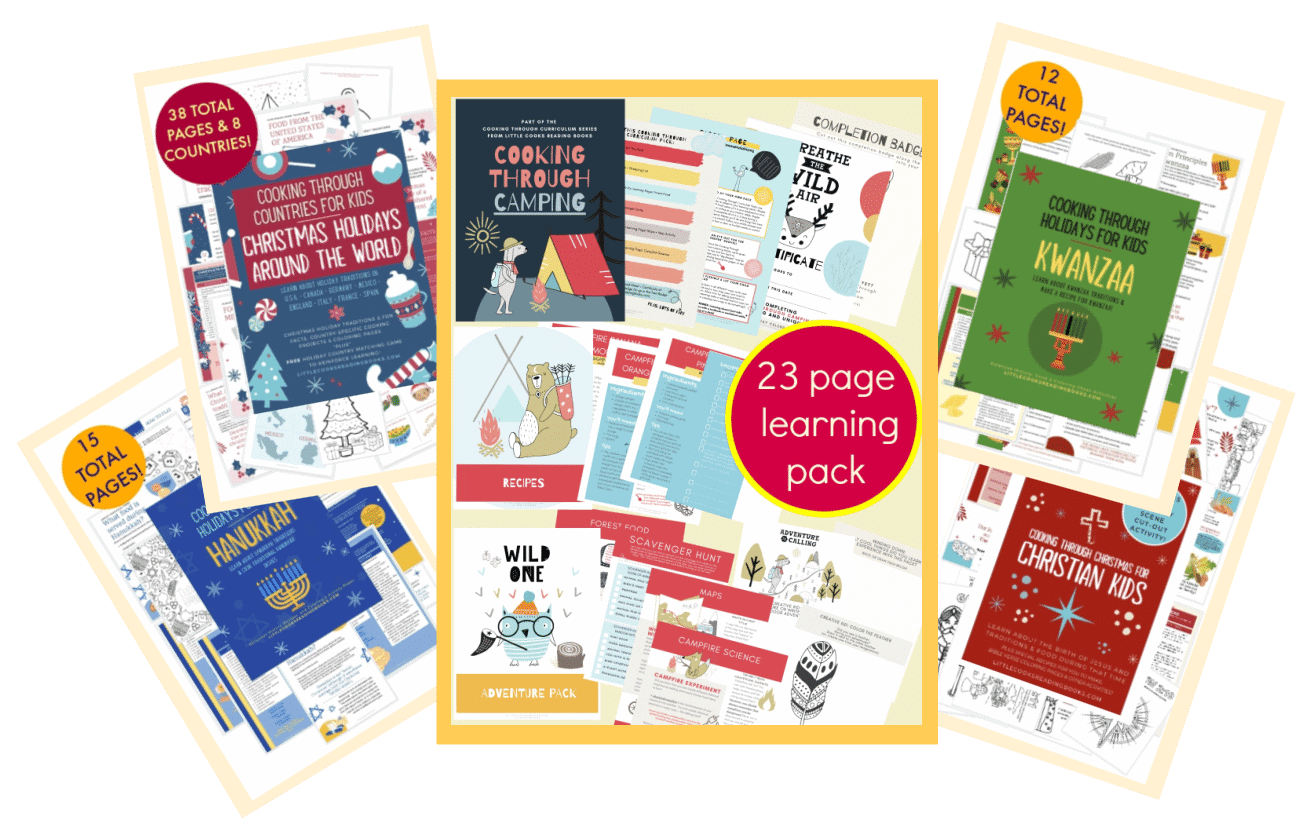 As an Amazon Associate I earn from qualifying purchases. Please refer to our
DISCLOSURE
.