A snack basket for delivery people (holiday thank you basket) is a great way for you to give back during the holidays — a super simple kindness act, service project and fun holiday family activity that you can do with kids to help them focus on the reason for the season. Great idea on how to thank delivery drivers for their hard work!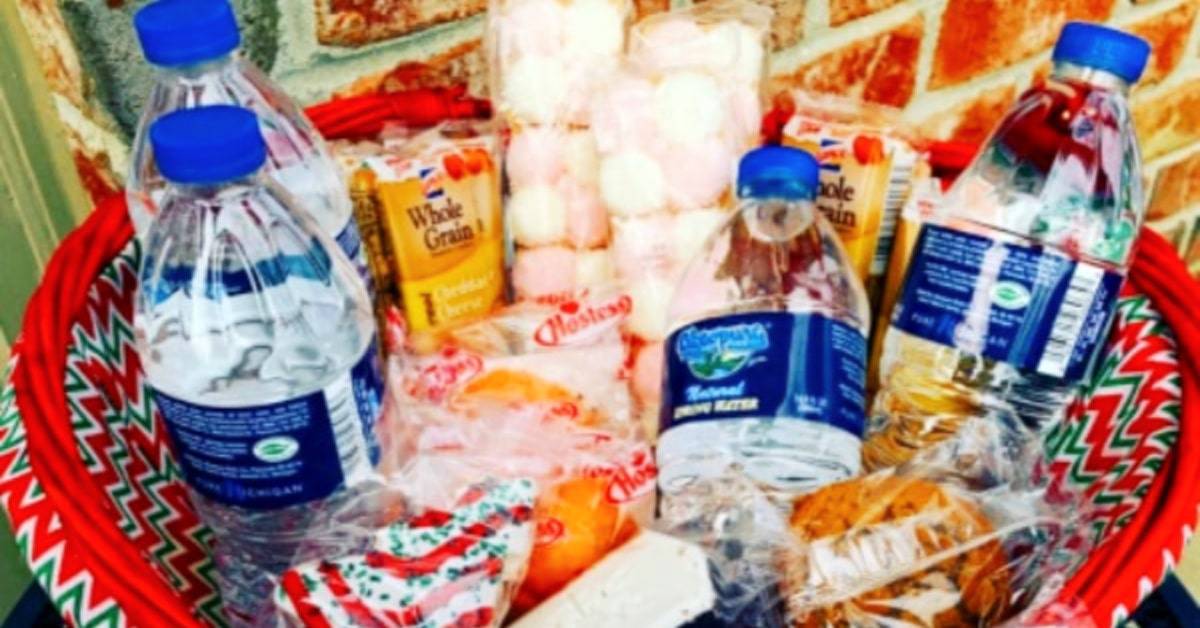 Creating A Snack Basket For Delivery People
Have you ever heard of snack basket for delivery drivers? They're one of the most fun ways to thank delivery drivers!
How do you make a holiday thank you snack basket?
Use a basket, crate or container that can withstand the weather and being outside all day. (Be sure to remember to bring it in at night!) Fill it will different kinds of good snacks and drinks and leave it by your front door during delivery times.
To make a delivery snack basket, you'll need:
Pre-packaged, individual snacks like almonds / peanuts, chips, crackers, granola bars, etc.
Fun size candy bars, suckers, hard candies
Beverages like CapriSun, bottled waters, mini juices, Gatorade, etc.
Powder flavor packets to add to bottled waters
Weather-proof basket or tub (like a holiday basket, tin / metal drink tub, plastic bucket or tub, delivery hamper, etc.)
Snack sign
Don't miss our full step-by-step instructions below on how to build a delivery driver snack basket and snack basket ideas!
Be sure to make a delivery driver porch snacks printable (or hand make a snacks for delivery drivers sign) that thanks them and gives them directions on what to do.
Your delivery driver basket sign should include:
What the basket is
A thank you note
What the drivers should do
You can even have your kids write a thank you note for delivery man or delivery woman and then color or draw around it and leave them in the the delivery driver gift basket. Your kids may even be surprised to get a note back in the basket! (We've gotten a few thank you notes from drivers over the past few years!)
What can I put in a snack basket?
Delivery person snacks can be anything that you want to put in your snack basket. The best snacks for delivery drivers are individually wrapped treats / pre-packaged porch snacks (and most people don't want homemade items from people they don't know, so prepackaged, store-bought snacks are best).
What snacks do delivery drivers like?
Cookies
Snack cakes (bonus points for holiday theme like Christmas cakes)
Individually wrapped candy canes or suckers
Granola bars
Protein bars
Crackers
Small bags of chips
Peanut packs
Fruit snack packs
Candy bars
Beef or turkey jerky
Apples
Bananas
Oranges
Bottled waters and powder packets
Capri Suns or juice boxes
Anything in your delivery driver basket that would give them a little extra boost during their long day is a great idea for your gift baskets delivery snacks! (You can even put chocolate and candy in your gift baskets!)
Get your kids involved and ask them what they think should be included in the thank you snacks for delivery drivers!
Also, don't forget to put in gluten-free snacks.
We got a sweet note last year from a driver who said he always looks forward to delivering to our house because we're the only ones who leave gluten-free snacks, too!
**TIP: We've been sharing about our holiday gift baskets on social media and, across the board, people are saying that the fruit is NOT getting taken. Keep that in mind and maybe only offer a few fruit options at first and see what your delivery people like.
Also, to make snacks to leave for delivery drivers easier, we've started making up snack bags (regular and gluten-free) so they can just grab a bag and drink and go.
If you've ever wondered What do you give a delivery driver or how do you show appreciation to delivery drivers? or wondered how to leave a gift for your mailman / what are good gifts for delivery drivers (whether it be FedEx, UPS, USPS, snacks for Amazon delivery guy, or other package handlers), baskets of snacks are a great idea (and it's a fun holiday activity for kids to give back!).
In case you're not familiar with a gift snack basket…
What is a snack basket for delivery people?
A holiday thank you basket for delivery drivers is a basket you leave on your porch filled with goodies (pre-packages snacks and drinks) for the delivery people, mail people, and package handlers. It's a way to show appreciation for their hard work and long delivery days during the holidays when you may have a lot of extra boxes being delivered to your house. Just a fun way to say, thank you delivery people or if you're wondering what to leave for delivery drivers. And, don't forget to make a note for delivery man snacks!
WANT MORE KINDNESS ACTIVITIES & SERVICE PROJECTS FOR KIDS? CHECK OUT:
How to Make Kindness Rocks for Being Thankful Activities
Service Projects and Family Holiday Volunteer Opportunities (Even From Home)
Should you leaving snacks for delivery drivers?
YES! More than ever, people need small acts of kindness. Leaving out snacks for delivery drivers is an easy way you can help others and give back during the holidays. Water and snacks for delivery drivers goes a long way in helping them out during long days! If you're worried about keeping things sanitary right now, you can make resealable snack bags full of goodies and that way delivery people can just grab a bag (and not touch everything in the basket).
It might also be helpful to include individual packs of hand wipes and/or small hand sanitizers. You can even include a disposable mask (everyone seems to need an extra right now!).
OK!
Let's get to how to make snack baskets for delivery people!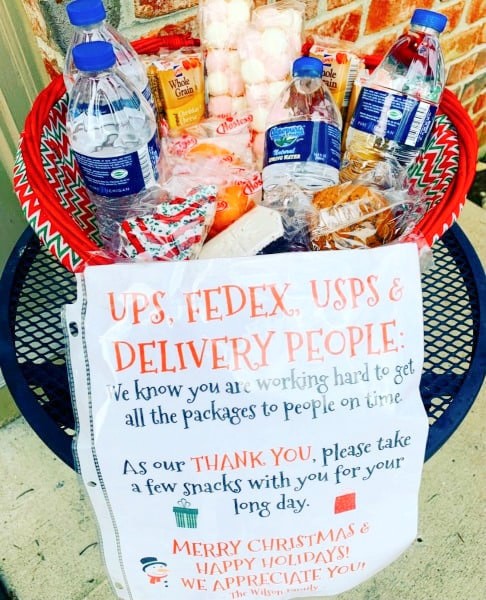 How To Make A Delivery Thank You Basket
One of the biggest tips I can give you is to be sure to place your sign in a protective sheet. (We use these for a million different things around the house and for homeschool!)
We learned the hard way our first year and had to remake our sign after a couple of days of being out in the sleet and snow!
Yield: 1
How To Make a Snack Basket For Delivery People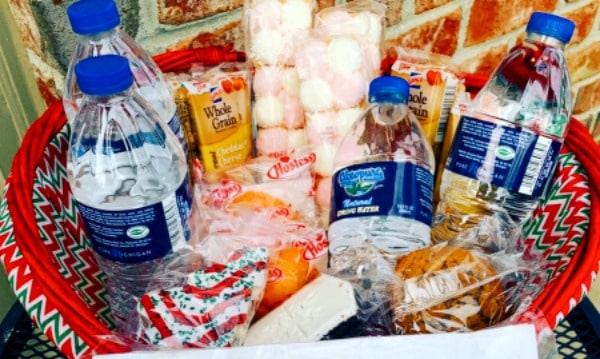 Holiday delivery gift baskets are a fun way to help others during the holidays! Great holiday family activity or kid's Christmas craft project.
Materials
Weather-proof basket or container
Individually wrapped snacks and candy
Bottled waters and juice packs
Paper
Crayons (optional, if coloring sign)
Laminating sheets or clear paper holder
Tape
Tools
Printer (if printing your sign)
Instructions
Choose a weather-proof basket or container that can hold up to the elements when outside.
Choose your snacks and drinks. Arrange them in your basket. (Or, place snacks in resealable bags so they can just grab a Ziploc bag and go.) Set aside.
Print or color a sign for your basket. Your sign should include a thank you message and directions on what to do. (For example, after our thank you message we put "Please take a few snacks with you for your long day.") Place your sign in a protective sheet (or use a self-laminating sheet) to protect it from the elements. Attach to the front of your basket.
Place your basket by your front door (or where your deliveries are usually dropped) first thing in the morning. Don't forget to bring it in each night! (We leave ours out until right before bedtime because deliveries run late here sometimes.)
Restock and rearrange your basket each morning before placing outside again.
Children's Books About Giving Back and Helping Others
Here are some great books to pair up with this project and reinforce the importance of kids helping others:
Let us know what you included in your snacks for delivery workers.
We'd love to see your snack basket for delivery people!