Wondering how to roast dried figs? We'll answer can you rehydrate dried figs so you can use them for your fig recipes or bake them for oven roasted figs! (Can dried figs be cooked? YES!)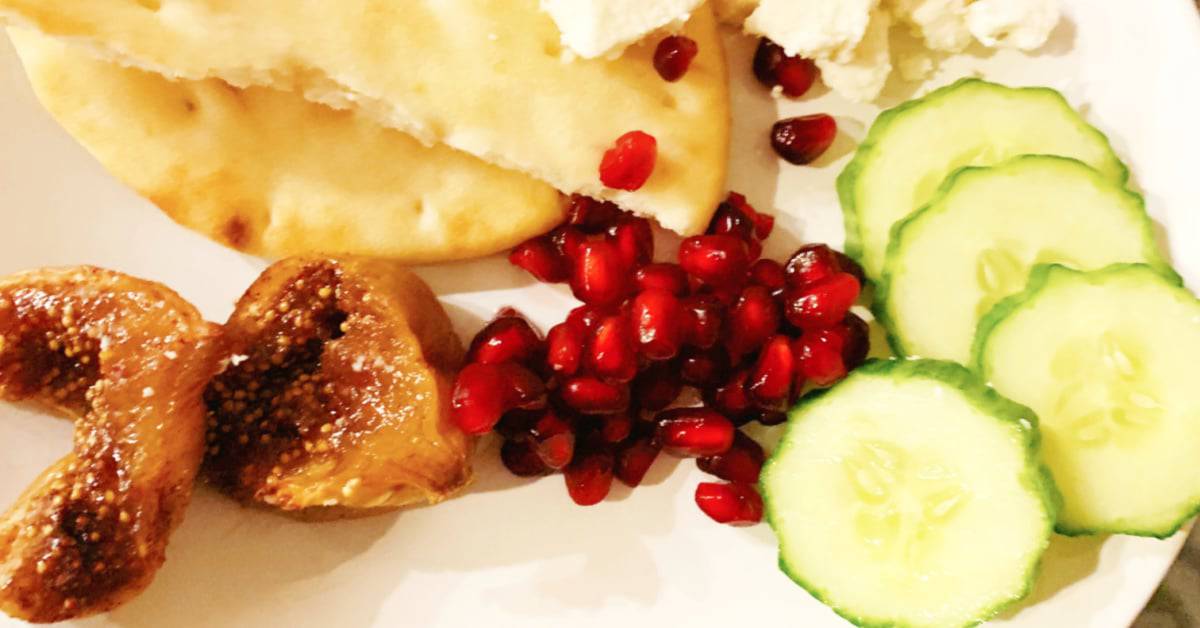 How To Roast Dried Figs
You may be wondering can you cook dried figs (or can you roast dried figs)…
Can you bake dried figs?
Yes, you can bake dried figs in the oven once they have been rehydrated. Once you rehydrate figs, roast dried figs using your favorite recipe or simply with honey until slightly caramelized.
(Don't miss the full soaked dried figs recipe in with the baked figs recipe below!)
Affiliate links are used on this site. As an Amazon Associate I earn from qualifying purchases. Read more in our DISCLOSURE.
Before we get to the how to roast figs recipe…
What To Do With Dried Figs
Dried figs uses:
Eat as a salad topping
Bake fig cookies
Make fig bars
Dip in honey
Bake fig bread
Make a fig pudding
Eat with goat cheese
Use on a charcuterie board
Make fig jam
Serve roasted figs with ricotta cheese
Use in Christmas cakes
Make roasted figs with balsamic
Baked figs with honey and cinnamon (see recipe below!)
Make baked figs with honey and walnuts
Eat alone as a snack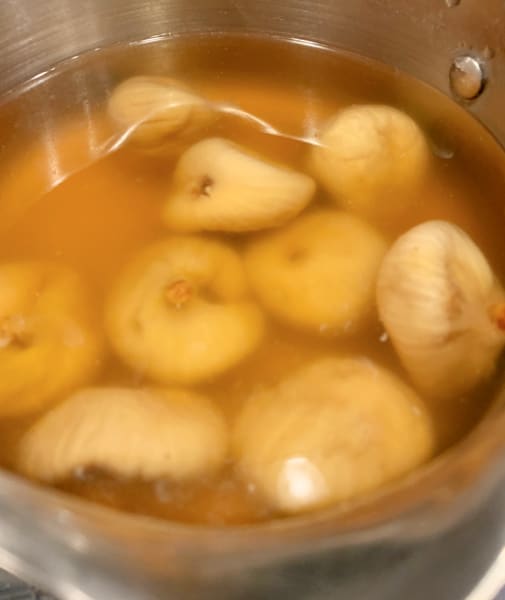 Can dried figs be rehydrated?
Yes! You can easily rehydrate figs by soaking them in warm water. The figs will reconstitute and plump up just like before they were dried, but the color will remain brown (and not purple or green like fresh figs)! You can then use them in recipes on bake figs in the oven.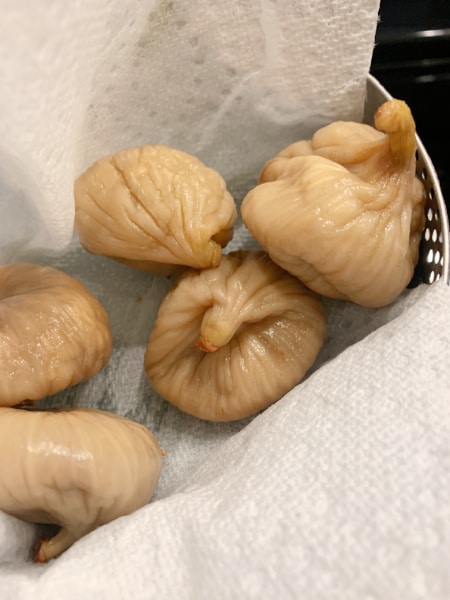 How long does it take to rehydrate figs?
It can take anywhere from 30 minutes to a couple of hours for figs to rehydrate. It will depend on how large the figs you are using and how much they are dehydrated. Plan the rehydration of figs well before your dinner or recipe needs them!
Do you have to soak dried figs?
You may be wondering should dried figs be soaked before eating? You don't have to soak dried figs before eating. You can use dried figs in recipes or eat them as snacks. However, if you want figs be dried in the oven (roasted), you should first rehydrate them.
We actually made our fig recipe for our Bethlehem Dinner. They were perfect for that activity!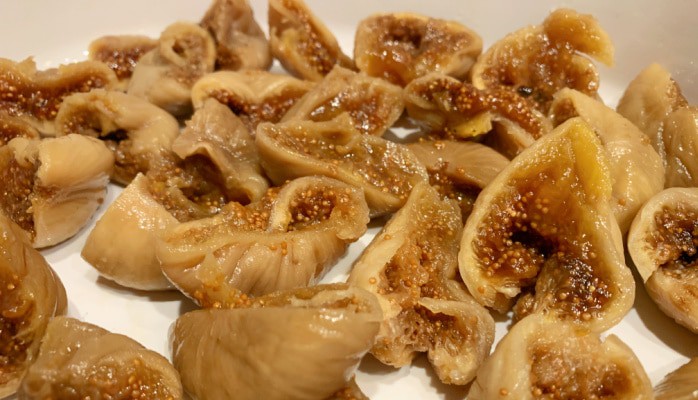 Dried Fig Recipes
There are many different things you can add to oven roasted or pan roasted figs — both savory roasted figs and sweet fig recipes. Don't be afraid to play around with the flavors and see how you like them best!
Our simple oven roasted figs recipe goes well with cheese and nuts or even eaten alone!
Yield: 10
Roasted Figs With Honey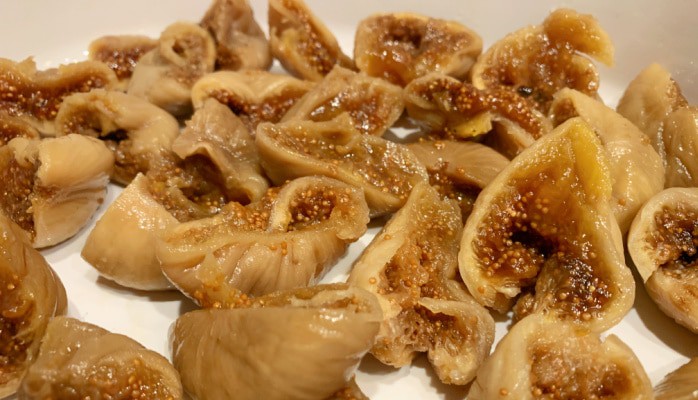 Roasted dried figs are just as good as fresh figs! Before baking figs, you will first need to rehydrate figs and then roast them in the oven. They make a perfect appetizer with goat cheese for holiday recipes or party recipes!
WE INCLUDED GREAT TIPS IN THE POST, SO BE SURE TO SCROLL UP AND READ THEM ALL BEFORE MAKING THE RECIPE!
Total Time
1 hour
20 minutes
Ingredients
10 dried whole figs
1 Tablespoon cinnamon
1/4 cup honey + extra for serving
Instructions
How To Rehydrate Dried Figs
Place dried figs in a single layer in a shallow dish.
Pour hot water over figs just until covered.
Place lid on dish (or cover with foil or plastic wrap). Let sit for at least 30 minutes before checking. (Rehydrating figs can take up to 2 hours depending on how dried the figs are and how big they are.) Figs are rehydrated when fully plump again.
Use a slotted spoon and move figs to a plate with paper towel to drain.
HOW TO MAKE ROASTED FIGS
Preheat oven to 375 °F. Line a baking sheet with parchment paper. Set aside.
Cut reconstituted figs into halves.
Place figs, cut side up, in a single layer on prepared baking sheet.
Drizzle with honey and then sprinkle with cinnamon evenly over each fig.
Roast figs for 20 minutes, or until tender and slightly bubbling and a little caramelized.
Remove from oven. Drizzle a little more honey over each fig before serving. Serve immediately while warm: alone, with bread or crackers, goat cheese, as part of a charcuterie board and more.
Nutrition Information:
Yield:
10
Serving Size:
1
Amount Per Serving:
Calories:

47
Total Fat:

0g
Saturated Fat:

0g
Trans Fat:

0g
Unsaturated Fat:

0g
Cholesterol:

0mg
Sodium:

59mg
Carbohydrates:

12g
Fiber:

1g
Sugar:

11g
Protein:

0g
Nutrition information is estimated. Changes to the recipe and use of different brands may cause changes to the nutritional information to vary slightly from the ones provided here.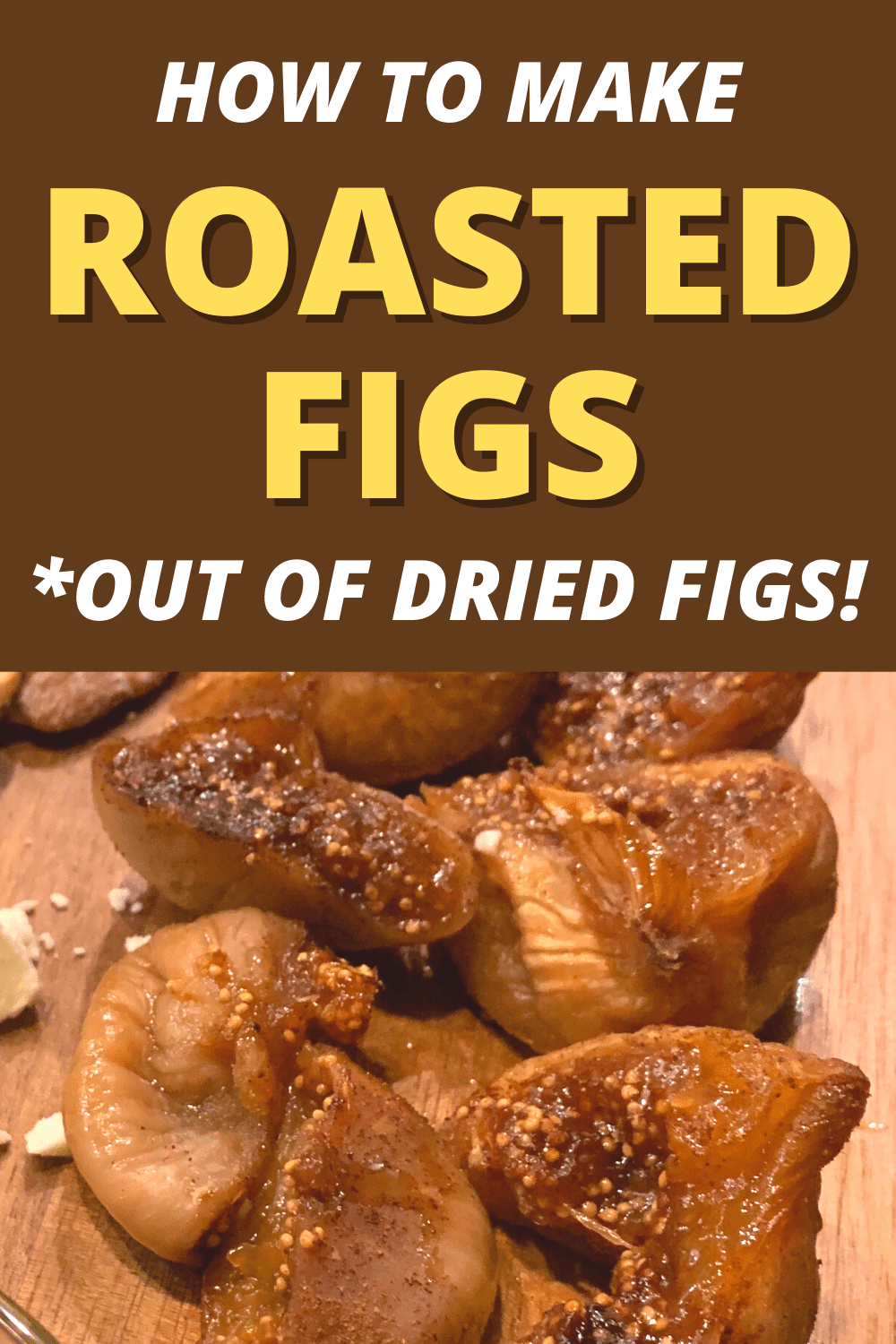 Have fun learning how to roast dried figs!
LOOKING FOR FUN COOKING PRINTABLES FOR KIDS?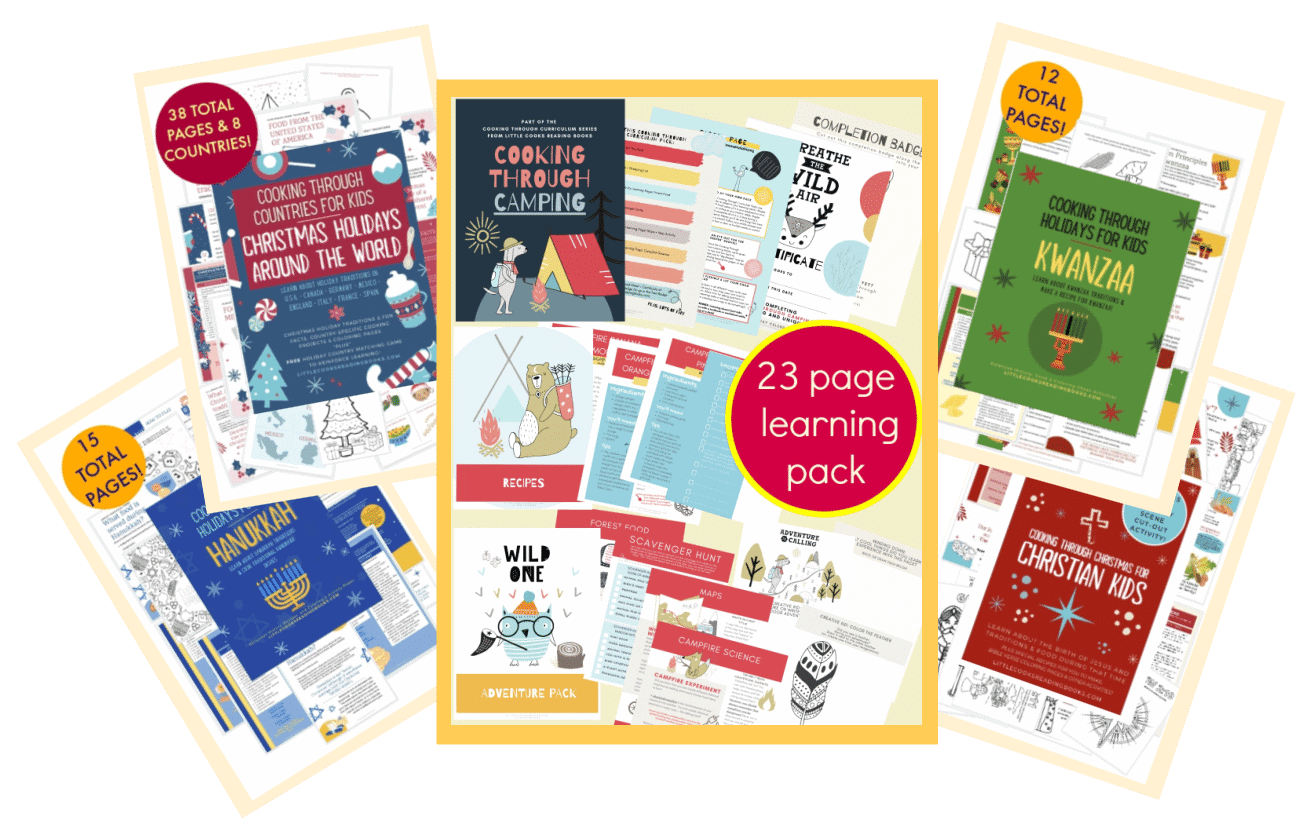 As an Amazon Associate I earn from qualifying purchases. Please refer to our
DISCLOSURE
.