The best camping food ideas are quick and easy recipes to make after setting up camp. If you're wondering what are good meals for camping (especially if you're camping with kids!), we've got you covered with fun outdoor recipe ideas, easy campfire food, and even best make ahead meals for camping!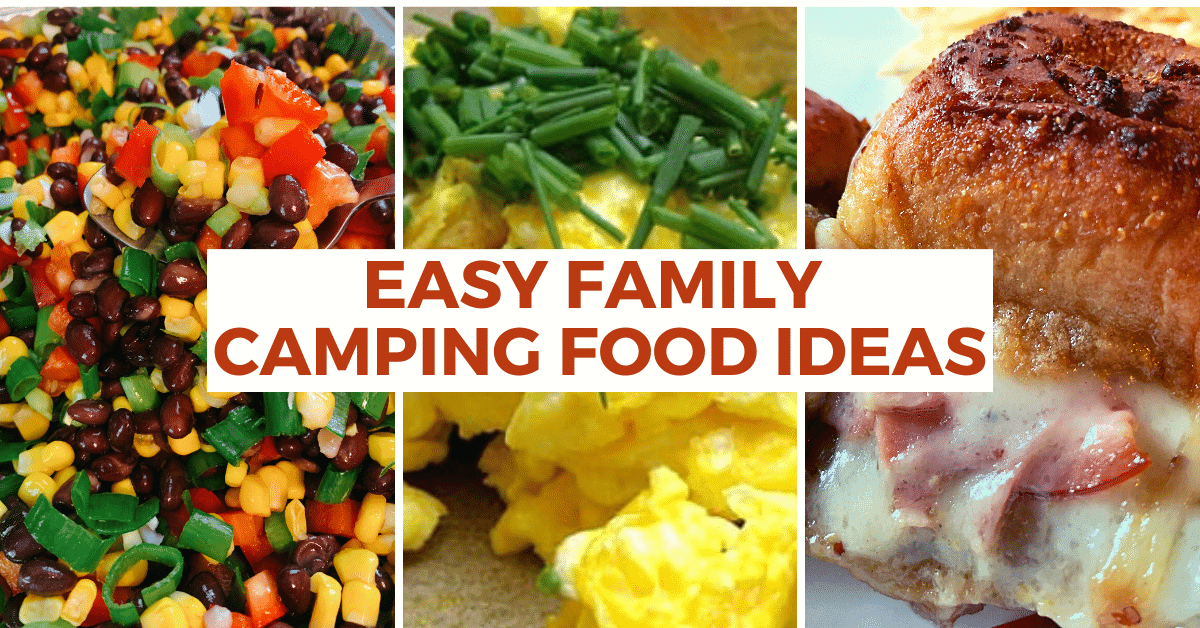 BEST CAMPING FOOD IDEAS
People stress out about good camping meals, but you don't need fancy camping meals to make yummy camp recipes!
(Remember, almost everything tastes good when you're fresh of the grid and enjoying nature!)
Instead, try these campfire food recipes, especially when you have hungry little ones to feed!
Easy Camping Meals for Family
Try these best easy camping food ideas:
Walking Tacos
Dutch Oven Chili
Campfire Nachos
Grilled Pineapple
Campfire Chicken and Vegetable Kabobs
Breakfast Burritos
Campfire Dessert Cones
Campfire Roasted Hot Dogs
Grilled Corn on the Cob
Mason Jar Meals
Skillet Bread
Johnny Cakes (Hoe Cakes)
Dutch Oven Mac n Cheese
Foil BBQ Chicken and Vegetables Pack
Campfire French Toast or Pancakes
Dutch Oven Apple Pie
S'mores
DON'T MISS OUR FULL CAMP FOOD RECIPE RECOMMENDATIONS BELOW!
What is the best food to take camping?
What are good snacks for camping?
Peanut Butter (or nut butter substitutes)
Dehydrated Foods (just add water)
Popcorn
Jerky
Trail Mix
Bars
Nuts
Eggs
Muffins (can be toasted right on the campfire!)
Potatoes (foil wrap them and place them in the fire or fry them)
Beans
Cheese
Tortillas
Instant Mac and Cheese
Ramen
Instant Coffee Packs
Tea Bags
ALSO CHECK OUT MORE CAMPING SNACKS FOR KIDS: DIY Hiking Snacks For Kids
BEST CAMPING FOOD IDEAS FOR FAMILY
Try these ideas for easy camping meals for large groups or for small family campfire food!
List of Camping Food Ideas
Check out these fun camping with kids food ideas. Quick and easy camp snacks and camp meals!
ALSO CHECK OUT: How To Camp As A Family Guide (Even If You Hate Camping with Kids)
LET US KNOW YOUR BEST CAMPING FOOD IDEAS!