This white bean chicken chili in crock pot will become one of your favorite fall soup recipes or simple slow cooker recipes. (You can also make this white chicken chili instant pot!) Add this to your list of soup recipes in crock pot!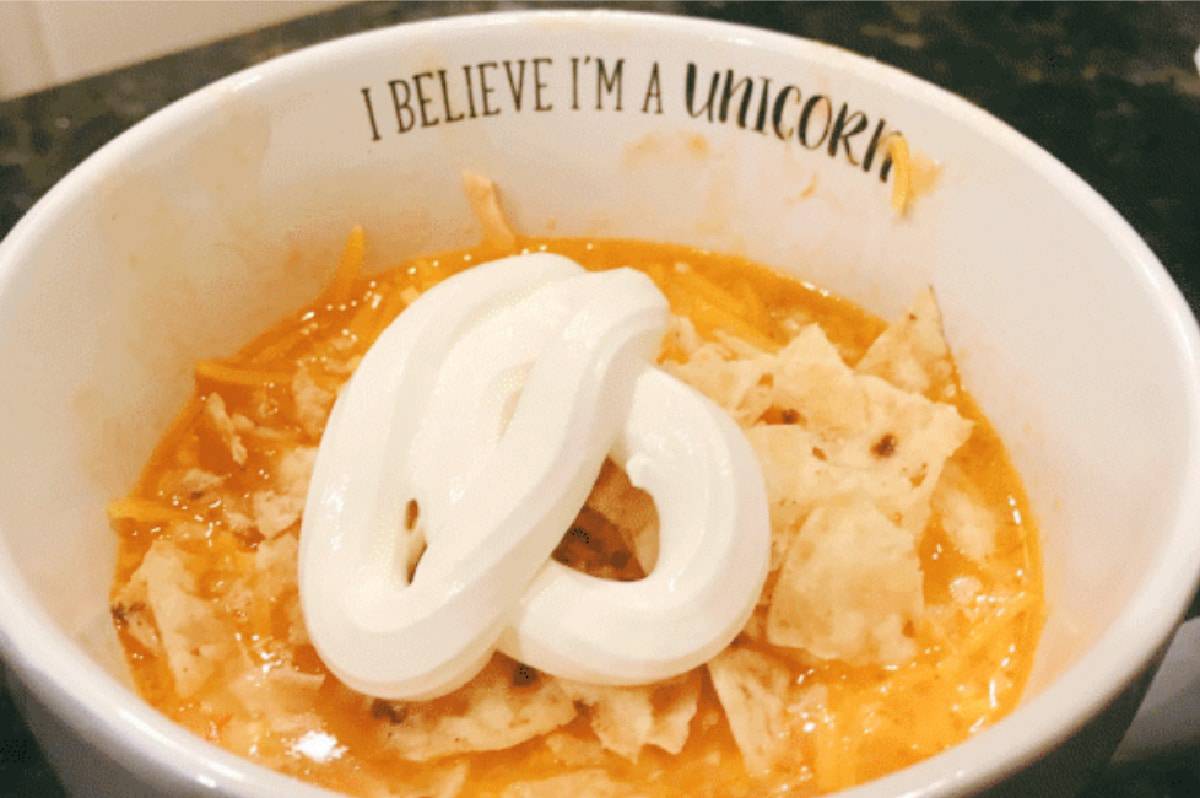 White Bean Chicken Chili In Crock Pot Recipe
This white bean chicken chili recipe is one of our favorite crockpot soup recipes. It's a quick and easy soup recipe to throw together and have ready in a couple of hours of cooking in the slow cooker or instant pot.
What is white chili made of?
Best white chicken chili recipe ingredients:
Chicken (canned, cooked shredded, or frozen)
Broth
Salsa (heat of choice) for white chicken chili seasoning
White beans
Cream of chicken soup
White cheese (like Monterey Jack)
Sour cream (optional)
Tortilla chips (optional)
Green chiles or jalapeno (optional)
Our recipe for white bean chicken chili in crock pot calls for canned chicken (find it in the same area as canned tuna at the store), but you can easily make this white bean chili with chicken breast, either fresh or frozen.
Affiliate links are used on this site. As an Amazon Associate I earn from qualifying purchases. Read more in our DISCLOSURE.
(I often use frozen chicken breasts. I just put them in frozen and let them cook down with the rest of the soup.)
If you want to be prepared for pantry cooking recipes, keep some of this canned white chicken breast in the pantry as a "just in case."
Sometimes, I also add other things I need to use in the refrigerator, like carrots and celery. It's still good!
It's so easy and so yummy that I usually keep the ingredients for this in the pantry as a "Dang, what are we going to have for dinner?" panic meals or a frugal pantry meal.
It's nice because, depending on the kind of cheese you use (shredded or cubed), it can be a short couple of hours to cook or an all day white chicken chili in a crock pot.
If you love the slow cooker white chicken chili Pioneer Woman, you'll love this one, too!
Why is it called white chicken chili?
Chicken chili recipes are called white chili because it's white in color instead of the reddish color of traditional chili with a tomato base. White chicken chili stays white because it is cooked with light ingredients like chicken, a light broth (like chicken), white beans, and a white cheese (like Monterey Jack).
White Chicken Chili Beans
What kind of beans are white beans?
There are several types of white beans:
Northern white beans
Navy beans
Cannellini beans
Lima beans
What white chicken chili beans should I use?
For the beans for white chicken chili, use Northern white beans. The flavor is really mild compared to some of the other white beans. However, you can substitute other white beans and get a different flavor for your chicken white bean chili in the crockpot.
Play around with your white chicken chili recipes to see what you like best!
Are white beans and northern beans the same?
White beans describe a variety of beans from Northern white beans to lima beans. Great Northern white beans are part of that group. They are large beans with a more nutty, mild flavor.
Recipes for chicken chili usually call for Northern white beans because of their mild flavor over other white chili beans. That's what we like best for our soup recipes for crock pot.
ALSO TRY: Southwest Sweet Potato Soup with Chicken in Crockpot
OK!
Let's get to white bean chicken chili slow cooker recipe!
White Bean Chicken Chili Crockpot Recipe
We made our white chicken chili slow cooker style, but you can also make this white chicken chili Instant Pot, too!
You'll be surprised what a creamy white chicken chili crockpot this is.
The seasoning for white bean chicken chili comes from the salsa. Some people make this as a white bean chicken chili salsa verde recipe. I haven't tried it that way yet, but it's on my list!
If your family likes super spicy, try this as white bean chicken chili with green chilies. (Just add chopped green chilies to the recipe.)
We also add sour cream and tortilla chips as toppings, too. (If you're looking for soup recipes Mexican flavor, I think this one checks that box, too!)
Yield: 6-8
Best White Bean Chicken Chili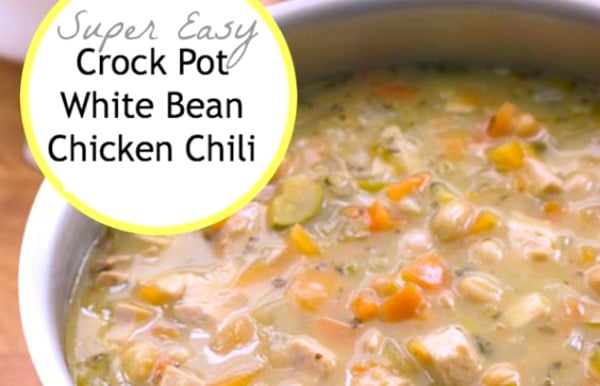 This white bean chicken chili recipe can easily be converted to vegetarian by leaving out the chicken and adding more beans. It's just as yummy! Sometimes I add extra things like carrots and celery, so don't be afraid to play around with it!
Total Time
2 hours
5 minutes
Ingredients
3 cans great northern (white) beans, undrained
1-2 12-oz cans chicken, drained (OR 2 chicken breasts, fresh or frozen)
1 can cream of chicken or cream of mushroom soup
1 soup can of water OR 1 cup chicken broth
8 oz. salsa (mild, medium or hot-your choice!)
8 oz. Monterey Jack Cheese (or any cheese you have!)
Instructions
Drain liquid from canned chicken (or place frozen or fresh chicken breasts in bottom of crockpot).
Add remaining ingredients to the crock pot.
Cook on high for 2 hours if using shredded cheese, or on low for 6 hours if using cubed cheese.
IF USING CHICKEN BREASTS, shred the chicken and stir back into the chili before serving.
To serve: Sprinkle extra cheese on top and serve with a side of crusty bread, corn bread, or tortilla chips. Add sour cream, if desired.
Notes
We've also used cheddar cheese when we didn't have Monterey Jack and it also turned out good. (It will just be less white.)
Sometimes we add chopped onions, carrots, or even celery (if we have veggies we need to use before they go bad). This is definitely a recipe you can play around with to your liking!
Nutrition Information:
Yield:
8
Serving Size:
2 cups
Amount Per Serving:
Calories:

355
Total Fat:

23g
Saturated Fat:

9g
Trans Fat:

0g
Unsaturated Fat:

12g
Cholesterol:

110mg
Sodium:

918mg
Carbohydrates:

7g
Fiber:

1g
Sugar:

2g
Protein:

29g
Nutrition information is estimated. Changes to the recipe and use of different brands may cause changes to the nutritional information to vary slightly from the ones provided here.
You could make this as a no bean white chicken chili, but the beans really do add a great, thick flavor and consistency. (My husband isn't that crazy about beans and even he likes this recipe.)
Is white chicken chili supposed to be thick?
White chicken chili will be thick, but not as thick as you may be accustomed to with a beef chili. It has a soupier texture than beef chili, but can be thickened with cornstarch or by using an emulsifying blender to blend down some (but not all) of the beans.
How do you thicken white chicken chili?
When making white bean chicken chili in slow cooker if you find your white chicken chile too thin or soupy, simply remove about 1/4 cup of the chili broth that's been cooking. To the broth, add 1 Tablespoon of cornstarch. Stir until the cornstarch dissolves. Add the mixture back into the chili and stir. Continue cooking until thickened or it makes your white chicken chili creamy.
It's a white bean chicken chili easy thickening tip!
If you want more of a white bean chicken chili soup, don't thicken it. It's good that way, too!
Enjoy your white bean chicken chili in crock pot!
LOOKING FOR FUN COOKING PRINTABLES FOR KIDS?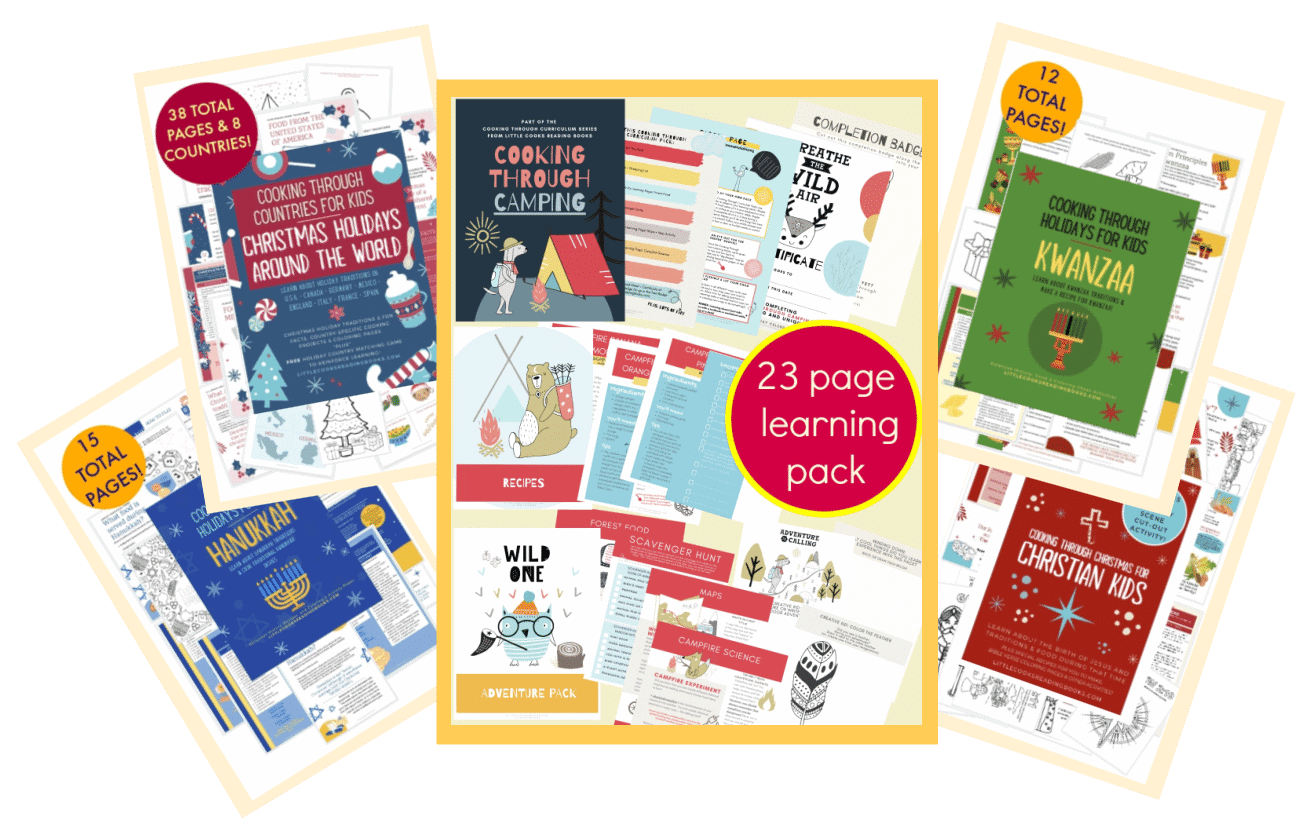 As an Amazon Associate I earn from qualifying purchases. Please refer to our
DISCLOSURE
.