Last Updated on
Have you ever made a fried green tomatoes recipe? (They rank right up there, maybe #1 for me, in the fried vegetables category!) This is one of the best and easiest green tomatoes recipes and even tastier with our fried green tomatoes sauce, so be sure to make that, too! (We'll talk about "Are fried green tomatoes just unripe tomatoes?" and give you tips on where to buy green tomatoes!)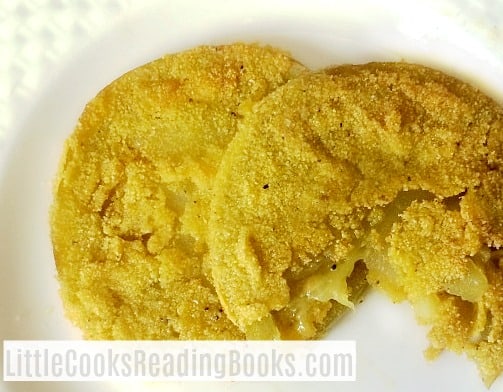 Affiliate links are used on this site. As an Amazon Associate I earn from qualifying purchases. Read more in our DISCLOSURE.
Both of my parents are Southern, so I grew up eating this fried green tomatoes recipe as far back as I can remember.
If you've never had fried green tomatoes, you might think, "GROSS!"
But, it's not like what you're thinking a ripe tomato tastes like! (They're not fried red tomatoes!)
Fried green tomatoes are firmer and more acidic than regular, ripe, red tomatoes.
But, it's that texture and taste that holds up really well when you fry them up.
And, fried green tomatoes are a really great finger food for kids to eat as a snack or part of a meal!
Are fried green tomatoes just unripe tomatoes?
There are some tomatoes that stay green(er), but the tomatoes used for fried green tomatoes are unripe red tomatoes.
The green is what happens right before the tomatoes start to ripen and turn red.
(Sometimes you'll start to see a hint of a red tint.)
To pick green tomatoes to fry, you want to get them when they're green, but fully grown (not just when they're starting to grow), firm, and right before they start to turn to ripe.
They will be larger and firmer to touch if you lightly squeeze on them.
Green tomatoes are actually bitter and shouldn't be eaten without cooking them.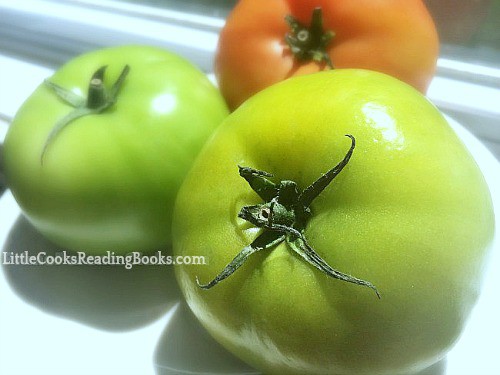 Where to buy green tomatoes?
If you don't grow your own tomatoes, then you'll need somewhere to buy green tomatoes.
They are most abundant and easy to find in the summer.
(However, don't wait too long or they'll turn into ripe, red tomatoes and you won't be able to find them!)
Not all grocery stores carry green tomatoes (or, they only carry them for a short period).
Farmers' markets and roadside farm stands are great places to check for green tomatoes for cooking.
How To Make Fried Green Tomatoes
A fried green tomatoes recipe is much like any other fried vegetable recipe. You first create a breading that you dredge the green tomatoes in.
Then, you place the coated green tomatoes in a pan of hot oil and fry until lightly browned and crispy on both sides.
If you want to make fried green tomatoes recipe without cornmeal, you can just use flour or you can also use panko
Don't miss the fried green tomato sauce after the recipe!
— Jump to Recipe —
Fried Green Tomatoes paired with
I Will Never Not Ever Eat a Tomato Children's Book
This fried green tomatoes recipe pairs perfectly with the book I Will Never Not Ever Eat a Tomato by author Lauren Child featuring characters Charlie and Lola.
From the book:
Lola is a fussy eater.

A VERY fussy eater.

She won't eat her carrots (until big brother Charlie reveals that they are really orange twiglets from Jupiter).

She won't eat her mashed potatoes (until Charlie explains they are cloud fluff from the pointiest peak of Mount Fuji).

There are many, many things Lola absolutely will not eat, including—and especially—tomatoes. Or will she?

Join two endearing siblings for a smorgasbord of fun in Lauren Child's witty story about the triumph of imagination over proclivity.
If you have a picky eater and want to get them to try different things (like fried green tomatoes!), then this children's book is perfect!
Listed Book Age Range:4-8 years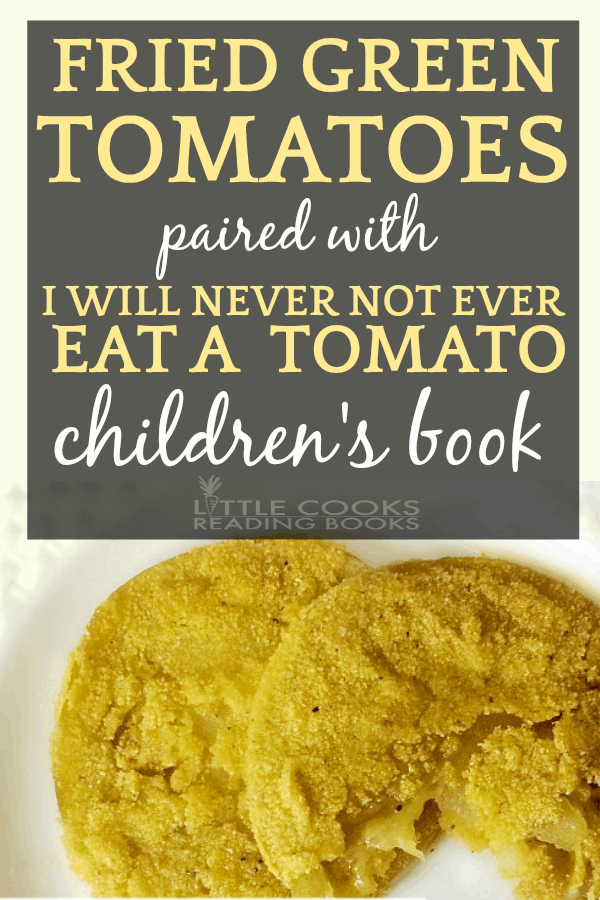 PIN TO SAVE
FRIED GREEN TOMATOES RECIPE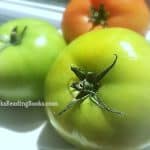 Print Recipe
Fried Green Tomatoes
This is the southern fried green tomatoes recipe that I grew up with my mom (and grandmas!) making.
Equipment
A platter or a baking sheet lined with wax paper to lay the prepared tomatoes on until you cook them.
Ingredients
4

Green tomatoes

(large)

2

Eggs

(large)

1

Cup

All-purpose flour

1

Cup

Yellow cornmeal

Vegetable oil or olive oil for frying

Salt and pepper

to taste
Instructions
Slice tomatoes into about 1/4-inch thick slices. (Leaving it too thick will take longer to cook and the breading may burn.) Set aside.

In a small, shallow bowl, beat eggs. Set aside.

In two separate bowls, place flour and cornmeal. Season both lightly with salt and pepper. Set aside.

Place a tomato slice into the flour, turning so both sides are covered. Then, place the flour covered tomato into the eggs. Once covered with egg, press the tomato into the cornmeal, turning and repeating on the other side so that both sides of the egg are covered. Transfer to the baking sheet or platter until ready to cook.

Continue dipping each tomato slice into the flour-egg-cornmeal bowls until each tomato slice is covered. Store them on the baking sheet or platter until ready to cook.

Heat about 1/4-1/2 cup of oil in a large skillet over medium heat. Fry tomatoes in single layer batches, about 3 to 4 minutes per side. Drain on a plate lined with paper towels in a single layer. Cool slightly before eating. Salt and pepper to taste.
Notes
Nutrition information is estimated. Changes to the recipe and use of different brands may cause changes to the nutritional information to vary slightly from the ones provided here.
Don't forget to pair the recipe with

I Will Never Not Ever Eat a Tomato

children's book!
Why are my fried green tomatoes soggy?
Uh-oh.
So you made this awesome fried green tomatoes recipe and they ended up soggy.
Soggy fried green tomatoes often either come from not letting your oil get hot enough or stacking them on top of each other when they are hot.
After frying the tomatoes, place them on a paper towel to drain in a single layer and allow them to cool slightly before serving.
(Do not place other fried tomatoes on top of each other.)
Also, fried green tomatoes tend to get soggy the longer they sit. So, the next day, they may not be as crisp as the first day.
How To Make Fried Green Tomatoes Sauce
Not long ago, I decided to make a fried green tomatoes sauce.
(Because . . . why not?)
Growing up, we didn't eat fried green tomatoes with sauce, and, in all honesty, fried green tomatoes are just fine without the sauce.
However, if you want to elevate this recipe a little (especially for a dinner party or something like that), definitely try the sauce.
(Or, just make it for yourself when no one else is home so you don't have to share!)
It's so simple and you can easily adjust the spiciness level of it.
---
FUN FACT FOR KIDS: Capsaicin is the active component in chili peppers that makes them feel hot in your mouth and pungency is the real term for what we call "hot" or "spicy."
---
Easy Fried Green Tomatoes Sauce Recipe
In a large bowl, mix together 1 cup of mayonnaise and 2-3 tablespoons of Sriracha hot chili sauce.
Serve as a side dipping sauce or drizzle on top of the fried green tomatoes.
If your kids like a little spicy, they'll love this dipping sauce.
(My kid eats super hot stuff, so she adds even more of the Sriracha to her sauce!)
The mayonnaise really cuts back on the heat, so you can add just a little hot sauce to the mayo and not really worry about it being too hot for the kiddos.
As an Amazon Associate I earn from qualifying purchases. Please refer to our
DISCLOSURE
.