Are salad spinners worth the money? Whether you're best salad spinner for home on a budget, wondering how to dry lettuce for salads, or need best salad spinner for large family, we've got you covered! We'll also include our personal experience on a few different salad spinner types to help you make a better decision on your kitchen gadget.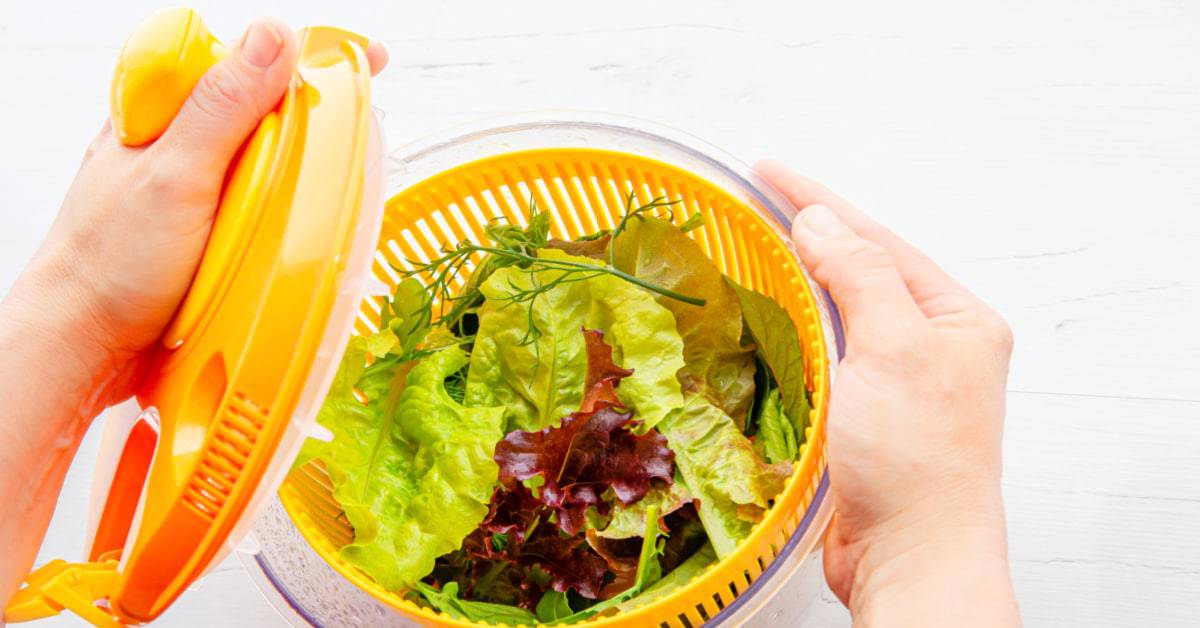 Are Salad Spinners Worth The Money? Choosing Best Salad Spinners For Home Kitchens
Before we get to the best salad spinners out there, let's talk about pros and cons of salad spinners.
Is it worth having a salad spinner?
Benefits of salad spinners:
A salad spinner can help you wash your greens quickly and easily.
Salad spinners can also help you dry your greens more evenly, which can prevent them from wilting or becoming soggy.
Using a salad spinner can also help you keep your greens fresh for longer.
Salad spinners can also be used to wash and dry other fruits and vegetables, like berries or herbs.
Some salad spinners even come with extra features like built-in strainers or storage containers, which can make them even more versatile and useful for a kitchen gadget.
A salad spinner is fun when cooking with kids (of all ages!) because it's a safe way kids can help in the kitchen.
Read on to find out which salad spinners are worth the money!
Affiliate links are used on this site. As an Amazon Associate I earn from qualifying purchases. Read more in our DISCLOSURE.
Cons Of Salad Spinners In Kitchen
Just like any kitchen gadgets, there are pros and cons. And, there are benefits of salad spinners as well as cons of salad spinners. Although the positives far outweigh the drawbacks, there are things you need to consider before buying a salad spinner.
Salad spinner takes up a lot of space for something you may not use regularly.
Salad spinners can be difficult to clean.
Plastic on salad spinner can crack over time, but there are stainless and glass spinners.
They can be expensive.
Colanders and paper towels work just as well (but take more time).
If you're new to spinning salad, you may be wondering…
What does a salad spinner do?
A salad spinner is a kitchen gadget that is used to remove water from washed greens and other vegetables. The salad spinner consists of a bowl with a perforated lid. A handle on the lid is used to spin the greens inside the bowl, which separates the water from the leaves.
Salad spinner uses and functions:
Clean lettuce
Dry lettuce
Evenly coat salad with salad dressing or oil
Drain pasta
Wash material (makeshift salad spinner washing machine)
Salad spinner art for kids
Wash herbs
Wash and dry berries
Make salad spinner tie dye shirts
Clean vegetables
Clean fruit
Store fruits and vegetables
DON'T MISS: Most Fun Cooking Supplies For Kid Chefs
Does a salad spinner clean lettuce?
Yes! A salad spinner is one of the best and easiest ways to clean lettuce. Lettuce is sometimes difficult to clean and even more difficult to dry. A salad spinner not only gives you clean lettuce (and other greens), but also gives you dry lettuce, which is helpful if you want to eat a salad ASAP!
What is the best salad spinner on the market?
If you want to get right to it:
Does a salad spinner really work?
Yes, salad spinners do work! They are an effective way to remove water from washed greens and other fruits and vegetables. The spinning action of the salad spinner separates the water from the leaves, leaving the greens dry, intact (not damaged), and ready to use.
Do salad spinners keep salad fresh?
Salad spinners not only keep your lettuce clean and dry, but they can also keep it fresh. You can even store your lettuce in the salad spinner in a refrigerator for a couple of days.
Are salad spinners necessary?
Salad spinners can be a great addition to your kitchen if you eat salads often or if you like to have fresh, dry greens on hand. However, they can be expensive and difficult to store, so they might not be worth the investment if you don't think you'll use them often.
What is the highest rated salad spinner?
There are many different brands and models of salad spinners on the market. Some of the more popular brands include OXO, Cuisinart, Mueller, and KitchenAid. There are also many different sizes of salad spinners available, from small to large, and spinners for commercial kitchens to salad spinners for home kitchens.
Some of the best rated salad spinners:
OXO Good Grips Large Salad Spinner (our favorite from our personal use!)
Cuisinart CTG-00-SAS 5 Quart Salad Spinner
Farberware Easy to use pro Pump Spinner with Bowl
Mueller Large 5L Salad Spinner
OXO Good Grips Little Salad & Herb Spinner
OXO Stainless Steel Salad Spinner
Prepworks by Progressive Collapsible Salad Spinner
Westmark Vegetable and Salad Spinner with Pouring Spout
Brieftons Large 6.2-Quart Salad Spinner
*see the full list of best rated salad spinners by category below. Keep scrolling!
KITCHEN GADGET TIP:
What Can You Put In A Salad Spinner?
When choosing a salad spinner, it is important to consider how often you will be using it and what type of greens you will be washing. If you plan on using the salad spinner frequently, then a larger model may be a better option. If you only plan on using it occasionally, then a smaller model may be sufficient.
Best Way To Use Salad Spinner
To use a salad spinner, simply fill the basket with wet greens, place the lid on top, and spin the handle. The centrifugal force created by the spinning will remove the water from the greens and deposit it into the bowl below. Most salad spinners also have a built-in strainer that can be used to rinse the greens before spinning. This is a handy feature if you want to save time by not having to wash the greens in a separate colander before spinning salad.
YOU MAY ALSO LIKE:
How To Store Lettuce In A Salad Spinner
To store lettuce in salad spinner:
Wash and spin the lettuce.
Test the lettuce. If needed, spin again so it is completely dry.
Replace the lid on the salad spinner.
Place in refrigerator for up to 2 days in the spinner.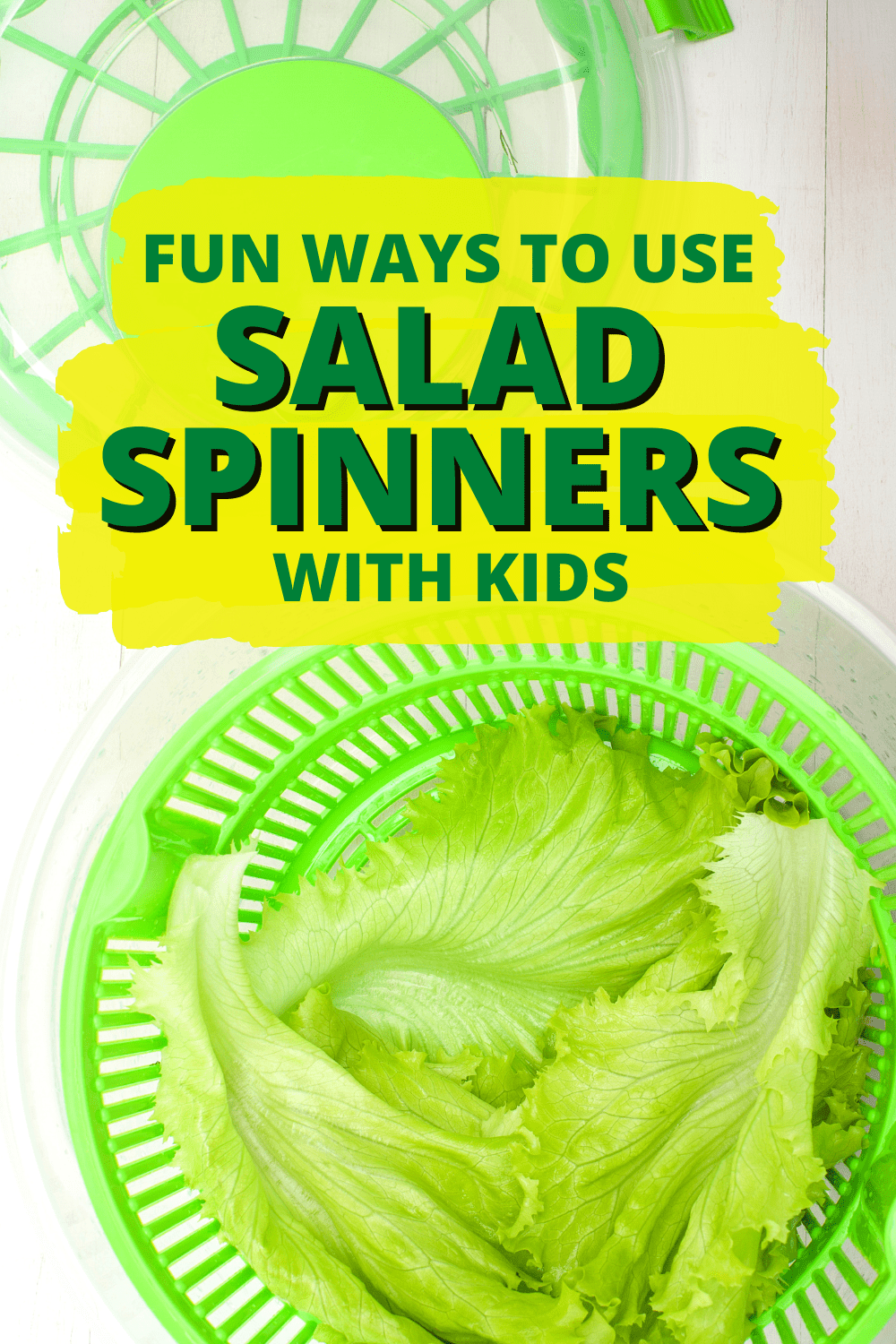 So, what is the best salad spinner for drying lettuce and home use?
Best Salad Spinners By Category
When wondering what is best salad spinner, think of how you will use and store spinners for salad. A best home use salad spinner can range from very affordable ($20 salad spinners) to expensive.
We've broken down the salad spinner reviews into categories to easily help you find the best salad spinner for your kitchen needs and help you pick out the best type of salad spinner for your family!
Best Small Salad Spinner
Small salad spinners are great if you're cooking for one or you don't eat salad that often. (There are mini salad spinners!)
Best Collapsible Salad Spinner
If your kitchen is short on space, you'll definitely want to look for a collapsible salad spinner. Salad spinners can be large and bulky and hard to store (a salad spinner con). However, with collapsible salad spinners, they are easy to store when not in use!
Best Salad Spinner For Storage:
Best Inexpensive Salad Spinner
Salad spinners can be expensive for a kitchen tool that you may only use occasionally, so you may want a budget-friendly salad spinner.
Best Quality Price Salad Spinner Under $20:
Best Rated Large Salad Spinner
Large capacity salad spinners are great if you have a large family or eat a lot greens in your house. Larger salad spinners have a wide range of costs from expensive to more affordable, so check out several to find out exactly what you need.
Best Large Salad Spinners:
Best Salad Spinner With Pull Cord
We've also had salad spinner with pull cords and I've really enjoyed them. However, the con of this type of salad spinner is that you usually can't put the lid with the pull cord in the dishwasher as it diminishes the cord over time. Also, even when you're handwashing the spinner, it still gets water in the "cord hole" and I had to position it in weird ways to dry. (Granted, I may have been super paranoid and overly cautious, but that's what I did.)
Pull Cord Salad Spinners:
Best Stainless Steel Salad Spinner
There are also stainless steel salads spinners on the market. You'll often pay more for some of the best salad spinner metal or stainless. Some people appreciate the durability of a stainless salad spinner and are willing to pay more for metal salad spinner bowls because plastic salad spinners degrade or crack over time.
Stainless Salad Spinners:
Best Glass Salad Spinner
An alternative salad spinner to stainless steel is a glass salad spinner.
Glass Salad Spinner Options:
Best Salad Spinner Electric
Did you know that there are now electric salad spinners? They are super fun and easy to use and electric salad spinners can save you time. However, expect to pay a little more for a quality electric salad spinner. Many of those types of spinners come with more functions, so the cost is sometimes worth it!
The Best Electric Salad Spinner:
Cleaning Salad Spinners and Kitchen Gadget Care
How do you clean salad spinners?
To clean a salad spinner, first disassemble it by removing the lid and inner basket. Wash the pieces in warm, soapy water, then rinse them thoroughly. Dry the pieces with a clean towel or air-dry them before reassembling the salad spinner. Store the salad spinner in a dry place when not in use. Each salad spinner brand has different care instructions, so be sure to read the manual.
How To Clean The Top Of A Salad Spinner
Cleaning the top of salad spinner and the basket can sometimes be difficult because lettuce pieces and vegetables can get stuck and dried on them. Many salad spinners are dishwasher safe, including the top of the salad spinner. You may need to disassemble the top to clean either in the dishwasher or by soaking it in the sink with dishwashing soap.
Can you put salad spinner in dishwasher?
Most of the best salad spinner are dishwasher safe. You should always follow the directions from the brand salad spinner as each spinner will have different care directions. In most cases, it's best to put your plastic salad spinners on the top dishwasher shelf just to be safe. Never wash your pull-cord salad spinners as it may damage the cord mechanism.
What can I use instead of a salad spinner?
Salad Spinner Alternatives:
Salad spinners are a convenient kitchen gadget that can save you time and effort when washing greens and other vegetables. They are an effective way to remove water from washed greens and other vegetables, and they come in a variety of sizes and styles to suit your needs.
Whether you are a frequent user or an occasional user, a salad spinner is a worthwhile investment for your kitchen.
We hope this helped you answer are salad spinners worth the money and the best spinners for salad for use at home!
LOOKING FOR FUN COOKING PRINTABLES FOR KIDS?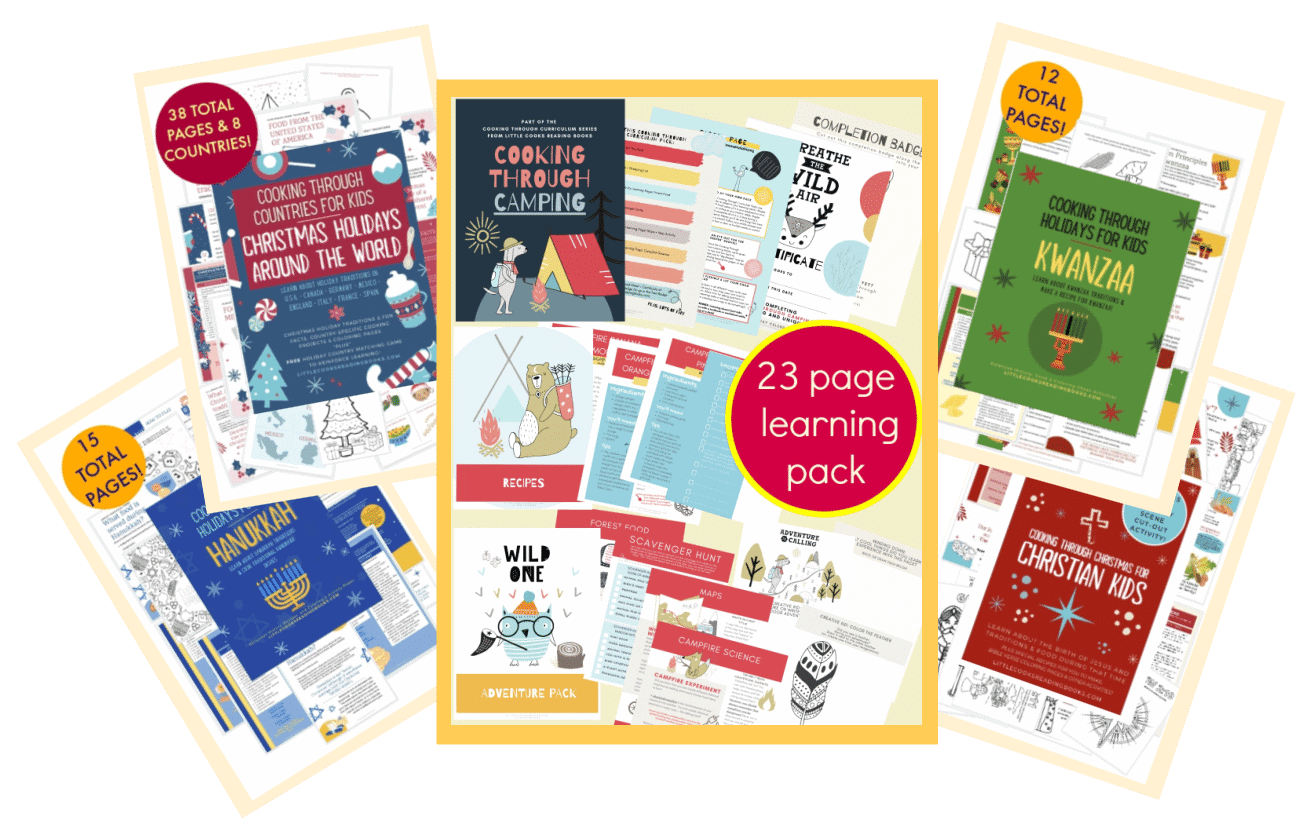 As an Amazon Associate I earn from qualifying purchases. Please refer to our
DISCLOSURE
.