Want to make Buddy Elf breakfast spaghetti from the Elf movie or wondering what does Buddy the Elf put on his spaghetti? This fun Elf movie food is a great addition to a Buddy Elf movie party, Christmas party snacks, Christmas Eve movie night, or an elves theme party.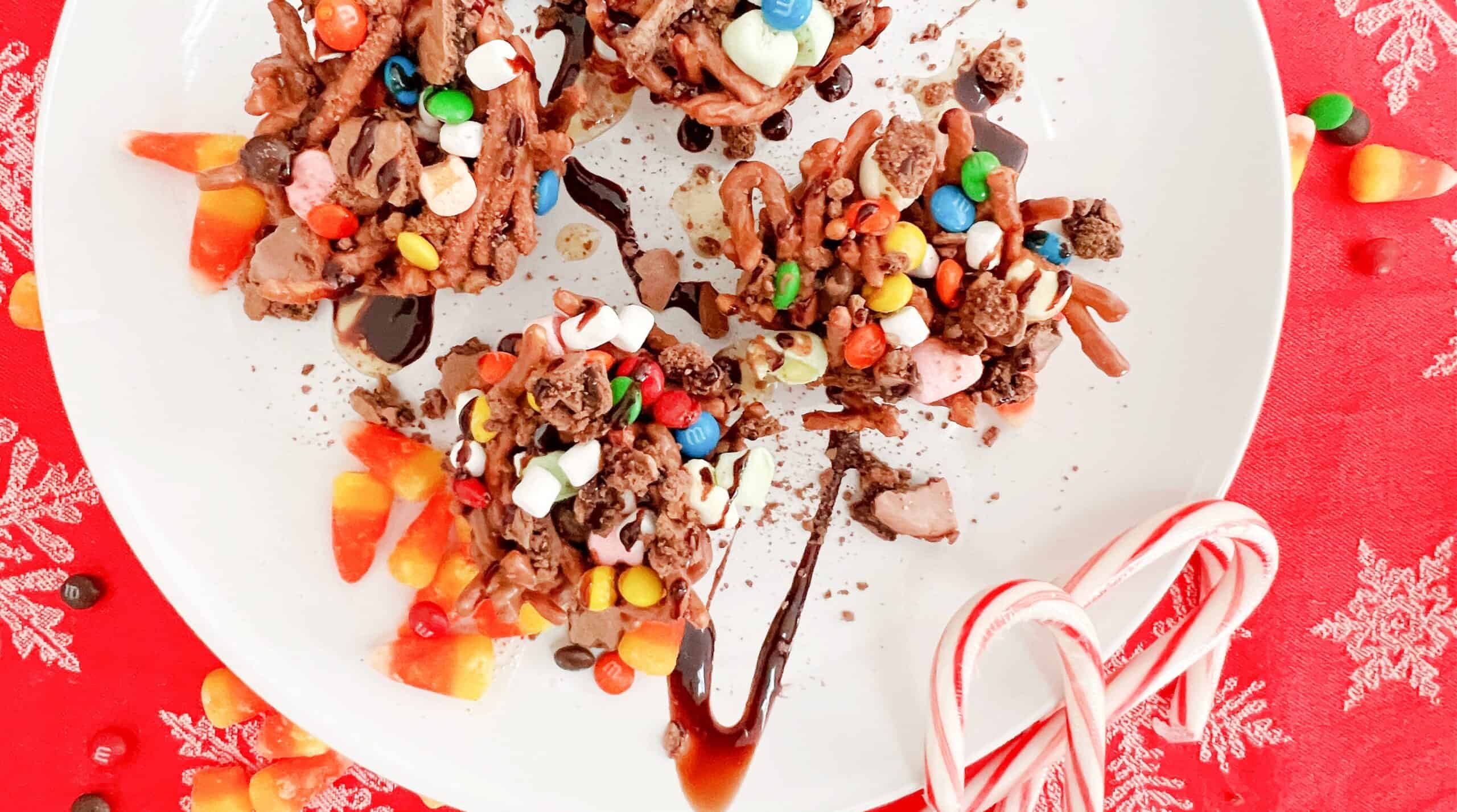 How To Make Buddy Elf Breakfast Spaghetti
If you've watched the movie Elf with Will Ferrell, you probably remember the Elf breakfast spaghetti scene and want to know what did Elf put on his spaghetti?
What does Buddy the Elf have for breakfast?
What does Elf eat with spaghetti?
Affiliate links are used on this site. As an Amazon Associate I earn from qualifying purchases. Read more in our DISCLOSURE.
The Buddy the Elf breakfast breakfast pasta recipe is:
Spaghetti noodles
Maple syrup
Chocolate syrup
M&Ms
Mini Colored Marshmallows
Chocolate Pop Tart
What flavor pop tart does Buddy the Elf use in his spaghetti?
Buddy the Elf uses Fudge Chocolate Pop Tarts with chocolate icing in the breakfast spaghetti scene. He breaks about the fudge poptarts and then smashes them down with his bare hands in the spaghetti for breakfast. The Buddy the Elf spaghetti pop-tarts are a regular flavor and can be found in the aisle with the rest of the breakfast Pop-Tarts.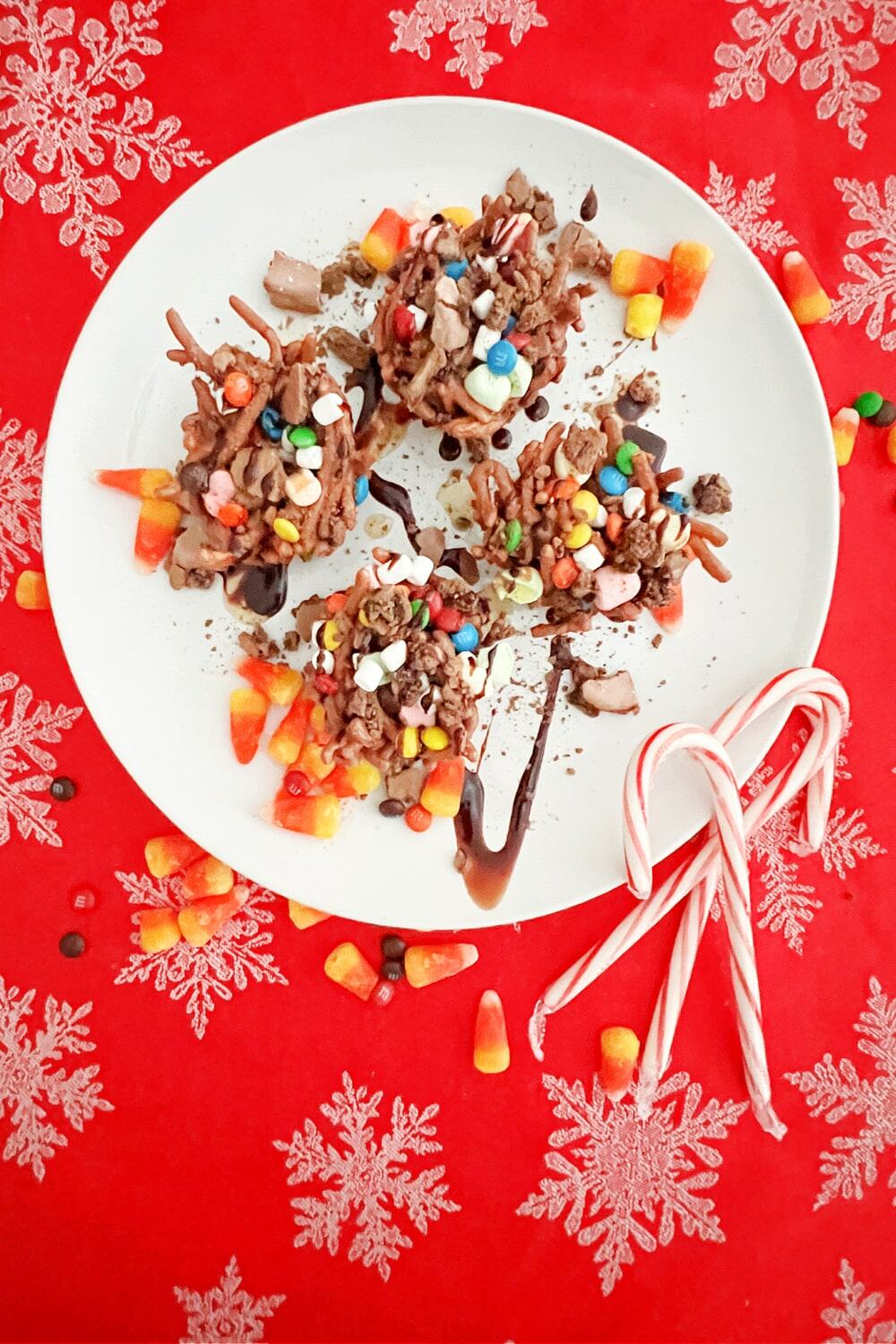 Food was a big deal to Buddy Elf and was a big part of the movie. In addition to the Buddy the Elf breakfast spaghetti, what did Buddy the Elf eat?
What are the 4 food groups in Elf?
Buddy the Elf quotes that they try to stick to the four main food groups:
Candy
Candy canes
Candy corns
Syrup
He uses these to make Buddy spaghetti in the movie!
YOU'LL ALSO HAVE FUN WITH:
Buddy Elf Movie Christmas Party Sleepover Ideas
Ugly Christmas Sweater Cookie Decorating Party
25 Days of Holiday Family Movie Night Activities
Can we be honest about the Elf food recipe?
Although it's funny — I mean that classic Buddy the Elf spaghetti pop tarts smash? GOLD — we didn't want to make the Elf movie spaghetti recipe just to recreate the Buddy the Elf breakfast spaghetti scene and waste food by creating a pasta recipe nobody wants to eat.
We wanted to create a fun holiday treat that gave a nod to the Buddy Elf movie, while also giving you candy spaghetti cookies you actually want to eat!
I mean, does spaghetti and syrup taste good?
I have no idea. (Maybe?) But, these Buddy the Elf pasta desserts sure do!
Here's how to make Buddy the Elf's breakfast pasta that you will really eat.
It's our take on the Buddy Elf spaghetti recipe — except kind of in an Elf Christmas cookie bar form!
They super fun foods for a kids holiday party or Christmas Elf theme party!
If you want to have a lot of fun, allow kids to decorate their own Buddy the Elf spaghetti cookies.
Here's how to make sweet treats from the Elf movie (no bake cookies)…
How To Make Elf Movie Breakfast Spaghetti Buddy the Elf Cookies
For our Buddy The Elf spaghetti cookie bars, we used butterscotch morsels and also milk chocolate.
If you want a lighter cookie to look more like the color of spaghetti noodles, use white chocolate instead of milk chocolate.
You can also spread these in a baking pan and, once they've set, cut them apart for Buddy The Elf cookie bars.
But, we think they're super cute as little piles of mini spaghetti – no baking required!
Don't forget that this is Elf syrup spaghetti! Serve garnished with chocolate sauce and maple syrup sauce to stay with the Elf theme.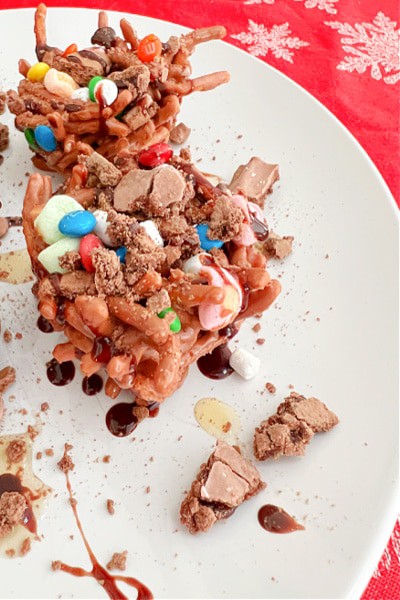 Yield: 12
Buddy Elf Breakfast Spaghetti Treats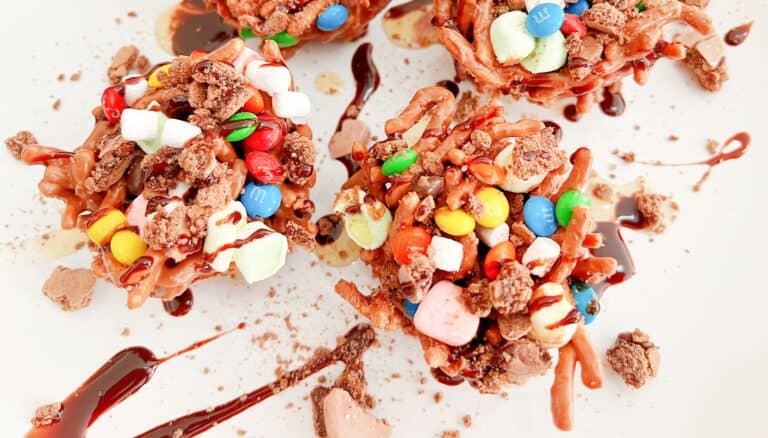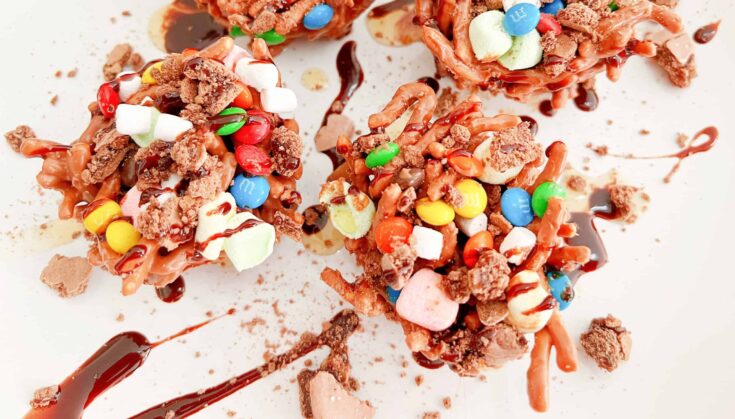 These Elf inspired breakfast spaghetti cookie treats are a fun addition to any Elf theme party! They'll make around 12-15 Elf cookies, depending on how full you fill your muffin tins.
Additional Time
10 minutes
Ingredients
1 5-ounce container crispy Chow Mein Noodles
1/2 cup butterscotch morsels
1/4 cup milk chocolate morsels (or white chocolate for lighter "spaghetti")
1/2 cup smooth peanut butter (optional)
1/4 cup mini M&Ms, for toppings
1/4 cup dehydrated marshmallows, for toppings
Mini colored marshmallows (cut into smaller pieces with kitchen scissors), for toppings
1 chocolate fudge iced Pop-Tart, broken and crushed into small crumbles
Chocolate syrup (for garnish drizzle)
Maple syrup (for garnish drizzle)
Instructions
Spray a mini muffin pan with cooking spray. Set aside.
Pour Chow Mein Noodles into a large mixing bowl. Set aside.
In a large microwavable bowl, place the butterscotch morsels, chocolate morsels, and peanut butter. Microwave in 30 second intervals until melted and smooth, stirring between each interval. (Do not over cook!)
Immediately pour chocolate peanut butter mixture over Chow Mein Noodles. Gently stir until all noodles are coated.
Working on a few muffin sections at a time, spoon three mini muffin cups halfway with chocolate covered chow mein noodles. Quickly add toppings — dehydrated marshmallows, mini M&Ms, colored marshmallow pieces and crushed PopTart.
Repeat process until all chocolate Chow Mein noodles are in the muffin tins and decorated with toppings.
Keep in muffin tins until set when you run a knife around the edges and they easily come up. (Around 10 minutes.)
Place on serving platter and drizzle with chocolate syrup and maple syrup.
Notes
Prepare your toppings ahead of time by placing them in small dishes you can easily access and cutting your colored marshmallows. Since these Christmas cookies set fairly quickly, you'll need to work fast to get your toppings added so they stay on.
If you really want to stick with Buddy Elf's four food groups, garnish the serving platter with candy canes and candy corn, too!
Nutrition Information:
Yield:
12
Serving Size:
1
Amount Per Serving:
Calories:

233
Total Fat:

10g
Saturated Fat:

3g
Trans Fat:

0g
Unsaturated Fat:

6g
Cholesterol:

2mg
Sodium:

251mg
Carbohydrates:

33g
Fiber:

1g
Sugar:

18g
Protein:

4g
Nutrition information is estimated. Changes to the recipe and use of different brands may cause changes to the nutritional information to vary slightly from the ones provided here.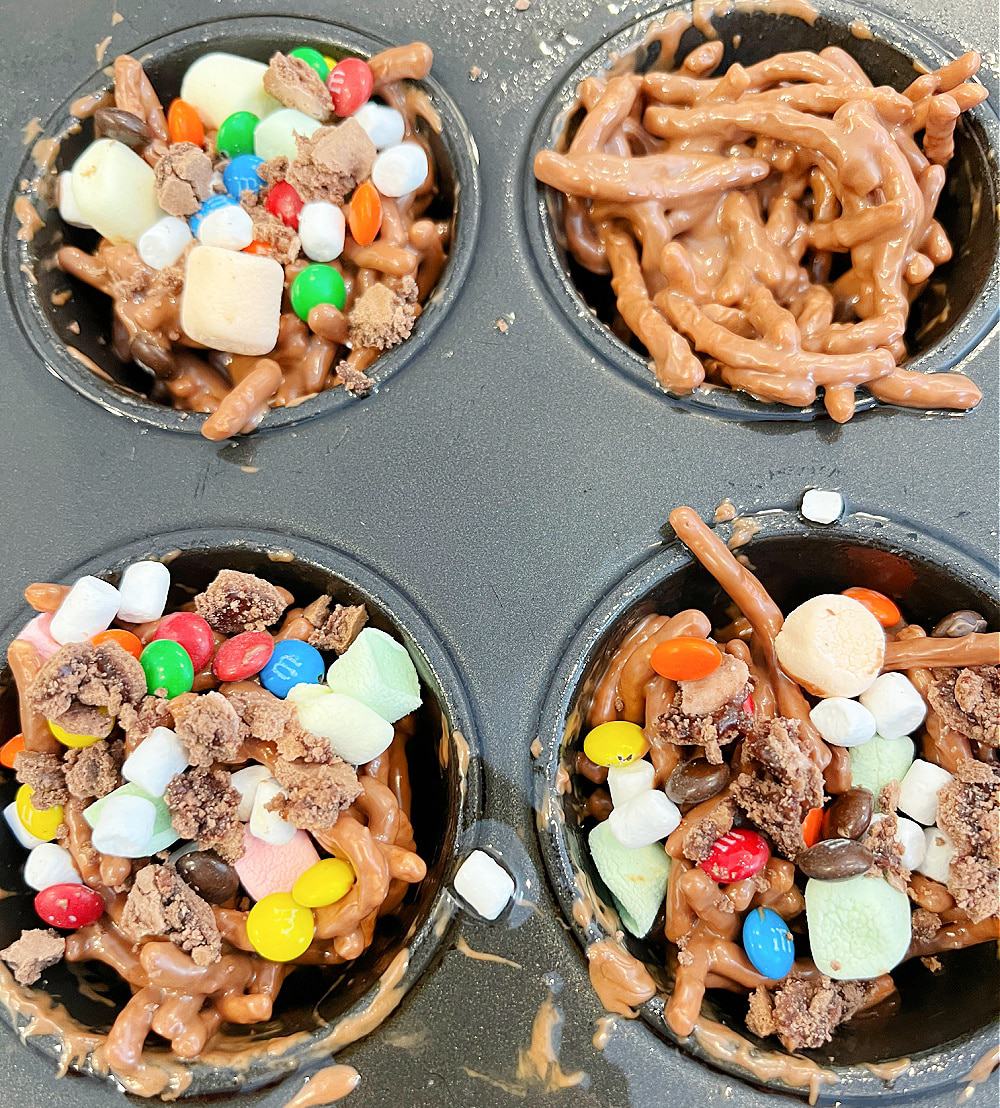 Let us know if you try the real breakfast dessert pasta!
Have fun with our Buddy Elf breakfast spaghetti treats!
LOOKING FOR FUN COOKING PRINTABLES FOR KIDS?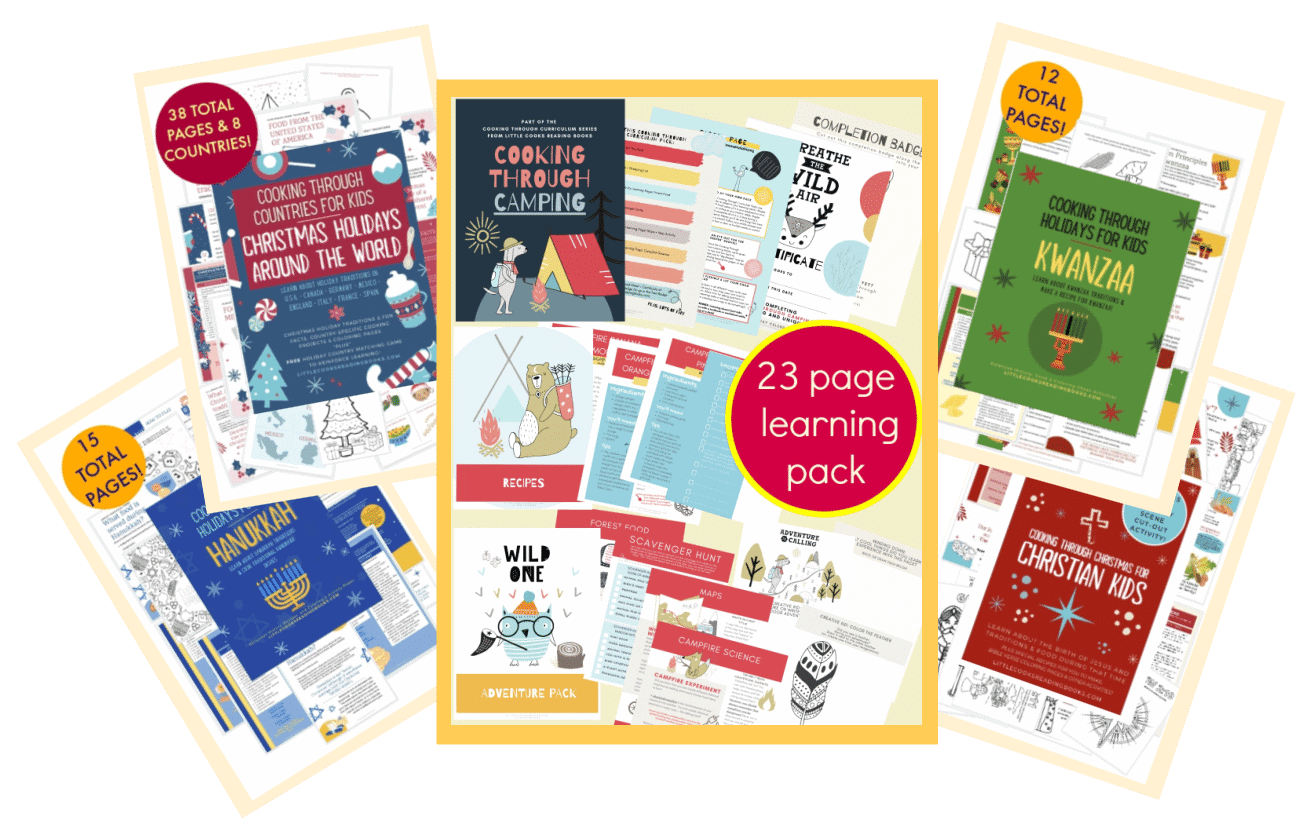 As an Amazon Associate I earn from qualifying purchases. Please refer to our
DISCLOSURE
.