Cooking classes for kids are a great way for children to not only learn cooking and recipes, but also sharpen different culinary skills like knife safety and food handling! Here are surprising places to find kids' cooking classes or a kids' cooking camp that you probably didn't think about! Learn about cooking classes near me or baking classes near me for the most fun for your little chefs!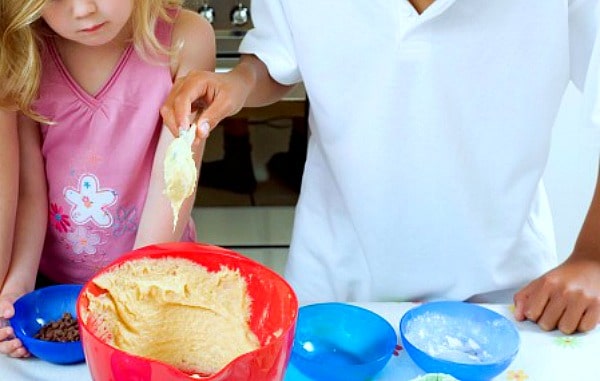 Before we get to the kids' cooking class ideas, let's cover some important questions to help you better understand why cooking should be a priority in your children's learning.
Why are cooking classes important?
Children cooking classes are important because it helps kids learn an important life skill in a professional environment with people trained to teach cooking. Also, classes help your kids learn how to safely and correctly handle knives — which is an important part of cooking. Lastly, learning to cook gives kids confidence and also teaches them about nutrition and how to cook in healthy ways.
Why is it important to cook with children?
So, why is it important to cook with your child? There are many benefits of cooking in early childhood and beyond.
Affiliate links are used on this site. As an Amazon Associate I earn from qualifying purchases. Read more in our DISCLOSURE.
Why cooking with kids is important:
Helps with STEM, reading, spelling and MORE.
Improves communication.
Teaches nutrition and healthy eating.
Teaches responsibility.
Boosts confidence.
Helps with picky eating because they get to select and make what they eat!
Practices teamwork.
Works on fine motor skills.
Exposes kids to different cultures.
Improves the family bond while cooking together.
Should cooking classes be mandatory?
Cooking is an important life skill that should be taught to kids of all different ages and stages. It not only prepares them to take care of themselves later in life, but it can also be a basis for a life of healthy eating and understanding nutrition.
What should I expect in a cooking class?
During a cooking class you should expect to focus on one or two dishes and be given the opportunity to make those dishes (or at least a component of the meal or recipe). You should fully understand the cooking class before you sign up your child. What are the goals? What will your kids actually be cooking during that class? What cooking skills are practiced?
Don't just rely on the cooking class description (especially if you are signing up for a camp or class that is more costly). Ask specific questions about what will be covered to ensure that it meets your goals for a kids' cooking class.
A few years ago I signed my daughter up for a children's cooking class (week-long cooking camp) that sounded amazing in the description. Turns out, it wasn't even in a kitchen and was more of an art camp based on food (think: cookie decorating and macaroni necklaces).
Although she had fun, we were both disappointed that it wasn't a true cooking class camp. So, know what you're signing up for!
Ok, let's get your children cooking, shall we?
Where Can I Find Cooking Classes for Kids?
Here are different places that your kid can take cooking classes and you can find cooking lessons for kids — from the comfort of your home or in your local area!
Cooking Classes for Kids Source #1: YouTube Cooking Videos
OK, you probably already know that there are cooking and baking videos on YouTube.
However, have you ever considered that you can take entire cooking classes via video at home because there are so many cooking videos for beginners!
So, the first place you need to start looking for cooking classes for kids is on YouTube because:
1. It's free, and
2. You can learn about cooking right from your home!
Start with these cooking videos for kids and YouTube cooking channels:
Also, don't forget about streaming services that offer all kinds of cooking classes and cooking shows!
Search for online cooking classes for kids using:
The Great Courses
Amazon Prime (you can even start a FREE TRIAL to check it out and cancel if you don't find any good cooking stuff for kids)
Netflix
Hulu
*There's a good "History of Food" on CuriosityStream. Don't forget to add some learning like that, too!
Cooking Classes for Kids Source #2: YMCA Cooking Classes
You may have forgotten about the YMCA, but if you are near one you really need to check their offerings for kids' cooking classes.
In case you don't know, YMCAs offer a very wide variety of classes of all kinds, and many even offer cooking classes for kids!
So, don't discount them!
Cooking Classes for Kids Source #3: Williams Sonoma Cooking Classes
Did you know that the kitchen goods store Williams Sonoma also offers kids' cooking classes called Junior Chef?
(Oh yes they do!)
From their website:
Perfect for kids 8 – 13, you'll learn to make delicious recipes, from main courses to desserts and snacks, with plenty of tasting along the way. We offer lots of fun cooking classes ­– including kitchen adventures with American Girl.
CHECK OUT MORE ABOUT THESE COOKING CLASSES (and look for the ones labeled "Junior Chef")
Cooking Classes for Kids Source #4: Panera Bakers in Training
Panera has an affordable, one-time baking class designed for kids ages 5-12.
From their class description:
In this fun-filled culinary experience, your child will put on their own cotton baking hat and apron, observe a baker's demonstration of three of our favorite baked goods, take a tour of our back of house, sample from our clean kid's menu and even decorate a cookie with tips from our baker.
They will create a class for your group, but you need to have 10-15 kids for them to create a class.
CHECK OUT MORE ABOUT THESE COOKING CLASSES
Cooking Classes for Kids Source #5: Sur La Table Kids & Teens Cooking Classes
Kitchen store Sur La Table also offers cooking classes for a variety of different age ranges. (Yes! Even teens!)
From their website:
Treat young chefs to an unforgettable immersive experience—3 or 5 days of hands-on fun making all their favorite summertime foods from scratch. Each day, they'll put on an apron and get cooking. The best part—they'll get to eat everything they make!
They'll learn new skills and make new friends—all while having fun!

A fun cooking adventure each day from our all-new menu.
CHECK OUT MORE ABOUT THESE COOKING CLASSES
Cooking Classes for Kids Source #6: Young Chefs Academy
Young Chefs Academy is a weekly children's cooking school where they will learn things like:
Kitchen safety
Etiquette and manners
Presentation
Proper food handling
Cooking & baking techniques
Basic cognitive subject matter
Food preparation
Table setting
And so much more!
It is currently only available in a few states, so you'll have to check to see if one is near you.
CHECK OUT MORE ABOUT THESE COOKING CLASSES
Cooking Classes for Kids Source #7: Maggiano's Little Italy
Maggiano's Italian restaurant has a very affordable cooking class for kids, ages 5-12.
From their website:
Kids will have a blast learning basic cooking skills in one of our hands-on classes. Your Junior Chef will create a Maggiano's classic of their own to enjoy with the family at home.
Dates and times vary by location, so you'll need to check your local Maggiano's.
CHECK OUT MORE ABOUT THESE COOKING CLASSES
Cooking Classes for Kids Source #8: Whole Foods Market
Some Whole Foods Markets offer kids cooking classes, but they are very specific based on location. So, you'll definitely need to check with your local Whole Foods.
Here's an example of a cooking class for kids from a Whole Foods Market in Minnesota:
School may be out, but it's never a bad time to learn about history, geography, art, language and more…especially if you get to eat your homework!

In this fun class, we'll learn all about the history of France, culture and cuisine.

We'll learn all about the ingredients that go into French foods, the different cooking methods behind them, and taste all sorts of delicious things!

This class can be vegetarian upon request (please specify when registering), but cannot be gluten free or vegan.

Classes are suitable for kids ages 5-12, and are drop off classes- kids only please!

On the menu:
Baked Brie and Other French Cheeses with Baguette

Radish Toasts with Butter and Salt

Croque Monsieur/Madame (Grilled Cheese with Ham or Turkey and Bechamel Sauce)

Green Beans Almondine

Parisian Style Gnocchi

Sweet Crepes with Chocolate Hazelnut Spread
(I. KNOW. It sounds so amazing that I want to take it!)
CONTACT THEM TO ASK ABOUT COOKING CLASSES
Where Else Can You Find Cooking Classes for Kids?
Local businesses are really getting into kids' cooking classes, so be sure to search online for cooking classes in your area.
We took a healthy cooking class from a local nutritionist who had a kitchen in their office.
It was one of my daughter's favorite cooking classes!
Search for cooking classes online using phrases like:
Cooking classes near me
Cooking classes for kids and parents (Yes! There are cooking classes you can participate in with your kids!)
Cooking classes for kids near me
Local cooking classes for kids

Summer cooking classes for kids

After school cooking classes near me
Cooking classes [your city]
Youth cooking classes near me
Kid baking classes near me (or kids baking classes)
Family cooking class
Mommy and me cooking classes near me
Cooking lessons for kids
Cooking classes for teens
Group cooking class for kids
BONUS COOKING CLASSES FOR KIDS TIP: Ask a Local Business to Add a Cooking Class!
Lastly, don't be shy about asking a local business, restaurant, gourmet grocery story (with kitchen classes already), doughnut shop, etc. to add a cooking class to their offerings.
In our area there is a gourmet grocery store that has a professional grade kitchen where they offer adult cooking classes. Our homeschool group asked them to add a homeschool kids' cooking class to their schedule and now it's one of their regular offerings!
We've had really good luck doing this and many are open to it because it means extra revenue or exposure for the business!
Do you have tips for cooking classes for kids? Let us know in the comments!
As an Amazon Associate I earn from qualifying purchases. Please refer to our
DISCLOSURE
.