These chocolate cake mix cookies are so simple—but so yummy—that no one will believe they came from a cake mix! (We won't tell about this simple dessert recipe if you won't tell!) This will be one of your new favorite easy cookies recipe.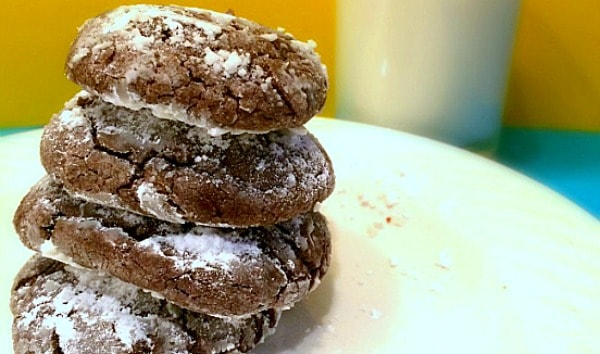 Chocolate Cake Mix Cookies Recipe
A few years ago a friend of mine introduced me to cake mix cookies and I was all like, "Huh? What?"
I had NO IDEA!
These cake mix cookies are so tasty!
Affiliate links are used on this site. As an Amazon Associate I earn from qualifying purchases. Read more in our DISCLOSURE.
And, making these cookies is so easy!
And then, I felt like nothing in my life made sense.
After I picked myself up and brushed myself off, I knew I needed more.
I decided to play around with different flavors and mixtures and this recipe for chocolate cake mix cookies quickly became our favorite—(although we did really enjoy the yellow cake mix cookies, white cake mix cookies, lemon cake mix cookies, and red velvet cake mix cookies, too!).
(YES! I said RED VELVET!)
(Don't judge.)
Honestly, you can try any cake mix flavor for your cake mix cookies, but definitely do the chocolate cake mix cookies first!
(They're full of chocolatey, fudge goodness that will make everything right in the world!)
Can you freeze cake mix cookies?
You can freeze cake mix cookies before or after you make them.
To freeze before, prepare the cake mix cookies following the recipe, then chill the dough in the refrigerator.
After chilling, form dough into balls and place them in a freezer bag (for up to 3 months).
Before baking, allow dough to come to room temperature and then bake the cookies as directed in the recipe.
To freeze after baking, allow cookies to cool completely and then place them in a single layer in a freezer bag up to 1 month.
---
ALSO CHECK OUT:

---
We decided to pair up these easy cake mix cookies with (what else?) Roald Dahl's Charlie And The Chocolate Factory!
Chocolate Cake Mix Cookies Pair With Charlie And The Chocolate Factory
For this recipe, we paired it with one of my favorites — the classic Charlie and the Chocolate Factory book
by Roald Dahl.
(You may call the book by the movie's name: Willy Wonka and the Chocolate Factory.)
It's such an amazing and fun classic story that—if you haven't yet—you really need to read it with your kids and not just watch the movie.
You probably know the story, but just in case (from the book):
Willy Wonka's famous chocolate factory is opening at last!

But only five lucky children will be allowed inside.

And the winners are:

Augustus Gloop, an enormously fat boy whose hobby is eating;

Veruca Salt, a spoiled-rotten brat whose parents are wrapped around her little finger;

Violet Beauregarde, a dim-witted gum-chewer with the fastest jaws around;

Mike Teavee, a toy pistol-toting gangster-in-training who is obsessed with television;

and Charlie Bucket, Our Hero, a boy who is honest and kind, brave and true, and good and ready for the wildest time of his life!
Here's a little fun tip: Roald Dahl's name is pronounced Roo-all Doll (and not Rolled Doll, like many people pronounce it).
Also, you can always watch Willy Wonka and the Chocolate Factory
and then read the book later.
(Of course, I recommend the classic and not the new one with Johnny Depp—at least not at first. We showed my nephew the Johnny Depp one first and that was forever the "real" Charlie and the Chocolate Factory movie in his mind.)
Start the movie while the cookies are baking and then when they're finished you'll have some yummy chocolate treats to enjoy while you watch the rest of the movie!
OK.
Now to the yummy and super easy 4 ingredient chocolate cookies!
(YEP. FOR REAL! Just four ingredients!)
How To Make Chocolate Cake Mix Cookies
Yield: 18 cookies
Chocolate Cake Mix Cookies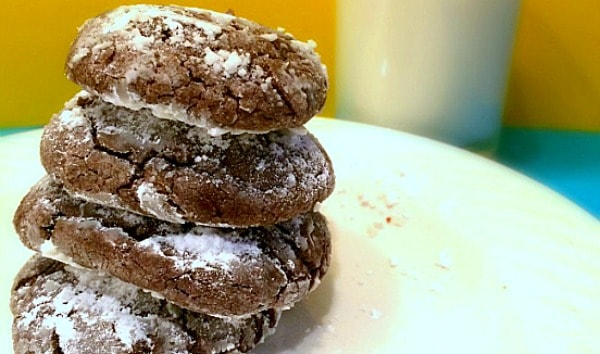 These chocolate cake mix cookies are so yummy that no one will believe that they're so easy! Also, you can add chocolate chips for a double chocolate punch! You can store these easy cake mix cookies in a covered container for up to 4 days.
Ingredients
1 Box Chocolate Cake Mix of Choice, (We used chocolate fudge and it makes really rich, fudgy cookies!)
1/2 Cup Vegetable oil
2 Eggs
Powdered (Confectioners) Sugar
Instructions
Preheat oven to 350 °F.
In a mixing bowl, combine cake mix, oil, and eggs. Mix well until the "dough" forms into a ball.
With your hands, make dough into small balls, about 1-inch each.
Roll dough balls in powered sugar and place on baking sheet.
Bake at 350 °F degrees for 8-10 minutes.
After baking, let the cookies stand on sheet for two minutes. Cool on racks.
Notes
Don't let the "dough" worry you. This won't be like regular cookie dough, it forms into a shiny ball.
Nutrition Information:
Yield:
18
Serving Size:
1
Amount Per Serving:
Calories:

68
Total Fat:

7g
Saturated Fat:

1g
Trans Fat:

0g
Unsaturated Fat:

6g
Cholesterol:

21mg
Sodium:

20mg
Carbohydrates:

1g
Fiber:

0g
Sugar:

1g
Protein:

1g
Nutrition information is estimated. Changes to the recipe and use of different brands may cause changes to the nutritional information to vary slightly from the ones provided here.
If you want to do a chocolate theme for learning or homeschooling, check these out!
They make a great pairing with this recipe and would be a lot of fun for a chocolate themed lesson, a party, or an even an evening of chocolate!
Have you tried other flavors besides the chocolate cake mix cookies?
LOOKING FOR FUN COOKING PRINTABLES FOR KIDS?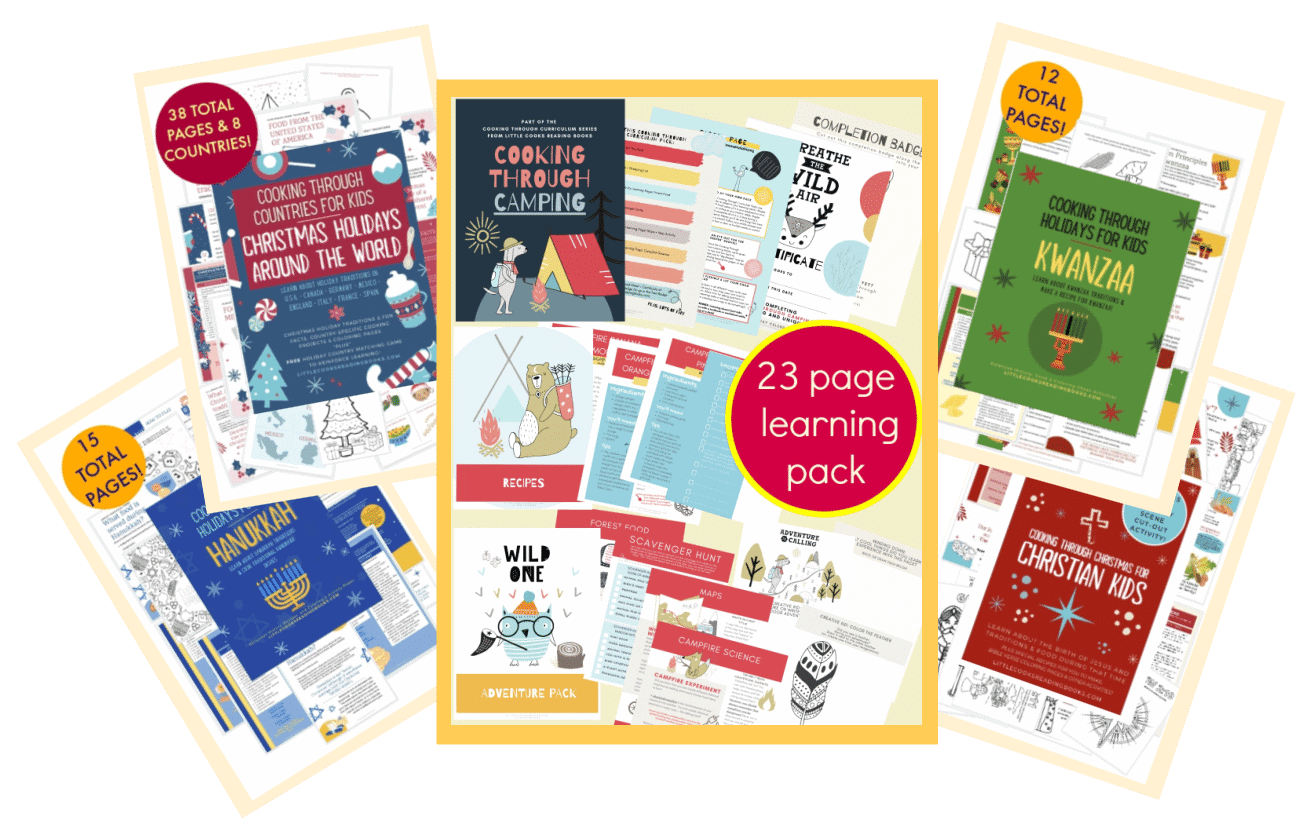 As an Amazon Associate I earn from qualifying purchases. Please refer to our
DISCLOSURE
.