This rice krispie cake is perfect for a Spring rice krispie treat cake, Easter cake, baby shower cake idea, rice krispie treats birthday cake, or any time you need festive desserts. Just change the chocolate decoration colors to meet your party theme!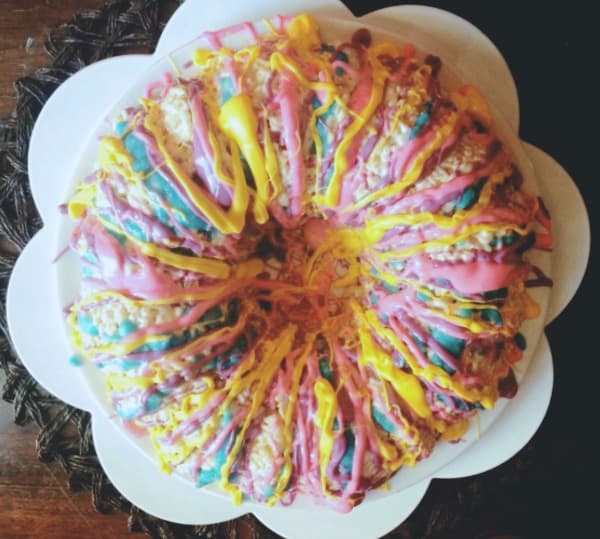 How To Make a Rice Krispie Cake
One of the great things about Rice Krispie treats is that you can make them into basically any shape you want—even an easy rice krispie cake!
(It's kind of like Rice Krispie treat cake sculpting!)
So, when we needed a fun (and fast!) Spring cake one year, we decided to adapt everyone's favorite treat into this colorful, no-bake, Rice Krispie cake.
Affiliate links are used on this site. As an Amazon Associate I earn from qualifying purchases. Read more in our DISCLOSURE.
I was so surprised how beautiful it turned out and it was a huge hit with all ages at the party!
For this rice krispie recipe, you don't have to use the same colors of melted chocolate that we used.
You can actually change up the colors and you can make it any theme you like.
I think it would be a fun dessert cake for Mardi Gras and use the traditional purple, yellow and green colors for icing (and maybe decorate with some fun Mardi Gras beads
and doubloons
).
It's only limited by your imagination, so don't be afraid to adapt these rice krispie cake ideas to your theme! (You can even make your rice krispie cake chocolate by using Cocoa Krispies!)
RICE KRISPIE CAKE RECIPE
How To Make Rice Krispie Cake
The rice krispie cake ingredients are the same as the traditional rice krispies recipe.
The trick behind a cool recipe for rice krispie cake is the fun shaped cake pans and bundt pans.
It makes the rice krispie treat cake sculpting really easy. You can get fun shapes just by using fun cake pans!
For our rice krispie treat bundt cake, we used a traditional bundt pan.
(We use this specific bundt pan for a lot of cooking projects and it's so beautiful every time and doesn't stick!)
This would also be a fun cooking project to make mini Rice Krispie treat cakes for a birthday or party!
(Check out this mini bundt cake pan!)
To make our krispie treat cake, we adapted the original Rice Krispies Treat recipe and added an additional cup of marshmallows to make the treats more pliable and chewy.
After we pressed the Rice Krispies treats into the prepared pan to mold it, we removed it and then drizzled Wilton Candy Melts on the cake.
The Wilton Candy Melts come in different colors, but they are flavored as white chocolate (so the color doesn't change the flavor).
We decorated our cake with marshmallow flowers that we made. But, it would be cute decorated with sprinkles or other candy, too!
How do you keep Rice Krispie treats fresh?
To keep the Rice Krispies cake fresh, store it in an airtight cake container. If you have leftovers, simply slice the treats into pieces (like you would slice a cake) and layer them in an airtight container, using wax paper in between the layers so that they don't stick to each other. They will stay fresh stored this way for up to 3 days.
Can you freeze rice crispy cakes or rice krispie treats?
You can also freeze the treats for up to 6 weeks stored in freezer bags or freezer-safe containers. However, if you drizzle chocolate melts over your rice crispy cake, you may find that it breaks off after you freeze it. You may want to decorate rice krispie treats after the frozen treats have come to room temperature.
Why are my Rice Krispie treats hard?
If your Rice Krispie treats turn out hard, it's probably because the heat was too high when you melted your marshmallows and butter.
Be sure to melt marshmallows and butter over low heat.
It may be also that you didn't use enough marshmallows.
Use at least the amount of marshmallows called for in the recipe . . . and maybe a bit more!
For our cake, we use even more because we want the warm rice krispies to be pliable so you can easily mold them into a shaped pan.
Also, don't press down too tightly and compact the treats too much.
How do you keep Rice Krispies from sticking together and to your hands?
Making rice krispie treats is a sticky endeavor. To help, be sure to melt the butter first and then add the marshmallows. Also, before shaping the treats or spooning them into a pan, spray the spatula or your hands with non-stick cooking spray to help prevent sticking.

Rice Krispies Cake Paired with
Up in the Garden and Down in the Dirt
Because our cake looked like a beautiful flower, we decided to pair it up with the children's book Up in the Garden and Down in the Dirt written by Kate Messner and illustrated by Christopher Silas Neal.
Up in the Garden and Down in the Dirt is a beautifully told and illustrated story about what happens in the garden above the dirt and also below the dirt.
From the book synopsis:
Up in the garden, the world is full of green—leaves and sprouts, growing vegetables, ripening fruit.

But down in the dirt there is a busy world of earthworms digging, snakes hunting, skunks burrowing, and all the other animals that make a garden their home.

In this exuberant and lyrical book, discover the wonders that lie hidden between stalks, under the shade of leaves…and down in the dirt.
I love this book because you can read the book and then discuss all the gardening happenings while you're making your "flower" Rice Krispie recipe cake!
Listed Book Age Range: 8-12 years
This book is part of a series, so be sure to check out the others:
To stick with the flower and garden theme, we served our cake on a flower-shaped (scalloped) serving plate and it was SUPER cute. We also decorated this marshmallow rice krispie cake recipe using different colored marshmallows into flowers.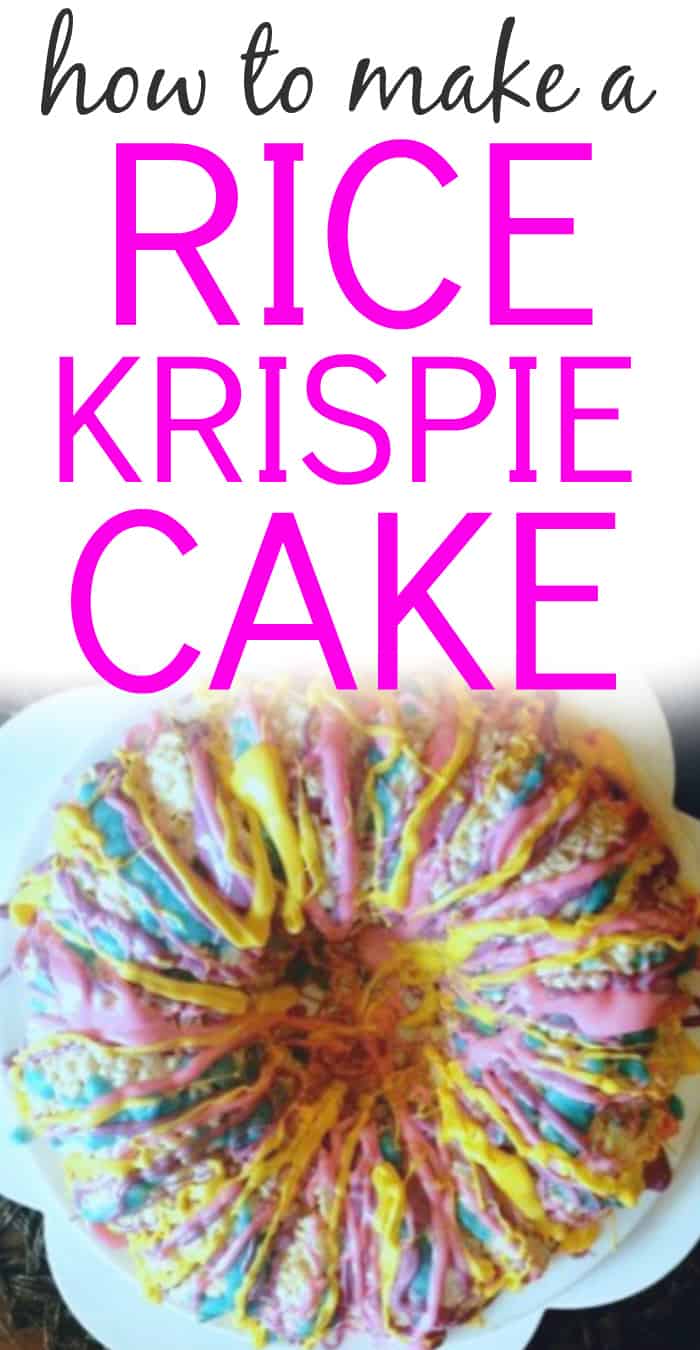 CAKE RICE KRISPIE RECIPE
For our rice krispie cake decorating, we used Wilton candy melts in bright pink, lavender, yellow and blue.
However, you can use whatever colors work with your theme (or your "flower")!
Yield: 12
Easy Rice Krispie Cake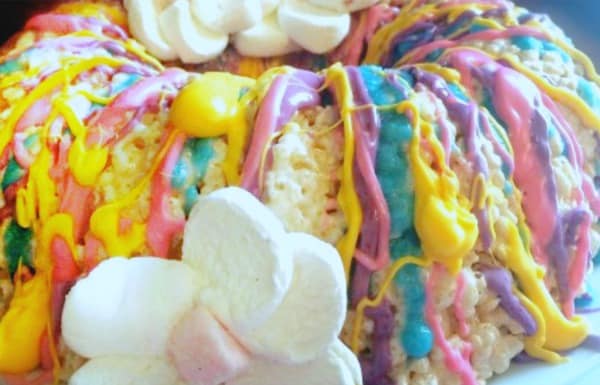 This is such an easy dessert cake for any occasion. Adding extra marshmallows to the traditional recipe allows the Rice Krispies cereal mixture to be more pliable and easier to press into the pans.
Ingredients
Non-stick baking spray
4 Tablespoons Butter
6 Cups Miniature Marshmallows
6 Cups Kelloggs® Rice Krispies® cereal
1/4 Cup Wilton Chocolate Melts, colors of choice, (1/4 cup of each color)
Instructions
Generously spray a bundt pan until completely covered. Set aside.
In a large pot, melt butter over low heat.
Add marshmallows to butter and stir constantly until melted. Remove pot from heat.
Spray a spatula completely with non-stick cooking spray. Stir in Rice Krispies cereal until completely covered.
Spoon mixture into prepared bundt pan. Using wax paper, press down on the cereal mixture until it is pressed into all corners/edges of your bundt pan mold. Let sit for 10 minutes.
After resting, turn Rice Krispies Cake onto a cake plate.
Place ¼ cup of the first color of melts in a microwave safe bowl. Heat for 30 seconds. Remove from heat and stir until melts are completely melted. DO NOT OVERHEAT.
Using a spoon, drizzle the melts over the cake, going back and forth over the entire cake and drizzling it down the edges.
Repeat the process of heating the candy melts and drizzling them on the cake until all colors have been used.
Nutrition Information:
Yield:
12
Serving Size:
1
Amount Per Serving:
Calories:

194
Total Fat:

5g
Saturated Fat:

3g
Trans Fat:

0g
Unsaturated Fat:

2g
Cholesterol:

11mg
Sodium:

138mg
Carbohydrates:

36g
Fiber:

0g
Sugar:

18g
Protein:

2g
Nutrition information is estimated. Changes to the recipe and use of different brands may cause changes to the nutritional information to vary slightly from the ones provided here.
What Else Can You Add Into Krispie Treats?
If you want to take your rice krispie recipe to the next level, you can mix in some fun treats before you mold your cake into the pan.
Here are some ideas of what you can add into rice krispie treats:
Sprinkles
M&Ms
Nerds candy
Chocolate chips
Sanding sugar
Edible glitter
Chopped candy bars (they will melt just a little)
Fruit Loops or other cereal
Nuts
Dried fruit
Let us know what colors you use for your Easy Rice Krispie Cake!
LOOKING FOR FUN COOKING PRINTABLES FOR KIDS?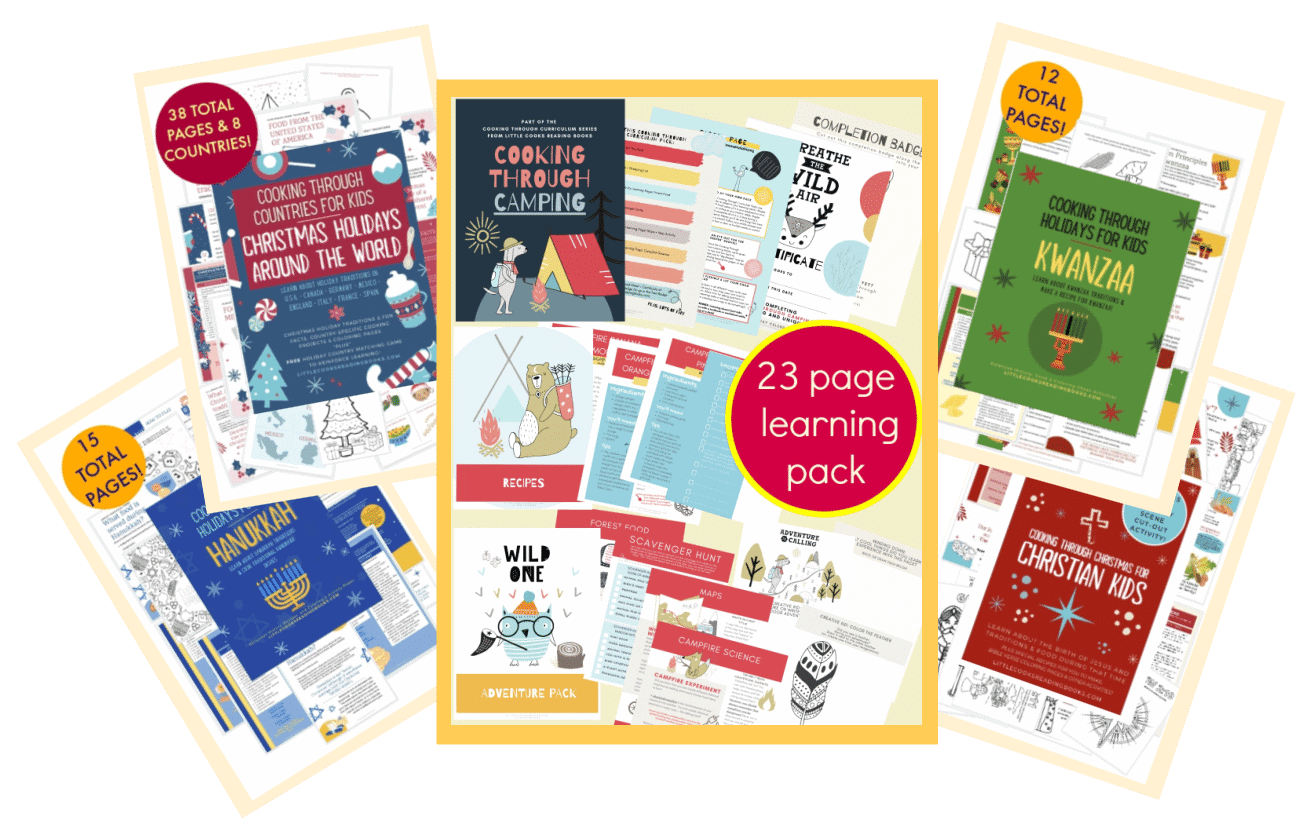 As an Amazon Associate I earn from qualifying purchases. Please refer to our
DISCLOSURE
.