Ever made bagel chips in the air fryer? Making bagel chips at home is so easy that you'll never get store-bought again! We also make our bagel chips from stale bagels, so don't throw them out!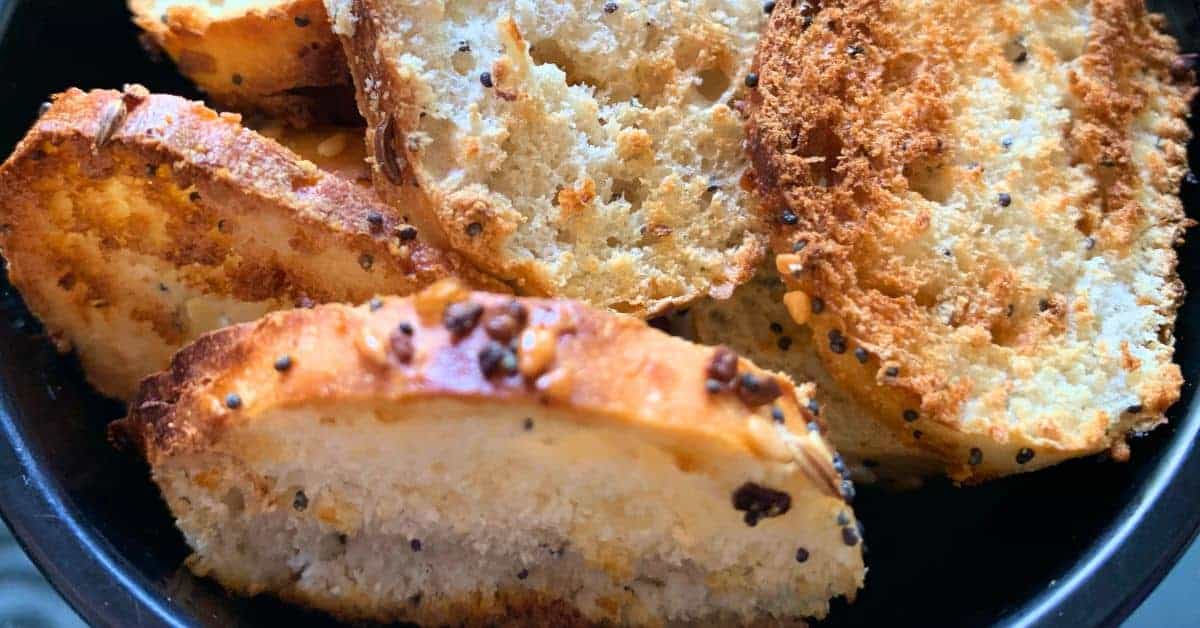 Best Bagel Chips In The Air Fryer Recipe
You can easily make these for a bagel chips appetizer for party dips or as a simple after school snack with humus or other dip. If you're wondering what to do with stale bagels, this is is! (These are great for bagel chips Chex Mix, too!)
How To Make Bagel Chips From Bagels:
Everything bagels, sliced into chips
Melted butter or olive oil
Garlic powder
Salt
Pepper
KEEP SCROLLING for full bagel chips DIY printable recipe card!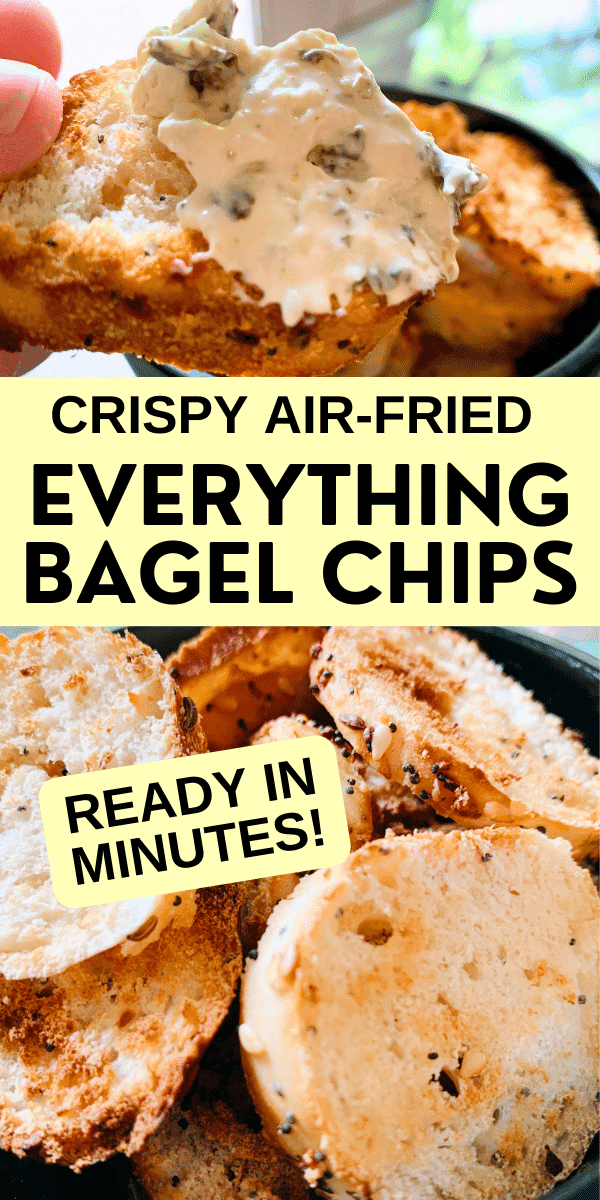 Affiliate links are used on this site. As an Amazon Associate I earn from qualifying purchases. Read more in our DISCLOSURE.
Can bagels be toasted in air fryer?
Yes! Bagel chips can easily be toasted in the air fryer. The hardest thing about air frying bagels is keeping an eye on them so that they don't get too crisp.
GREAT PAIRED WITH THIS EASY RECIPE: Homemade Carrot Leaves Pesto From Scratch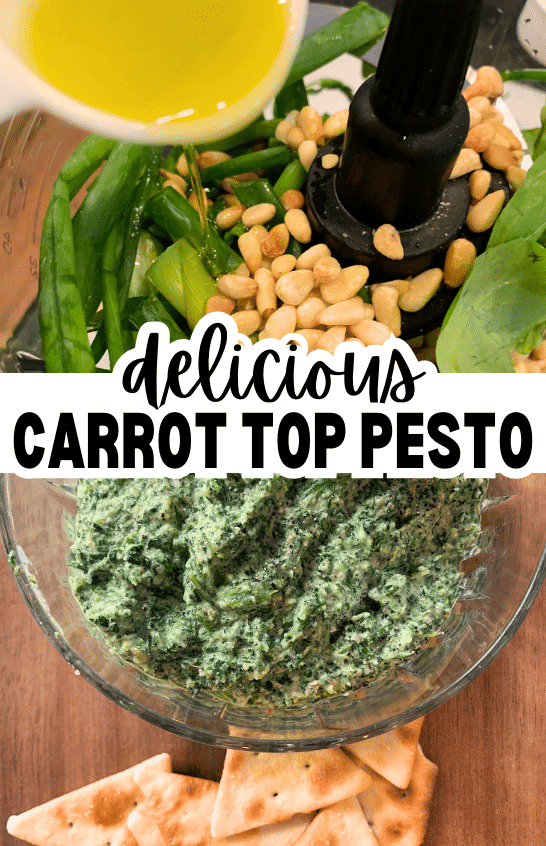 Fried Bagel Topping Ideas And Bagel Chips Seasonings
Bagel chips (aka: bagel crisps) are great with just about any dip or spread (and even alone leaving your bagel chips plain). We like bagel chips with spinach dip or a veggie dip, making bagel chips hummus dippers, or as part of an after school snack charcuterie.
GREAT WITH BAGEL CHIPS RECIPES: Homemade Orange Cranberry Cream Cheese Spread
Bagel Chip Ideas
Any of these are great seasonings for bagel chips in an air fryer!
Garlic Parmesan Bagel Chips: Toss bagel chips with melted butter, minced garlic, grated Parmesan cheese, and a sprinkle of Italian seasoning.
TikTok Air Fryer Bagel Chips: Toss bagel chips with olive oil, parmesan cheese, garlic powder, and dry Italian seasoning. Air fry until crisp.
Everything Bagel Chips: Brush bagel chips with olive oil and sprinkle with a combination of sesame seeds, poppy seeds, dried minced onion, dried minced garlic, and coarse salt. Or, grab an everything bagel seasoning like this.
Cinnamon Sugar Bagel Chips: Brush bagel chips with melted butter. Air fry the bagels until lightly toasted and crunchy. Toss in cinnamon sugar.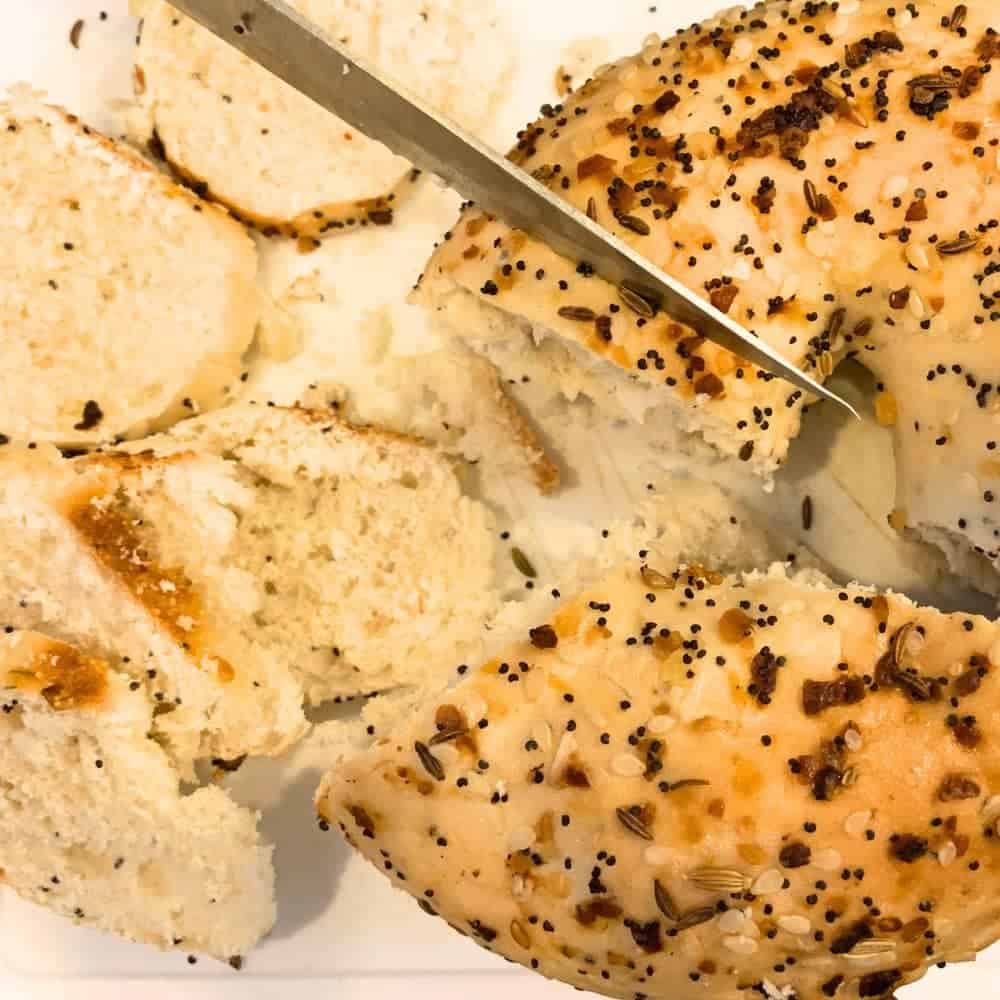 Herb and Olive Bagel Chips: Finely chop fresh herbs like rosemary, thyme, and parsley. Toss bagel chips with olive oil and the chopped herbs before air frying.
Buffalo Ranch Bagel Chips: Mix together melted butter, hot sauce, and dry ranch dressing seasoning. Toss bagel chips with the mixture. Air fry. (Or, just use the butter and ranch seasoning for bagel ranch chips.)
Honey Mustard Bagel Chips: Combine honey, Dijon mustard, and a pinch of salt. Brush the mixture onto bagel chips and air fry until crispy.
Smoked Paprika Bagel Chips: Sprinkle bagel chips with smoked paprika, a drizzle of olive oil, and a sprinkle of sea salt before air frying.
Pesto Bagel Chips: Spread a thin layer of store-bought or homemade pesto onto bagel chips. Air fry until the pesto is slightly toasted and the chips are crispy.
S'mores Bagel Chips: Brush bagel slices with melted butter. Air fry until slightly crispy. Spread melted chocolate onto bagel chips and top with mini marshmallows. Air fry again until the marshmallows are slightly melted.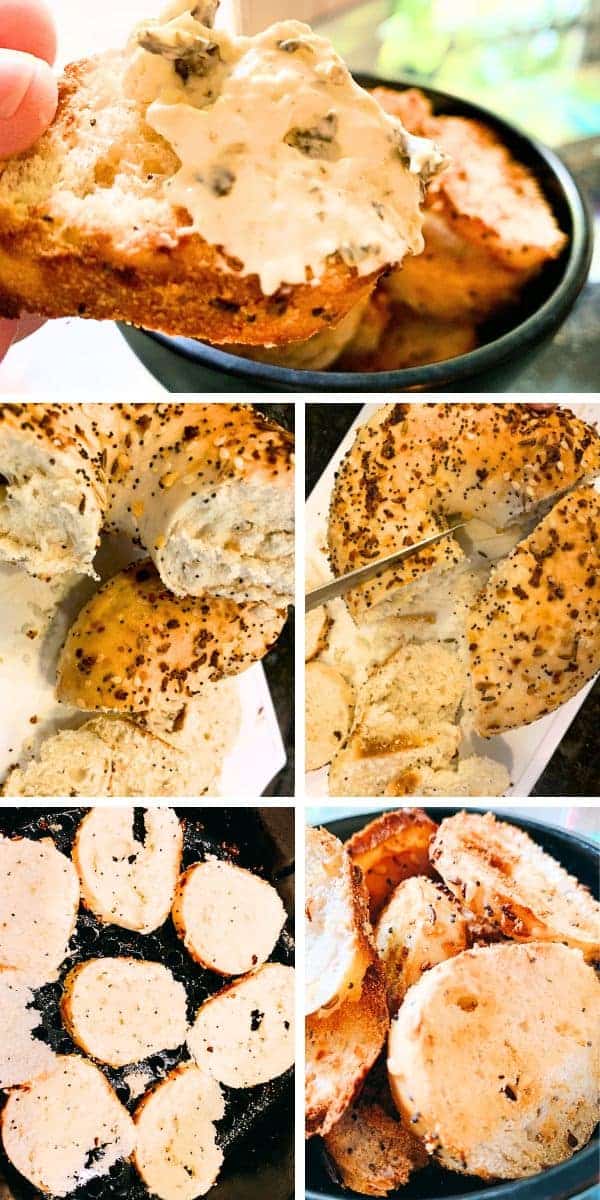 How To Make Bagel Chips In The Air Fryer
Air frying makes these bagel chips crispy, but you have to be careful! If you fry the bagels too long they'll get too crunchy or even burn. (I personally like this crispiness of air fried bagel chips vs bagel chips in oven.)
We make ours as little bagel chips, but you can slice them into bigger bagels if you want. (You'll want to keep them small, though, if you're using them for a bagel chips party mix.)
You can also make them as a bagel chips garlic butter recipe, but we like a simple olive oil if we're using an everything bagel seasoning. (Everything bagel chips and dip are so good!)
If you're looking for a bagel chips healthy recipe, leave off the butter or olive oil. They're still good, especially if you use a seasoned bagel (like everything bagels, cinnamon raisin bagels, pumpernickel bagels, etc.), which will still be flavorful even if you leave your bagel chips plain.
This is a fun recipe for kids to make because you can play around with a bagel chip recipe. Try making different bagel herb chips or even crispy cinnamon sugar bagel chips.
RECIPE TIP: If you're using a strong dip or a salty dip, make unsalted bagel chips so you don't get overwhelmed.
Here's our favorite homemade bagel chips recipe in the airfyer. If you want to make a baked bagel chips recipe, you can bake the bagels for 10-15 minutes in a 350ºF oven.
Yield: 8
Bagel Chips In The Air Fryer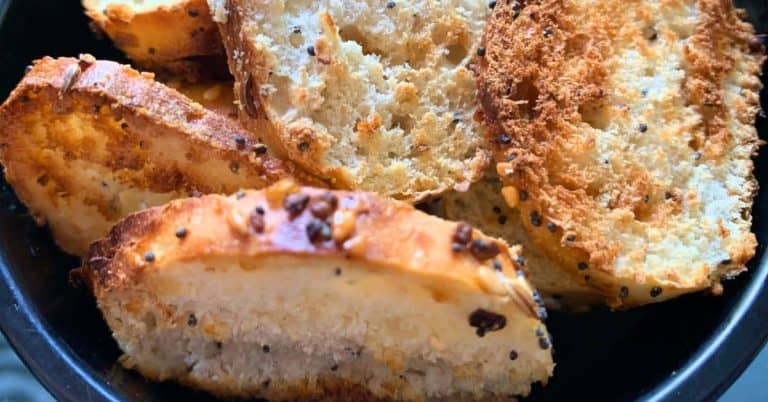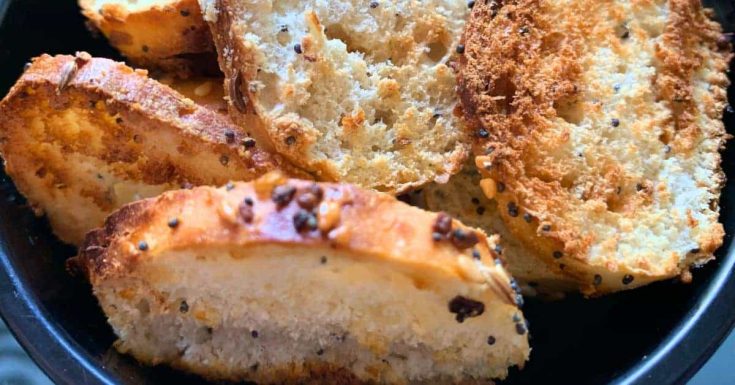 Bagel chips in an air fryer are an easy after school snack or even a last minute party cracker!
Ingredients
1 large whole Everything bagel (fresh or stale) - unsliced, if possible
2 Tablespoons olive oil
1/4 teaspoon garlic powder (optional)
Salt and pepper, to taste (optional)
Instructions
Cut the bagel in half. Slice from top to bottom into 1/4-inch to 1/2-inch thick rounds. (We like our bagel chips a little thicker, but if you like thin and crispy, slice them thinner.) Set aside.
In a small mixing bowl, mix together olive oil and garlic powder. Set aside.
Spray basket of air fryer with non-stick cooking spray. Preheat air fryer to 350ºF (175ºC).
While air fryer is preheating, brush front and back of each bagel chip with the olive oil and garlic mixture. Sprinkle with salt and pepper (optional).
Line a preheated air fryer basket with a single layer of the prepared bagel chips. Air fry for 3 minutes, then turn the bagel chips over and air fry the remaining 3 minutes until just crisp. IMPORTANT: Every air fryer is different. Your bagel chips may cook in less time than listed here or may take a little more time. Keep an eye on them!
Continue until all bagel chips are fried.
Serve with dips while warm or let cool and serve.
Store cooled bagel chips in an airtight container for up to 2 weeks.
Notes
One bagel will make between 8-12 bagel chips, depending on how you slice them.
IMPORTANT: Your air fryer may take more or less time than listed here because each air fryer is different.
Nutrition Information:
Yield:
8
Serving Size:
1
Amount Per Serving:
Calories:

73
Total Fat:

4g
Saturated Fat:

1g
Trans Fat:

0g
Unsaturated Fat:

3g
Cholesterol:

0mg
Sodium:

106mg
Carbohydrates:

9g
Fiber:

0g
Sugar:

1g
Protein:

2g
Nutrition information is estimated. Changes to the recipe and use of different brands may cause changes to the nutritional information to vary slightly from the ones provided here.
Try this dip recipe for bagel chips: Easy Artichoke Dip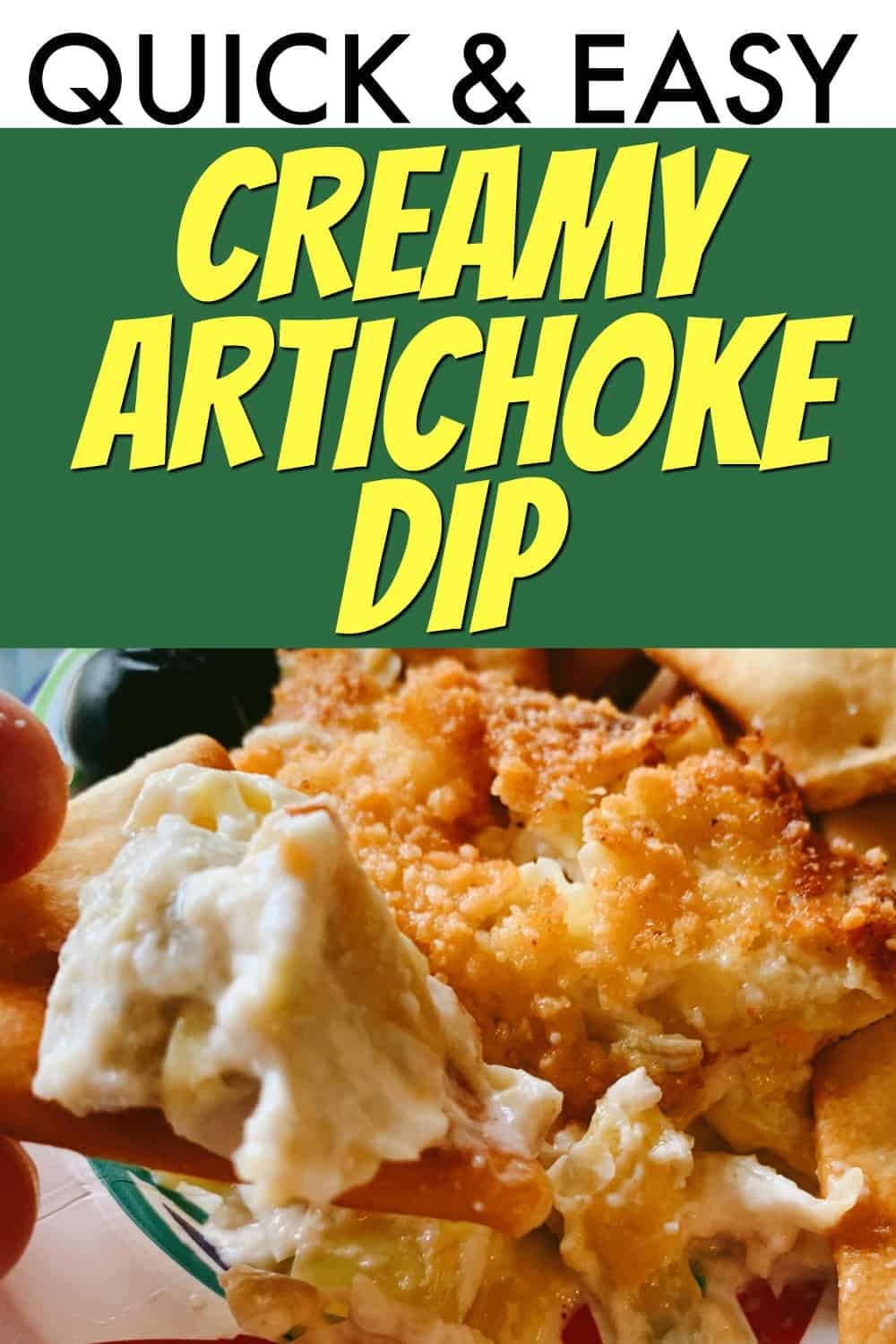 Enjoy your bagel chips in the air fryer!
LOOKING FOR FUN COOKING PRINTABLES FOR KIDS?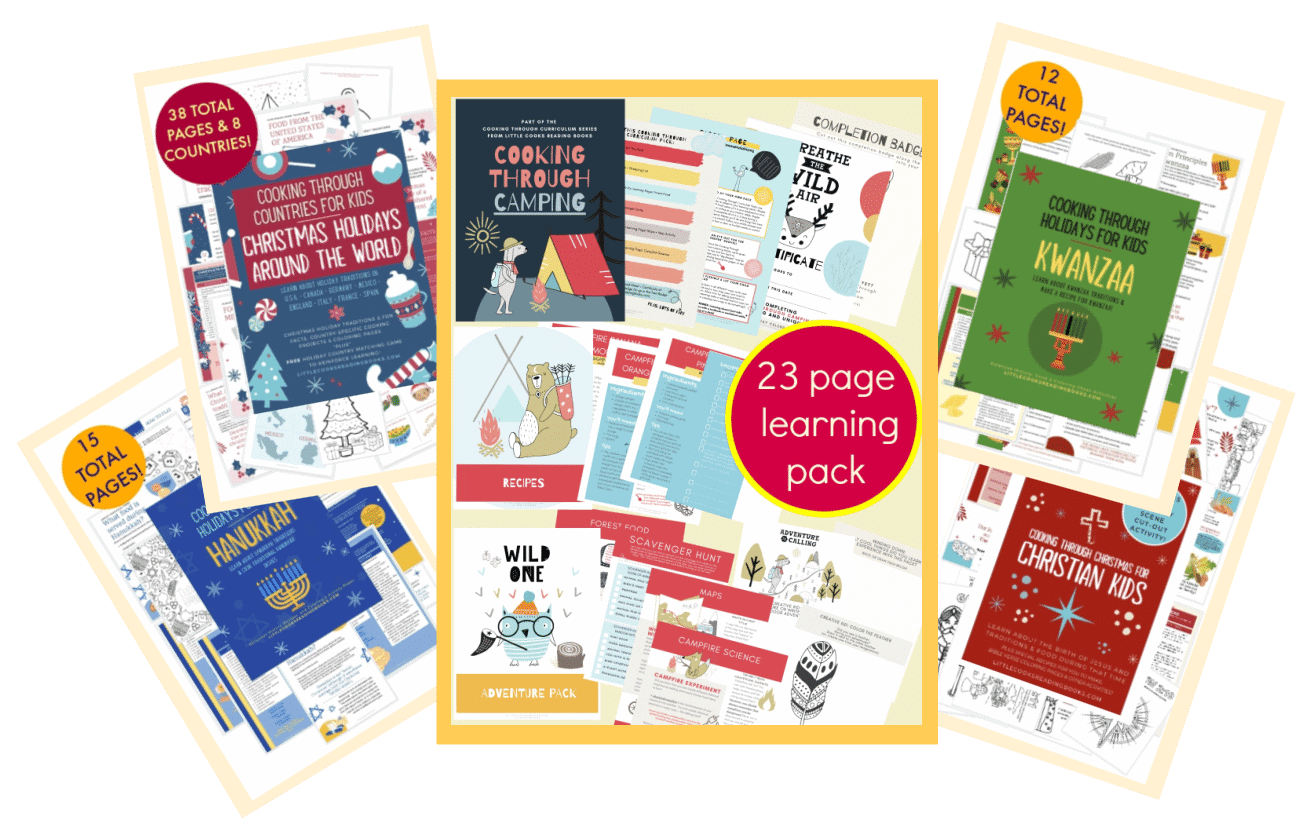 As an Amazon Associate I earn from qualifying purchases. Please refer to our
DISCLOSURE
.