Need substitutes for rice due to rice shortages, dietary restrictions, when you're out of rice, or just need different recipes for family? Try these rice substitutes for recipes and cooking and even gluten-free and healthy alternatives to rice!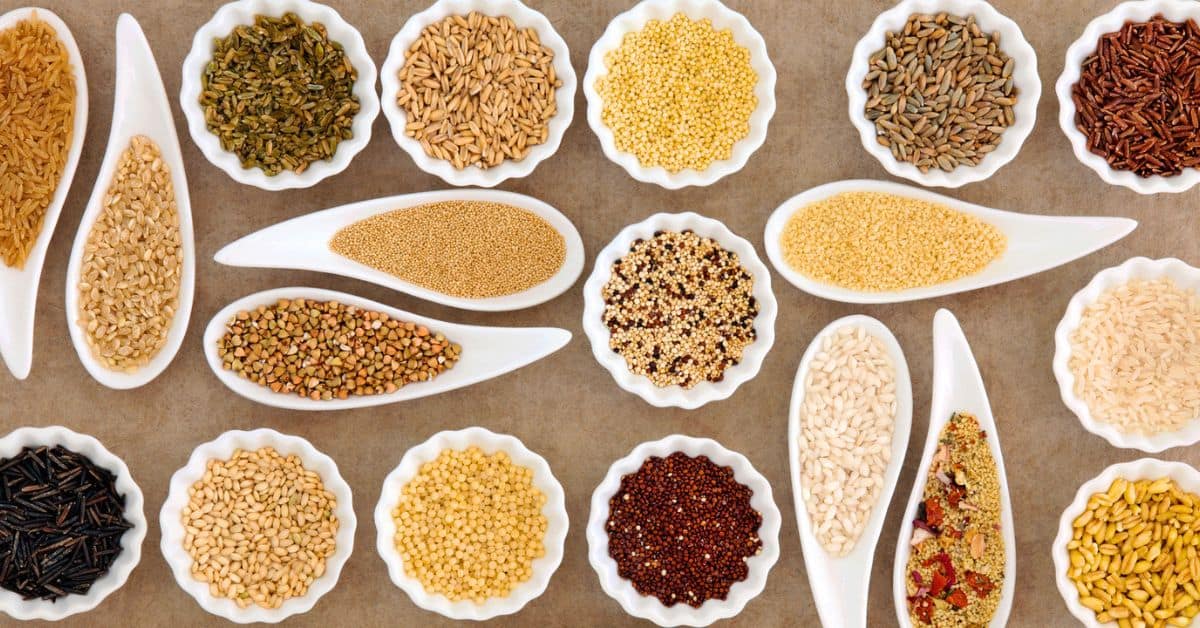 26 Ideas For Substitutes For Rice
Whether you're looking for good alternatives to rice for allergies, want healthier options for white rice substitutes, or are having a hard time finding rice right now, you can rely on these rice alternatives to swap out for rice or other grain alternatives!
List of Substitutes For Rice
Wheat berries
Quinoa
Millet
Cauliflower rice
Farro
Cabbage rice
Amaranth
Chickpea rice
Whole wheat couscous
Bulgur wheat
Pearled barley
Rice broccoli
KEEP SCROLLING for the full list of rice substitutions, rice like grains / rice like food, and ideas on how to use foods like rice!
Affiliate links are used on this site. As an Amazon Associate I earn from qualifying purchases. Read more in our DISCLOSURE.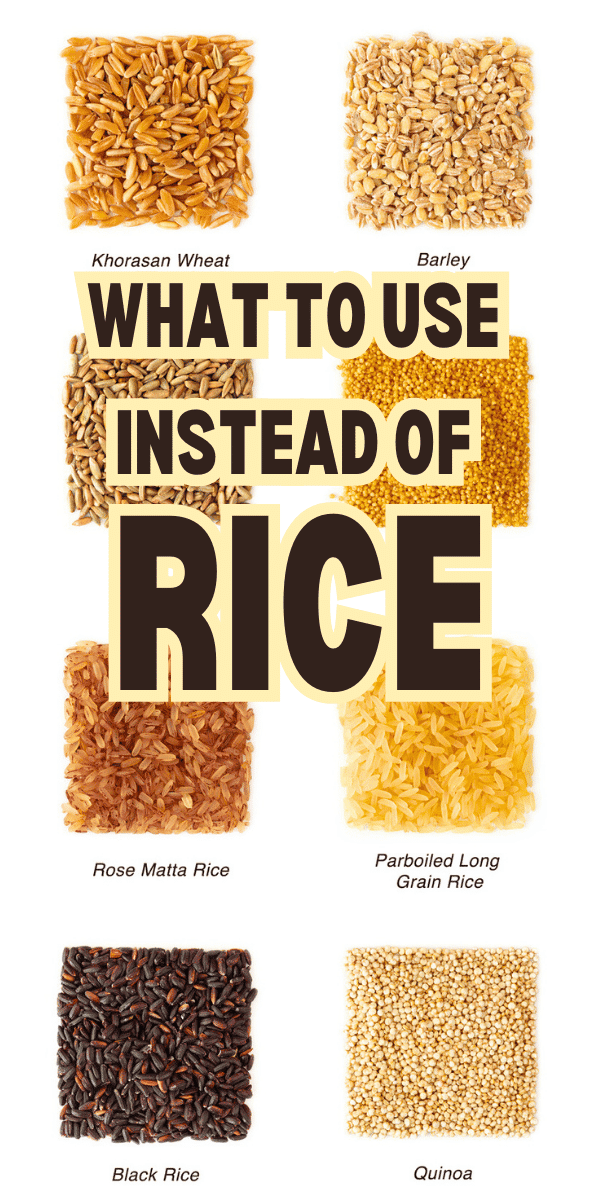 What Can I Use Instead Of Rice?
My kid loves rice dishes, especially when we're making one dish meals like rice and bean bowls. With the pending ban of rice and increase in rice prices, we've been exploring other things to use instead of rice and have been pleasantly surprised! (See my note on using wheat berry below!) And, we've especially been looking for substitutions for rice to buy in bulk to save money!
Can barley substitute for rice?
Yes, barley can be a suitable substitute for rice in many dishes. Barley is a nutritious whole grain with a chewy texture and a slightly nutty flavor. It is high in fiber, vitamins, and minerals, making it a healthy choice for various recipes and a great substitute to rice.
Here are some ways you can use barley as a substitute for rice:
Barley Pilaf: Cook barley with broth and spices to make a flavorful pilaf similar to a rice pilaf. You can add sautéed vegetables, herbs, and nuts to enhance the taste and texture.
Barley Risotto: Use barley instead of Arborio rice to make a creamy and delicious risotto. The barley will have a slightly chewier texture compared to rice, but it's still great! (Just a little different!)
Barley Salad: Cook barley and toss it with chopped vegetables, herbs, dressing, and your choice of protein to create a nutritious and hearty salad.
Barley Stir-fry: Incorporate cooked barley into stir-fry dishes along with your favorite vegetables, protein, and sauces.
Barley Soup: Barley works well in soups, adding a hearty and filling element to broths or vegetable-based soups.
Barley Stuffed Peppers: Stuff bell peppers with a mixture of cooked barley, vegetables, and spices for a wholesome and flavorful alternative to traditional rice-stuffed peppers.
Can corn substitute for rice?
Yes, corn can be used as a substitute for rice in certain dishes. While the texture and flavor of corn are different from rice, it can still serve as an alternative when you're looking for something different than rice.
ALSO TRY THIS EASY RECIPE: BEAN AND CORN SALAD
Is oatmeal good substitute for rice?
While oatmeal can serve as a rice substitute in some recipes, it is very different from rice. Oatmeal has a softer and creamier texture. It may not work well in dishes where you want a firmer base or you're looking for the texture of rice, but can be substituted.
Is potato good substitute for rice?
Potato can be used as a substitute for rice in some dishes, especially if you grate or finely chop potatoes and cook them to create a rice-like texture. However, you need to remember that potatoes cook to a softer texture, so it will be a little different than the texture of rice. So, it's kind of like rice but not rice.
DID YOU KNOW: According to the U.S. Department of Agriculture, the Arkansas Grand Prairie, Mississippi Delta, (Arkansas, Mississippi, Missouri, and Louisiana), Gulf Coast (Texas and Southwest Louisiana), and Sacramento Valley of California produce the largest amounts of rice in the U.S.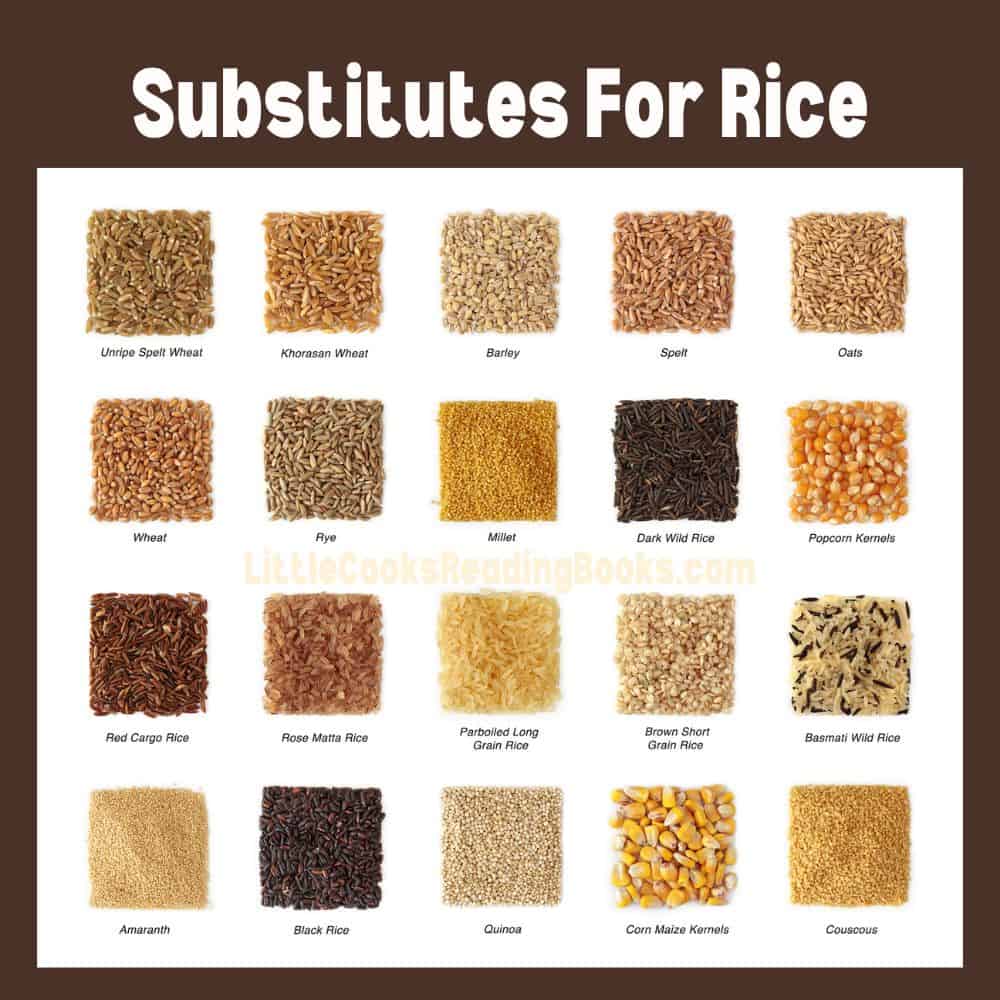 Ultimate List of Substitutes for Rice
What Can I Substitute For Rice?
Cauliflower Rice
Finely grated cauliflower resembles the texture of rice. It's low in carbs and a great option for those following a low-carb or keto diet. The taste is a little different, but if you're using it in a dish, you'll hardly miss the rice!
You'll be surprised. how similar to rice it is (and even looks like rice)!
You can use a food processor or slicer / grater to make rice into cauliflower.
(You can also make rice broccoli for an alternative for rice / healthy rice alternative.)
This is great for gluten free rice substitute ideas!
Quinoa
Quinoa is a grain-like seed that is high in protein, fiber, and various nutrients. It also has a bit of a nutty flavor and is an excellent alternative to rice. It's another one of our favorites for bowl recipes!
Orzo
Although orzo is a type of pasta, it can be used as a rice substitute. Its small rice-like shape works well in soups, salads, bowls, and pilafs or anywhere else you use rice. The texture is different and it will be softer than rice.
Oats
It may seem weird to suggest oats for a substitute in rice dished, but I think it's because in North America we mainly use oats for breakfast.
However, rolled oats or steel-cut oats can be cooked and used as a rice alternative. They have a hearty texture and are particularly suitable for breakfast bowls and even savory dishes as a substitute rice.
Couscous
Couscous is a type of pasta made from semolina wheat. It has a small granular shape and cooks quickly, making it a convenient rice replacement.
Bulgur
Bulgur is a whole grain made from cracked wheat, which is parboiled, dried, and then ground into different sizes. It's rich in fiber and has a chewy texture.
Since bulgur is partially pre-cooked during the production process, it has a relatively short cooking time (compared to cooking rice).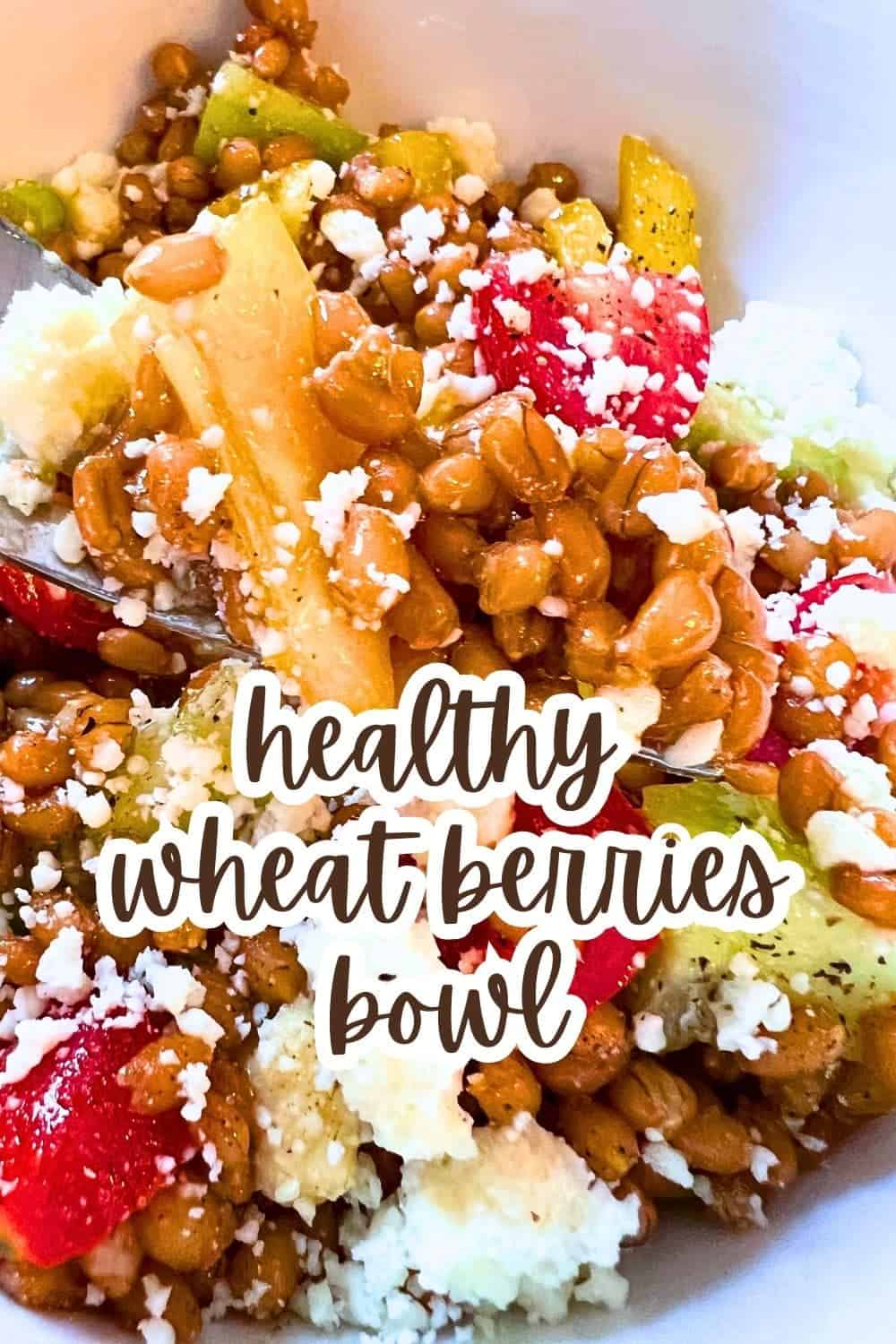 Wheat Berries
Whole wheat kernels that can be cooked and used as a rice replacement in various recipes. Wheatberries are our new favorite go-to, especially for healthy bowl recipes! They are a little more chewy than rice, but are really good and are filling!
(This is our favorite substitution for rice!)
HELPFUL TIP: We buy wheat berries in bulk to save money and vacuum seal them to keep them fresh. That way you always have a replacement for rice on-hand!
Farro
An ancient grain, farro has a chewy texture and (yes, you guessed it!) nutty flavor. It's high in protein and fiber and a substitute for barley and rice, but it does contain gluten.
Barley
Another nutritious grain, barley also has a slightly chewy texture. It's rich in fiber, vitamins, and minerals.
You'll find that many of these rice alternatives are a little chewy and some people have to get used to that texture.
Wild Rice
Did you know that wild rice really isn't rice? It's actually a grass seed with a chewy texture.
And, the majority of it is grown in Minnesota, so you don't have to worry about export bans and availability!
Brown Rice
If you're looking for a healthier alternative to white rice, you can try brown rice, which retains more of its natural nutrients.
Lentils
Lentils come in various colors and are high in protein and fiber, making them a nutritious rice alternative or complete substitution so you don't have to use rice.
We often use lentils for dishes and don't even miss rice!
Chopped Cabbage
Finely chopped cabbage can be used in place of rice in certain dishes like healthy bowl meals, providing a low-calorie and low-carb option.
You still get that crunch of rice, which is what many people miss when they can't use rice!
Sweet Potato Rice
Finely grated sweet potatoes can be used as a rice replacement, adding a hint of sweetness to your dishes.
Chickpea Rice
Ground chickpeas can be used to create a rice-like texture that is gluten-free and high in protein. It won't be exactly like rice, but we like them as a substitute in our house.
Millet
Millet is small grain with a mild flavor, it's gluten-free and rich in B vitamins.
Amaranth
Amaranth is a tiny grain that is a good source of protein and calcium. You cook it similarly to rice or quinoa.
FUN SNACK IDEA FOR KIDS: Amaranth seeds can be popped like popcorn and used as a crunchy snack! Simply heat a dry pan, add the amaranth seeds, and cover with a lid until they start popping.
Arborio Rice
If you're looking to replace rice in a risotto dish, you can use Arborio rice, a short-grain rice known for its creamy texture.
Pearl Barley
Similar to regular barley but with the outer bran removed, pearl barley has a smoother texture and cooks a bit faster than rice, but is a good alternative.
Spelt
Spelt is an ancient whole grain that is nutty and slightly sweet, it can be used in place of rice in various dishes.
If you've cooked with wheat berries before, I think spelt is a lot like them.
I've sometime had a hard time finding spelt, but can order it online.
Freekeh
Freekeh is a roasted green wheat grain (made from roasted grains of durum wheat) with a slightly smoky flavor and high protein content. You may have had it in Mediterranean dishes and not even known!
You may have a hard time finding Freekeh, but you can also buy it online.
DID YOU KNOW: Freekeh comes from the Arabic word "to rub" and actually refers to the processing and not the grain.
Buckwheat
Despite its name, buckwheat is not related to wheat and is gluten-free. It adds a a little bit of a nutty taste to dishes if you don't have rice.
Polenta
Polenta is made from ground cornmeal. It has a creamy texture when cooked and can be used as a rice substitute in Italian and Mediterranean dishes.
It will be a little different than rice, but it's something different!
Fonio
Fonio is a West African grain that is gluten-free.
It has a nutty flavor, and cooks quickly, which makes it great for quick dishes where you don't want to wait for rice.
Sorghum
Sorghum is a gluten-free grain. Like many of the other grains mentioned here, it also has a chewy texture and mild taste, making it suitable for rice replacement.
Riced Potatoes
Grated or finely chopped potatoes can be used as a rice alternative in some dishes. If you want that crunchy, firm texture of rice, you may not want to cook potatoes as long as you usually do.
ALSO TRY THIS FUN RECIPE: HOW TO MAKE PESTO FROM CARROT TOPS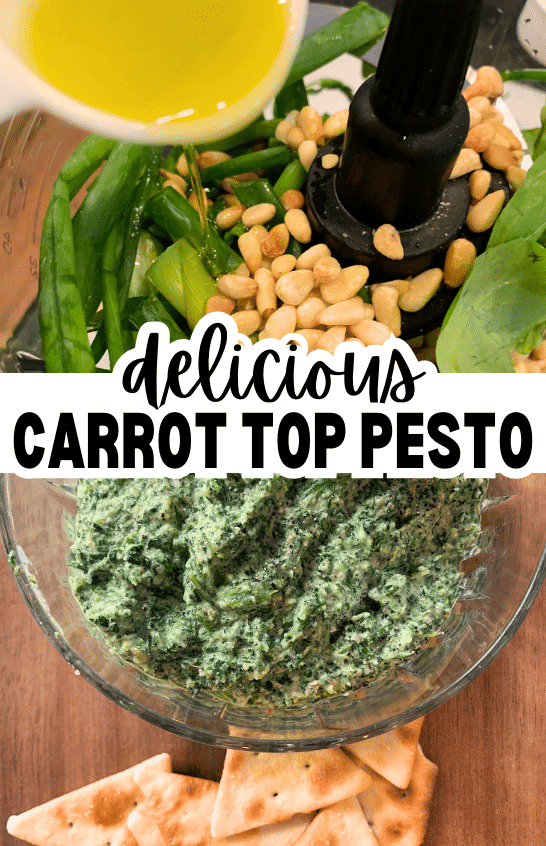 Do you have great ideas for substitutes for rice that we've left off our list? Let us know and we'll add them to our alternatives for rice lists!
LOOKING FOR FUN COOKING PRINTABLES FOR KIDS?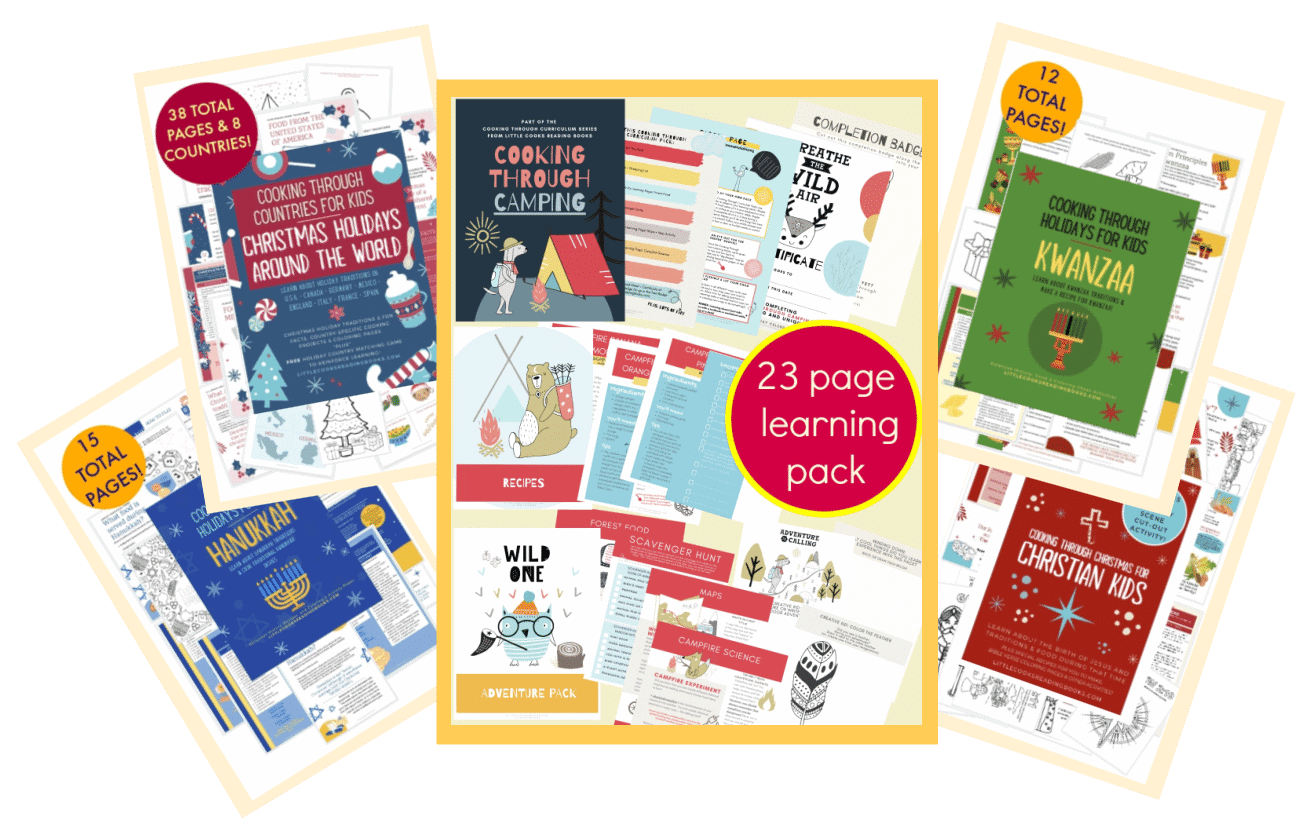 As an Amazon Associate I earn from qualifying purchases. Please refer to our
DISCLOSURE
.