Learn how to make corn casserole the easy recipe way — makes one of the best crock pot recipes! Corn casserole recipe in a crockpot, sometimes called Jiffy corn casserole or sweet corn pudding, is a perfect side dish of Thanksgiving, Christmas recipes, or even summer BBQ sides! Kids LOVE this simple recipe!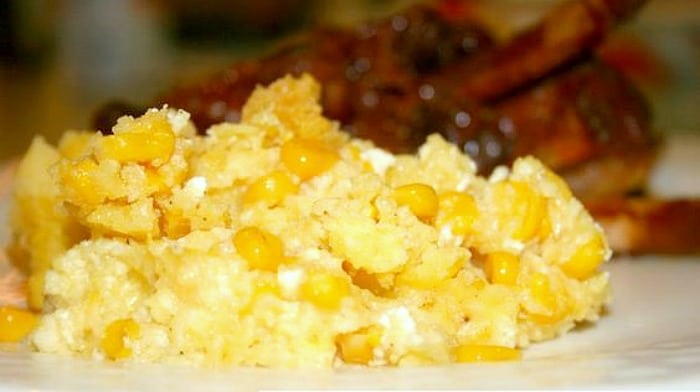 How To Make Corn Casserole
If you're looking for an easy side dish for Thanksgiving, last minute easy Christmas recipe, or even for a potluck recipe, this crockpot corn casserole will be your new favorite friend (and everyone who tastes it will love it).
How do you make corn casserole from scratch?
This slow-cooker corn pudding recipe is made with a few simple ingredients:
Sour cream or cream cheese
Corn muffin mix (like Jiffy corn muffin mix) or your favorite cornbread mix
Creamed corn (cream-style corn)
Whole kernel corn (or fresh corn cut off cob for that sweet corn flavor)
Eggs
Melted Butter
Sugar (optional)
This easy recipe is definitely a favorite corn pudding southern dish! With just a few minutes of prep, you can have a full slow cooker meal or easy side dish for parties, cookouts, and holidays! KEEP SCROLLING for the full slow cooker corn pudding directions and printable recipe card.
Affiliate links are used on this site. As an Amazon Associate I earn from qualifying purchases. Read more in our DISCLOSURE.
**Don't miss our important tip about slow cooker liners below when making these canned corn side dishes!
If you're looking for Grandma's corn casserole recipe, Paula Deen's corn casserole, corn side dishes with cream cheese, or old fashioned creamed corn casserole, this is it! (I've also heard it called a corn pie recipe.)
This is one of those tasty dish recipes that the whole family will love. (It's the ultimate comfort food!)
Throw a few ingredients in a slow cooker in the morning, and this corn with cornbread casserole is ready to go just a few short hours later! (Seriously, add this sweet corn casserole recipe for Thanksgiving dinner!)
Be aware that sometimes with Southern corn pudding, you'll find that people add sugar. We don't make ours with sugar.
Can you add corn to Jiffy Mix?
Yes, you can add corn to Jiffy mix! A corn casserole recipe with Jiffy Mix is super easy and a great side dish for any meal, holiday side dish, or any season of the year. This corn casserole recipe Jiffy recipe is a classic!
Do you put eggs in corn casserole?
Yes, eggs are one of the ingredients in corn casserole or corn pudding. Add eggs to the other wet ingredients and stir. Then, gently fold into your dry mixture into your corn casserole mix.
How do you know when corn casserole is done?
Corn casserole is done in a crock pot after about 2 hours. To test if the corn casserole is done, check the center of the casserole / corn pudding. The middle will be set and won't jiggle.
Why is my corn casserole runny?
Corn casserole is runny when it has too many moist ingredients. Since the cream corn has a lot of moisture, drain your whole kernel corn cans of the liquid before using them in the corn casserole recipe.
Is corn casserole supposed to be gooey?
Corn casserole will be moist, but should not be runny or gooey. It has a set pudding texture on the inside, with a more crisp cooked topping.
Do you eat corn pudding hot or cold?
This sweet corn pudding, also called corn casserole or cornbread pudding, is best served hot. However, some people do eat this corn pudding bread at room temperature or cold — that's what makes it one of those perfect recipes!
Does cornbread casserole need to be refrigerated?
Yes, you should refrigerate corn casserole because it has dairy products and eggs. Let it cool to room temperature and then place in a refrigerator safe storage container for the refrigerator.
How long does corn casserole last in the fridge?
Corn casserole should be refrigerated in a covered airtight container when you have leftover. You can keep corn casserole for up to 5 days in the refrigerator after making the recipe.
Can you freeze corn casserole?
You can freeze a cream corn casserole recipe. Allow the dish to cool to room temperature. Place in a single layer in freezer safe bags or containers and then store in freezer for up to one month or longer. Bring to room temperature before heating at 350 degrees.
Is corn casserole the same as cornbread?
Corn casserole is not the same as cornbread. Cornbread is a skillet bread make from corn meal. Corn casserole is a moist side dish recipe made from cornmeal and corn. Corn casserole is also called corn soufflé or corn pudding. Some people make a spoon cornbread that is very similar to corn pudding.
What is the difference between corn pudding and corn casserole?
The terms corn pudding and corn casserole are often used interchangeably. These corn side dishes are made with corn meal (like Jiffy corn mix) and canned corn (corn kernels and cream corn) for a moist, but not runny, meal addition!
Can I make corn casserole the day before?
Yes! You can easily make corn casserole in the crockpot or in the oven one or two days ahead of time. Be sure to refrigerate the corn casserole in an airtight container. When ready, simple heat the corn casserole in the oven or microwave.
ALSO TRY THESE OTHER CORN RECIPE IDEAS: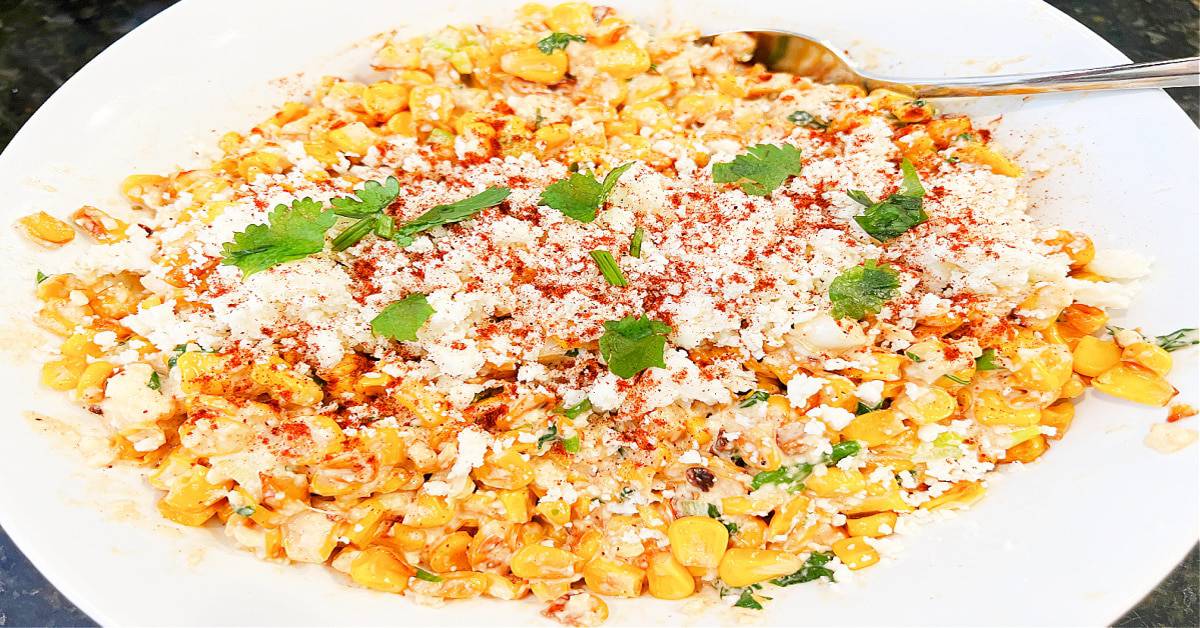 This is the Best Corn Casserole Recipe!
We make this corn casserole with Jiffy cornbread mix (in those small boxes), but you can actually make it with any cornmeal that you would use for a cornbread recipe.
The trick to making this a creamy corn casserole pudding recipe is to make it a corn casserole with cream cheese or sour cream.
If you like the Cracker Barrel corn casserole recipe or the corn casserole Paula Deen recipe, you'll love this one, too!
Also, I love that easy recipes like this that don't take up oven space while you're trying to make Thanksgiving recipes, Christmas dinner, or other holiday meals for the holiday season when you're already cooking other side dishes.
Also it's an easy dump recipe for summer months when you don't want to cook. We often pair ours with grilled pork chops or grilled ribs.
If you're make a large holiday meal, this is one of those favorite side dishes because you can use a couple of slow cookers for a double recipe.
OK! Let's get to one of the most popular recipes we make for parties and even as a main dish for family dinners when we don't want meat!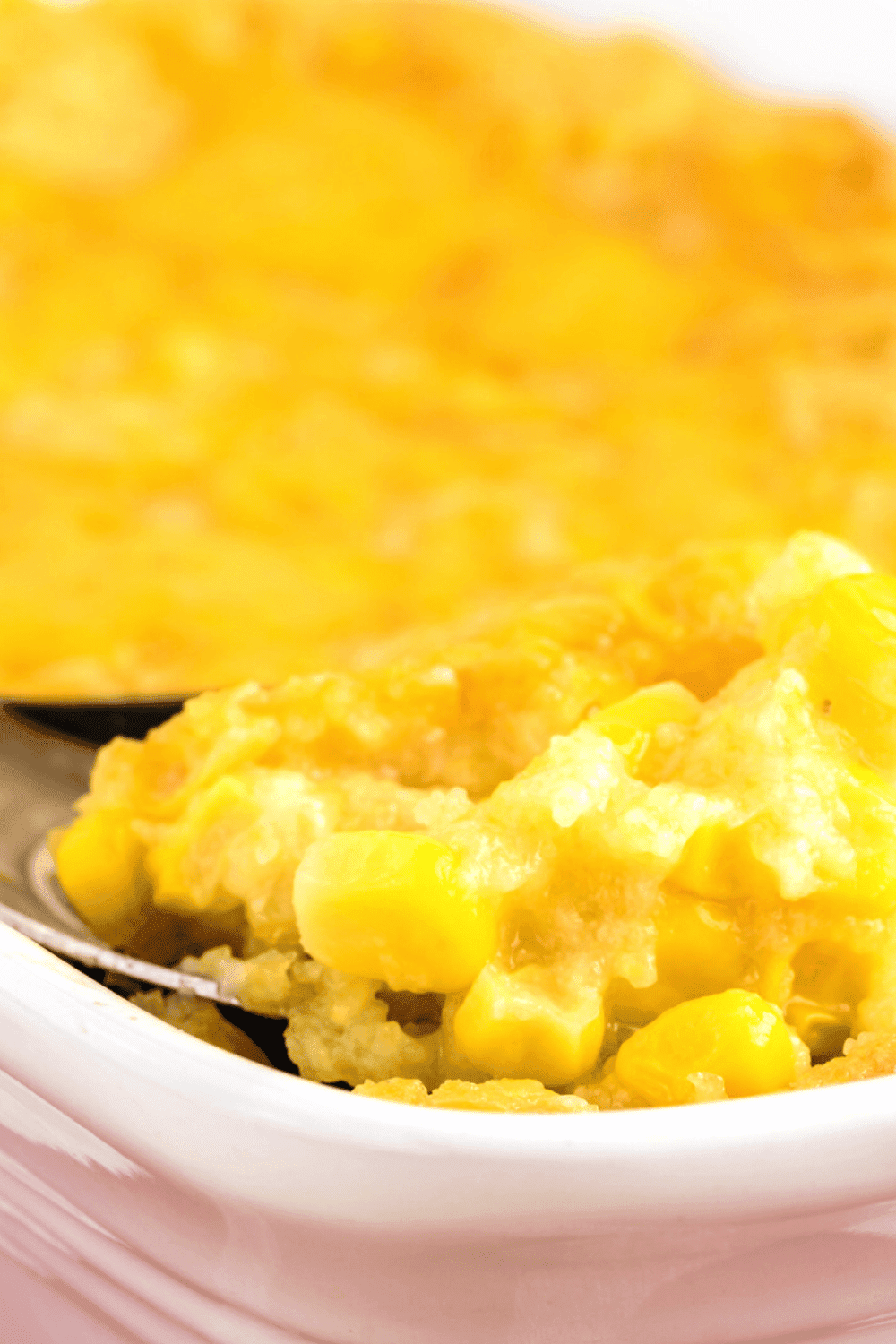 How To Make Corn Casserole Recipe in Crock Pot
We made this a corn casserole recipe crock pot, but you can also make it a baked creamed corn casserole.
We make this recipe by slow cooking, but the corn casserole recipe easy to make in the oven:
Grease a glass casserole dish and place mixed ingredients into dish.
Bake at 350 °F for 25-35 minutes or until set.
This simple recipe can be made as corn casserole recipe cream cheese or with sour cream (both are good!).
Some people also make this corn recipe with shredded cheddar cheese and as corn muffins corn casserole with cheese, but we've never tried it those ways. (Let us know if you try that variation on the recipe, but cheesy corn casserole does sound good!)
Want a spicy crock pot corn pudding? Try adding green chilis for a crowd favorite!
IMPORTANT TIPS: If this is your first time making corn casserole in a crock pot, nonstick cooking spray or crock pot liners like this are a must for this slow cooker corn pudding! Also, your cook time may vary depending on your slow cooker!
Yield: 12
Easy Slow Cooker Corn Casserole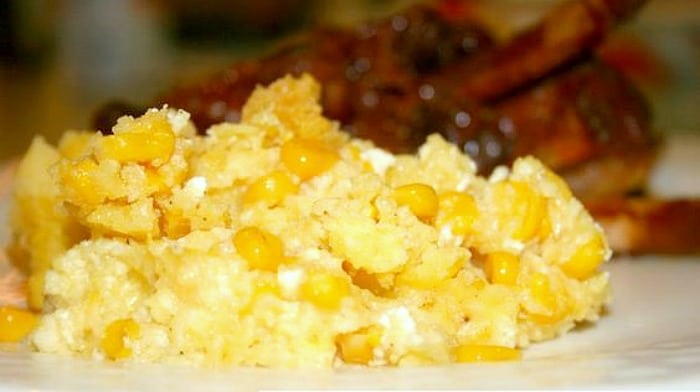 You'll be surprised how easy this is when learning how to make corn casserole! This corn casserole recipe in the crockpot is always a hit with all ages and makes the perfect holiday side dish cookout dishes, or any gathering! It's versatile enough to pair up with almost any meat choice or even a meal on its own.
Total Time
2 hours
15 minutes
Ingredients
2 (15-ounce) cans of corn, drained
2 (15-ounce) cans of cream corn
1 stick of butter, melted
2 eggs, beaten
8 ounces sour cream or 8 ounces cream cheese
2 (8.5 ounce ) small boxes of corn meal mix (like Jiffy corn muffin mix)
Instructions
Spray crockpot with non-stick spray, or line with crockpot liners.(See recommendation below.)
Mix together all ingredients, pour into crockpot.
Cook on cook on high for 2 hours or on low for 4 hours.
Serve hot immediately.
Recommended Products
Affiliate links are used on this site. As an Amazon Associate I earn from qualifying purchases.
Nutrition Information:
Yield:
12
Serving Size:
1
Amount Per Serving:
Calories:

243
Total Fat:

19g
Saturated Fat:

11g
Trans Fat:

0g
Unsaturated Fat:

6g
Cholesterol:

81mg
Sodium:

197mg
Carbohydrates:

15g
Fiber:

1g
Sugar:

3g
Protein:

4g
Nutrition information is estimated. Changes to the recipe and use of different brands may cause changes to the nutritional information to vary slightly from the ones provided here.
Don't forget to add a recipe and read for kids to go with your crock pot corn casserole recipe!
(You know that's our favorite thing to do when cooking with kids!)
Right This Very Minute Children's Book paired with Corn Casserole Recipe
We decided to pair our corn casserole recipe with Right This Very Minute: A table-to-farm book about food and farming by by Lisl H Detlefsen and illustrated by Renee Kurilla.
One of the things that I think is really important when cooking with kids is to have discussions on where our food comes from—and how it's not the grocery store!
This book is the perfect discussion tool for that.
What's great about this book is that it also covers modern agricultural practices (and not just people who look like Old MacDonald like in many picture books).
This book will take you on a journey of discussing how different foods make from the farm all the way to our table for eating in a celebration of not just food, but also farming.
Listed Age Range: 5-7 years
HAVE FUN LEARNING HOW TO MAKE CORN CASSEROLE!
LOOKING FOR FUN COOKING PRINTABLES FOR KIDS?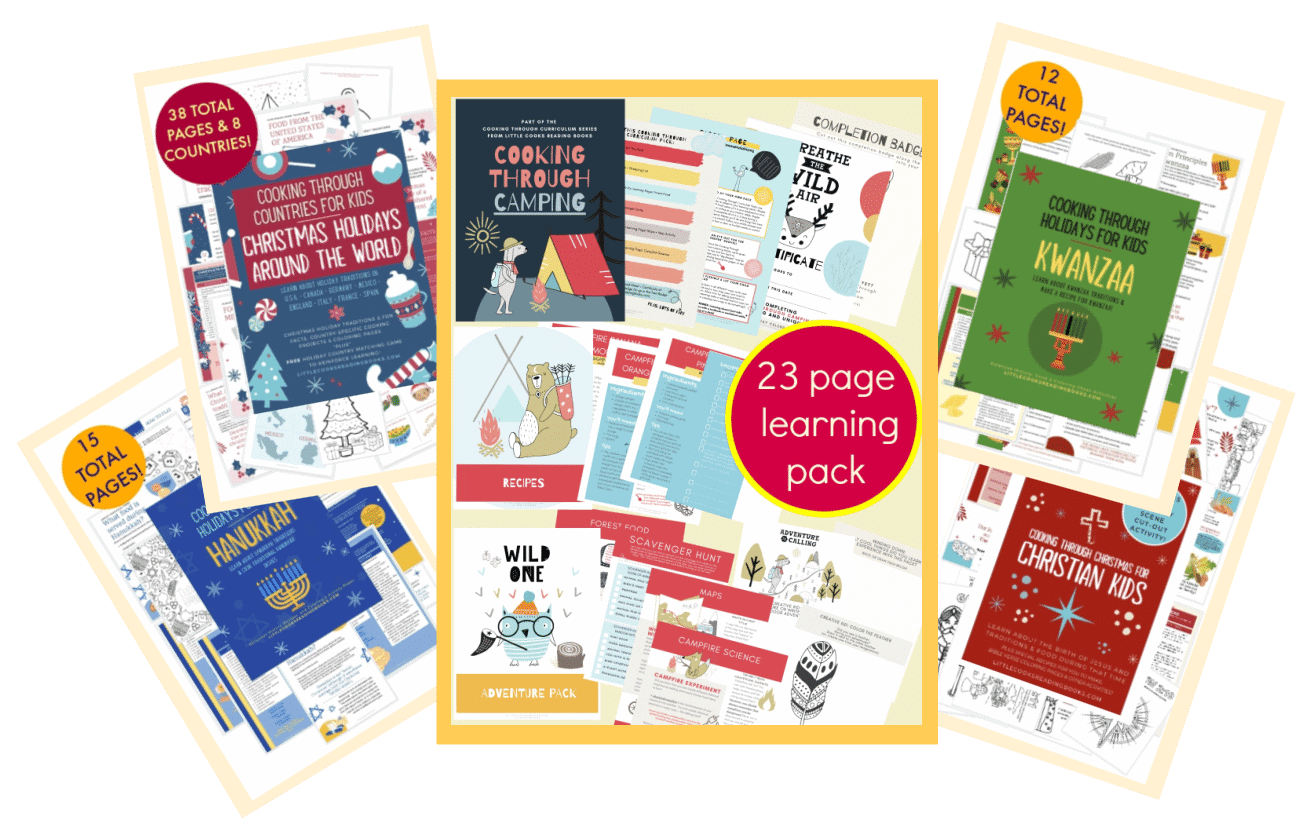 As an Amazon Associate I earn from qualifying purchases. Please refer to our
DISCLOSURE
.