Wondering how to make your own graze board (or charcuterie platter)? A grazing board is great food for holidays or party appetizers while entertaining! Don't miss these tips on making a charcuterie grazing table and graze board ideas and customizing it to your guests tastes!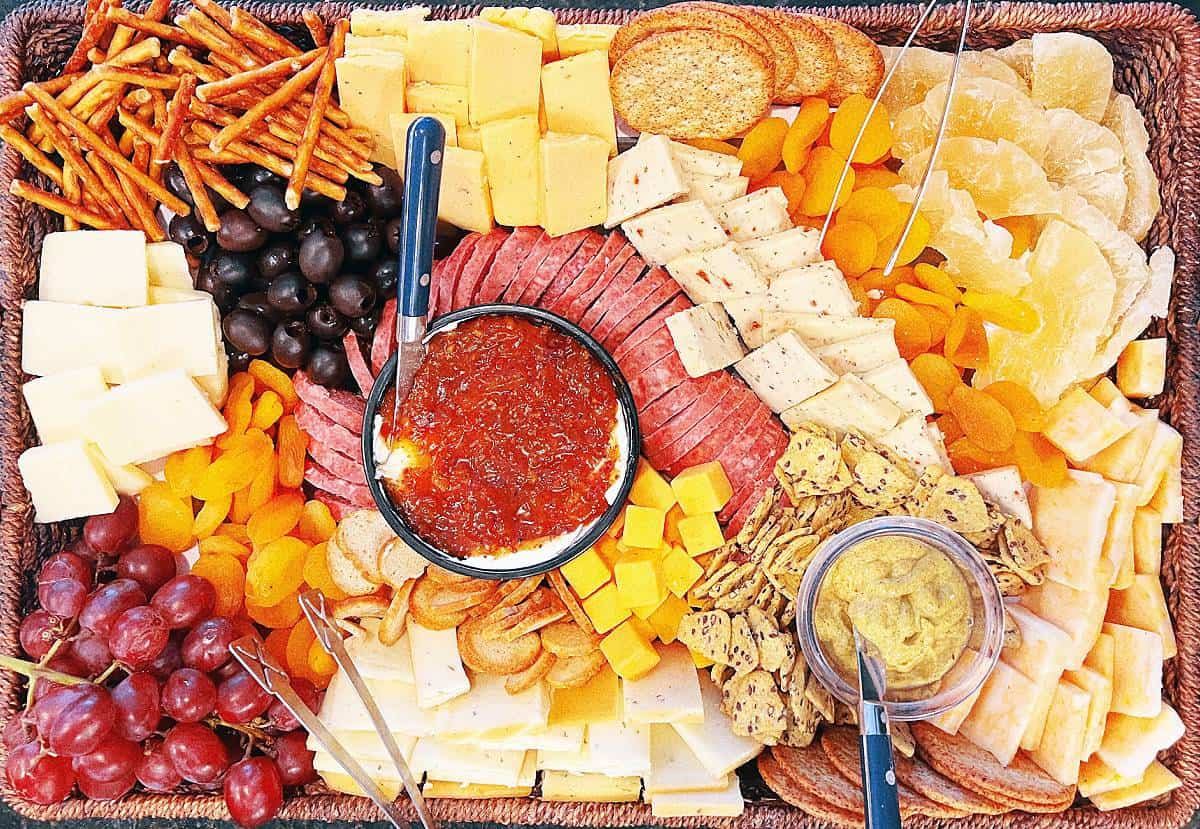 HOW TO MAKE YOUR OWN GRAZE BOARD
The great things about grazing boards is that you can make them elaborate, or a smaller grazing platter on a budget, or even make a simple grazing platter and all partygoers will find something they can eat!
Grazing Platter Shopping List
Ideas for grazing board grocery list:
Hard salami
Cheeses (variety cubed and sliced)
Olives (variety)
Crackers (different sizes and flavors)
Sliced baguette
Nuts (variety)
Pepperoni
Cucumbers
Chocolate covered cranberries
Prosciutto
Hummus
Melba toast
Radishes
Dips (variety)
Naan
Celery
Small pickles (sweet and spicy)
Olive oil and herbs
Fruit (variety)
Bell peppers
Bites / small slices of bread
Rye rounds
Chocolates
Pickled okra
Grapes
Tapenade
Jellies (variety of flavors)
Jams (variety of flavors)
Pesto
Pickled onions
Bite sized beef sticks
Lunch meats
Soft cheeses (like brie)
Mustards (variety)
Dried fruits (dried apricots are especially good!)
(Don't miss how to arrange your grazing platter boards below!)
Affiliate links are used on this site. As an Amazon Associate I earn from qualifying purchases. Read more in our DISCLOSURE.
What cheese goes on a grazing board?
For your graze board, you want a variety of different cheeses from mild to soft to spicy and strong cheeses, pre-cut into bite-sized pieces, triangles, and also cubes.
What cheese is good for charcuterie?
Brie
Chunks of parmesan
Colby or cheddar cubes
Gruyere
Blue cheese
Gouda
Buffalo mozarella
Goat cheese / Feta
Stilton
Provolone
Gorgonzola
Any specialty cheese flavor (we get a smoked green onion cheese from a local market that is fabulous!)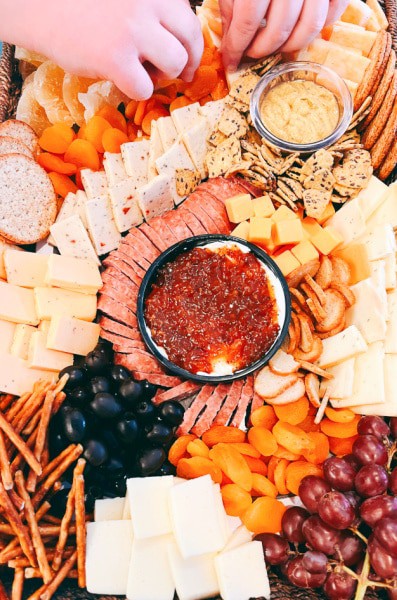 How much meat per person for charcuterie?
Planning a charcuterie grazing board can be difficult, especially if you are having a large party. The good rule of thumb when planning how much charcuterie and cheese per person is to plan for around 3 ounces of meat and cheese per person. Remember, there are many other things that you can add to the graze table, so there will be people who eat more than 3 ounces of meat/cheese and many who don't eat any and just eat the other things, like the fruit, vegetables, crackers, nuts, and more.
In case you're not familiar with grazing boards…
What is a grazing board?
A grazing board is an arrangement of bite-sized foods that can be left out throughout a party. The grazing platter usually includes a variety of meats, cheeses, breads, crackers, jams, dips, fruits, and spreads that party guests can pick at and eat throughout the evening.
YOU MAY ALSO LIKE: Easy Game Day And Party Dips and Appetizers
What is a grazing board called?
A grazing board is also called:
Grazing platter
Graze table
Charcuterie board
Charcuterie platter
Cheese board
Charcuterie vs Grazing Board
What is the difference between a cheese board and a charcuterie board and graze board?
A charcuterie board is traditionally a display of cured meats
A graze board (or grazing platter) is a wide variety of meats, cheeses, and other bite-sized foods, appetizers, and dips
A cheese board is a platter of cheeses and usually fruits
However, these terms are often used interchangeably now with charcuterie boards so popular now.
What can I use as a graze board?
What you use as a graze board or charcuterie platter will depend on how many people you're feeding.
Grazing boards can be made on:
Bamboo cheese boards
Large cutting boards
Rectangle woven baskets lined with parchment paper
Large food platters
Food safe mirrors
Slabs of marble
Slate charcuterie boards (where you can also write what each item is)
Right on the table lined with butcher paper and parchment paper (for a full grazing table)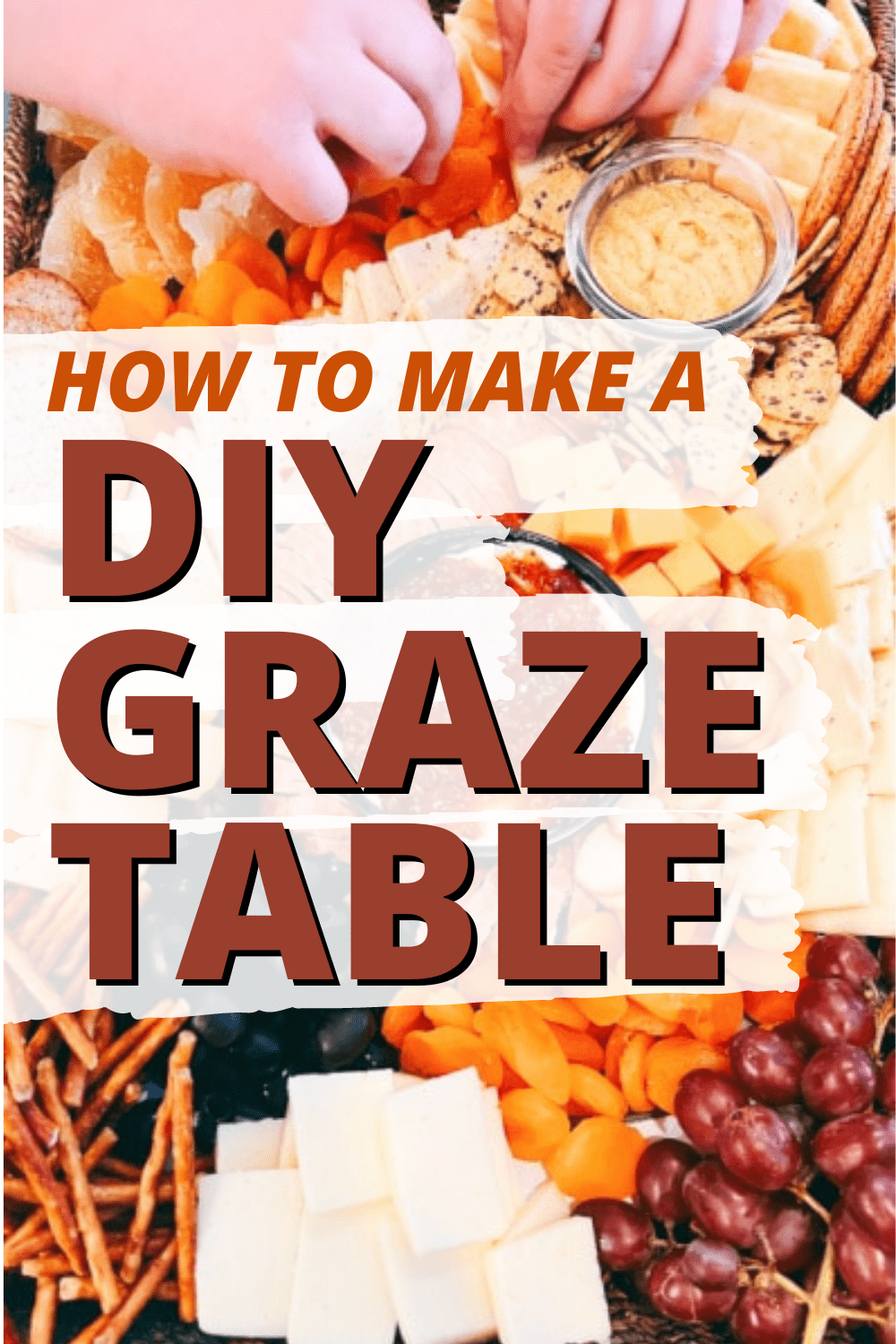 How do you make a cheap grazing table?
How can I make a grazing platter on a budget:
Pick one or two high price items as your middle highlight items (like brie and a good meat) and fill in the charcuterie board or grazing platter with lower price items.
Shop the odds and ends cheese and meats pieces in the deli. (They will wrap them for purchases when they get too small to slice any longer.) This will give you a wider variety of grazing meats and cheeses at a lower cost! (This was my friend Tawni's tip!)
Add more low-cost dips, jams, and spreads. The dip containers take up room and fill up your board, but are still yummy.
Use fruits and vegetables to add more lower cost bulk to your grazing platter or grazing table. For example, grapes on vines take up a lot of room but still look beautiful!
Go for generic brand crackers (or one high-end name brand and the rest generic). They will be out of the box and most people won't be able to tell the difference!
Shop the day before the party and pick up clearanced, sale items and any crackers that are on 2-for-1 / BOGO sales.
Don't be afraid to shop clearanced breads, cookies, and muffins, especially if you're buying them one day before the party. (TIP: If you bring clearance bread home and it feels a little stale, lightly toast it and make toast/melba rounds for your charcuterie tray!)
GREAT DIP FOR CHARCUTERIE BOARDS: CARROT GREEN PESTO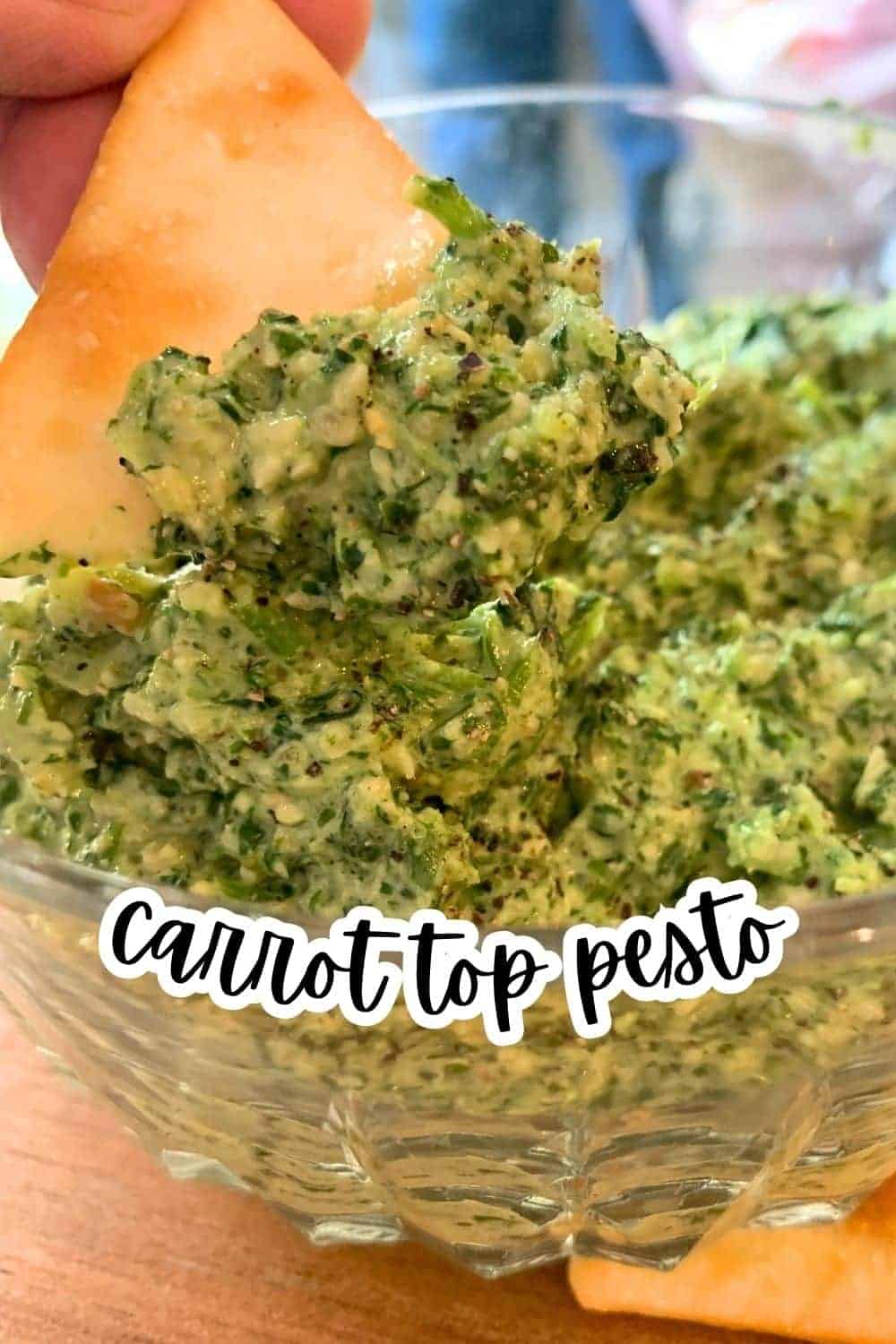 Graze Table Dips
Including a variety of grazing / charcuterie jams and spreads and dips really elevates your offerings and can also cut down on costs.
Graze table dips recipe ideas:
Whipped cream cheese with a spicy, sweet, or savory jam on top
Hummus
Relish
Spinach dip
Vegetable dip
Tapenade (olive dip)
Pesto
Olive oil with pepper and rosemary

Cranberry cream cheese

(great if you're doing a holiday grazing table!)
OK! Let's get to how to make a graze table!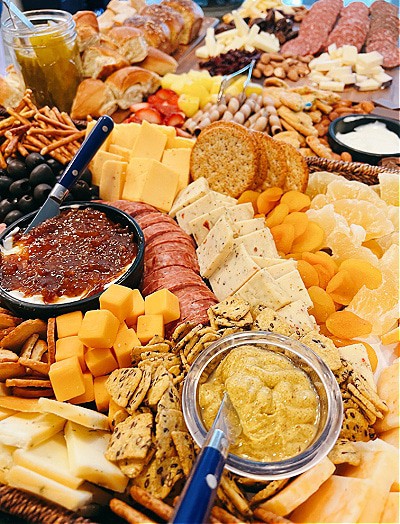 How do you make a grazing board?
When you're making grazing or charcuterie how to build it may seem intimidating (especially if you're doing it on a large scale for the first time!).
GRAZING PLATTER TIP: ALWAYS START IN THE MIDDLE AND WORK YOUR WAY TO THE OUTER EDGES!
TIP: We add mini tongs like this to our grazing table and use them all the time throughout the year for many different parties!
Yield: 1
How To Make A Grazing Table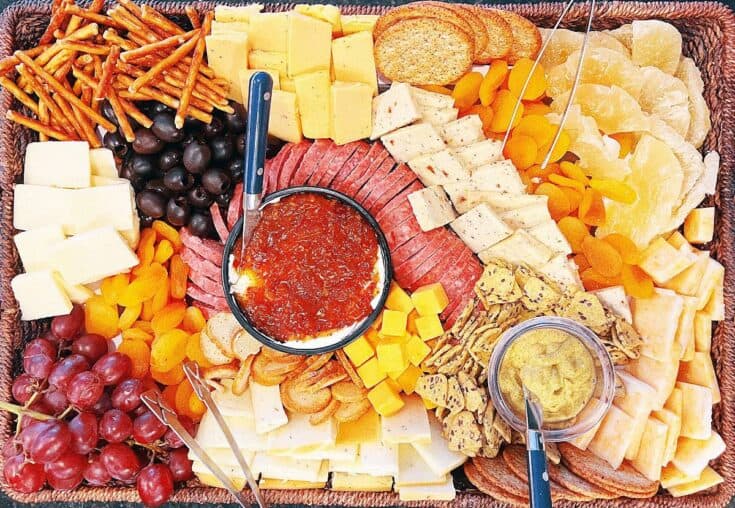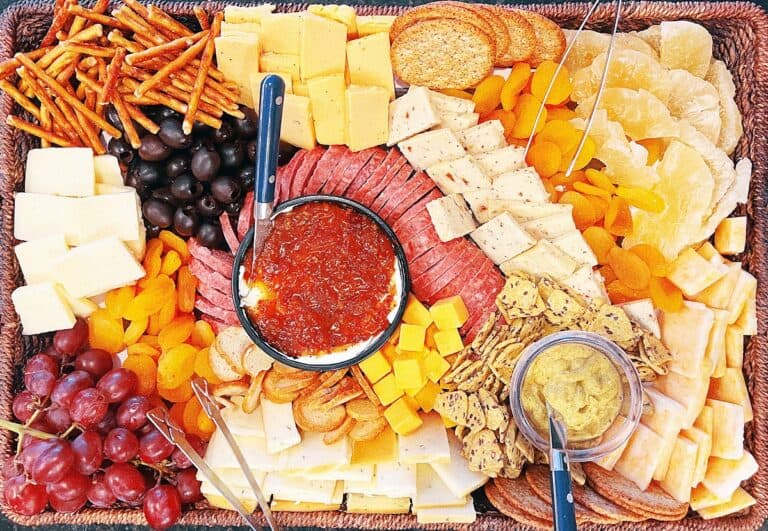 Learning how to make your own graze board is easier than you think, but there are a few important tips that will make it easier to put your party platter together.
WE HAVE INCLUDED A LOT OF REALLY GOOD GRAZING PLATTER TIPS IN THE POST. BE SURE TO SCROLL UP TO READ THEM ALL!
Materials
1-2 "Star" Meat or Cheese (for the middle)
THEN INCLUDE ANY OF THE FOLLOWING:
Variety meats
Variety cheeses
2-4 Dips, jams, relishes, pesto, etc. (or more, depending on the size of your grazing spread)
Grapes (on vine) and other fruits
Vegetables like cut bell peppers, pickles, pickled onions
Nuts
Dried fruits
Crackers
Bread pieces
Pretzels
Tools
Grazing board, large cutting board, or butcher paper for the table display
Small ramekin cups or dip bowls
Variety of tongs and forks to pick up the food
Small appetizer plates
Instructions
Prepare your items by cutting everything into bite sized pieces. Cut meats and cheeses into rectangles, triangles, squares and cubes to make your board more visually pleasing.
ALWAYS START IN THE MIDDLE AND WORK OUT. (Doesn't matter how big or small your charcuterie board / table is.) The building blocks in the middle are the "stars" of your board, like a really good cheese and meat. Place those in the middle, then around those items, place things that may go well with them.
Continue working outward, fanning out meats, cheeses, crackers, breads, vegetables, and fruits.
Once you do something to one side of the board, stop and do something on the opposite side of the board of the same color and/or bulk. This will help you keep the board feeling balanced and will help to avoid putting a bunch of the same colors together.
When you add a ramekin (dips or bowls with watery items like pickles), also add one in around the same area on the opposite side of the board, diagonal from the other one. Arrange items that go well with the dip around the ramekins as a "hint" for guests. *If you only have one dip start with that in the center.
Grapes make great "end caps" in opposite corners on both sides of the board or table. Leave them on the vine and include them as a bunch!
Stand back and assess your graze board. Are there too many of one color together? Does one side of the board look "heavier" than the other? DON'T STRESS TOO MUCH. It's easy to fill in your board with mounds of peppers, grapes, nuts, fresh herbs like rosemary or basil, or other bulky items at the end to make your charcuterie glaze platters or tables appear fuller and more balanced.
Add many small tongs and forks at different areas around the table or board.
Don't forget to add small appetizer plates and napkins.
Notes
IMPORTANT TIPS
• If you have items with juice or that may leak (like pickles or pickled onions), be sure to place those in ramekins on the board instead of directly on the board.
• If you don't have an oversized charcuterie or cutting board, arrange boards of different sizes side-by-side and build each board out separately. It still makes a beautiful display and it's what we did in our pictures.
• People often make a different board for their sweets (chocolates cookies, etc.). If you are only making one grazing platter, be sure to include some sweets like chocolate pieces, cookies, and sweet fruit dip.
• Some people like graze platters full (like the ones in our pictures) and others like them spread out. There's no right or wrong way. Do what you like and what feels best for your party!
We hope you have fun learning how to make your own graze board!
LOOKING FOR FUN COOKING PRINTABLES FOR KIDS?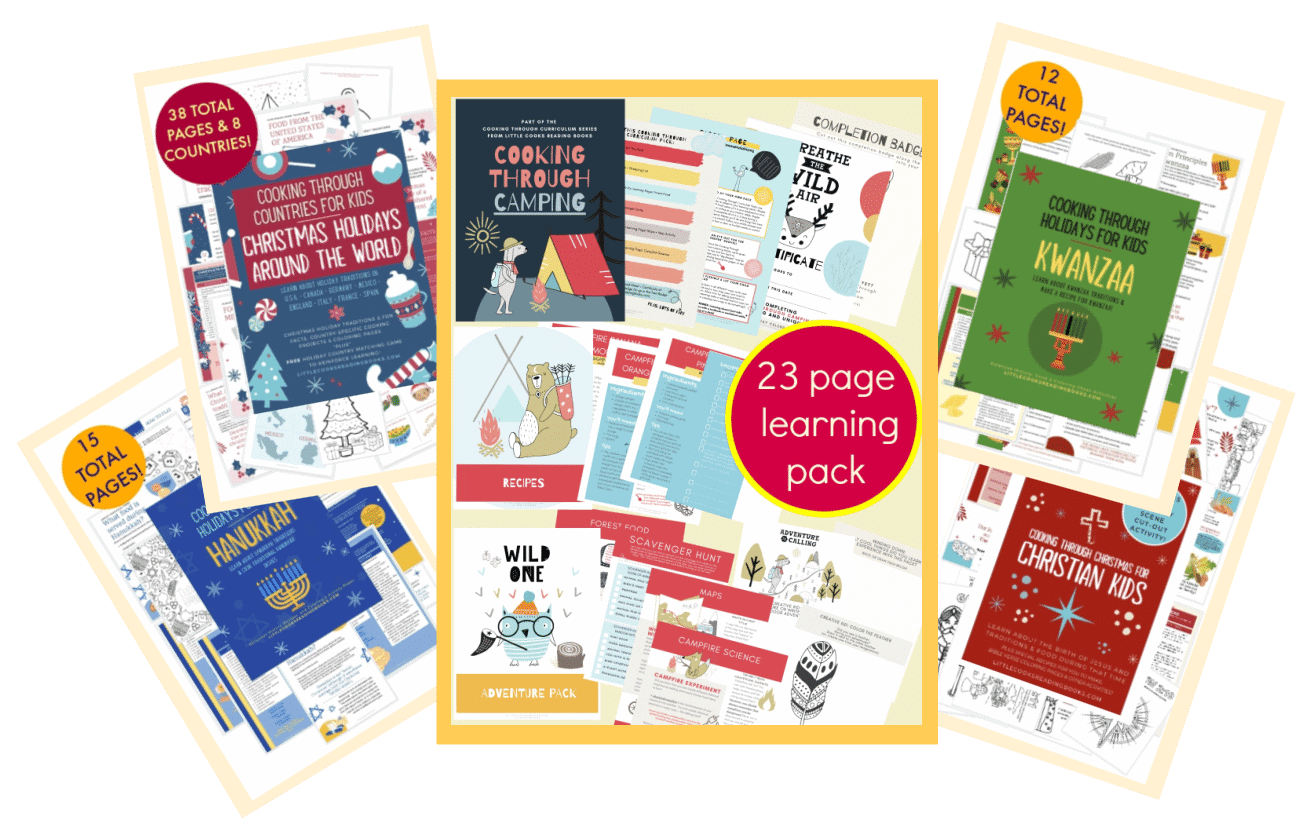 As an Amazon Associate I earn from qualifying purchases. Please refer to our
DISCLOSURE
.